Friends of Ripon Grammar School events
Friends of Ripon Grammar School events and updates
FRGS Events updates
Autumn Term Events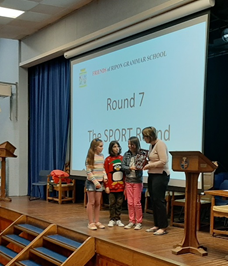 Thank you to all our 1st Year families that braved the weather and the road closures to take part in the 1st Year Family Quiz last Friday 27th September. After some tricky rounds, including the Toilet Round (!) the eventual and inaugural winners of the FRGS 1st Year Quiz Shield were Quiz-tastic, made up of the Reid, Dunn and Sumpter families. Well done!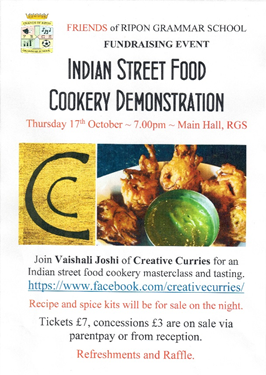 Our next event is just around the corner and already generating a lot of interest. The Indian Street Food Cookery Demonstration will be held on Thursday 17th October at 7pm in the Main Hall. We are all looking forward to learning about and tasting some of the delicious food prepared by Vaishali Joshi of Creative Curries. Refreshments include wine will be available on the evening. Tickets are available now via Parentpay or through reception at School – be sure to get yours soon so as not to miss out on what is sure to be an amazing evening.
After half term, we will be holding a World Challenge Shopping Evening on Thursday 28th November at 7pm in the Main Hall. Although the main aim of this event is to help the world challenge participants raise money for their trip to India and Sri Lanka during the summer of 2020 it will also allow the rest of us to stock up on creative and individual gifts, as the students will have a range of Christmas themed goodies for you to browse and buy! Not to be outdone, naturally, similarly themed refreshments will be available on the evening!
After the run(a)way success of this competition last year Bridal Rogue Gallery have agreed to hold another Prom / Evening Dress Design Competition. Details will be available during December, with the competition being judged during the Spring Half Term.
In addition, the fantastic Christmas Choral CD professionally recorded in Ripon Cathedral by the School choirs will be available for purchase during all the events this term … your first change to buy will be at the Autumn Music Concert on Tuesday 15th October.
Would you like to get involved with our committee and fundraising?
We welcome all new faces at our committee meetings or drop us an email on friends@ripongrammar.com and we will get in touch.
In addition to our events, we are still fundraising via Easy Fundraising and Cash For Coins, or you can now use Easy Search as well as your regular search engine and generate a few pennies each time towards our funds. Further details of all these initiatives can be found on the separate page in the Friends of RGS section of the website
Please do support us, come to our events and make friends, or volunteer and join a dedicated and hardworking group of parents committed to supporting your children and our School.