Friends of Ripon Grammar School events
Friends of Ripon Grammar School events and updates
FRGS update
Dear All I would like to thank everybody that supported our events in the first half of the term, congratulations to the Chicken Nuggets, the winners of the 1st Year Quiz.
O Holy Night – The CD of the season! I am pleased to say that the much-awaited CD has now arrived, if you have pre-ordered yours we will be sending them out this week. If you haven't placed your order yet they are available from reception with payment via Parentpay or by cash / cheque. We will also have them for sale at all the events this half term.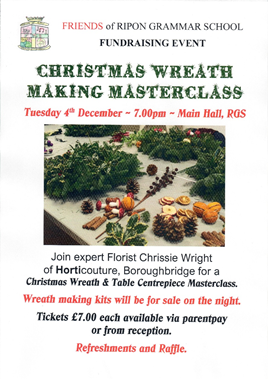 Christmas Wreath Making Masterclass – Tuesday 4th December 7pm in the Main Hall Our next fundraising event is a Christmas Wreath Making masterclass by expert florist Chrissie Wright of Horticouture in Boroughbridge. This informative evening will demonstrate how to make a Christmas wreath and a table centrepiece, kits will be available on the night so that you can create your own wreath at home.
Christmas Card Photographic Competition We are running a photographic competition in the new year to create Christmas cards for Christmas 2019, so if you see a winter or Christmas scene that you think would make a good Christmas card take a photo and send it to either email friends@ripongrammar.com or drop a photo with your name and form into Mrs Kinread. As the weather is unpredictable the competition will be open until Spring.
We would like to thank you for your continued support and look forward to seeing you at our events - after all, it's your support that allows us to provide additional funding to school for the benefit of all our children. Kind regards Tracy Butterfield Chair
Would you like to get involved with our committee and fundraising?
We welcome new faces at our committee meetings or drop us an email on friends@ripongrammar.com and we will get in touch.
In addition we are still fundraising via Easy Fundraising and Cash For Coins, you can now use Easy Search as well as your regular search engine and generate a few pennies each time towards our funds. Funds will go towards the running costs of the school minibus, in addition to planters around school and individual bids from staff and pupils.
Please support us, come to our events and make friends, or volunteer and join a dedicated and hardworking group of parents committed to supporting the school.