Eva sings her way to success in national Young Musician competition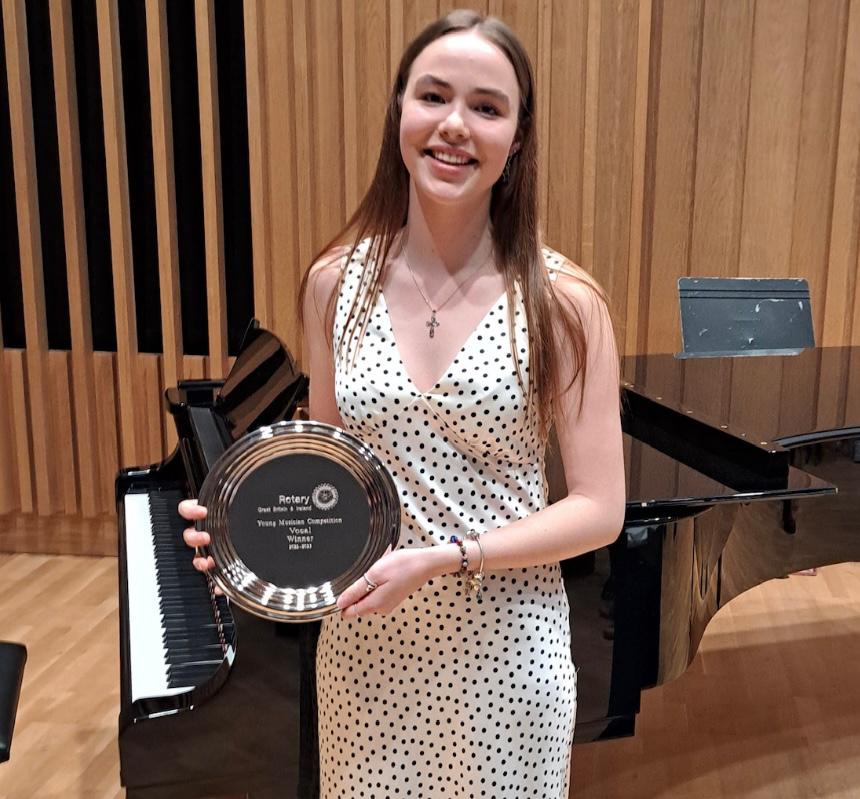 SINGER Eva Scullion beat off competition from some of the most talented young musicians across the UK and Ireland to win the Rotary Young Musician of the Year national title.
The 18-year-old Ripon Grammar School student triumphed in the final round of the prestigious competition at the magnificent Stoller Hall in Manchester, having already claimed the local, Yorkshire county and northern regional vocalist titles.
Accompanied on piano by Helen Johnson of Prima Musica, Eva performed three pieces - O Mio Babbino Caro by Puccini, Sleep by Gurney and Oh! Had I Jubal's Lyre by Handel – in a thrilling ten-minute performance in front of a rapt audience and judges.
With most of the accomplished vocalists performing complex diploma-level pieces, Eva, who also plays trumpet and piano to a high level, was surprised to win: "I was very unsure as the level of competition was so high and music at this level is so subjective.
"I was shocked when my name was announced but over the moon that all my effort had paid off."
The gifted musician was also celebrating being awarded a distinction – scoring 49 out of a possible 50 – in her Associate of the Royal Schools of Music diploma in voice exam shortly before the competition.
Inspired by her two older sisters, former RGS pupils Christina and Maria who are both accomplished musicians, Eva hasn't looked back since taking up piano lessons at the age of four, which she says gave her an excellent grounding in music.
The teenager, who attends weekend singing lessons at the junior Royal Northern College of Music, conducts RGS's senior girls' choir and also sings with the school's chamber choir, big band, brass band and wind band, in addition to being deputy head girl.
Taking music, maths and geography at A-level, she plans to study music at Durham University after taking up a residential gap year assistant post, working with choristers at Bilton Grange, Rugby School's preparatory school.
"I'm looking forward to sharing my love of choral singing with the pupils while gaining some valuable teaching and life skills before going on to university," she explained.
In the meantime, local residents can look forward to hearing the former Ripon Cathedral chorister when she performs at Ripon Cathedral on Thursday July 6, part of a free lunchtime concert series.
Eva's mother added that Eva's latest achievement comes after years of dedication to music: "From joining Ripon Cathedral Choir as a chorister, she has attended two rehearsals and sung two services per week, plus two rehearsals and services on alternate Sundays.
"For the last three years she has also attended Junior Royal Northern College of Music in Manchester every Saturday, which is a 12-hour day including travel. All this in addition to attending school choirs and ensembles and her own schoolwork.
"There have been countless occasions when she has had to decline offers to go to parties or out with friends because of her musical commitments. But she has learnt the value of teamwork, commitment, responsibility and dedication, which I am sure will stand her in very good stead for her adult life."
"This award is a lovely way to recognise some of that dedication."
*Eva's award was presented by Rotary dignitaries Eric Russell and Cheryle Berry, pictured with her.
The Rotary Young Musician Competition is designed to support and encourage the development of musical talent. It is open to all levels, grades and styles of young instrumentalists and vocalists.
*Ripon Rotary's Young Musician Competition will be held on Friday 10 and Saturday 11 November this year. For more information see here: Ripon Young Musicians of the Year Competition – All the information about this annual competition