Year 7 - Year 11
Admission to Year 7
The maximum number of students admitted at Year 7 each September is 117, of which 14 places are reserved for boarders. The school hosts an open evening in June each year for prospective students who are currently in Year 5 at primary school and this is an opportunity for families to tour the school, meet staff, speak to current students and find out more about Ripon Grammar School. Tours of the school can be arranged on alternative dates for those who live overseas or a long distance away and individual tours of the boarding houses can also be arranged. Please contact our school reception if required, by email at admin@ripongrammar.com
Students wishing to join the school in Year 7 are required to sit an entrance test in early September, during Year 6 at primary school. The tests comprise two papers (verbal and non-verbal reasoning). A fixed percentage of the school's catchment area are offered a place in addition to those reserved for boarding. Boarders must attain the same standard of entry as day students. Any unallocated places are then offered to those students who live out of catchment and who have attained the required standard. Strict over-subscription criteria apply. All offers are made by NYCC.
Please click on the link to refer to North Yorkshire County Council admissions documents for more detailed information regarding the selective grammar schools' admission process.
Link to North Yorkshire County Council admission policies
Admission to Year 9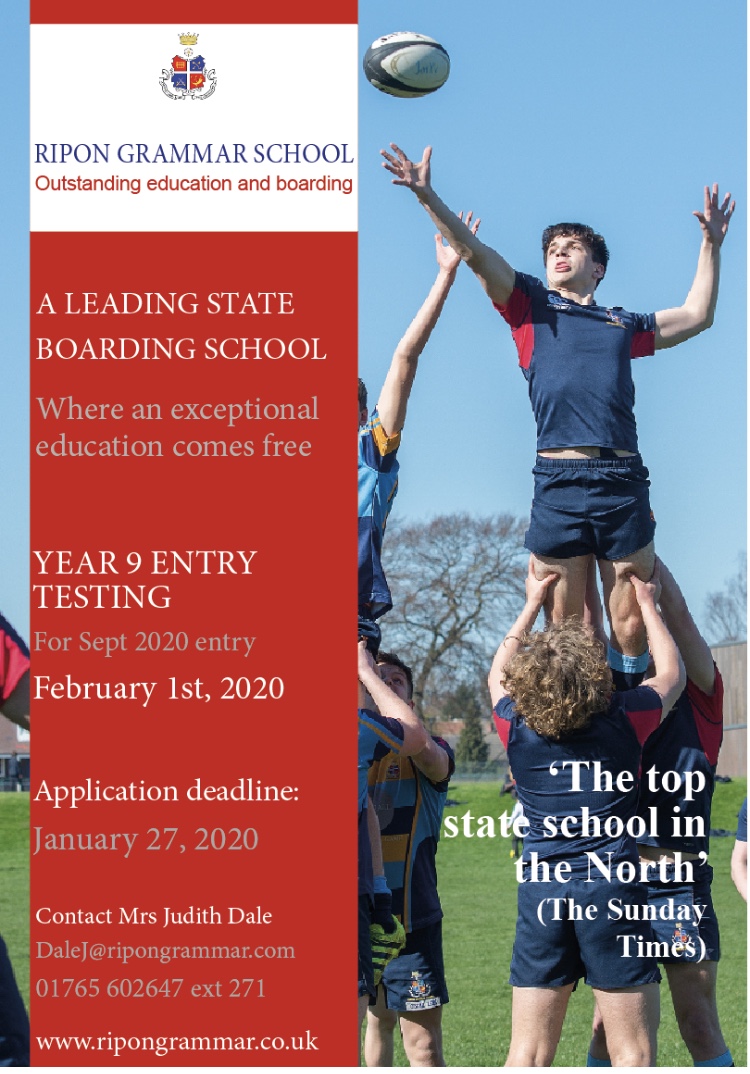 We also offer a small number of additional places
(usually 9 day and 4 reserved boarding places) for entry into Year 9, following the successful completion of the three 13+ entrance tests in mathematics, English and science. Selection tests take place on the first Saturday in February each year, for entry the following September.
Click on the links below for further information.
English assessment - information
Mathematics assessment - information
Science assessment - information
In-Year Admissions
Families with a child already attending another school, in Year 7 - 11, may apply for In-Year testing for admission to Ripon Grammar School. Entrance tests are set at an appropriate age-related standard in mathematics, English and science. If a student is deemed suitable, and a place is available, an offer will be made by NYCC.
Parents interested in In-Year admissions should contact:
School Admissions
Jesmond House
31/33 Victoria Avenue
Harrogate HG1 5QE

Tel: 01609 533679
Email: schooladmissions@northyorks.gov.uk