Destinations and case studies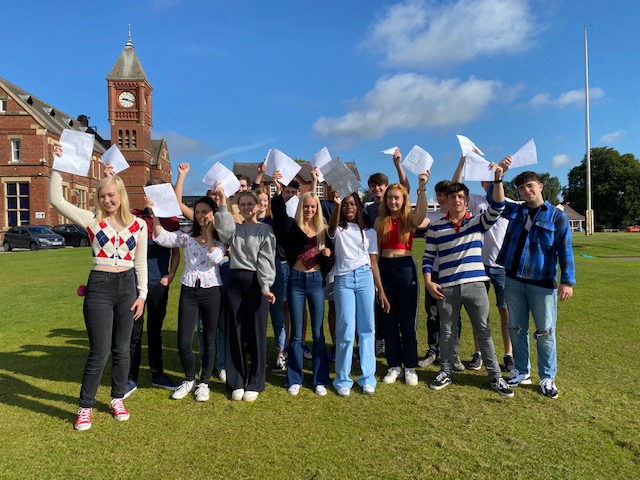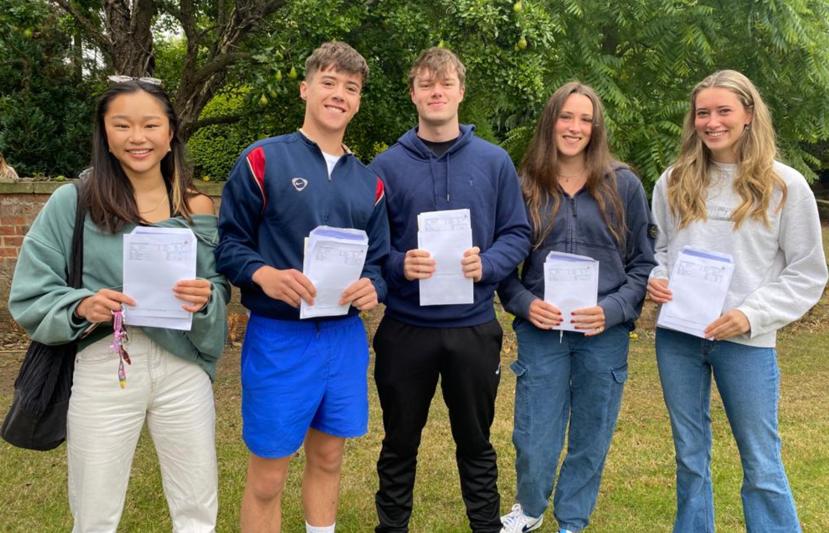 CLASS OF 2021/22: destinations and case studies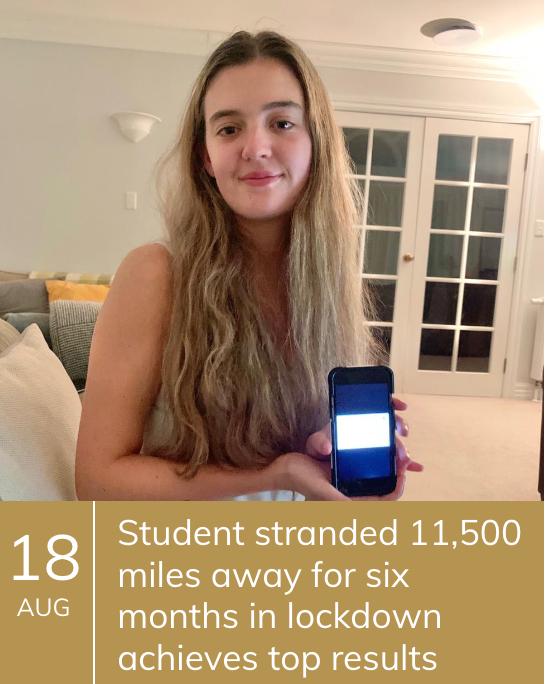 Boarding student Maia plans to study medicine in New Zealand after her gap year. Read her story here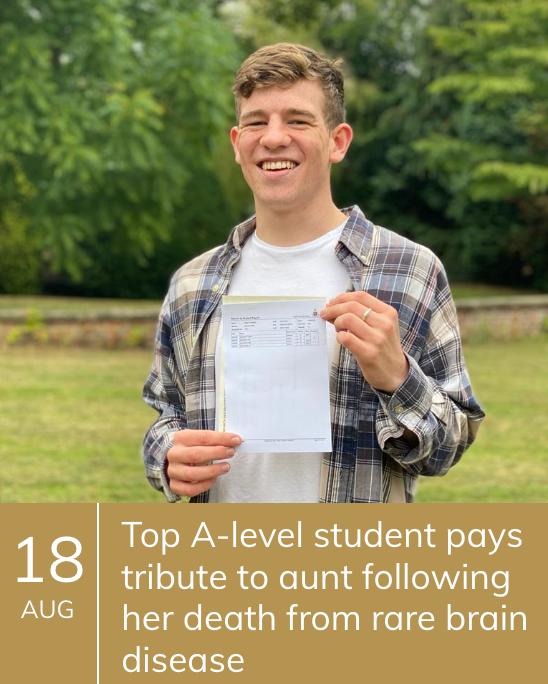 Bertie will study law at the University of Leeds. Read his story here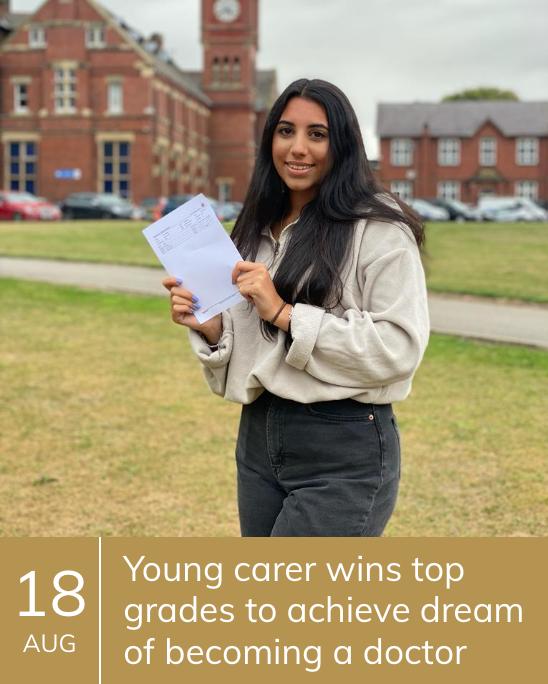 Febe will study medicine at Newcastle University. Read her story here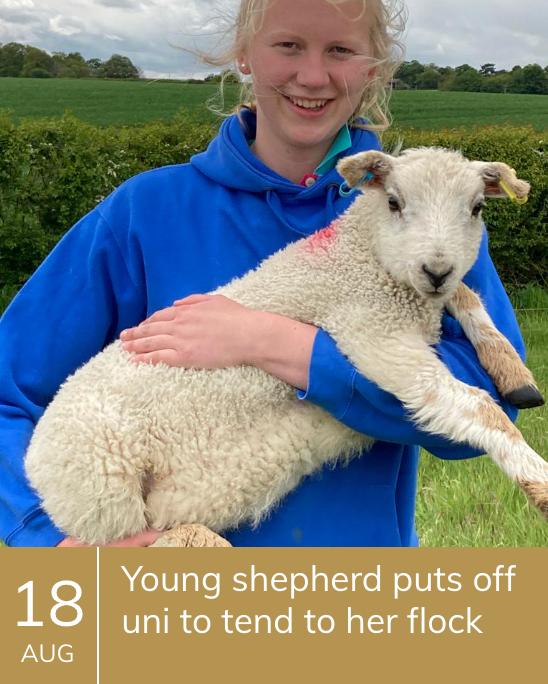 Henrietta will take up her place to study veterinary medicine at the University of Nottingham in April. Read her story here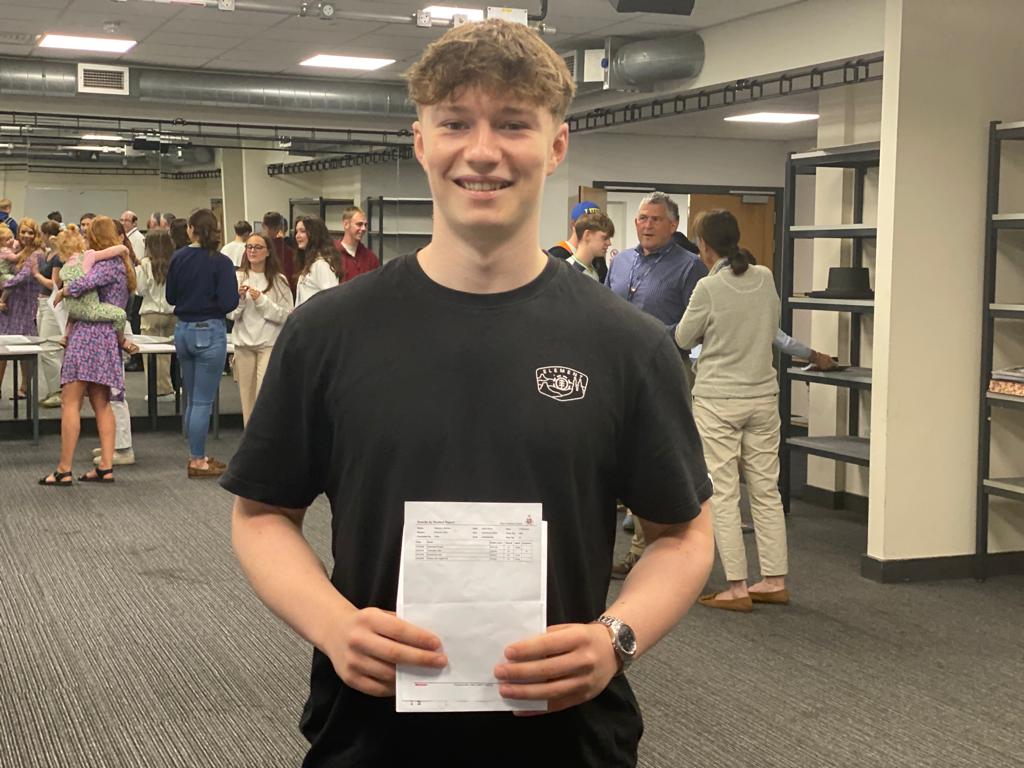 Marcus Bartlem, 18, from outside Bedale, is looking forward to working during his gap year, when he plans to travel through Southeast Africa with two friends from RGS. The teenager - who achieved A*s in chemistry and economics, and A in history and an A* in his EPQ - won an army scholarship, worth up to £18,000, to help fund him through university and guarantee a place to train as an officer at the Royal Military Academy in Sandhurst. He has a deferred place to study history at the University of Edinburgh. The RGS head boy found his student leadership role challenging, he says: "However it helped me to learn how to balance different aspect of my life."
He adds: "I have thoroughly enjoyed sixth form despite the challenges that it posed. However I am also excited to move on from RGS and to see what comes next, although I will always fondly look back on my time at RGS and the people who made that time the experience that it was."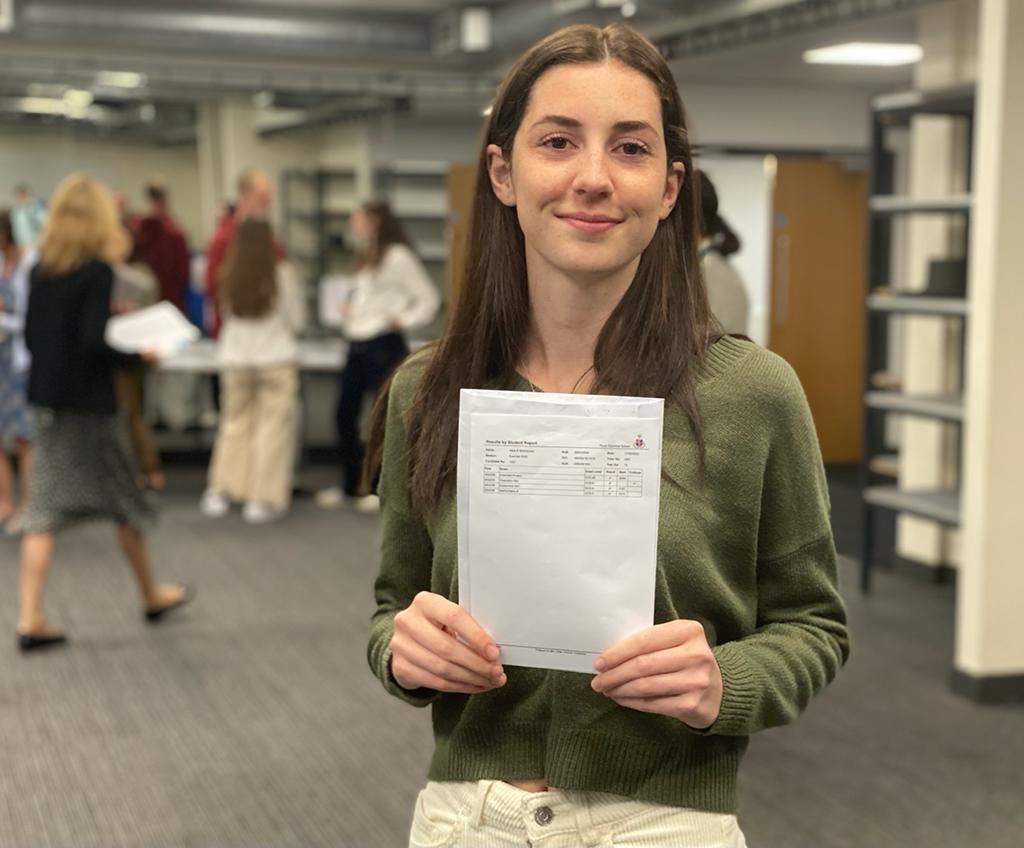 Alice Simmerson, 18, from Markington, will study politics, philosophy and economics at St John's College, Oxford, having achieved four A*s in economics, maths and chemistry and her EPQ. In addition to part-time work as a housekeeper in a local hotel, Alice juggled her A-level studies with playing hockey and working for the Prince's Trust, in addition to helping younger students in food technology lessons.
"I'm not sure what I want to do in life yet but after university I would like to work in the financial sector and later potentially enter politics."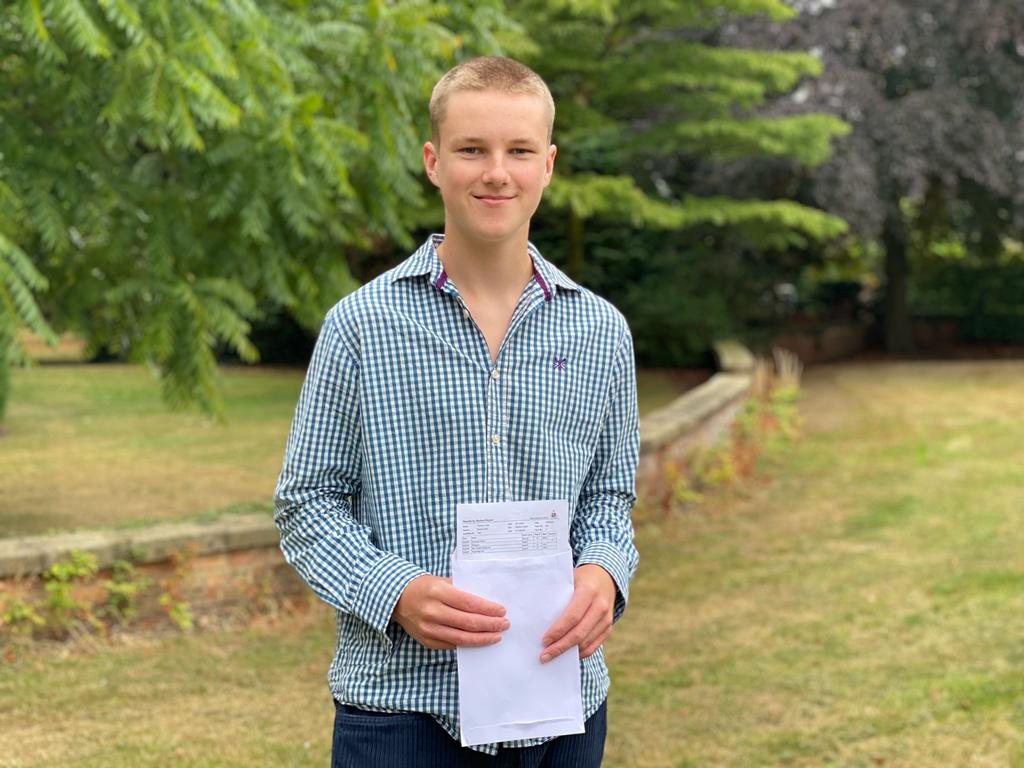 Tom Cave, 18, of Burton Leonard is taking a gap year in order to travel and gain work experience having achieved A*s in psychology, biology and his EPQ and an A in design technology. The aspiring lawyer aims to apply for a highly competitive six-year solicitor apprenticeship.
"If you are successful, it allows you to work in a law firm for a salary, alongside studying for an LLB law degree. By the time you qualify as a solicitor, you will have both academic knowledge and legal practical skills and experience," he explains.
He adds: "During A-levels it was hard to get in-person work experience due to COVID. I completed massive open online courses (MOOCs,) a legal EPQ and virtual work experience, but plan to supplement this with in-person experience next year.
Tom, who joined RGS in sixth form, juggled his studies with working as a waiter at a local hotel, in addition to volunteering at Ripon Walled Garden: "I came to RGS from another school and everyone was really welcoming. It was challenging due to Covid, but also amazing to meet a whole new group of people and I've never looked back.
"I really enjoyed the gold Duke of Edinburgh expeditions, which provided an excellent foundation for backpacking round Europe after A-levels. Every Friday I played tennis and also completed the National Pool Lifeguard Qualification at RGS, which led to summer work opportunities.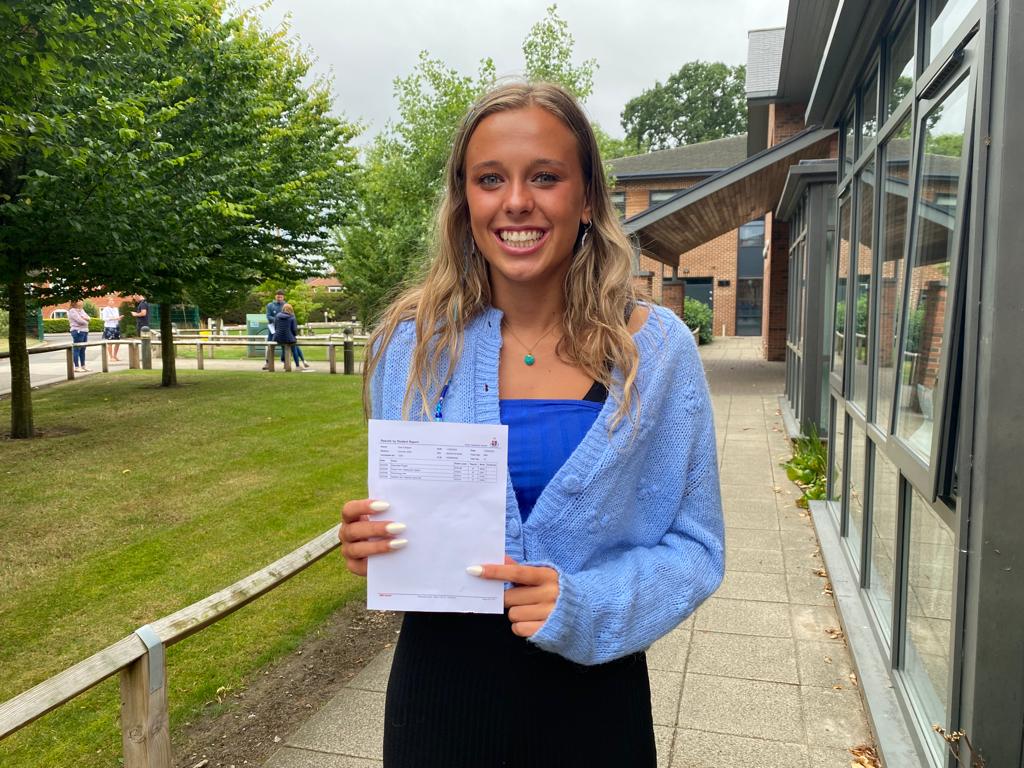 Eve Maylor, 18, from Ripon, is heading to the University of Cambridge to study modern and medieval languages having achieved A*s in French, Spanish, an A in psychology and an A* in her EPQ. The keen dancer and netball player found the disruption to her education during the pandemic challenging: 'Obviously with languages it's not a subject you can study from home alone. Talking to people and listening to teachers speaking in the language is the main way to learn so studying from home throughout all Covid isolations and lockdowns was a big hindrance, though my RGS teachers were very resilient throughout the lockdowns." She is particularly grateful to retired French teacher Dennis Richards, whom she met during her part-time work in a bar, for helping with her tuition: "When I got the offer from Cambridge, I attribute a lot of that to him giving up so much of his free time to help me."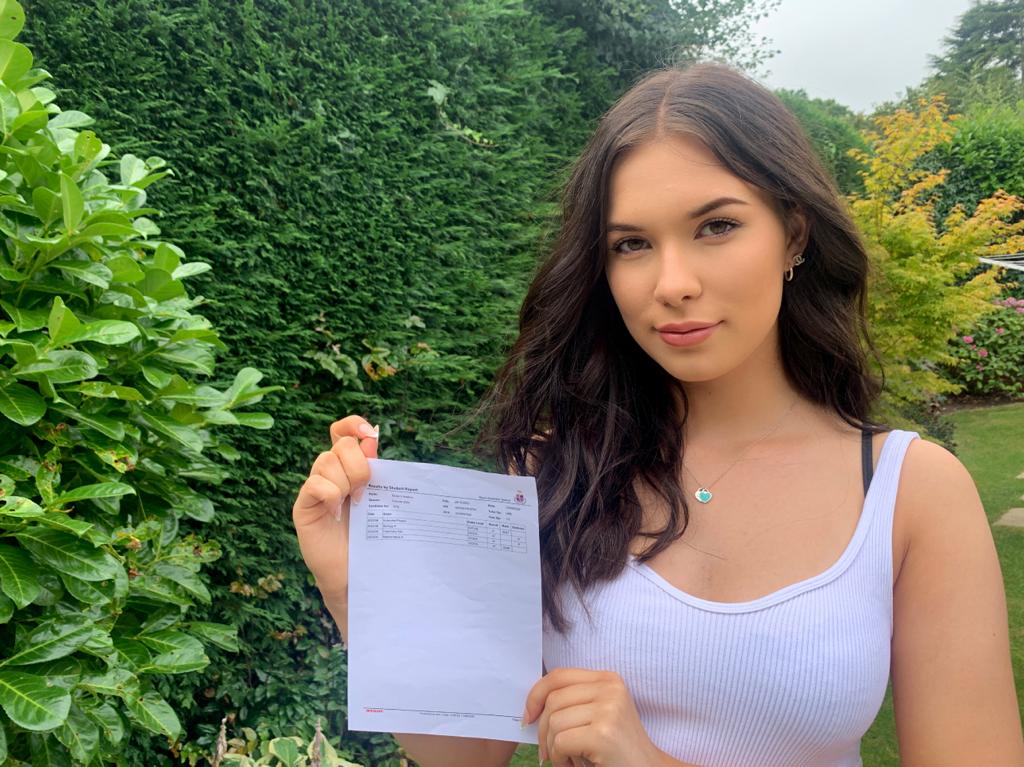 Eloise Hopkins, 18, from Ripon, will study medicine at the University of Manchester having achieved a clean sweep of A*s in chemistry, biology, maths and her EPQ. The keen dancer, who reached intermediate level in ballet during her time in sixth form, juggled her studies with working part-time as a receptionist at a doctors' surgery: "This provided a wonderful experience, interacting with patients, as well as giving me an insight into healthcare, further inspiring me towards my future goals.
The head girl added: "Taking on this role at RGS was an amazing opportunity, with the whole school officer team accomplishing many goals during this crucial year in our education."
Of the disruption during the pandemic, she says: "We found ourselves switching to remote learning during our second term. The staff were dynamic in developing a new way of teaching, enabling our lessons to continue online. I would like to thank all the staff at RGS for their continued support and teaching throughout my time at the school and now look forward to my next steps beyond the sixth form, leaving with fond memories and strong friendships."
Molly Acton, 17, from Skelton-on-ure will study medicine at the University of Liverpool having achieved As in maths, chemistry and biology and an A* in her EPQ. Having deferred her entry, she is taking a gap year to travel in South East Asia and Central America.
The keen hockey player was the U18 hockey team that made it to the quarter finals of the national English Schools tournament, and was also a member of Thirsk Hockey Club, playing on the Ladies teams.She also juggled her studies with running club and working as a hotel waitress and receptionist at a local doctors' surgery.
"On top of that, I volunteered looking after the defibrillator in our village, checking that it was in working condition in case it needed to be used," adds Molly, who was part of the school officer team helping to organise activities like Charity Week, House competitions and creating presentations and assemblies.
"Covid disruptions were a big thing to juggle in sixth form since not only was time taken off school, with online learning taking place, but since two out of three of my subjects have a practical requirement, we had less time to complete those practicals."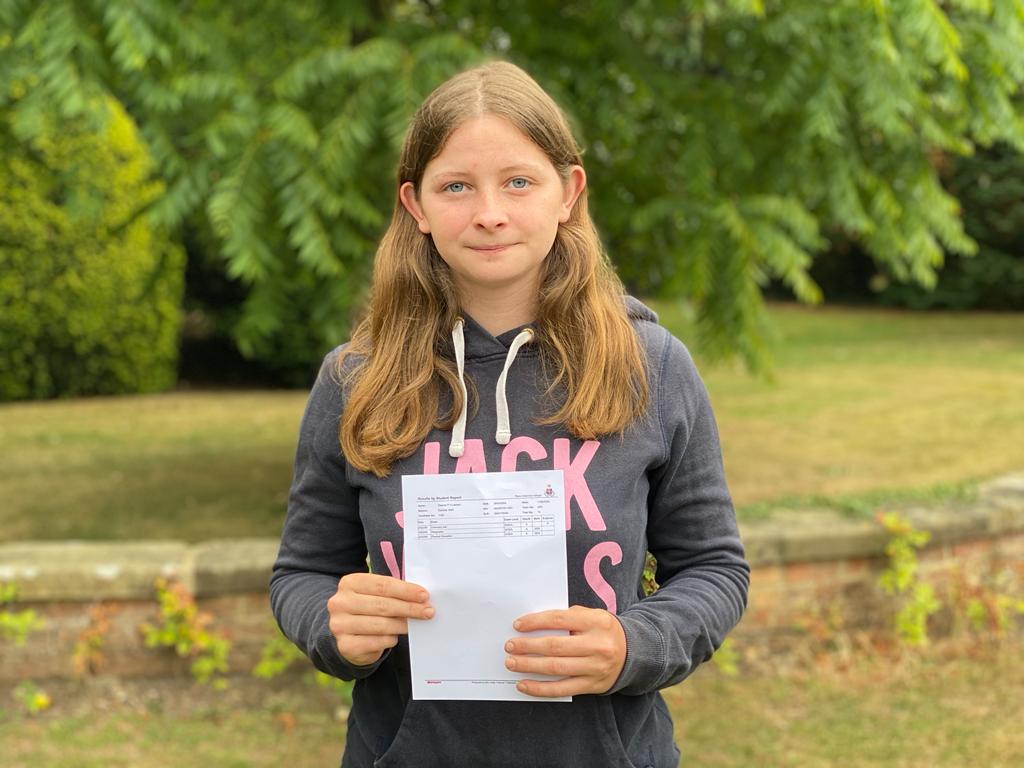 Top hockey player Poppy Lawson, the youngest of four siblings to pass through RGS, achieved A* in PE and As in chemistry and geography. The 18-year-old, from Dallowgill, is taking gap year to travel in Iceland, Indonesia, Morocco and Ireland, followed by university. "I'm hoping to go to a university with a good hockey team," she says. "For the last two years I have also been studying for a Diploma in Sporting Excellence in Loughborough which has been incredibly demanding and has led me to travel down there after COVID to take part in camps. As part of this I represented England in the UK School Games in Summer 2021. I also play for Ben Rhydding Hockey club which is the top national league and therefore I have demanding training and long distances to travel on weekends."
"I am delighted with my results and happy that all my hard work paid off. I am now looking forward to my gap year. My parents are both proud and relieved that their four children have all finished their A-levels and enjoyed their time at RGS," she added.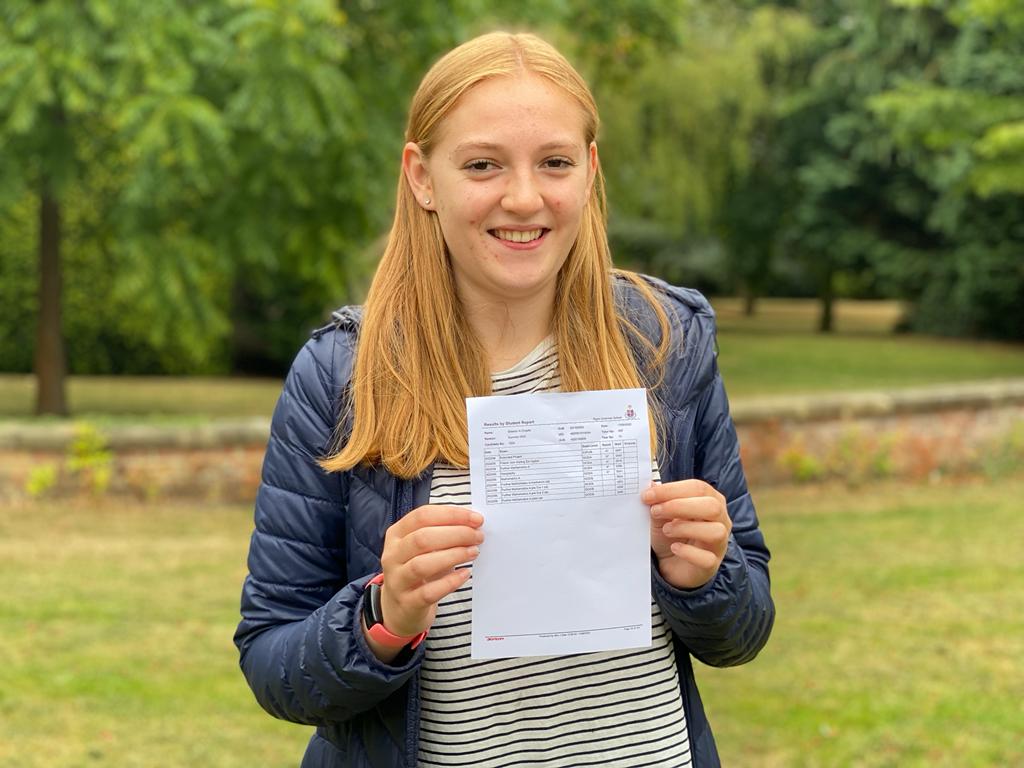 Top performer Eleanor Chaplin, 18, from Boroughbridge, achieved a clean sweep of A*s in French, maths, further maths, geography and her EPQ, which was on imaginary maths. She will be studying maths at the University of Warwick. 'I was shocked with my results and even more shocked I got into the university of my choice. I'd like to thank our teachers for helping us so much over lockdown and over the past two years.'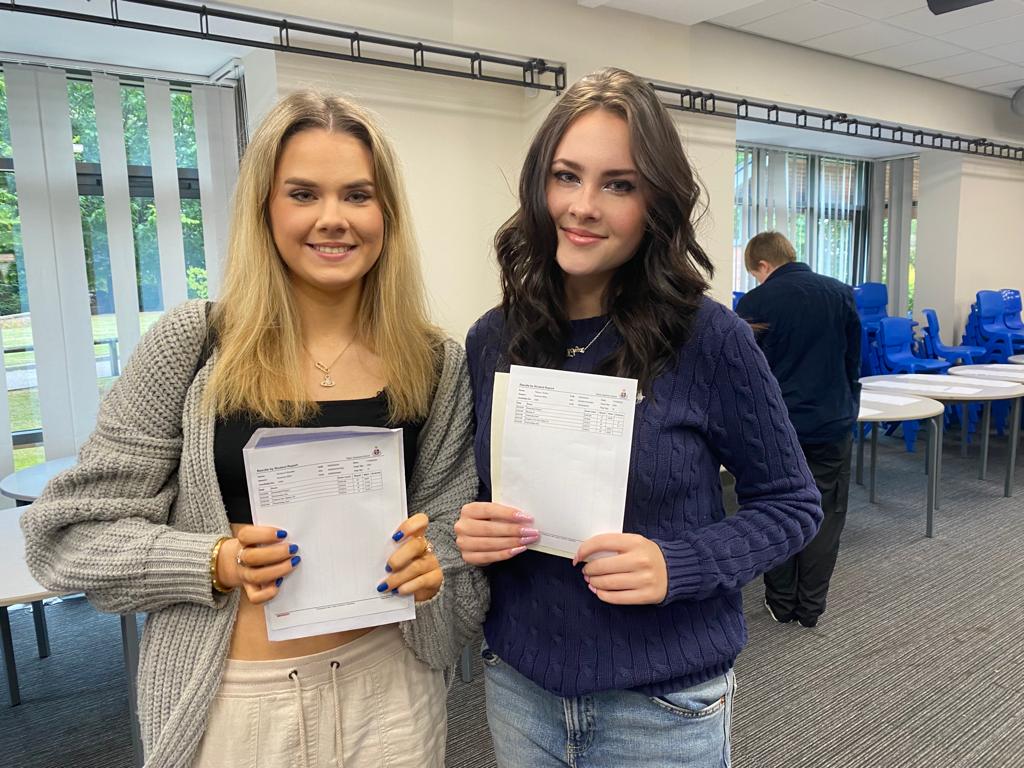 Tehya Sutton (right) achieved A*s in biology, chemistry and psychology and an A in her English literature and EPQ and will study psychology at the Newcastle University. Emma Sowden (left) achieved A in psychology, Bs in history and economics and an A* in her EPQ and will study psychology at the University of York.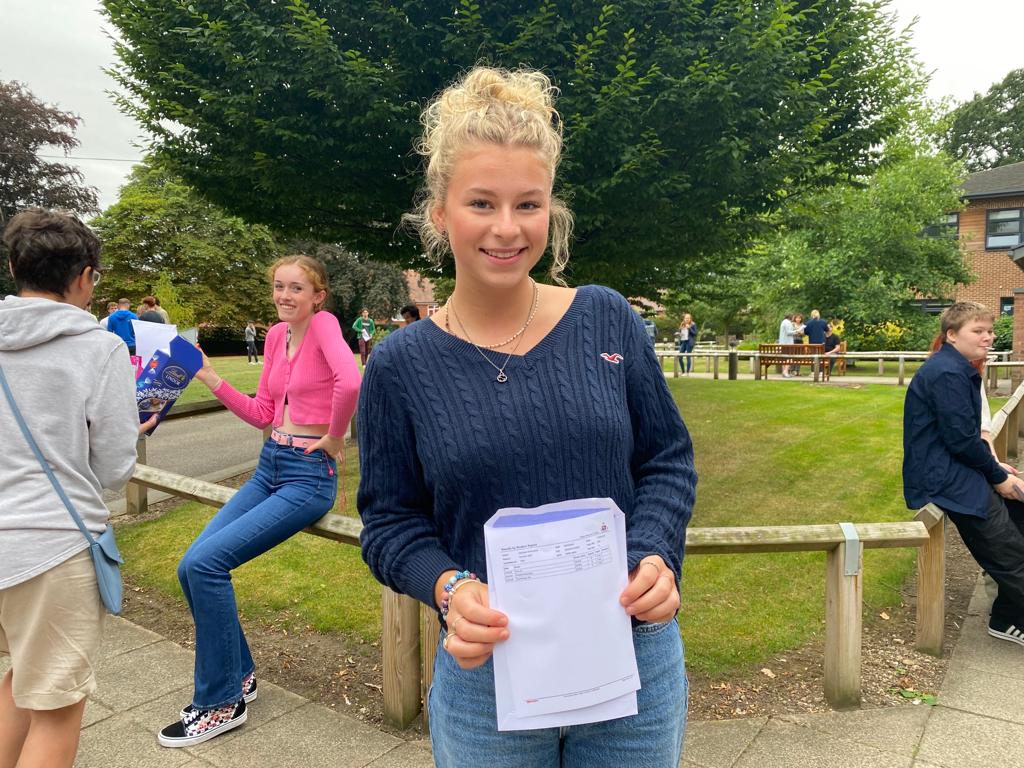 Georgie Borchard achieved As in PE and psychology and a B in art and is taking a gap year, with a view to studying psychology at university next year.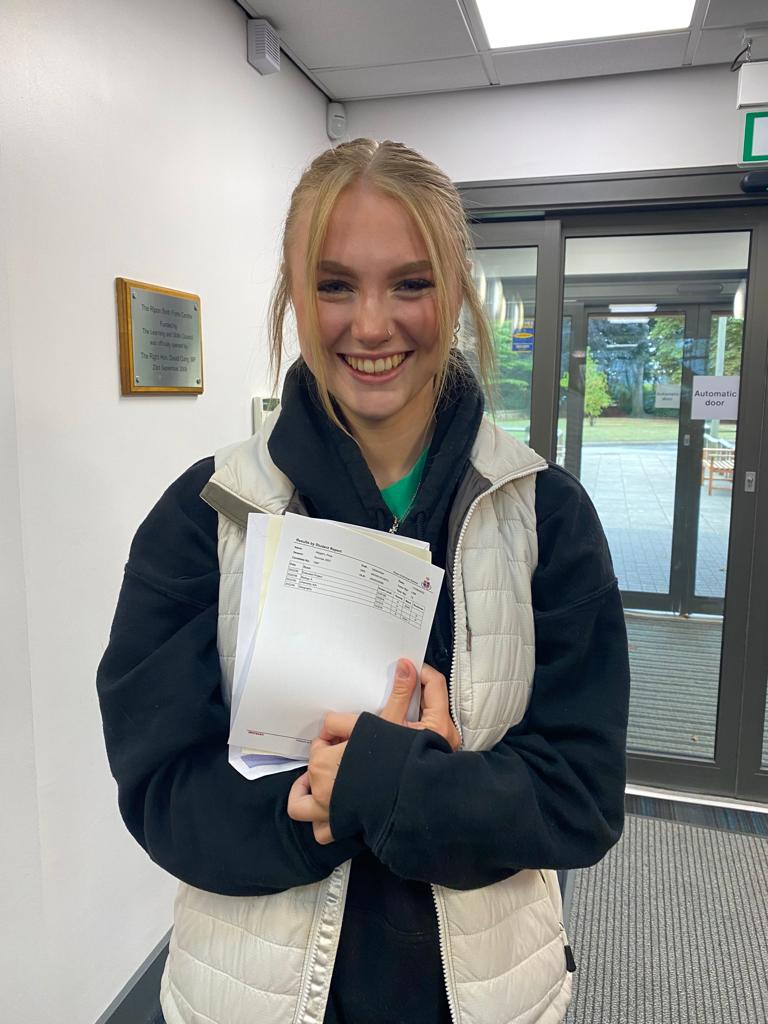 Abi Price achieved As in biology, chemistry, geography and her EPQ and will study paramedic science at Coventry University.
CLASS of 2020/21
From aerospace engineering to architecture, criminology, dentistry, economics, medicine and psychology, our hardworking and motivated A-level students are preparing to head off to all corners of the country and the globe to pursue their dreams. Head of sixth form TERRY FELL reports on this year's choices, with the majority of students holding elite Russell Group university offers, including six from Oxford and Cambridge
EACH year we say farewell to a group of students who have been at the heart of the school for at least two years, (some for many more), and we take great pleasure in hearing about the plans that they have forged for the next step into their bright futures. This year's leavers are as amazing in their ambition and determination to find the path that is right for them as ever, and I would like to share some of those chosen destinations with you:
As ever there is a great crop of historians, with five students going off to study History, one History and Politics, one Ancient History and also a student of Ancient History with Archaeology. Meanwhile two students intend to study Politics, Philosophy and Economics, two students are interested in pure Philosophy, one will learn Philosophy and Politics, one will study Politics on its own, one International Politics, one International Relations, and one International Relations with Asian Studies.
The world of Law always attracts interest from our students, and this year we have three prospective Law students, one for Law and Criminology, two students of Criminology and Psychology, one of Pure Criminology, one student interested in Philosophy and Criminology, and one student studying Forensic Science and Criminology. The Psychology Department will be delighted to see five students intent on studying Psychology at degree level, alongside a student of Psychology and Criminology.
Languages are a demand subject at universities and in employment, and we have a student going to study Spanish and Politics, one for Spanish, Portuguese and Latin American Studies, a student of Business Economics with a European Language and one to study French and Literature. The aesthetically creative minds are also well represented in our Film Making student, our Music student, two students of the History of Art, one of Fine Art and one of Illustration. At the interface between creative design and engineering it is also a pleasure to see four future Architects, one student of Civil and Architectural Engineering, one Architectural Engineer , one student of Interior Architecture and Design, one Interior Design Engineer, and a Product Designer. As ever, this spectrum into Engineering is well populated, with two Automotive Engineers, three Mechanical Engineers, one Aeronautical Engineer, two Aerospace Engineers, two General Engineers and a prospective student of Mechanical Engineering with an integrated Foundation Year.
Science goes from strength to strength as evidenced by our four students intending to study for degrees in Chemistry, alongside one in Chemical Engineering, another in Chemistry with Medicinal Chemistry and one in Medicinal and Pharmaceutical Chemistry. Our Biologist is accompanied by two Environmental Scientists (one with International Studies and another with Clean Technologies) and a Geologist. We have two Biochemists, two Bioscientists, one Marine Biologist, two Zoologists, one Nutritionist, two Sport and Exercise Scientists and a student of Medicinal and Biological Chemistry. We also say farewell to a Physicist, two Physicists with Astrophysics and a student of Physics, Astrophysics and Cosmology.
The world of Business and Finance is also well accounted for with an Economist, a student of Accountancy and Management, a Quantity Surveyor, five students of Business Management (one with a Year in Industry), a student of Business Economics, and two to study Accountancy and Finance. We also have a student studying for a Business Diploma, another taking Economics and Management, and one to study Economics and Finance. Our International Business management student also has a Year Abroad, and we have a student of Real Estate and another of Rural Studies.
Our five Mathematicians are accompanied by two students of Mathematics and Financial Mathematics, and we are also delighted to celebrate a Computer Scientist and a student of Computer Games Design and Programming.
We have two Geographers this year, as well as a student of English, a Liberal Arts student and another planning to study Liberal Arts and Sciences.
Our students also always aspire to the caring professions, and this year we see eight Medics go to study for their degrees alongside two Dentists, two Physiotherapists and a student of Nursing Studies.
Three students are ranging far afield for their studies, with two winning sporting scholarships to study in the United States, and another to study in Malta, whilst three students will be studying Art Foundation Degrees this year. We also have a number of students undertaking exciting Gap Years or planning travel projects and volunteering during their year away from education.
These inspirational young people, our young people, are preparing to set out upon the journeys of their lives, and in doing so they offer our current students examples and ideas as they consider their own journeys to come.
We hope you feel excited at the possibilities ahead of you.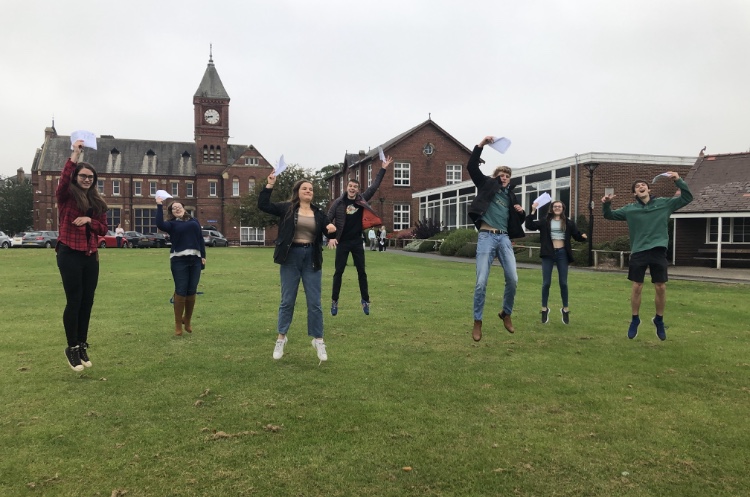 CLASS OF 2019/20: Where they're heading next
From aerospace engineering to classics, economics, fashion design, medicine and veterinary science, we caught up with a number of students at RGS as they picked up their results to find out more about where they're heading next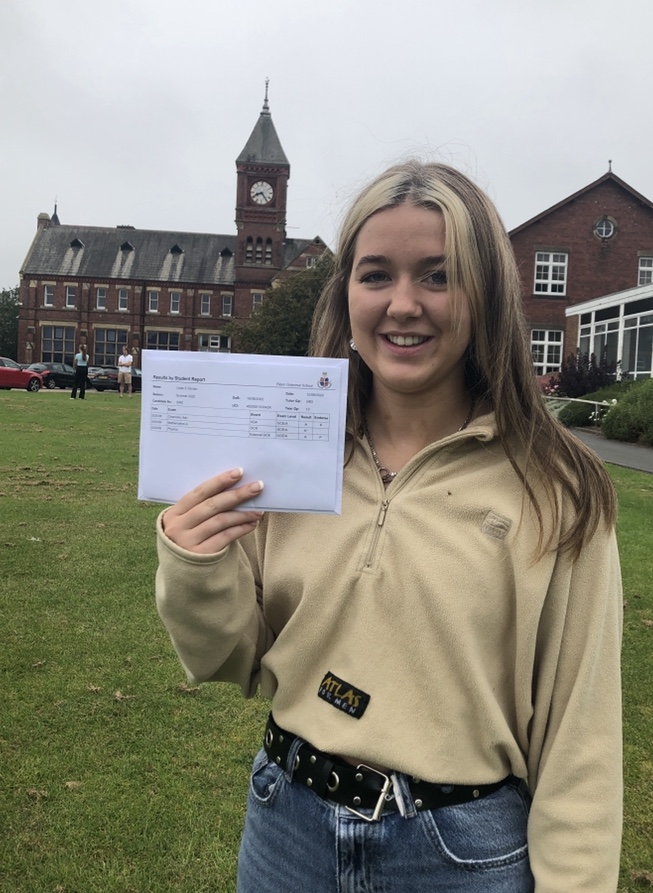 Layla Osman, 17, (pictured above) from Ripon will study aerospace engineering at the University of Manchester after being awarded an A* in maths and two As in chemistry and physics. Layla, who hopes to become an RAF pilot and eventually go into Space said she was 'very happy' with her results. "I have a passion for maths and physics and a love for Space. To become an astronaut is my dream job," she said.
Jasper Wood, 18 (pictured bottom, third left) from outside Bedale, will be studying engineering at Durham University after being awarded a clean sweep of A*s in maths, chemistry and physics, alongside an A* in his extended project qualification (EPQ). RGS head boy, he was also captain of the swim team and involved in a number of drama productions, alongside his part-time job in a local pub: " I had to work hard in order to balance my time effectively. But the challenge of being head boy was a fantastic experience and really helped me develop as a person. He added: The circumstances this year seem absolutely crazy to me still and it was slightly upsetting to leave so abruptly; despite this I hope we have all come out with grades that reflect the hard work I know we have all put in over the past two years. I'm really happy with my grades, even though it was a bit uncertain. I just want to get on with the rest of my life now," said Jasper, who wants to work in the automotive industry.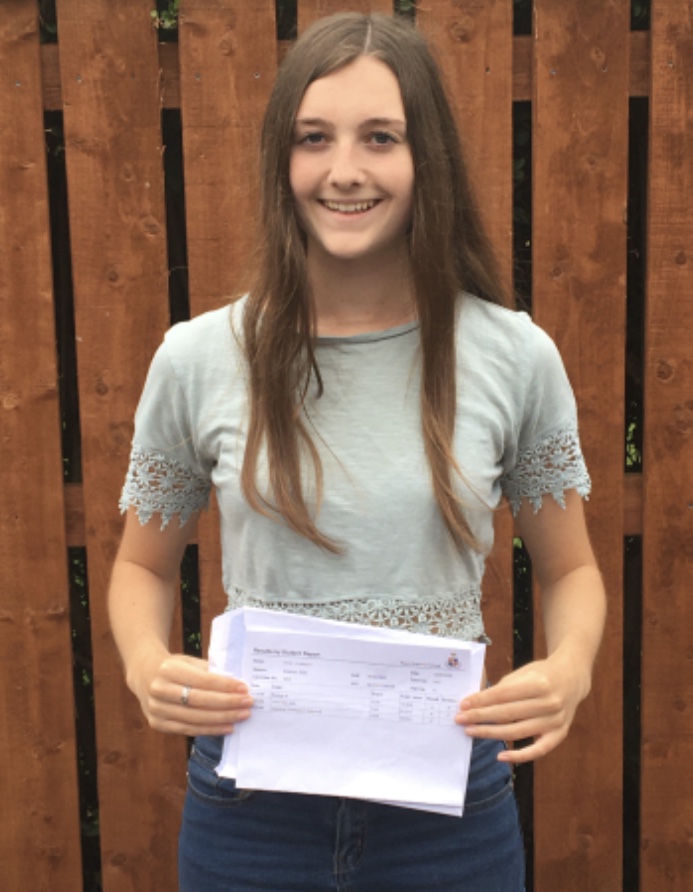 Amy Crompton, 18, (pictured bottom, second right, and above) from Ripon, will be studying osteopathy at the European School of Osteopathy in Maidstone after being awarded two A*s in classics and chemistry and an A in biology: "I want to help people recover from injuries without the need of medication or surgery, particularly having seen first-hand the struggle of varying sports injuries," she says.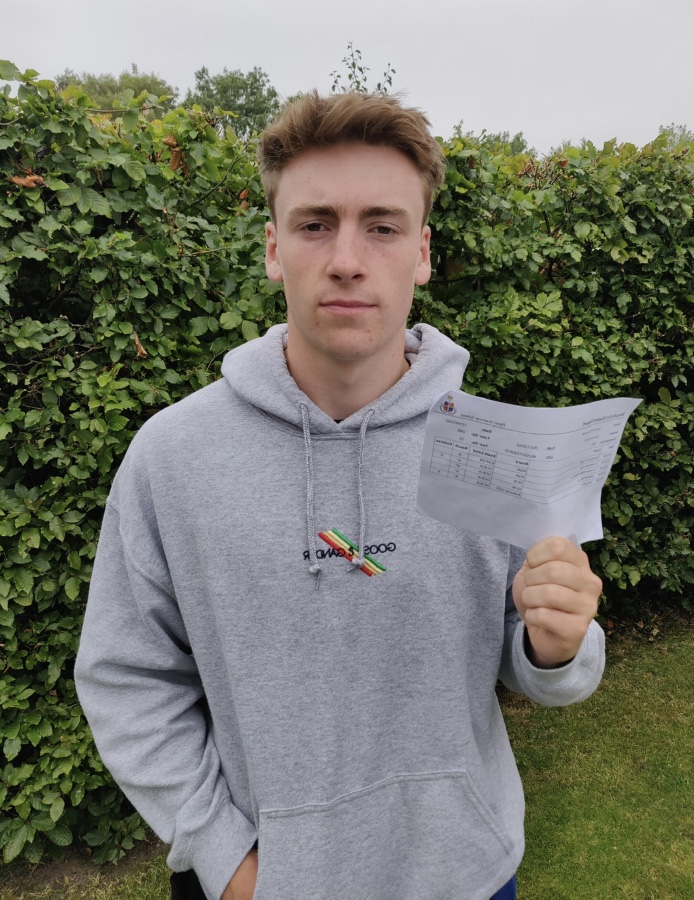 Lewis O'Donnell, 18, (pictured above) from North Stainley, will study physical natural sciences at the University of Durham after being awarded a clean sweep of A*s in maths, further maths, chemistry and physics and an A in his EPQ. A talented cricketer and rugby player, Lewis has juggled his studies with a demanding sports schedule in addition to his part-time job as a waiter, playing cricket up to four times a week, involving multiple days off school, throughout the year and rugby twice a week in winter.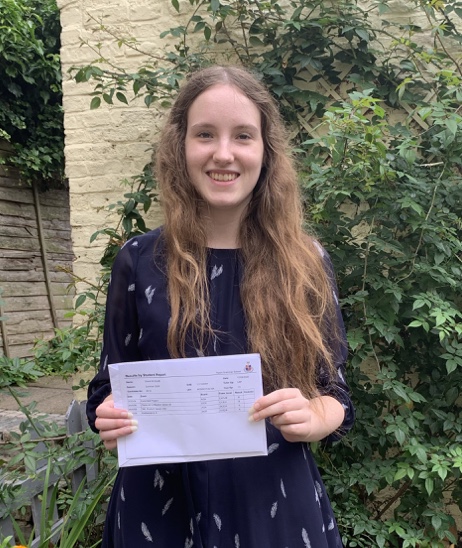 Emmi Scaife, 18, (pictured top far left and above) from Ripon, will be studying classics at the University of Oxford after being awarded two As and a B grade, in maths, product design and classical civilisation. Emmi, who writes a classics newsletter outside school and also teaches young Chinese students English, said: "It has been a stressful five months waiting for these results, and I wish we could have taken the exams, however I realise it wasn't possible and it was a unique challenge." Although she may appeal one of her grades, she added: "I'm really happy with the majority of my results."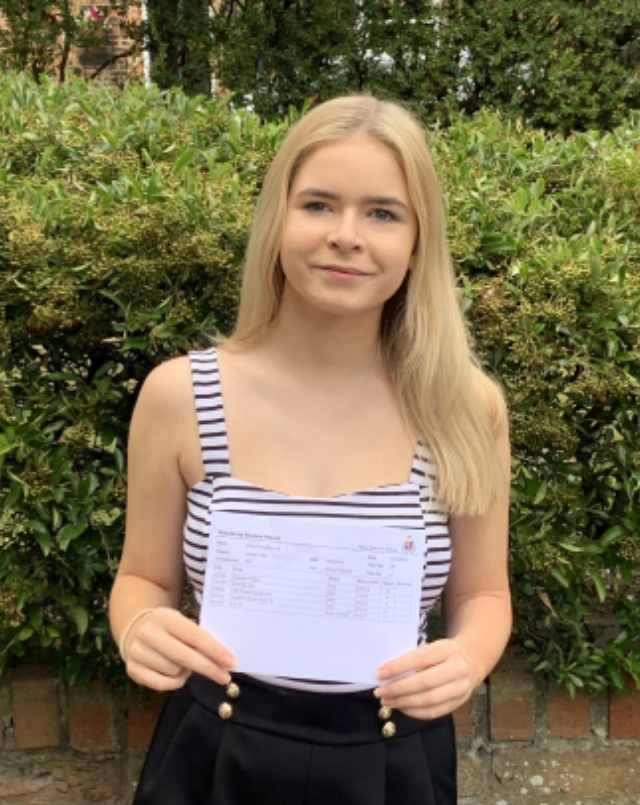 Emily Koscik-Jones, 18, (pictured above) from Cundall, will be studying fashion design at Northumbria University after being awarded two A*s in English literature and business studies and As in fine art and product design. She said: "I am really happy with my results considering the uncertain situation we received them in." Emily, who makes and sells her own jewellery range, added "I have really enjoyed managing orders and having something else creative to do alongside schoolwork."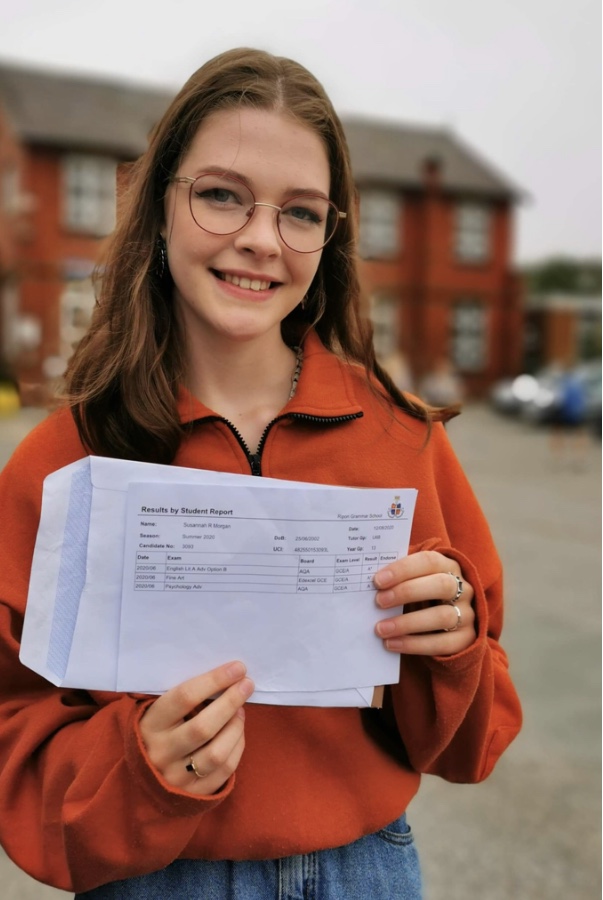 Susannah Morgan, 18, (pictured above) from outside Wetherby, will take a fine art foundation degree at Leeds Arts University before applying to study history of art at Oxford, Edinburgh, Newcastle or Warwick after being awarded A*s in art and English literature and an A in psychology. A talented musician, and a member of a number of choirs as well as a lead violinist in a number of orchestras, in addition to taking part in school musical productions, she says: "During sixth form, I had to juggle my time between my academic and musical studies." She adds: "I am proud of the results I've achieved today because, although we were somewhat robbed of a chance to 'prove' our skills and hard work, it's a reflection of the hours of work I've put in over the past two years. I am really proud of my results and am confident that I will be able to get where I want to be in the future."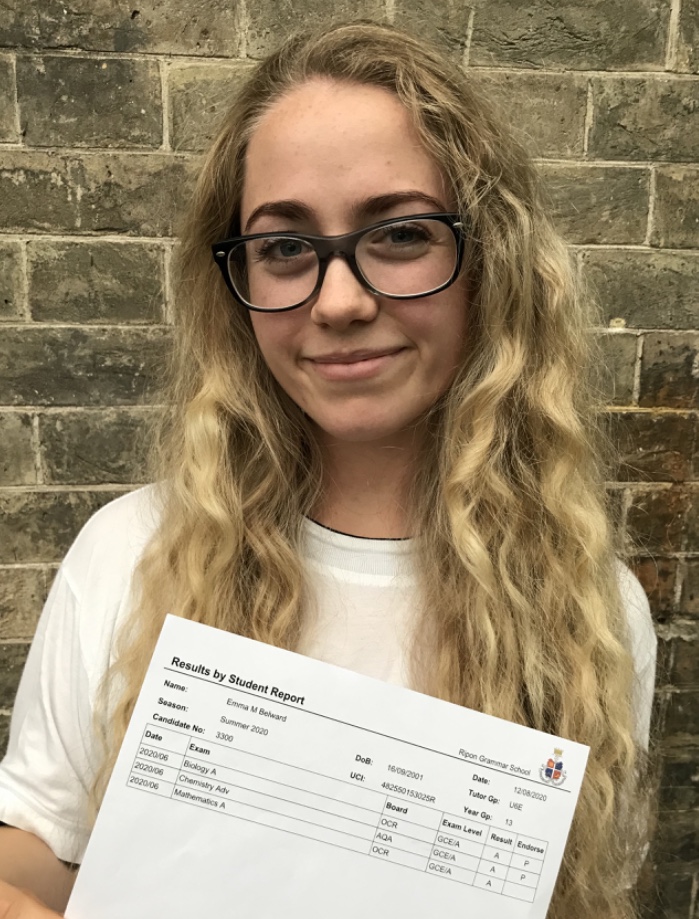 Emma Belward, 18, (pictured above) from Ripon, will study medicine and surgery at Newcastle University after being awarded A grades in biology, chemistry and maths. As head girl and a member of school choirs, as well as performing a leading role in this year's school musical production, Emma, who also volunteered in a care home and attended Stagecoach drama classes, has had lots to juggle alongside her studies: "I have loved doing lots of different extra-curricular activities, it's been so much fun. Studying medicine has been my goal for quite a long time now so it feels very surreal that I can officially say it's happening. I am so pleased to have gotten in."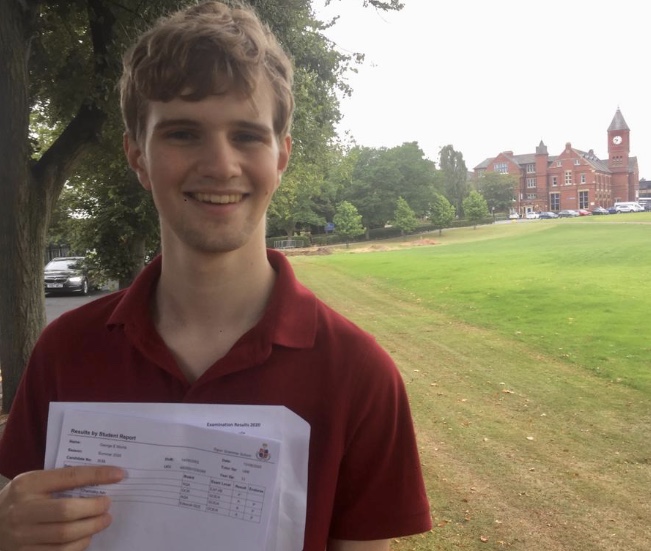 George Morris, 18, (pictured centre, top and above) from Middleton Quernhow, will be studying medicine and surgery at the University of Sunderland after receiving three A grades in chemistry, biology and physics with an A* EPQ. A school prefect and school pool lifeguard, he volunteered at a care home as part of preparation for medical studies: "I'm so pleased to have been accepted to study medicine. It is such a difficult course to get on to and I'm grateful to RGS for all the guidance they gave me throughout the long application process. It's daunting to have five years of study ahead of me but I'm sure it will all be worth it."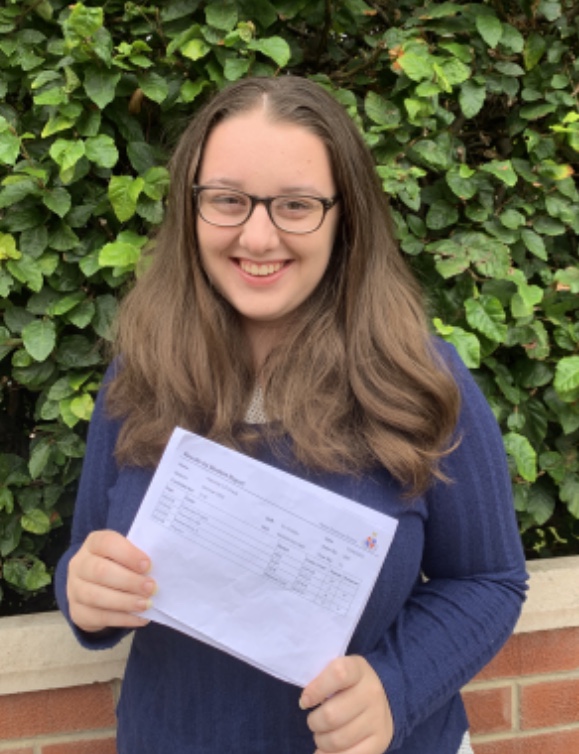 Araminta Praud, 18, (pictured bottom far left and above) from Kirby Hill, will be studying chemical engineering at the University of Nottingham after being awarded three As in maths, chemistry and physics and an A* in her EPQ: "I am just so relieved to get the grades I needed to go on to university. It's been a happier day than I expected," she said. Araminta, who was involved in Young Enterprise and ran lower school science clubs as well as volunteering in lessons and helping out at her local primary school, said: "I would just say the uncertainty has been really unsettling and it's disappointing we didn't get the opportunity to take our exams. However, I'm grateful RGS has prepared us over the last seven years so that even in these incredibly uncertain circumstances, we are still confident to go ahead to the next stages of our lives."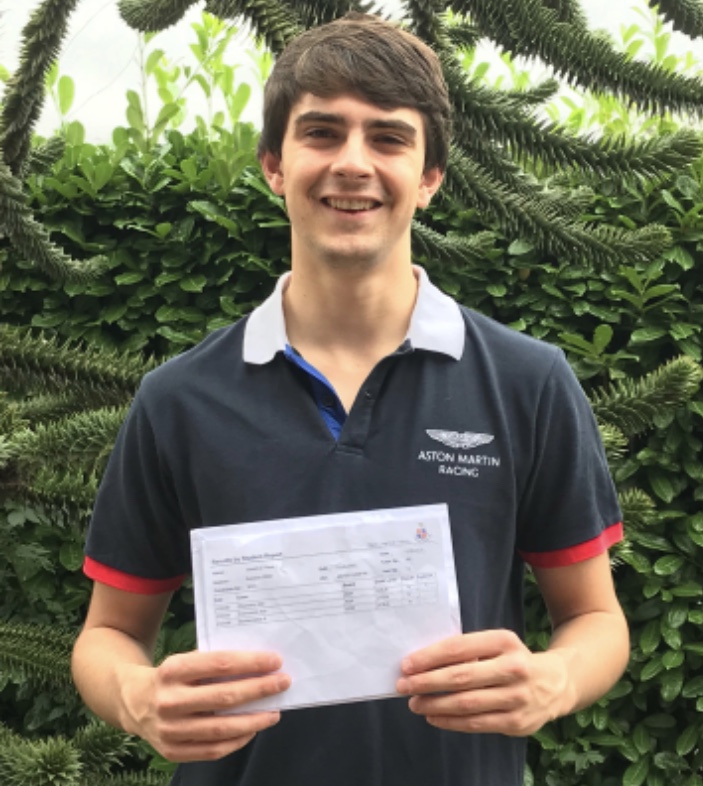 Joseph Foster, 18, (pictured bottom far right and above) of Kirby Hill, is looking forward studying economics and politics at the University of Edinburgh after being awarded A*in economics and As in maths and chemistry. Joseph, who is hoping for a career in private equity, says he will always have fond memories of RGS because of great friendships formed and the academic success he was encouraged to strive for.
Sophie Jones, 18, (pictured bottom, second right) from Harrogate, will now study modern languages at the University of Bristol after being awarded A in German, Bs in French and history and an A in her EPQ.
Eddie Henson, 18, (pictured bottom, third right) from Winksley, will study veterinary science at the University of Liverpool after being awarded As in biology and chemistry and an A* in art.
Ryan Allsopp, 18 (pictured top, second right) from Ripon, will begin an engineering apprenticeship with the Royal Navy after being awarded As in maths, chemistry and history.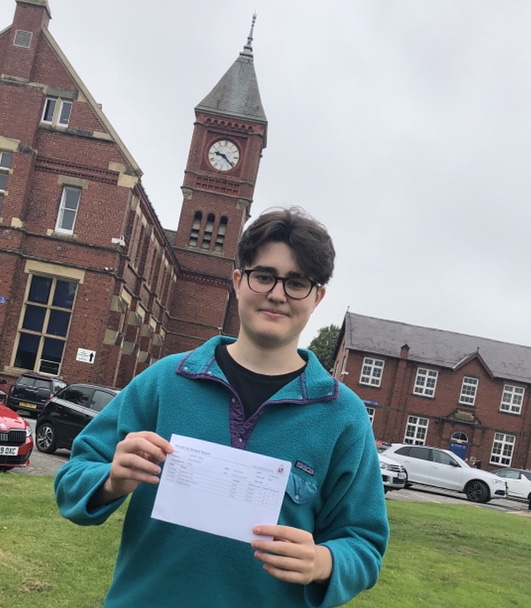 Lachlan Moon, 18 (pictured above) from Sicklinghall,will study MORSE (maths, operational research, statistics and economics) at the University of Warwick after being awarded A* and three As in maths, chemistry, economics and further maths. "I am so relieved to have got into the university of my choice," he says. Read more here.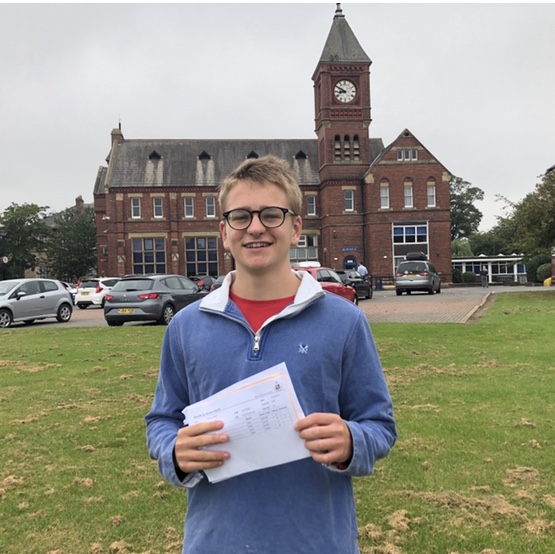 Patrick Stone, 18 (pictured above) from Oswaldkirk, has set his sights on completing an adventurous international trek before applying to study philosophy at university after being awarded a clean sweep of A*s in history, religious studies, chemistry and EPQ. Read more here.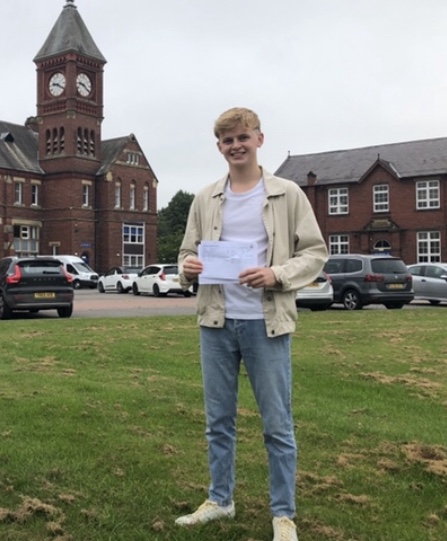 Sebastián Lyons (pictured above) from Ripon, was awarded a clean sweep of A*s in chemistry, economics, maths and EPQ. He will be volunteering in Nepal and travelling in Asia before taking up a place to study economics and politics at the University of Bath. Read more here.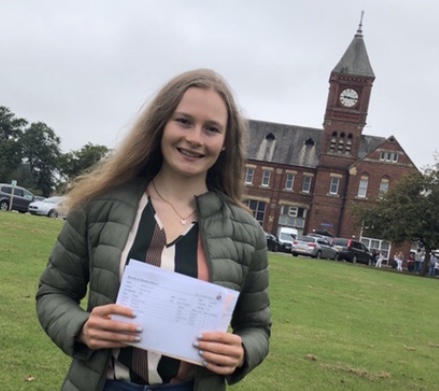 Team GB cyclist Abi Smith, 18 (pictured above) from outside Helmsley, is considering deferring her place to study biological sciences at Loughborough University to focus on her cycling full-time. She was awarded A* grades in geography and PE and an A in biology. Read more here.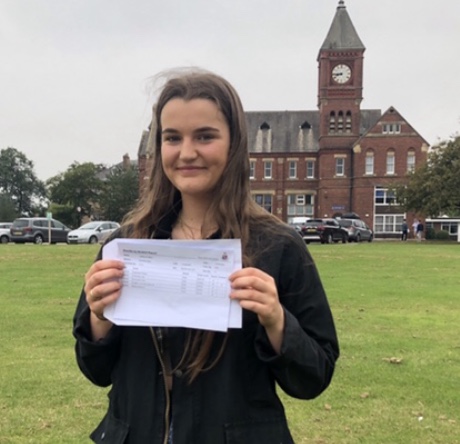 Tabitha Milton, 18 (pictured above) from outside Thirsk, is looking forward to studying politics, philosophy and economics at Durham University after being awarded a clean sweep of A*s in maths, chemistry, economics, English literature and her EPQ. 'I want to thank my amazing teachers,' she says. Read more here.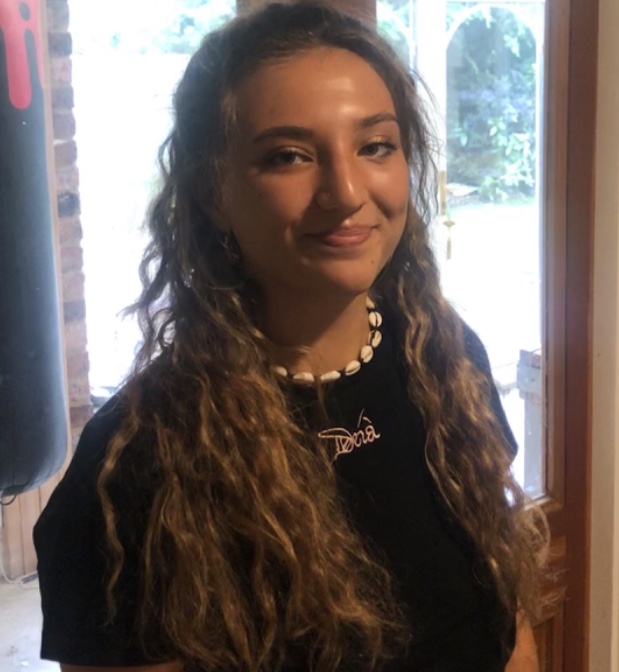 Grace Withyman, 18 (pictured above) from Ripon, will travel in Australia, Asia and the States during her gap year before taking up a place to study psychology at the University of Bristol after being awarded A*s in art and her extended project with As in English literature and psychology. Read more here.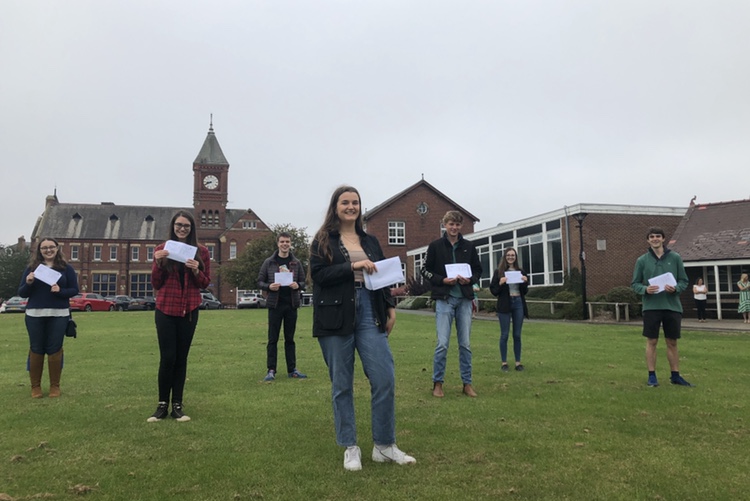 Above: l-r Araminta Praud, Sophie Jones, Jasper Wood, Tabitha Milton, Eddie Henson, Amy Crompton and Joe Foster
Top: l-r Emmi Scaife, Lisa Thorpe, George Morris, Ashleigh Spencer, Ryan Allsopp and Sophie Jones
*Following the publication of this article, the government's change of policy resulted in amended A-level results for RGS students
Class of 2018/2019:

Bright future ahead: some of the sixth form students heading for prestigious universities
A RECORD number of Ripon Grammar School students are celebrating offers of places on highly-competitive courses at the most prestigious universities in the country this year.
A record-breaking 11 students are heading to Oxford and Cambridge universities, with 16 also securing places on highly competitive medicine, dentistry and veterinary medicine courses while more students than ever before - ten - have won places to study law. More than 67 per cent of the school's sixth form received offers from the elite Russell Group of universities.
High-flying students throughout the 137-strong sixth form have secured places on a wide range of courses, from airline pilot studies, astronomy & physics to ecology & conservation, fashion, history, law, nuclear engineering, nursing and psychology & criminology.
Case Studies:
We want all of our students to be happy and fulfilled during their time here, allowing them to perform to the very best of their academic and personal abilities. We are extremely proud of all our students' achievements whilst at Ripon Grammar School and always enjoy keeping touch with former students through our alumni, Old Rips. We produce an alumni magazine which is a great read and demonstrates the diverse range of career paths our students follow after leaving Ripon Grammar School. You can find out about the amazing things many of our students have gone on to do in our Clocktower alumni magazines here or click on the magazine, below: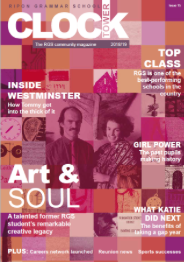 Here are just a few examples: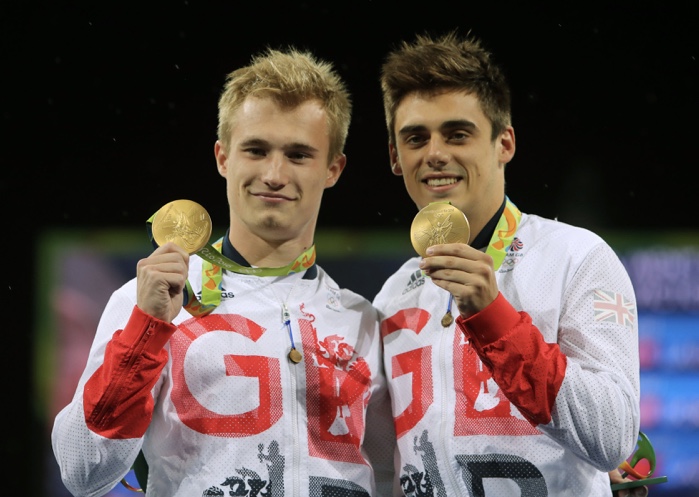 Jack Laugher, world champion diver and Olympic gold medalist, left RGS in 2013
Throughout his school days, Jack fitted in a full training schedule of 25 hours a week, in addition to studying for GCSEs and A-levels. PE teacher Siobhan Gilfillan, who Jack describes as his mentor at school, says the Olympic gold medalist demonstrated the steely determination of a top athlete during seven years at RGS: "Without arrogance, he was able to bring tremendous insight into our sports psychology lessons. We all learnt a great deal about the psychology behind elite performers. He was always able to take both success and the odd setback in his stride and learn from it to come back stronger."
Jack returned to his old school recently to inspire the next generation of athletes – giving them a spontaneous showcase of his diving skills in the school pool - and said he appreciated the chance to meet up with the great teachers and students who provided such a huge source of support throughout his diving career. "My school experience was a lot of fun, I enjoyed the friendships I formed and what they've evolved into now." He advised students: "No matter how hard it is trying to balance school and sport, you can find a way to do it to pursue your dreams in both." (Jack is pictured, above left, with his team mate Chris Mears)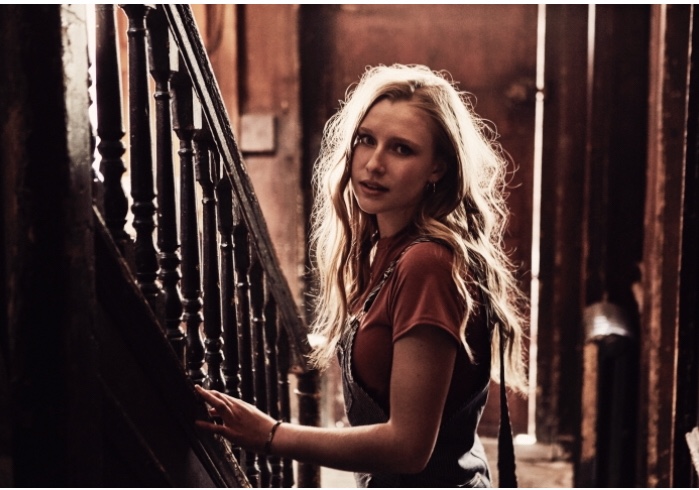 Billie Marten, acclaimed singer/songwriter, left RGS in 2017
Billie, described by The Sunday Times as a 'huge song writing talent' and a 'brilliant singer-songwriter' with 'a remarkable voice' has released her second album at the age of 19. She released her first while she was still at school, with pop star Ed Sheeran announcing to his 19 million followers on Twitter that her voice was 'stunning'.
Following a tour of the US, where she supported multi-platinum-selling stadium rock band Snow Patrol in May, she sets off on a headline tour of the UK in June 2019.
Although she'd written her own body of musical work by the age of 15, Billie only took music to GCSE level at school and was more keen on her art studies at school. (She's currently enjoying working with image and film to produce promotional artwork and music videos.)
Not one to shout about her success, she didn't like bringing her music into school, she explained: "I tended to stay quiet about anything music-related so my friends found out from Twitter or something. They were all hugely nice and proud of me and school was incredibly supportive," she said.
She's still great friends with many of her old school mates and gets together with those from her year when she's back in Yorkshire.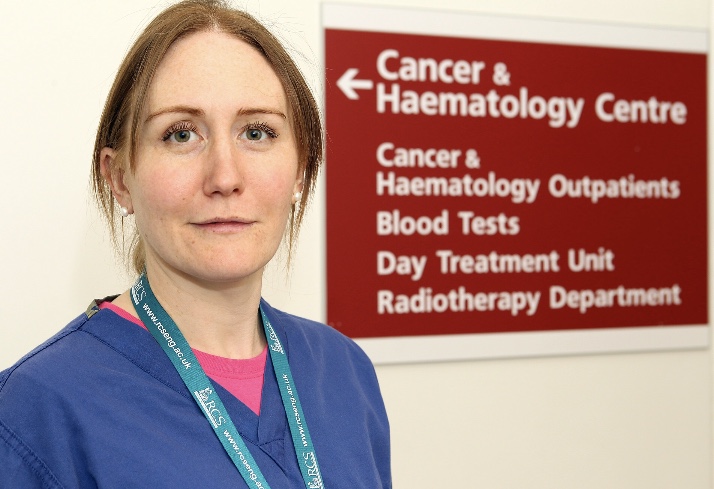 Naomi Neal, surgeon at Oxford's Churchill Hospital and lecturer in surgery at Oxford University, left RGS in 2009
Naomi earned international recognition for her ground-breaking research into the treatment of prostate cancer. She helped uncover a new gene network which could unlock the door to more effective treatments, bringing hope that more of the 41,000 men diagnosed in the UK every year could survive the disease. She has also carried out research into bladder cancer.
She always knew she wanted to be a doctor and did work experience at her local hospital and GP practices while she was at Ripon Grammar School: "I knew I wanted to work with people, not just do pure science," she explains.
RGS gave her a lot of support when applying for university and she was particularly inspired by the voluntary work she did while at school, visiting elderly people living alone.
Naomi has gone back to her old school to help inspire students in the careers department. The daughter of a self-employed carpenter, she is grateful for the benefits of selective education: "It's about offering an excellent education and boosting opportunities for those who are able from whatever social background," she says.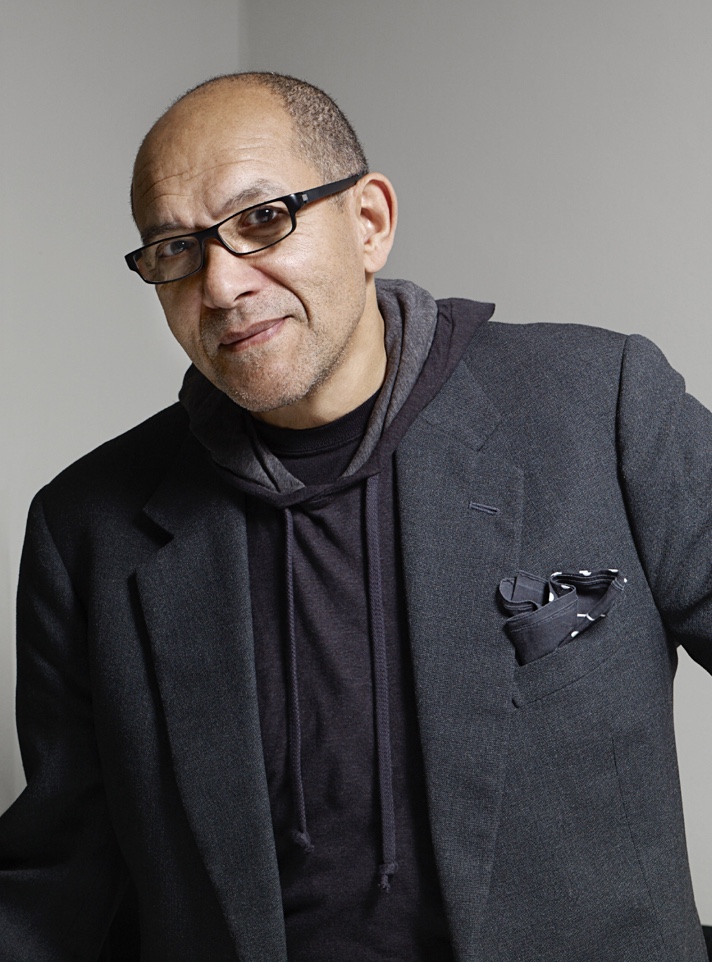 Bruce Oldfield, fashion designer, left RGS in 1969
Acclaimed designer Bruce Oldfield first launched his eponymous label in 1975 and went on to dress everyone from Diana, Princess of Wales to actresses Charlotte Rampling and Joan Collins and singers Rihanna and Taylor Swift.
Brought up in a Barnardo's children's home, he attended RGS after passing the 11plus and thrived at school: "It was respite from Barnardo's," he says, explaining that he loved the school uniform, which made him stand out from the other Barnardo's boys. He says the most important thing he learnt from RGS was: "A lot of common sense, good manners and a decent set of values. These are the things that have served me well. Grammar schools set high standards for their children and encourage enterprise and an ethos of hard work to achieve optimum personal results."
He was particularly inspired by his former teacher Constance Gilbey, whom he looked on as a kindly guardian who helped him pursue his flair for fashion design: "She took me under her wing and came to my rescue. I had no idea of what I wanted to do with my life," he says. Bruce recently returned north to attend Miss Gilbey's funeral.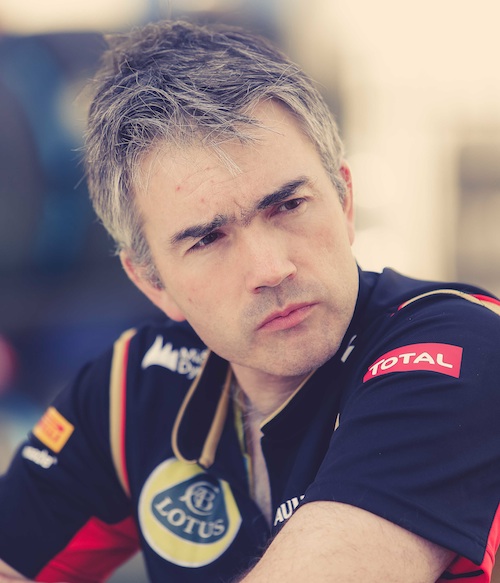 Nick Chester, left Ripon Grammar School in 1987
I graduated from Cambridge in 1991 and joined Simtek Research to work on vehicle simulation projects. When Simtek launched its own F1 team in 1994 I was fortunate to travel with the team, working for Simtek Grand Prix analysing data at the track in addition to vehicle simulation. I joined Arrows in 1995 to move into suspension design and in 1997 I took on the position of performance engineer for Damon Hill and Pedro Diniz before becoming race engineer for Mika Salo and Pedro de la Rosa in 1998 and 1999 respectively.
The start of the 2000 season heralded the beginning of my Enstone career, joining Benetton as test engineer to Alexander Wurz, Giancarlo Fisichella and Mark Webber.
The following year I graduated to the role of performance engineer for Fisichella before adopting the same position alongside Jarno Trulli between 2002 – 2004; helping the Italian to his first and only Grand Prix win at the 2004 Monaco Grand Prix.
In 2005 I took on a new posting as head of vehicle performance group; encompassing suspension, brakes and simulation.
It was a great period at Enstone as the team secured both the Constructors' and Drivers' World Championships in the 2005 & 2006 seasons under the Renault F1 banner. By 2010 I became head of performance systems, overseeing the team's vehicle performance group, control systems and dyno operations. In 2011 I took on the new role of engineering director before becoming technical director of the Lotus F1 team at Enstone in May 2013.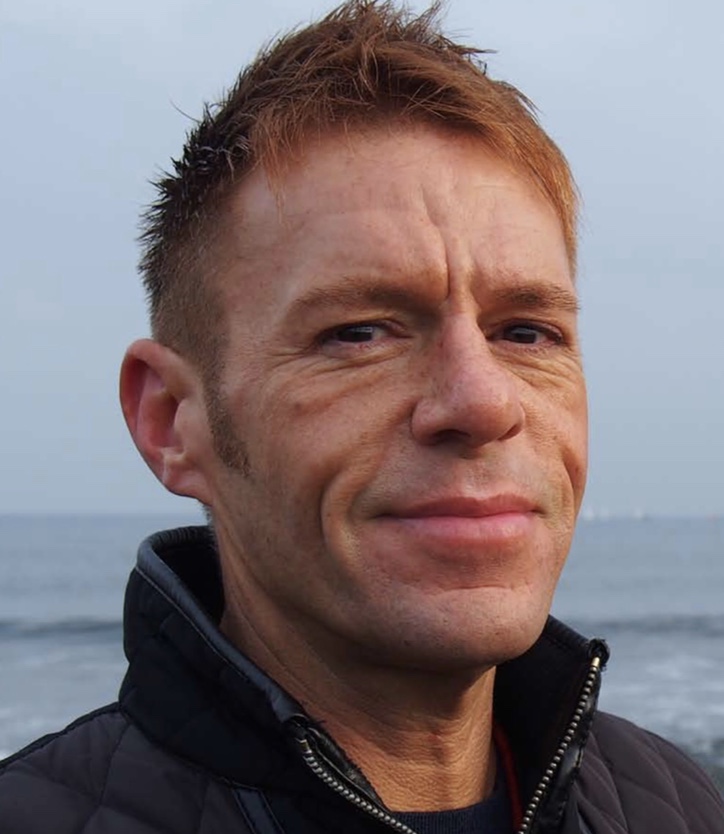 Dr Paul Hullah, left Ripon Grammar School in 1981
Insatiable cravings for books and betterment instilled and installed deep in my vernal nomadic heart by unsurpassable RGS mentor- teachers, I entered Edinburgh University in 1981 to achieve an MA (first class with honours) in English language and literature and, subsequently, a PhD ('The Poetry of Christina Rossetti'), partly funding/interrupting my studies with work as a musician and journalist. Active, notorious, and impecunious awhile on the UK underground music and arts scene (labelled a 'silver-tongued devil' by Sounds, and my band, Teenage Dog Orgy, hailed as 'legendary' by the NME), I fled to Japan in 1992 and have taught English literature at universities there for the last 22 years. I am currently tenured Associate Professor of British Poetry and Culture at Meiji Gakuin University, Tokyo, and
co-founder of Liberlit, an organization for 'discussion and defence of the role of literary texts in the English curriculum' worldwide. I have published, presented, and performed internationally in literary studies, EFL, and multimedia poetics, and have published 14 textbooks for English learners in Japan, most featuring 'literary' texts at their core: recent textbooks include Britain Today: Old Certainties, New Contradictions (Cengage, 2011) and Rock UK: A Sociocultural History of British Popular Music (Cengage, 2013).
My first award-winning collection of poetry, And Here's What You Could Have Won, was published in Britain in 1997 by Dionysia Press;
my sixth collection Scenes (a book-and-vinyl album collaboration with Edinburgh musician/ artist Martin Metcalfe) was published in August
2014 by Word Power. In 2013 I received the Asia Pacific Brand Laureate International Personality Award, an honour endorsed by the 4th Prime Minister of Malaysia as well as the country's 13th King. The award citation stated that I was selected for 'paramount contribution to the cultivation of literature [that has] exceptionally restored the appreciation of poetry... [and] contribution to the literary education of students in Asia.' I am currently working on a critical study of the poetry of Christina Rossetti to be published in Britain in 2015. I am blessed and very content. So many good things in my life, and in me, I owe to RGS.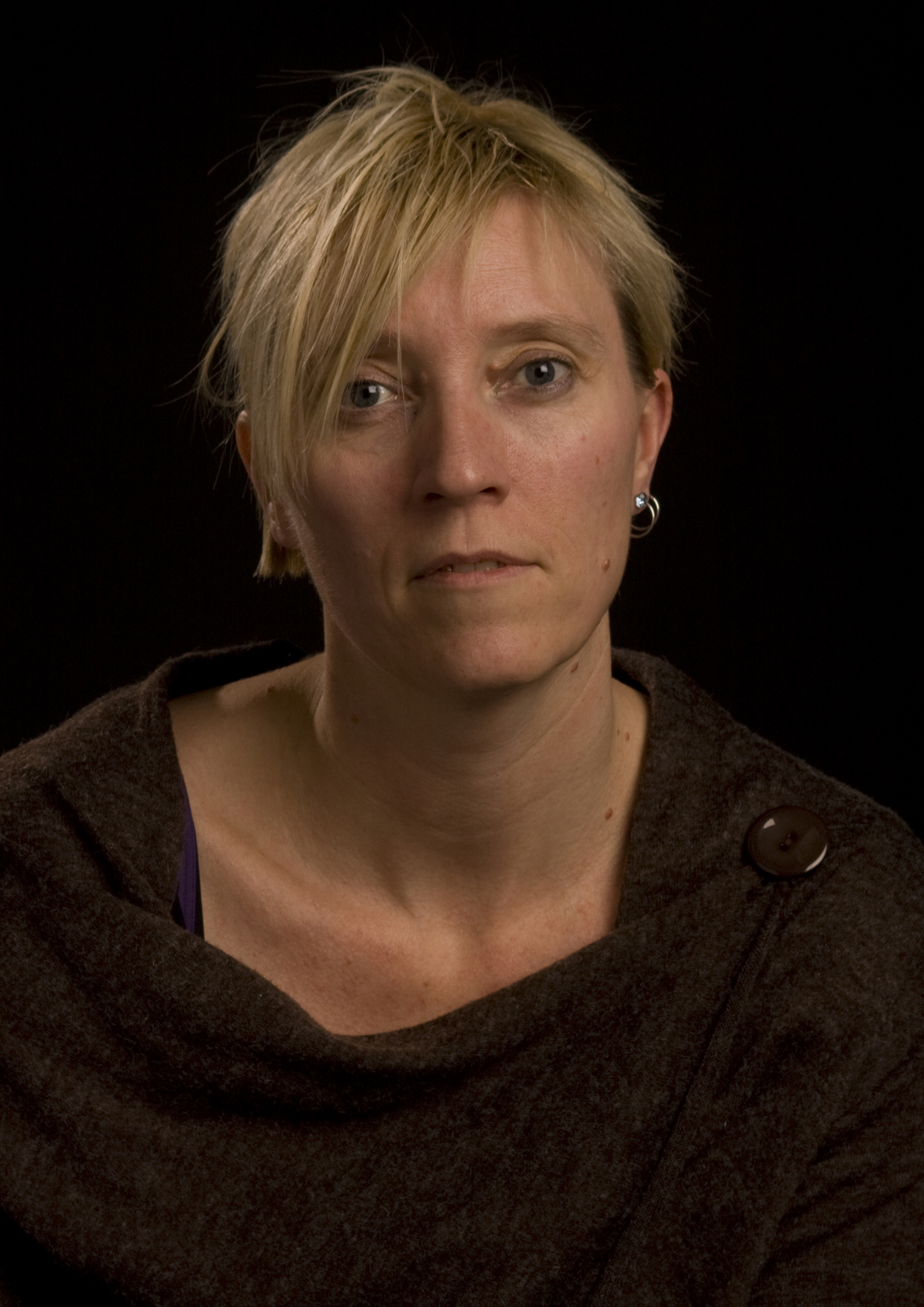 Professor Caroline Wilkinson, left Ripon Grammar School in 1984
Professor Caroline Wilkinson went on to become an internationally renowned expert in craniofacial identification. Currently Director of Liverpool School of Art and Design, she used to enjoy playing for the school hockey team.
When the reconstructed face of Richard III was first unveiled, after being painstakingly built by adding precisely calculated layers of muscle and skin to a scan of his skull, gasps could be heard from the carefully selected audience. Few expected to see such an eerily lifelike image gaze back at them. Forensic anthropologist Professor Caroline Wilkinson, who headed the fourstrong team of scientists and artists who worked on the 15th century king, was probably the least surprised of anyone.
The mother-of-one, who left Ripon Grammar School back in 1984, has been meticulously recreating remarkably accurate faces of the dead for more than 20 years and has reconstructed the faces of everyone from Johan Sebastian Bach to Mary, Queen of Scots and Saint Nicolas.
The faces she has recreated from the human remains of bog bodies and Ancient Egyptians have been exhibited in museums around the world as well as featuring on television programmes such as BBC2's Meet the Ancestors and Channel 4's Secrets of the Dead.
The daughter of two primary school teachers from Masham, Prof Wilkinson never dreamt that her passion for both art and science at school would eventually lead to such a rewarding career.
Now 48, she was a student at Ripon Grammar School at a time before science and computing, combined with art, began to offer a whole range of such exciting new career opportunities. "In the Seventies and early Eighties, we weren't encouraged to combine art and sciences. Art was considered to be for people who weren't academic and there weren't thought to be any great career opportunities. Of course all that has changed."
She is grateful to the two art teachers, Mr LV and Mr SA Smith, who let her attend art classes even though the timetable didn't allow her to take the subject at A level. "Both of them taught me to draw and observe things, they inspired me. My biology teacher, Dr Smyth, was the first person to spark my interest in the human body. Between them all they held my interest in art and science."
She studied biology, chemistry and maths but always kept up her interest in drawing and painting, taking A level art after her Manchester University anatomy and physiology degree. She went on to study scientific illustration at Blackpool Art College. After taking her PhD in the relatively new subject of facial anthropology, or the science of human faces, she moved to the University of Dundee, where, as professor of craniofacial identification, she headed up the human identification side of the Centre for Anatomy & Human Identification.
Now about to take up a new post in Liverpool, as director of the city's School of Art and Design, she will also have a Faces Lab in the Science Park there. "My work has always crossed over between art and science," she says. Her workshop may be covered in model heads, traditionally created by layering clay on top of a plaster-cast skull, but there is also a large computer system, enabling her to use 3D modelling or 'virtual sculpture' to create the same muscles she creates in clay, using information from CT scans of the skull.
It's thanks to this scientific precision that her reconstructed faces have also featured on TV's Crimewatch and are increasingly used in police investigations. Her expertise in facial image analysis has also been called upon in the criminal courts. "There is never a dull day. I didn't take much of an interest in history and archaeology at school, but it fascinates me now," she says.
While at school, she didn't know what she wanted to do: "I was interested in anatomy and physiology but didn't want to be a doctor. I vaguely thought of pathology," she says. Her advice to students today is: "Follow your own path and keep your options open rather than being too focussed too early. Everybody has something in them, even if they are not academic. If you don't know what you want to do, do subjects you enjoy. "One of the good things about RGS was that we did a lot of subjects. I am glad I learnt languages, it wouldn't have been something I would have chosen but it's a wonderful skill and good for the brain." She is still in touch with friends from RGS and misses the landscape: "You forget how beautiful it is. I have a massive fondness for York and the Dales and Moors. I can imagine coming back to live in Yorkshire one day."