Boarding Admissions
Ripon Grammar School is a selective, co-educational state boarding school for pupils with families based in the UK or overseas.
Ripon Grammar School has two boarding houses - one for girls (Johnson House) and one for boys (School House). Each house can accommodate 50 boarders. Students board weekly (Monday - Friday) or termly, staying at school at weekends. Boarders have to fulfil the same academic criteria as day students. At Year 7 there are 14 places reserved for boarders and at Year 9 there are 4 places reserved. Boarding places may be available in Years 7-11 through In-Year testing, dependant on whether there is a day place available and whether there is spare accommodation in the boarding house.
At Year 12 the only limit to the number of boarding places that can be offered is capacity in boarding accommodation, places are only offered prior to the start of the academic year.
Applicants for boarding must have either a British/EU/EEA passport or a Right of Residency, and will be required to provide a photocopy of the identification page in the passport, showing the prospective student's photograph. The name, address and contact details of a legal guardian resident in the United Kingdom is also required. This person is responsible for the applicant whilst at school, during holiday periods, illness or exceptional circumstances. Boarders only pay boarding fees - there are no tuition fees.
All boarders pay a bond of £1750 on acceptance of a place, which is refundable at the end of their academic education here.
TO APPLY FOR BOARDING IN YEARS 7-11
Please complete the Suitability for Boarding form, using the link below:
Suitability for Boarding form (this form is for entry into Years 7-11 only)
TO APPLY FOR SIXTH FORM BOARDING
Please refer to the section on Sixth Form where you will find further information relating to the sixth form boarding application process and the relevant Application Form and Suitability for Boarding Form (Sixth Form). Please contact admissions@ripongrammar.com for more information on sixth form applications.
Further information about any aspect of boarding life at Ripon Grammar School can be obtained by visiting the dedicated boarding section of the website, or by contacting head of boarding Mrs Caroline Day at DayC@ripongrammar.com
Click here, or on the image below, to view our Boarding Prospectus 2023-2024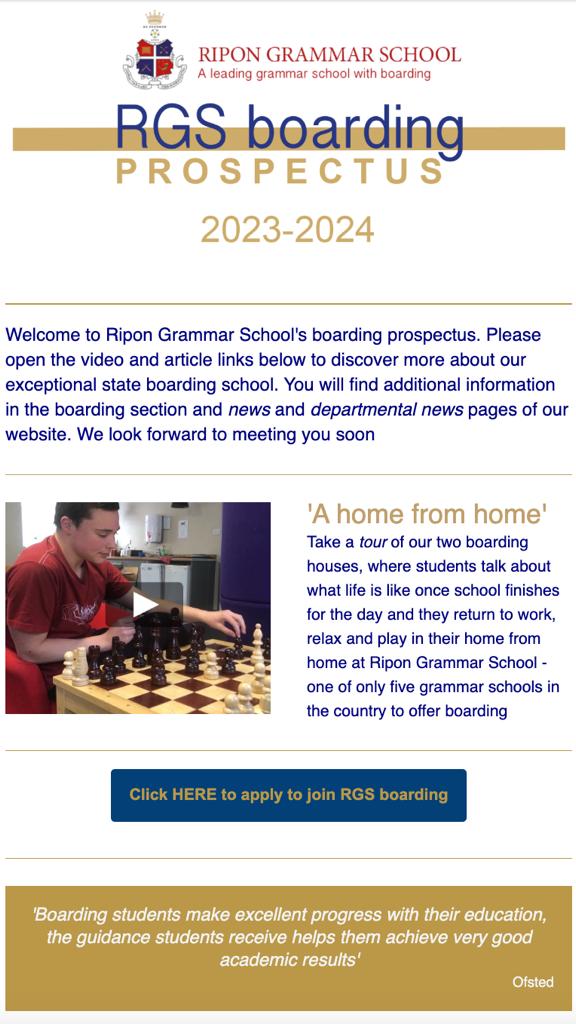 Click on the button below to book a boarding tour: