Sixth Form
An inspiring environment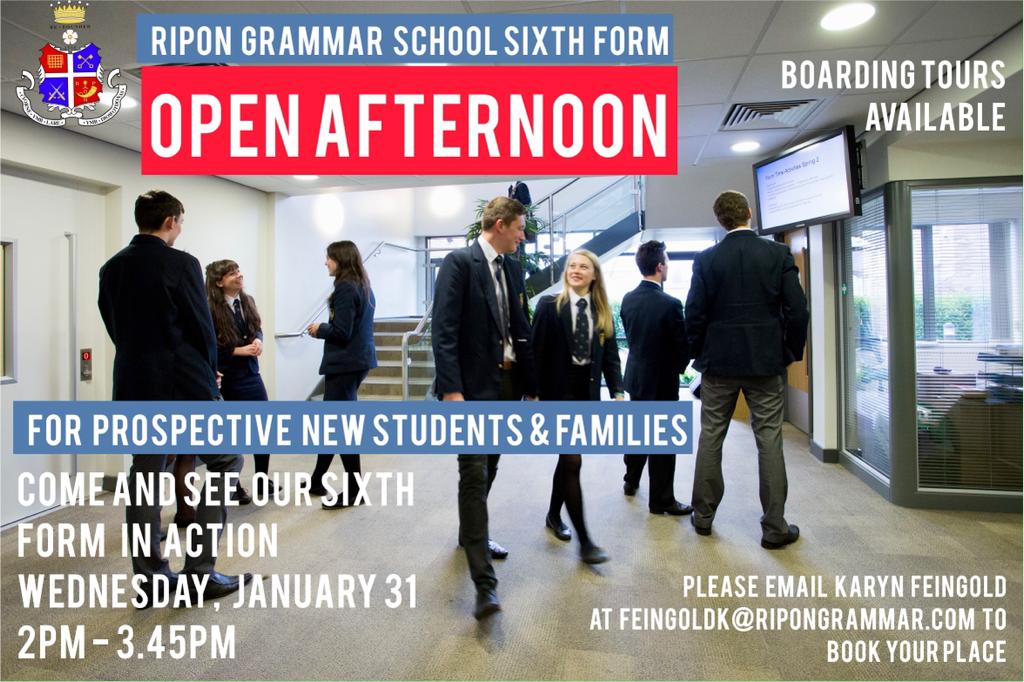 We offer a broad and inspiring educational programme and encourage independent learning, with exceptional academic and pastoral support delivered by our first-rate Sixth Form Team.
The vast majority of our GCSE students make the decision to continue their education in our sixth form - rated 'Outstanding' by Ofsted - with a significant number of students joining us from other local schools and from further afield.
We know from experience and from consultation with our students that if you join us you are very likely to have a rewarding and successful time.
Ripon Grammar School is placed in the top 5% of schools nationally for the progress students make in sixth form. Consistently rated among the top schools in the country for results, the majority of our students go on to study at elite Russell Group universities, including Oxford and Cambridge, with others winning places on degree apprenticeships or entering the world of employment.
One of the great strengths of our sixth form is that it is small enough for all students to soon become known to staff and their peers.
While outcomes are outstanding, RGS offers so much more than just academic focus, with students encouraged to take on leadership roles and develop wider skills and confidence through involvement in a broad range of enrichment opportunities, encompassing everything from charity work and volunteering to sport, music, drama and business enterprise.
We also offer students the chance to gain a sense of independence within our thriving boarding community, which provides a unique preparation for university life.
Those who join the sixth form at Ripon Grammar School will enjoy an environment which is both academically stimulating, and extremely welcoming.
ONLINE OPEN DAY: Please click here, or on the image below to visit our Online Open Day, which provides lots of information on everything from A-level courses to all the activities and opportunities that make being a sixth former at Ripon Grammar School such an enriching experience.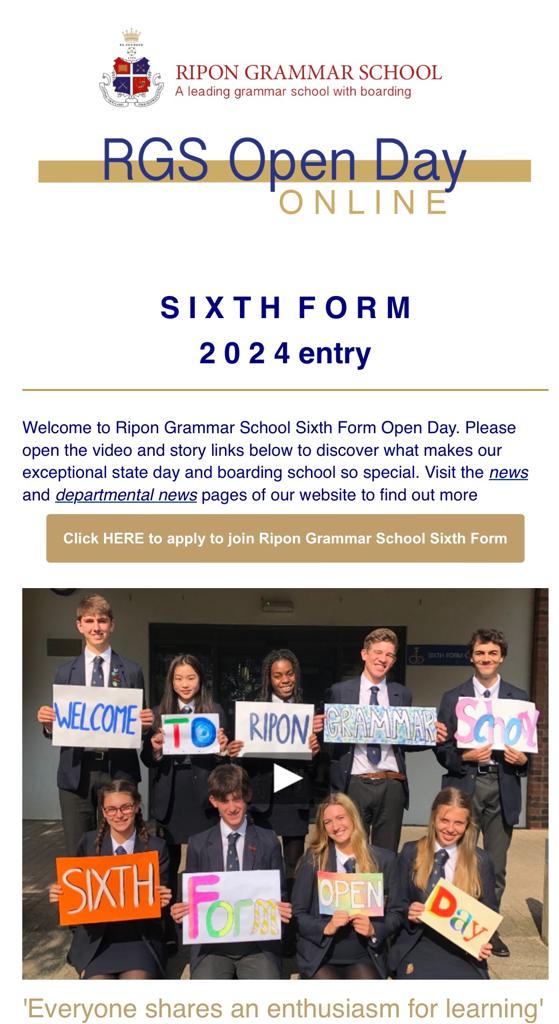 "I don't think I could have come to a better school," says boarding student Ishwar, from Dubai. Hear what else Ishwar has to say about how he's settled in at RGS sixth form here:


"Staff care not only that we do well but are happy and thrive in other ways too." Find out what else Freya, who joined RGS in sixth form, has to say here:

How to apply
To apply for a sixth form place prospective students must complete an online application form, and suitability for boarding form if applicable. Please Click here to go to our sixth form admissions page and read our information on entry requirements, Course Guide and other information carefully.
For all general sixth form enquiries, or if you have already been offered a place for September 2023, please email: sixthformcentre@ripongrammar.com
For any questions about new Sixth Form admissions please email: admissions@ripongrammar.com
INDUCTION
We will hold an induction afternoon in June for those students who have been offered a place in our sixth form.
OUR SIXTH FORM TEAM:
Head of Sixth Form – Mr Terry Fell - Email: fellt@ripongrammar.com
Deputy Head of Sixth Form – Mrs Lee Lyons - Email: LyonsL@ripongrammar.com
Deputy Head of Sixth Form & Plus One Co-ordinator - Mrs Helen Nelson - Email: nelsonh@ripongrammar.com
Sixth Form Co-ordinator – Mrs Karyn Feingold - Email: feingoldk@ripongrammar.com
CONTACT US
For all general sixth form enquiries please email: sixthformcentre@ripongrammar.com
For any questions about new Sixth Form admissions please email: admissions@ripongrammar.com