A day in the life of an RGS boarder
Three students offer a glimpse of their lives as boarders and summarise a typical day
"Deciding to board is the best decision I've ever made and something I would recommend to everyone"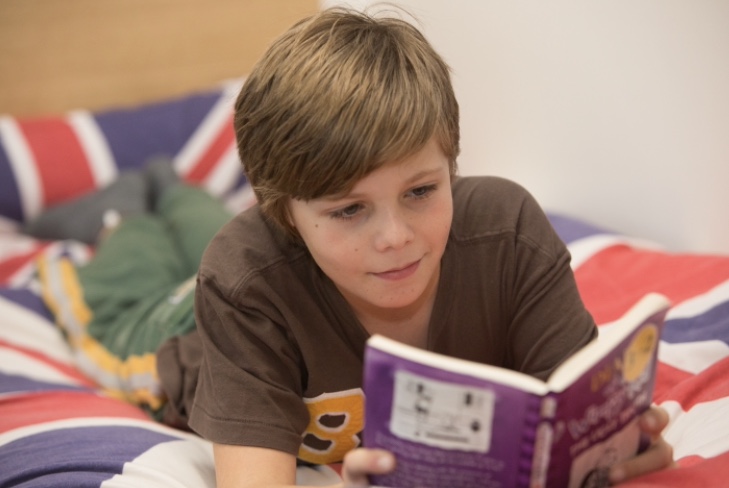 "Boarding allows you to work according to a routine, which is great for keeping organised with school life. We are woken up firstly by a bell, followed by a member of staff, and must be downstairs for breakfast in school uniform for 8am. There is a wide range of food available for us, ranging from toast and cereal to a full English breakfast, and we choose what we prefer. After breakfast we continue getting ready for school, and then start the school day.
At the end of the school day we return to the boarding house to register. There are usually freshly baked snacks for us, and drinks. From 4pm-6pm we are free to do what we like. Often we choose to unwind on the sofas and watch TV or put a film on, but sometimes we go into town for a coffee or to shop and in summer we can sit and talk on the field. Tea is at 6pm and lasts for half an hour. We all eat together and there are two options available each night.
After tea is our time to do prep. First-third form students are supervised in the prep room during this time but the rest of us work in our dorms. At 8pm the younger girls participate in a daily activity, but normally the older ones have to work for a bit longer. We all have different bedtimes depending on our age, which tends to work pretty well.
Boarding gives confidence and independence, and there is such a fantastic sense of belonging and community in the house. For me, deciding to board has been the best decision I've ever made, and is something that I would recommend to everyone." (QUOTE FROM A FEMALE BOARDING STUDENT)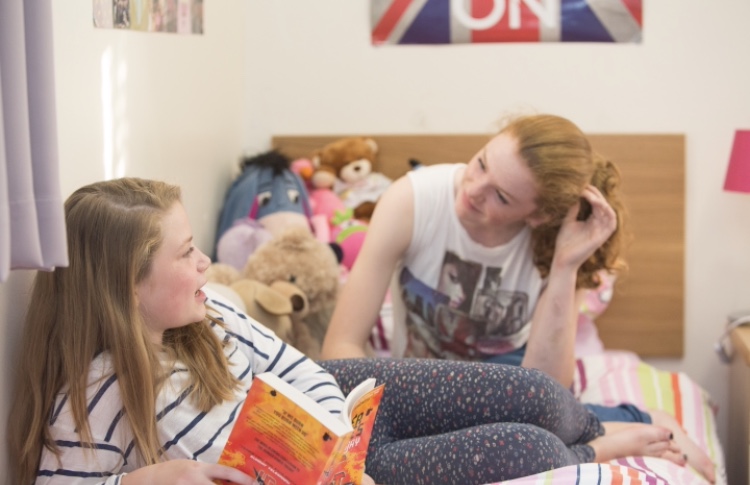 "Boarding is easy, welcoming and great fun"
"Every day in the boarding house we have millions of activities and games we can play, like after school clubs, playing outside with friends, meeting friends, Xbox games, watching TV… the list is literally endless. All of these games and activities are extremely enjoyable and we never get sick or tired of them.
Boarding is easy, welcoming and great fun! You're 2 seconds away from school, so there is no stress. When we get up at 7:30am we mostly get showers and when the breakfast bell goes at 7:55 we go downstairs and get breakfast. The food is delicious as we have a selection of food to choose from, cereal, toast, cooked breakfast, yoghurt and more.
Then we get back into the boarding house to register at 3.55pm when we get a snack, from delicate patisserie to savoury rolls, it's fantastic. Next part of boarding is 4pm-6pm. This period of time is called 'free time'. We can do anything we want in this time, play outside sport, go into town, meet friends and the games room.
The bell for tea goes at 5:55pm. We finish at 6:30pm and after tea the juniors (first-third form) go straight to prep to do their homework, prep finishes at 8:00pm. After prep we have an activity for 1 hour, on Monday we have this with the girls,
Tuesdays is a social night with the girls, on Wednesday we do either dodgeball or football and many other sports, on Thursday we have water polo. After the activity we all chill out and then get ready for bed, we have supper straight after the activity.
This is just ONE week of boarding at Ripon Grammar School. Boarding at Ripon Grammar School is great, welcoming and a place of comfort." (QUOTE FROM A MALE BOARDING STUDENT)
"We can go into town and meet up with friends"
"Each day starts with a bell at 7:30 followed by a house parent knocking on your door to ensure that you are awake. We then have 25 minutes to get ready before a second bell at 7.55am informs us that it's time to go for breakfast. The whole boarding house then goes to the dining room where a selection of cooked breakfast and cereals has been prepared.
In the sixth form you are allowed to go back to your room as soon as you finish your breakfast, which gives plenty of time to get to form for 8:45.
After school at 4pm we go to the dining hall for a tasty snack baked that day and to register with the house parent on duty. From 4pm-6pm we have free time to use as we wish that provides an excellent opportunity to go into town and meet up with friends. Dinner is at 6 with a bell at 5 to so we don't miss it. There is a rota for meals with suggestions from us playing a large role in what meals we are given.
At 6.30pm we have prep with the option to work in our rooms or in the school library if we require books for research or wish to speak with the duty staff about our homework.
From 8pm onwards we have free time, which we can spend around the house in the games or TV room we share with the juniors or in the sixth form common room. At 11 we return to our rooms with lights out at 11.30pm." (QUOTE FROM A MALE BOARDING STUDENT)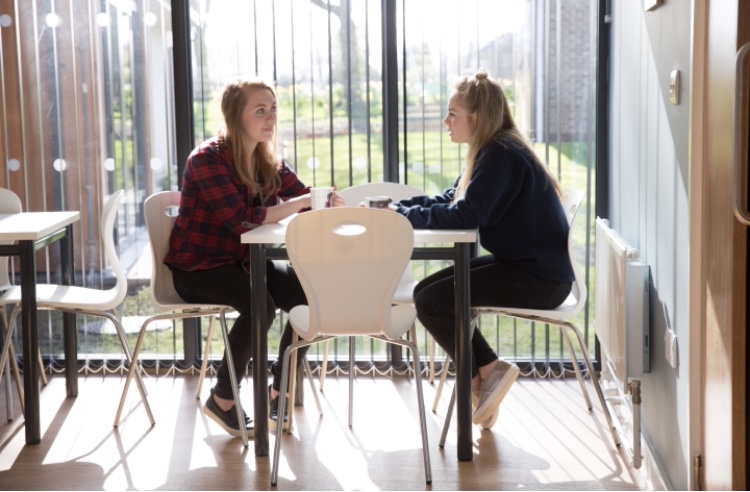 A typical day
8am -A typical day starts with breakfast. Other than sixth formers, pupils do not return to the boarding house during the day, ensuring that school and 'home' are separate in the same way as they are for day pupils.
8.50am –Registration in the main school with form groups followed by lesson timetable including morning break and lunch spent with day pupils in the main school buildings.
3.55pm –Boarders register in their boarding house when lessons finish. They can choose from the snack counter, then have free time to watch TV or play computer games in the boarders' lounges, go running or join one of the school's many sporting clubs. There are telephones in the houses for boarders to keep in contact with their family and friends. Boarders can also use their personal mobile phones and their own email addresses.
6pm –Tea is served by each of the boarding houses' dedicated catering teams, each led by a qualified chef. Menus are well planned in conjunction with pupils, with a number of choices available including a vegetarian option. Pupils help with cleaning up after tea on a rota basis.
6.45pm –Prep in the boarding house study rooms, library or in boarders' own rooms.
8pm –Pupils are able to join in any of the numerous activities organised by the house parents such as ice skating, bowling, theatre, cinema and other trips out. Boarders also have exclusive use of the school swimming pool one night a week and can use the gym and other sports facilities.
See our Boarding Activities page for more information.