Murder mystery fans meet favourite author
Hundreds of students got to meet a best-selling murder mystery writer at RGS, while fifth former AMY BURGESS enjoyed the once-in-a-lifetime experience of interviewing her favourite author before the event
STUDENTS at Ripon Grammar School got to solve their own murder mystery with a top children's author who revealed the secrets behind the success of her best-selling detective series.
Robin Stevens spoke to more than 250 students from RGS, Outwood Academy and local primary schools, explaining how she got into writing and what makes a good murder mystery story work.
Among them were three of the author's biggest fans, Isla Davidson, 12, Qin Yi Yaw, 13 and Sophie Hooks, 12, who all enjoyed having the chance to create their own murder mystery tale, while discovering what makes a great detective.
Qin Yi, from Ripon, who has read all eight books in Stevens's classic boarding school Murder Most Unladylike series, said: "I like the way they are all quite unique and different. And the stories suck you in, right to the very end. It was really interesting to hear how she thinks up plots and storylines."
RGS boarding student Isla Davidson, from Bedale, explained that she was halfway through the series, set in the fictional Deepdean School for Girls, and hooked: "The books are so much fun to read. It's been interesting to see the person behind them and find out more about how she came to write them."
Sophie Hooks, from Dishforth, told how she has always loved murder mysteries and enjoyed reading the whole series: "I love the fact they have people my age in the stories and it was great to hear all about the author's life today."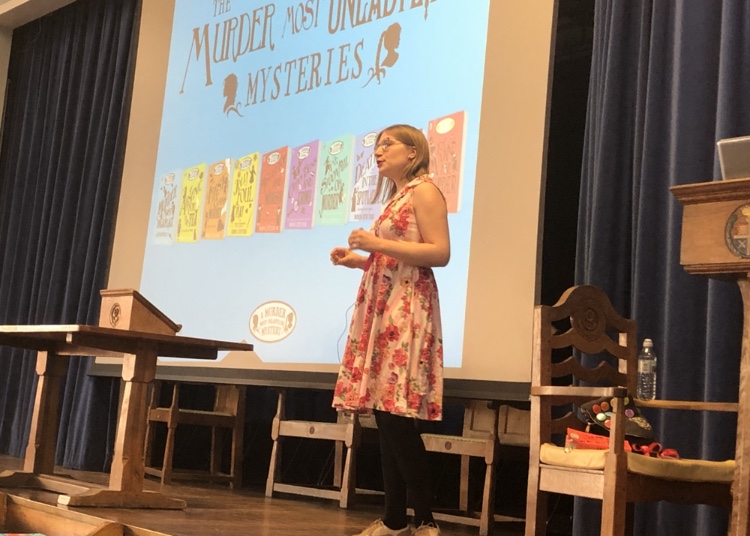 The popular American-born English author told a packed hall how she became gripped by murder mysteries, especially Agatha Christie's, as a child, when her experience as a boarding student provided the perfect setting for her future novels: "I liked adventures and puzzles that had to be worked out."
She told students how glancing out of a train and seeing a couple meet, in the distance, at the top of a hill was the initial inspiration behind Top Marks for Murder, the highly anticipated eighth mystery in her best-selling series, which is set in the 1930s and follows the adventures of youthful detectives Daisy Wells and Hazel Wong.
Stevens explained her fascination with murder mystery stories from a young age: "They're guaranteed to be interesting, with lots of plotting and twisting. I used to sneak around and spy on adults, and uncovered lots of fascinating secrets. Murder mysteries mirror the way, in real life, everybody has secrets.
"We're all terrified of crime and of bad things happening to us and want to make sure it doesn't. But in murder mysteries, we can think of murder in a safe place, without anything bad happening to us."
*Top Marks for Murder (Penguin UK/Puffin £6.99)
Pictured top, l-r, Isla, Qin Yi, Robin Stevens, RGS librarian Mrs Dring and Sophie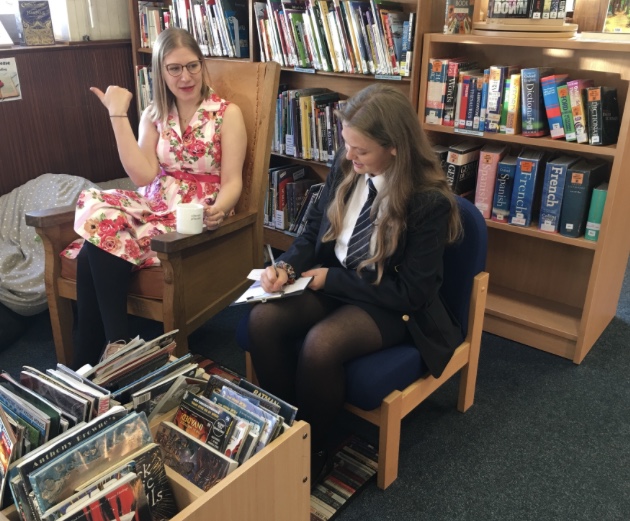 Fifth former AMY BURGESS is one of Robin Stevens's biggest fans and got the chance to interview her in the RGS library before the author's presentation to 250 younger students
I HAD the pleasure of interviewing Robin Stevens to ask some questions about what inspired her books and the in-depth characters within.
She told me how the school in her books, Deepdean School for Girls, is very similar to Cheltenham Ladies' College, the boarding school she attended as a girl, and the map that features in the front of some of her books is almost the same.
She also told me that the main characters, Daisy Wells and Hazel Wong are based on the friends she had during her time boarding. A few of her friends were even from Hong Kong, just like one of her books' main characters, Hazel Wong.
She said that she enjoyed boarding very much, although she didn't get to investigate any intriguing murders!
I wanted to know how she came to know the places featured in her book so well and found out that Robin Stevens actually went to Hong Kong for a week in 2016 to carry out research for A Spoonful of Murder, which gave her an insight into the culture and the nature of the location. The book features many details about Hong Kong such as the architecture of the buildings and the society. She also spent some time in Cambridge, where she discovered lots about university accommodation and the dainty tea rooms with cream buns and scones.
She very much enjoys travelling for the books as it gives her the ability to write stories that are accurate and could very possibly happen.
She also revealed how her World Book Day short story, The Case of the Drowned Pearl, is set at a beach where the two teams led by Alex and Daisy gather to investigate a murder set by a beach. This will be her first short story which actually involves murder, as the others show us more of the culture at Deepdean.
She didn't give much away when I asked if she planned to venture into other writing other genres, responding mysteriously: "You will just have to wait and see."
However she did tell me her favourite books of the series, mainly Death in the Spotlight and First Class Murder. In addition, her favourite books outside the series are many by Agatha Christie (mainly Murder on the Orient Express, which makes perfect sense as this is very largely related to First Class Murder).
She did name many other books and she clearly enjoys reading when she's not writing her own stories. She also told me that she worked at a publishing company for a few years but had to stop after her first few books as writing then became a full-time job.
We are happy that it did because she has given us some amazing, aggravatingly puzzling stories.
Robin Stevens was extremely kind and answered my questions with enthusiasm, which was an amazing experience. It was a once-in-a-lifetime opportunity and I hope everyone who attended her talk and had the chance to meet her feels the same.
I highly recommend her books and believe that everyone should read and become immersed in a world other than their own. You could even try writing your own story.
Thank you to The Little Ripon Bookshop for helping to organise this event.
*Top Marks for Murder (Penguin UK/Puffin £6.99)
Pictured top, l-r, Isla, Qin Yi, Robin Stevens, RGS librarian Mrs Dring and Sophie