Final destinations and case studies
Case Studies:
We want all of our students to be happy and fulfilled during their time here, allowing them to perform to the very best of their academic and personal abilities. We are extremely proud of all our students' achievements whilst at Ripon Grammar School and always enjoy keeping touch with former students through our alumni, Old Rips. We produce an alumni magazine which is a great read and demonstrates the diverse range of career paths our students follow after leaving Ripon Grammar School. We have a few examples here for you.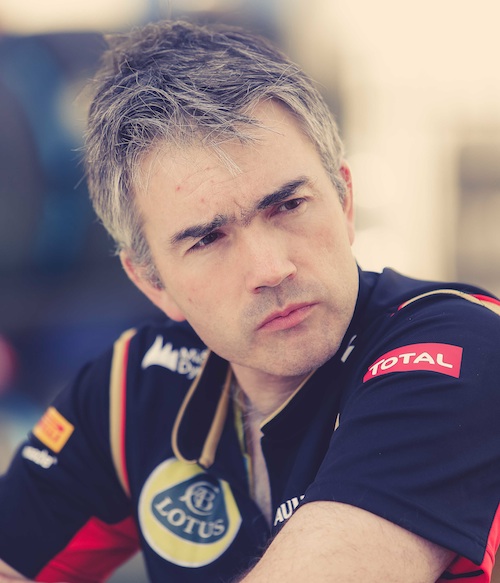 Nick Chester, left Ripon Grammar School in 1987
I graduated from Cambridge in 1991 and joined Simtek Research to work on vehicle simulation projects. When Simtek launched its own F1 team in 1994 I was fortunate to travel with the team, working for Simtek Grand Prix analysing data at the track in addition to vehicle simulation. I joined Arrows in 1995 to move into suspension design and in 1997 I took on the position of performance engineer for Damon Hill and Pedro Diniz before becoming race engineer for Mika Salo and Pedro de la Rosa in 1998 and 1999 respectively.
The start of the 2000 season heralded the beginning of my Enstone career, joining Benetton as test engineer to Alexander Wurz, Giancarlo Fisichella and Mark Webber.
The following year I graduated to the role of performance engineer for Fisichella before adopting the same position alongside Jarno Trulli between 2002 – 2004; helping the Italian to his first and only Grand Prix win at the 2004 Monaco Grand Prix.
In 2005 I took on a new posting as head of vehicle performance group; encompassing suspension, brakes and simulation.
It was a great period at Enstone as the team secured both the Constructors' and Drivers' World Championships in the 2005 & 2006 seasons under the Renault F1 banner. By 2010 I became head of performance systems, overseeing the team's vehicle performance group, control systems and dyno operations. In 2011 I took on the new role of engineering director before becoming technical director of the Lotus F1 team at Enstone in May 2013.
Dr Paul Hullah, left Ripon Grammar School in 1981
Insatiable cravings for books and betterment instilled and installed deep in my vernal nomadic heart by unsurpassable RGS mentor- teachers, I entered Edinburgh University in 1981 to achieve an MA (first class with honours) in English language and literature and, subsequently, a PhD ('The Poetry of Christina Rossetti'), partly funding/interrupting my studies with work as a musician and journalist. Active, notorious, and impecunious awhile on the UK underground music and arts scene (labelled a 'silver-tongued devil' by Sounds, and my band, Teenage Dog Orgy, hailed as 'legendary' by the NME), I fled to Japan in 1992 and have taught English literature at universities there for the last 22 years. I am currently tenured Associate Professor of British Poetry and Culture at Meiji Gakuin University, Tokyo, and
co-founder of Liberlit, an organization for 'discussion and defence of the role of literary texts in the English curriculum' worldwide. I have published, presented, and performed internationally in literary studies, EFL, and multimedia poetics, and have published 14 textbooks for English learners in Japan, most featuring 'literary' texts at their core: recent textbooks include Britain Today: Old Certainties, New Contradictions (Cengage, 2011) and Rock UK: A Sociocultural History of British Popular Music (Cengage, 2013).
My first award-winning collection of poetry, And Here's What You Could Have Won, was published in Britain in 1997 by Dionysia Press;
my sixth collection Scenes (a book-and-vinyl album collaboration with Edinburgh musician/ artist Martin Metcalfe) was published in August
2014 by Word Power. In 2013 I received the Asia Pacific Brand Laureate International Personality Award, an honour endorsed by the 4th Prime Minister of Malaysia as well as the country's 13th King. The award citation stated that I was selected for 'paramount contribution to the cultivation of literature [that has] exceptionally restored the appreciation of poetry... [and] contribution to the literary education of students in Asia.' I am currently working on a critical study of the poetry of Christina Rossetti to be published in Britain in 2015. I am blessed and very content. So many good things in my life, and in me, I owe to RGS.
Professor Caroline Wilkinson, left Ripon Grammar School in 1984
Professor Caroline Wilkinson went on to become an internationally renowned expert in craniofacial identification. Currently Director of Liverpool School of Art and Design, she used to enjoy playing for the school hockey team.
When the reconstructed face of Richard III was first unveiled, after being painstakingly built by adding precisely calculated layers of muscle and skin to a scan of his skull, gasps could be heard from the carefully selected audience. Few expected to see such an eerily lifelike image gaze back at them. Forensic anthropologist Professor Caroline Wilkinson, who headed the fourstrong team of scientists and artists who worked on the 15th century king, was probably the least surprised of anyone.
The mother-of-one, who left Ripon Grammar School back in 1984, has been meticulously recreating remarkably accurate faces of the dead for more than 20 years and has reconstructed the faces of everyone from Johan Sebastian Bach to Mary, Queen of Scots and Saint Nicolas.
The faces she has recreated from the human remains of bog bodies and Ancient Egyptians have been exhibited in museums around the world as well as featuring on television programmes such as BBC2's Meet the Ancestors and Channel 4's Secrets of the Dead.
The daughter of two primary school teachers from Masham, Prof Wilkinson never dreamt that her passion for both art and science at school would eventually lead to such a rewarding career.
Now 48, she was a student at Ripon Grammar School at a time before science and computing, combined with art, began to offer a whole range of such exciting new career opportunities. "In the Seventies and early Eighties, we weren't encouraged to combine art and sciences. Art was considered to be for people who weren't academic and there weren't thought to be any great career opportunities. Of course all that has changed."
She is grateful to the two art teachers, Mr LV and Mr SA Smith, who let her attend art classes even though the timetable didn't allow her to take the subject at A level. "Both of them taught me to draw and observe things, they inspired me. My biology teacher, Dr Smyth, was the first person to spark my interest in the human body. Between them all they held my interest in art and science."
She studied biology, chemistry and maths but always kept up her interest in drawing and painting, taking A level art after her Manchester University anatomy and physiology degree. She went on to study scientific illustration at Blackpool Art College. After taking her PhD in the relatively new subject of facial anthropology, or the science of human faces, she moved to the University of Dundee, where, as professor of craniofacial identification, she headed up the human identification side of the Centre for Anatomy & Human Identification.
Now about to take up a new post in Liverpool, as director of the city's School of Art and Design, she will also have a Faces Lab in the Science Park there. "My work has always crossed over between art and science," she says. Her workshop may be covered in model heads, traditionally created by layering clay on top of a plaster-cast skull, but there is also a large computer system, enabling her to use 3D modelling or 'virtual sculpture' to create the same muscles she creates in clay, using information from CT scans of the skull.
It's thanks to this scientific precision that her reconstructed faces have also featured on TV's Crimewatch and are increasingly used in police investigations. Her expertise in facial image analysis has also been called upon in the criminal courts. "There is never a dull day. I didn't take much of an interest in history and archaeology at school, but it fascinates me now," she says.
While at school, she didn't know what she wanted to do: "I was interested in anatomy and physiology but didn't want to be a doctor. I vaguely thought of pathology," she says. Her advice to students today is: "Follow your own path and keep your options open rather than being too focussed too early. Everybody has something in them, even if they are not academic. If you don't know what you want to do, do subjects you enjoy. "One of the good things about RGS was that we did a lot of subjects. I am glad I learnt languages, it wouldn't have been something I would have chosen but it's a wonderful skill and good for the brain." She is still in touch with friends from RGS and misses the landscape: "You forget how beautiful it is. I have a massive fondness for York and the Dales and Moors. I can imagine coming back to live in Yorkshire one day."