A magnificent seven records broken at Sports Day 2022
Ripon Grammar School students came together for a superb 2022 Sports Day, celebrating individual achievements, sportsmanship and team spirit as they represented the four Houses of RGS in summer athletics. There were some impressive, stand-out performances, with everyone making a great effort - and seven records broken. Well done to all the competitors
Huge congratulations to 2022's record breakers, our magnificent seven: Eliash, Aidan, Josh, Beth, Lottie, Isabella and William. What an amazing achievement (see the full list of RGS records - stretching back to Ann Dunlop's unbroken 4th year discus (27.66m) in 1959 - at the end).
And well done to team Hutton, which won the girls' trophy, boys' trophy and overall trophy.
Boys' 1st Year Triple Jump - Record: Eliash Willis (S) 8.99m
Boys' 1st Year High Jump – Record: Aidan Jolly (DG) 2022, 1.34m
Boys' 2nd Year High Jump – Record: Josh Risbey (S) 2022 1.52m
Girls' 1st Year Long Jump - Record: Beth Takkiedine (DG) 2022, 4.15m
Girls' 1st Year High Jump – Record: Lottie Day (H) 2022, 1.34m
Girls' 1st Year Javelin- Record: Isabella Simpson (S) 2022, 21.18m
Boys' 3rd Year 800m –Record: William Keens (H) 2022, 2m 17.40s
JAMES POLLINGTON CLYNE recalls the excitement of the day. Photographs by JONNY HARDING
"It was a lovely sunny day, with the sun beating down and sun tan lotion at the ready. Some people were excited at the prospect of setting a school record and others dreading the idea of having to run 100m. As the day progressed, we enjoyed several field events with different year groups. Then, in a shocking turn of events, it started to rain. People began asking if the track events would go ahead, but fortunately it soon cleared up and the entire school migrated down to the track where the real excitement began as students raced to the finish with the roar of the school cheering them on. The teachers' relay race marked the end of Sports Day, with some students looking back on their last year of competing while others, in their first year, looking forward to many years of racing to come."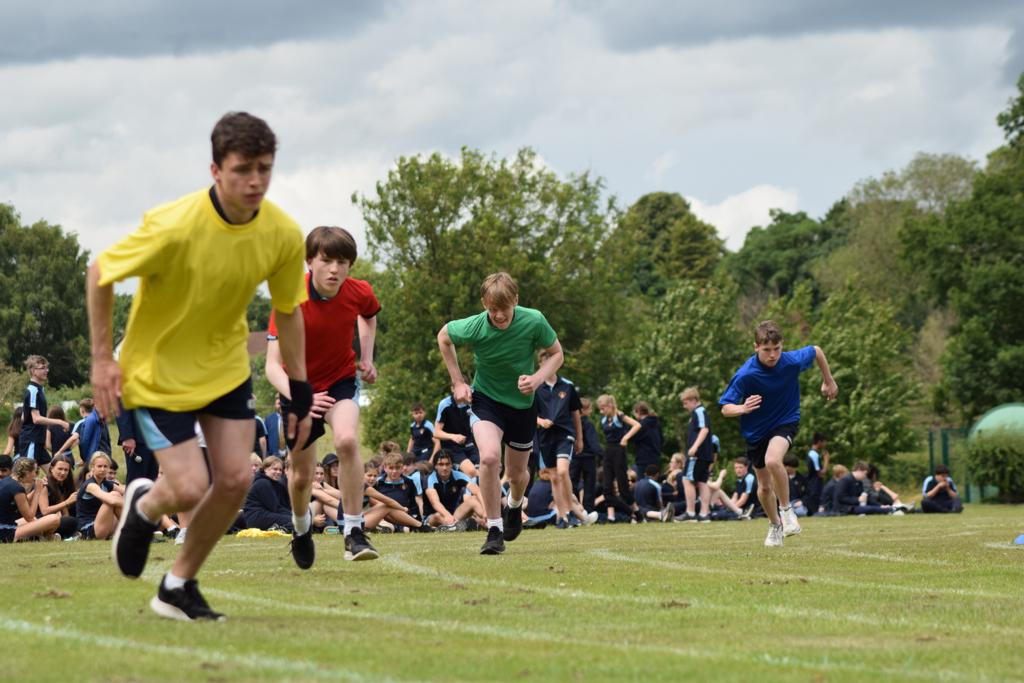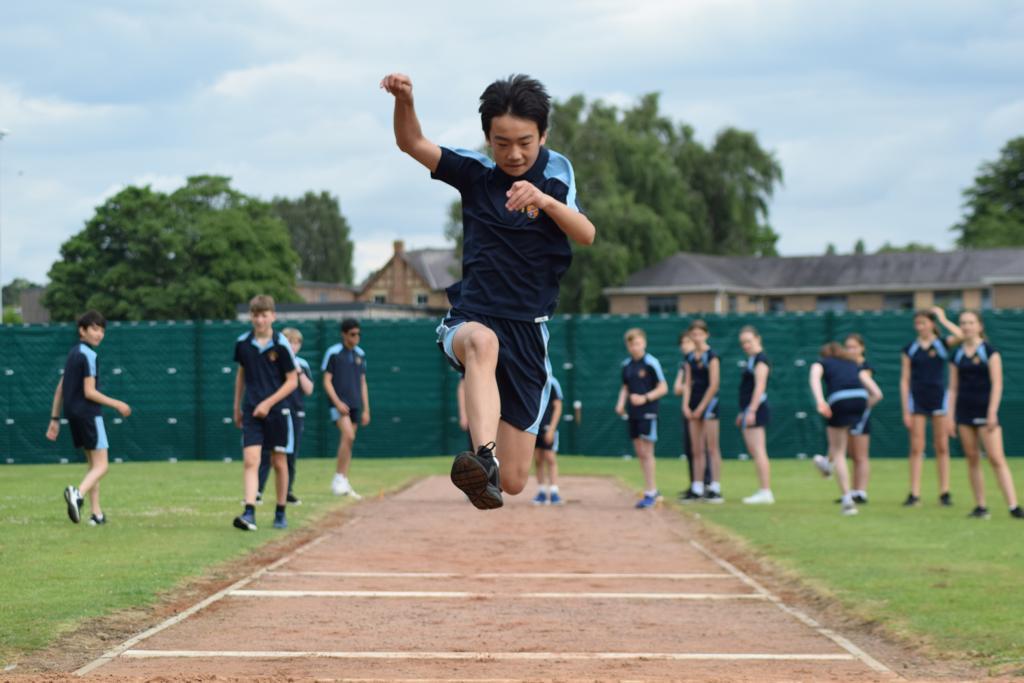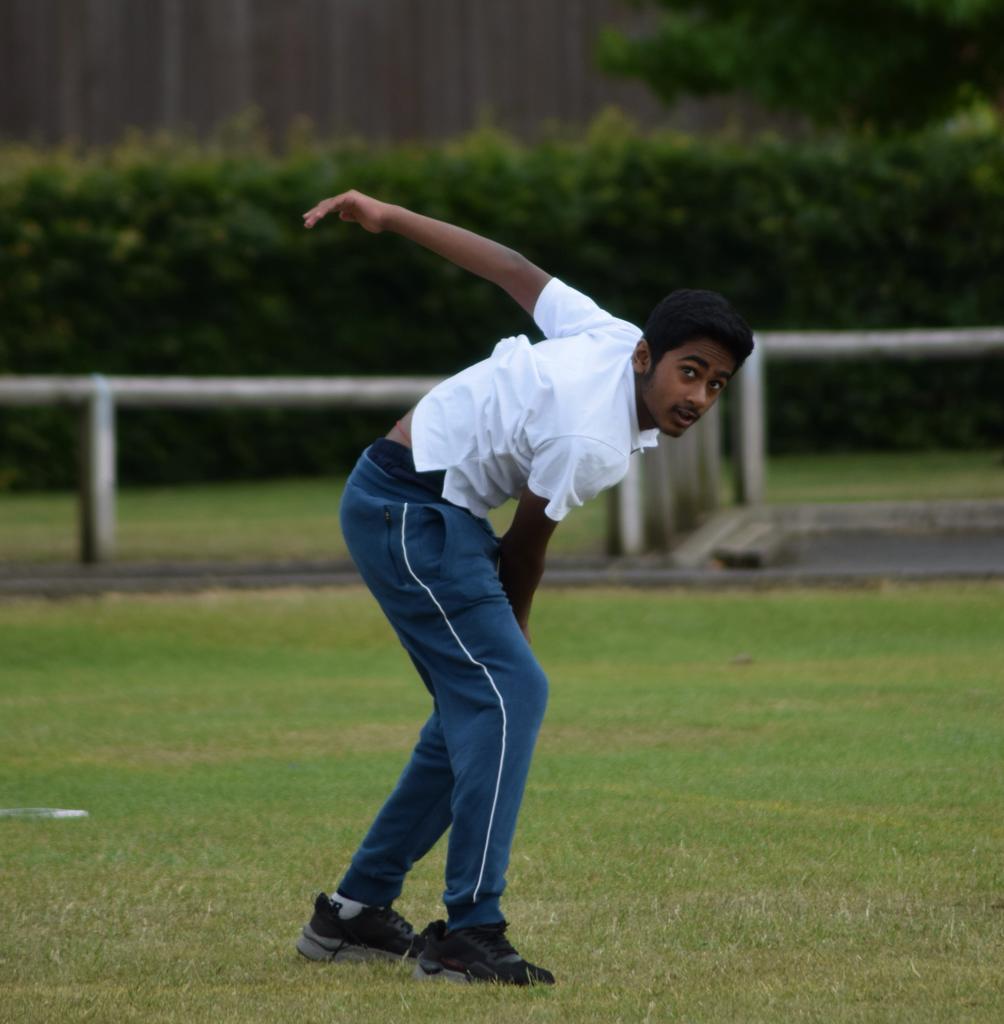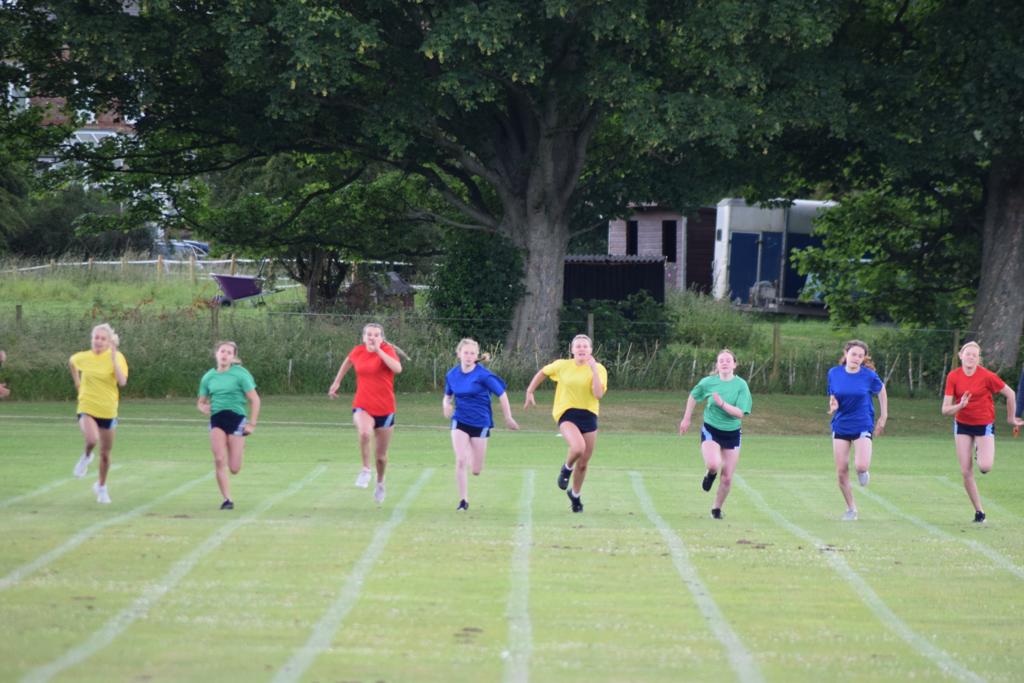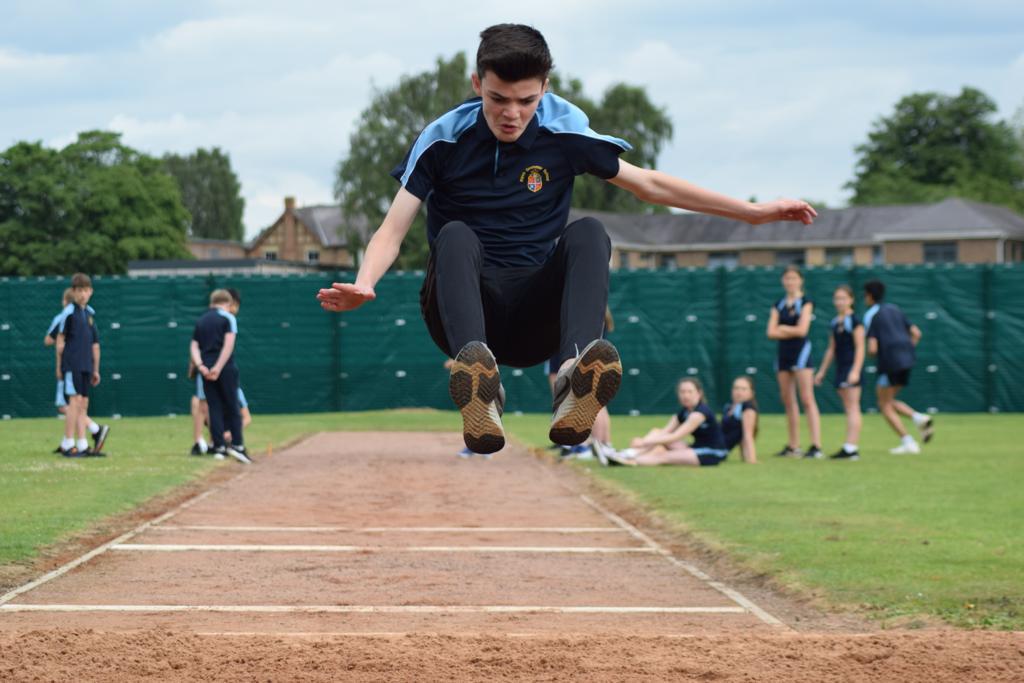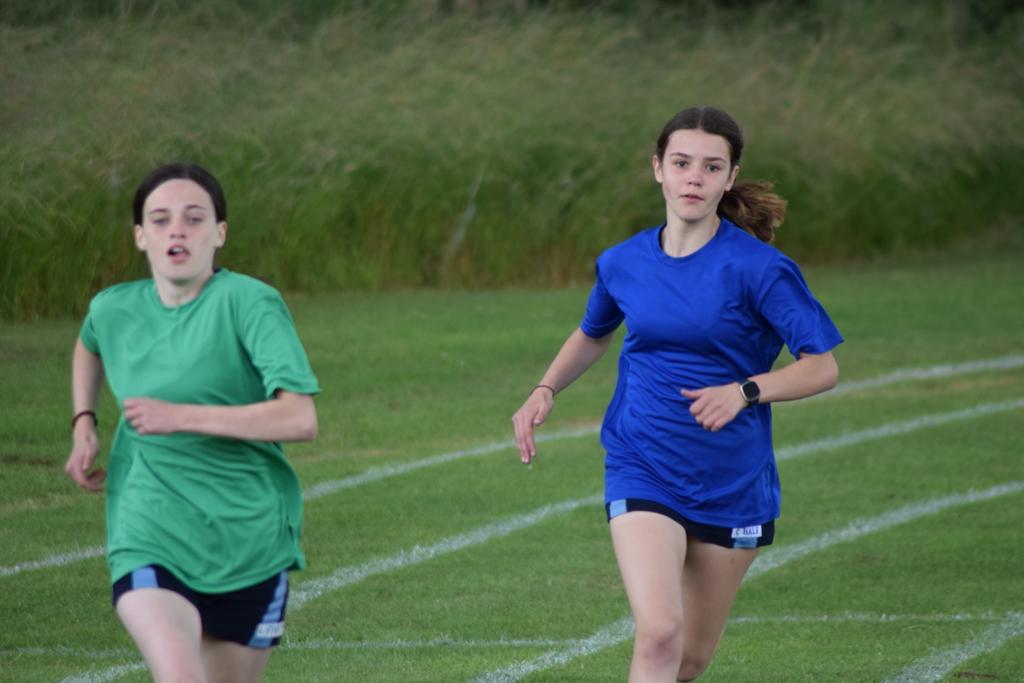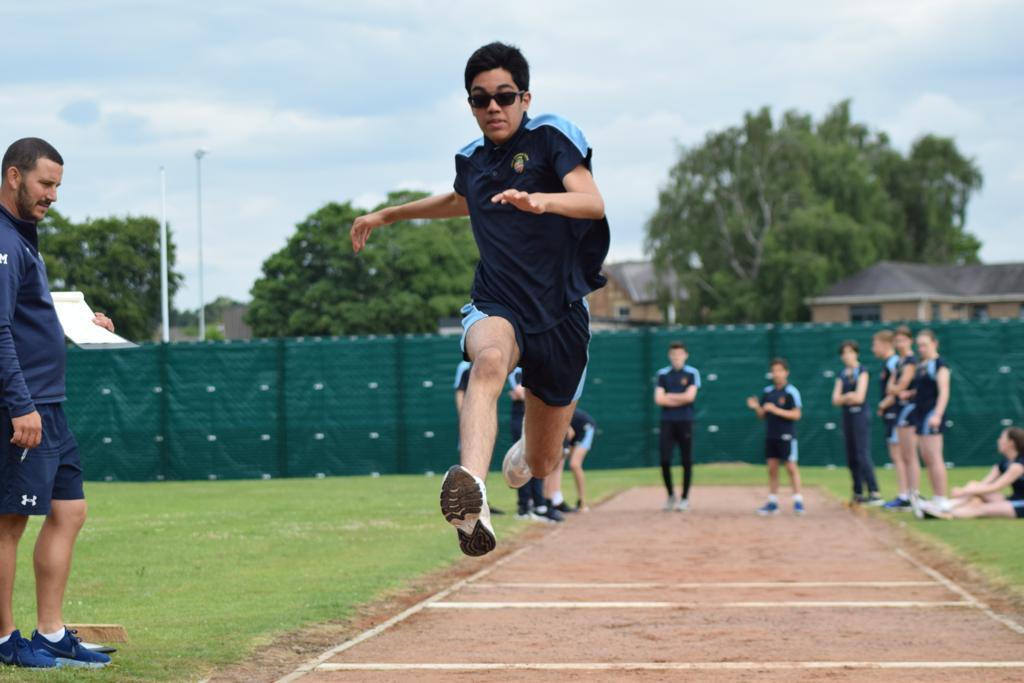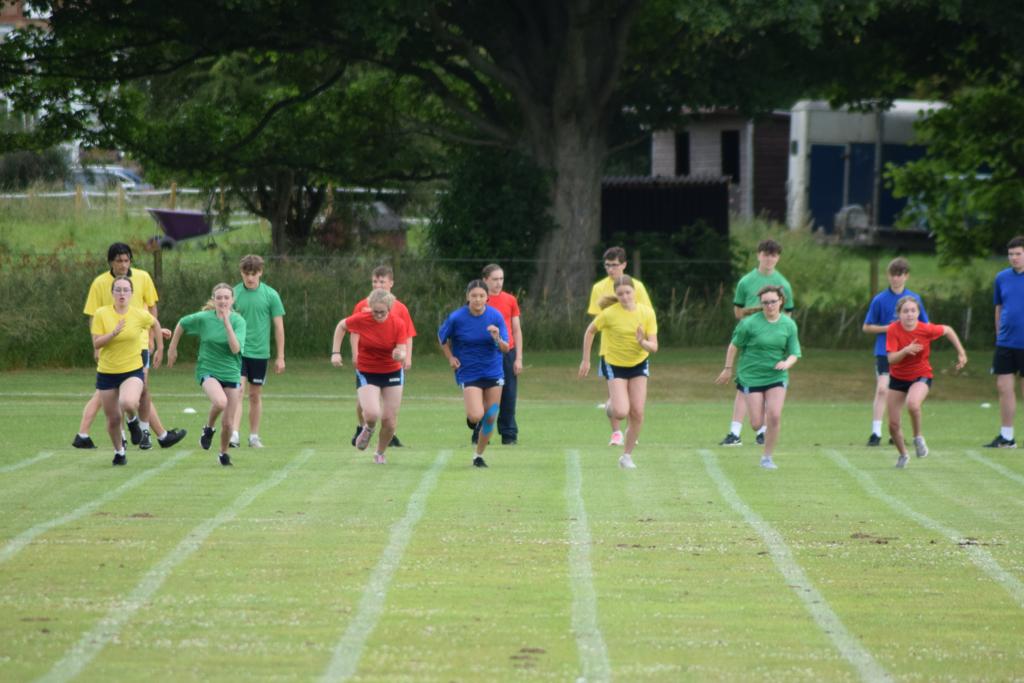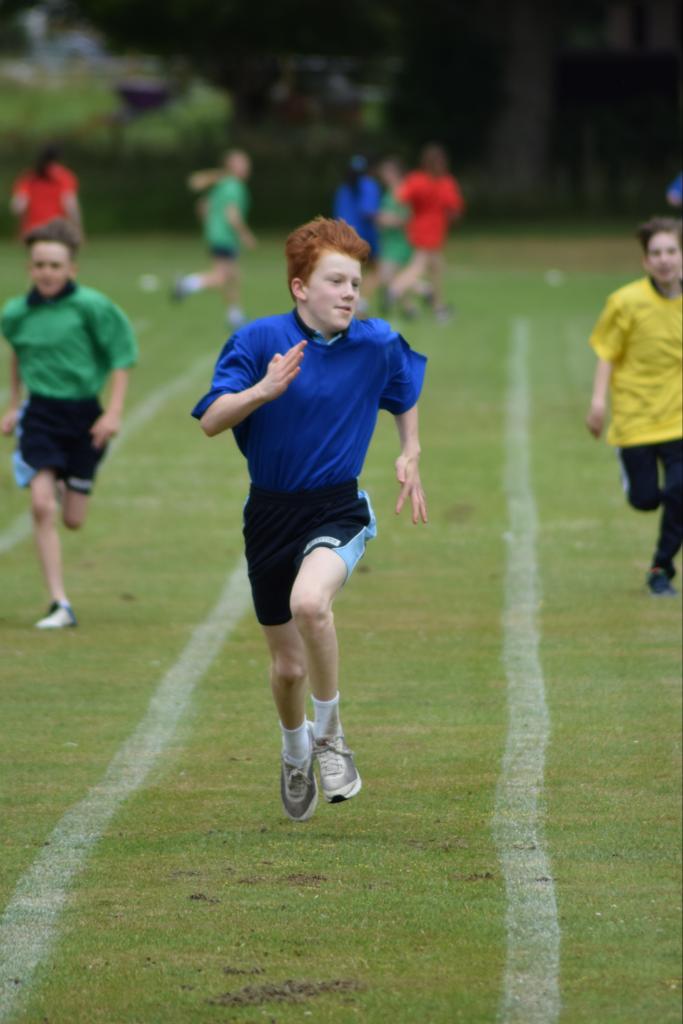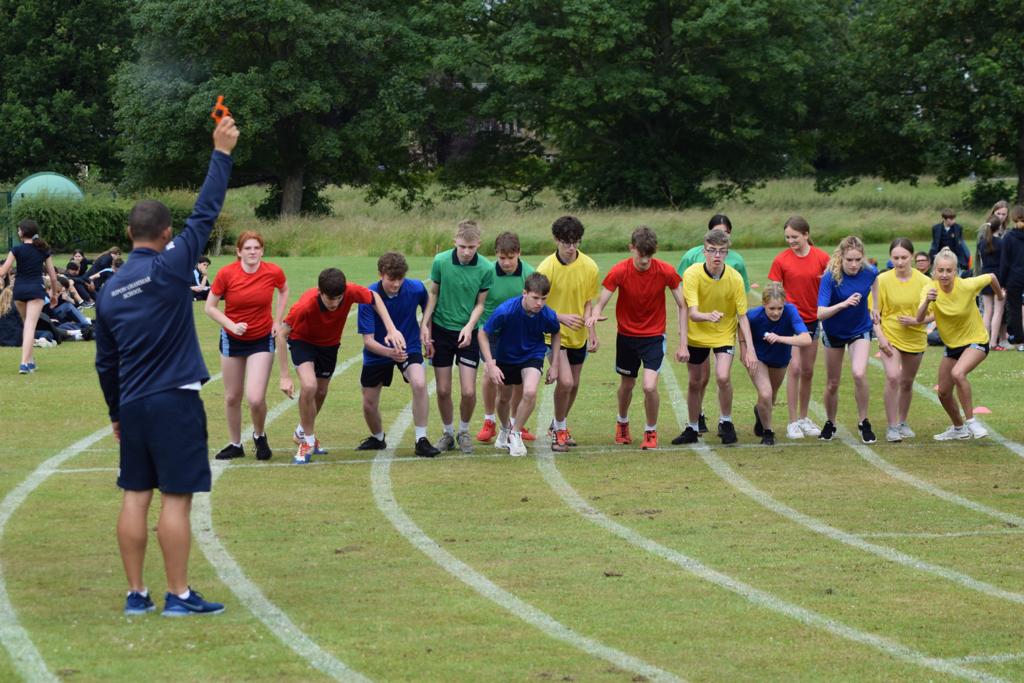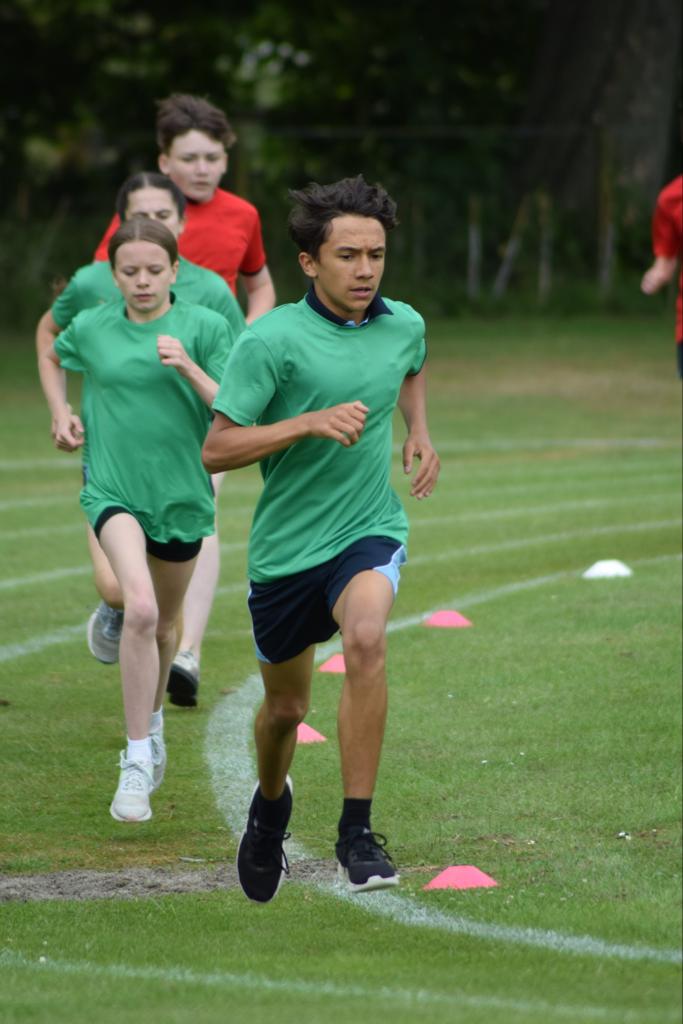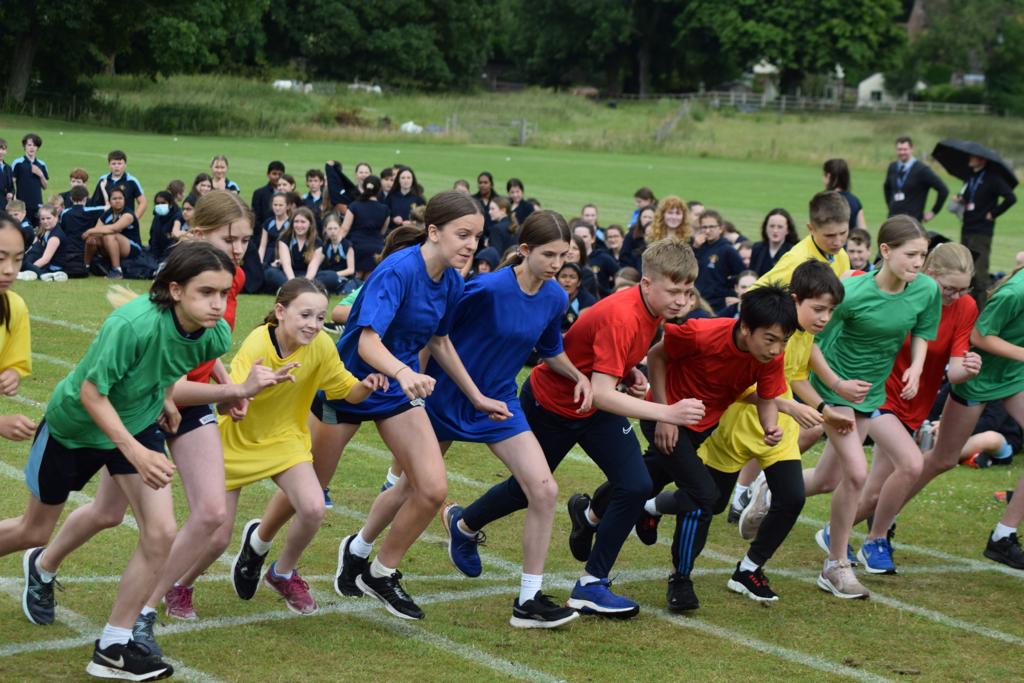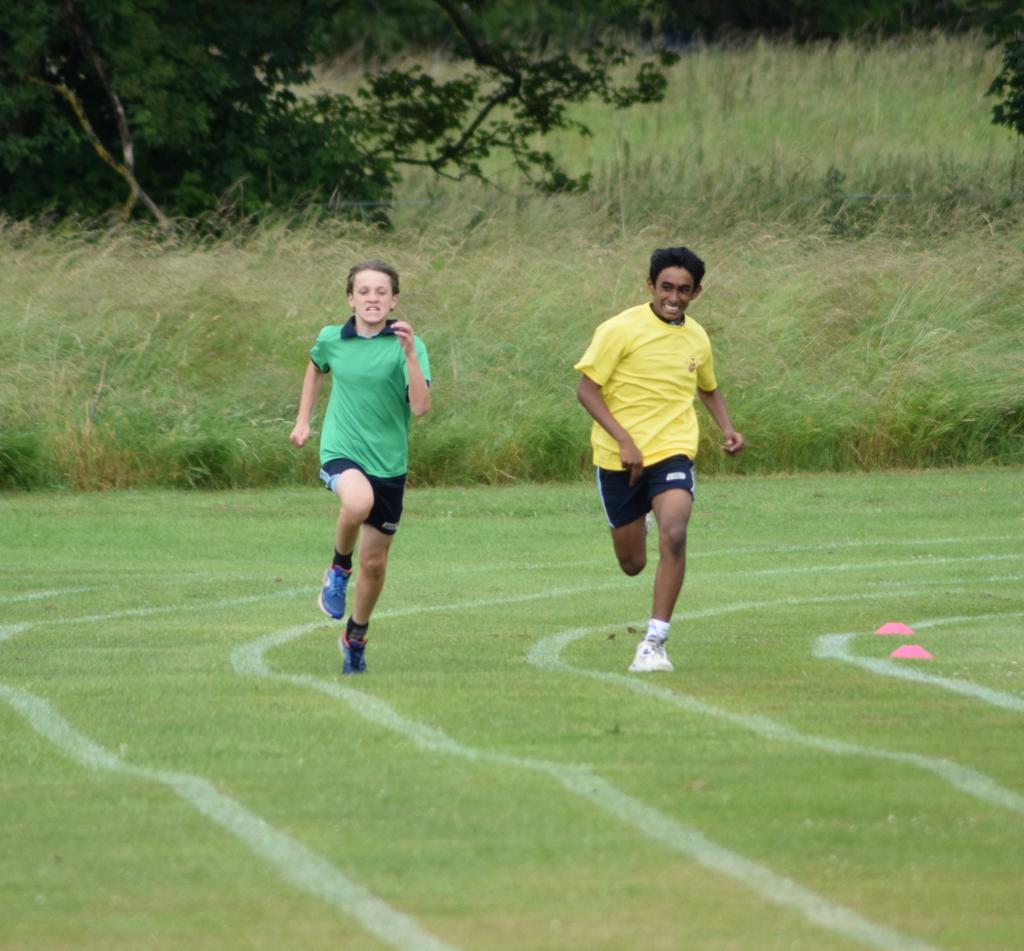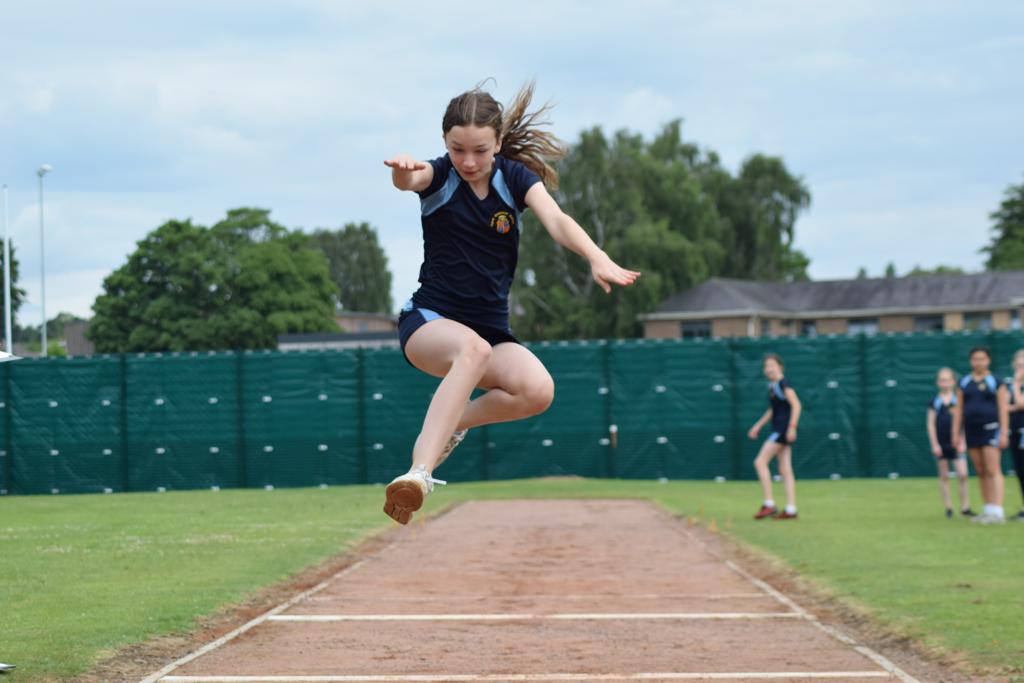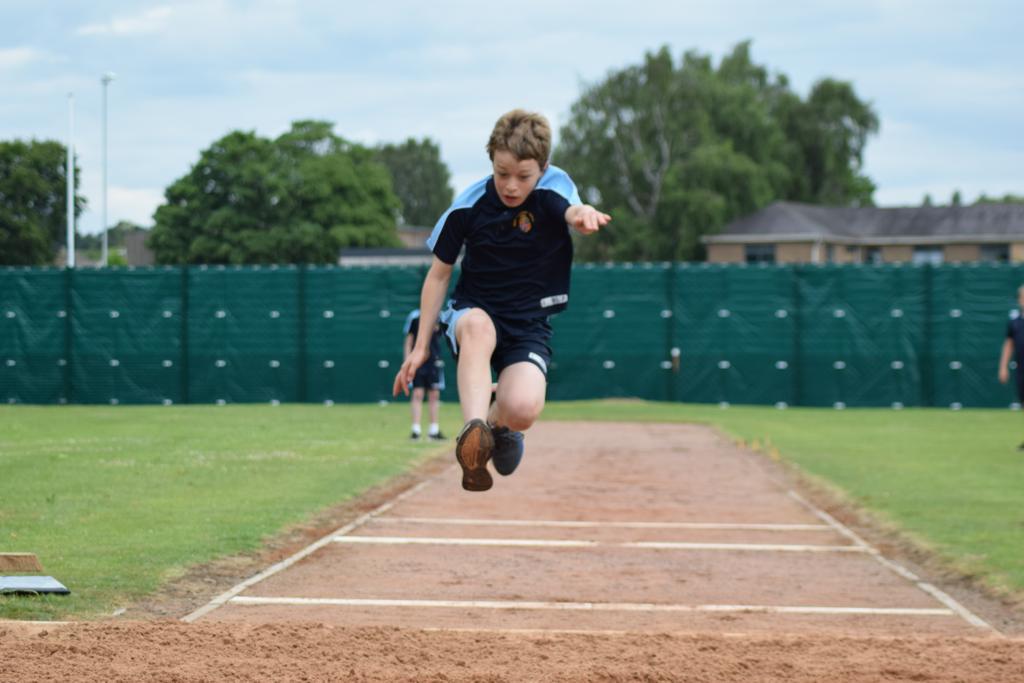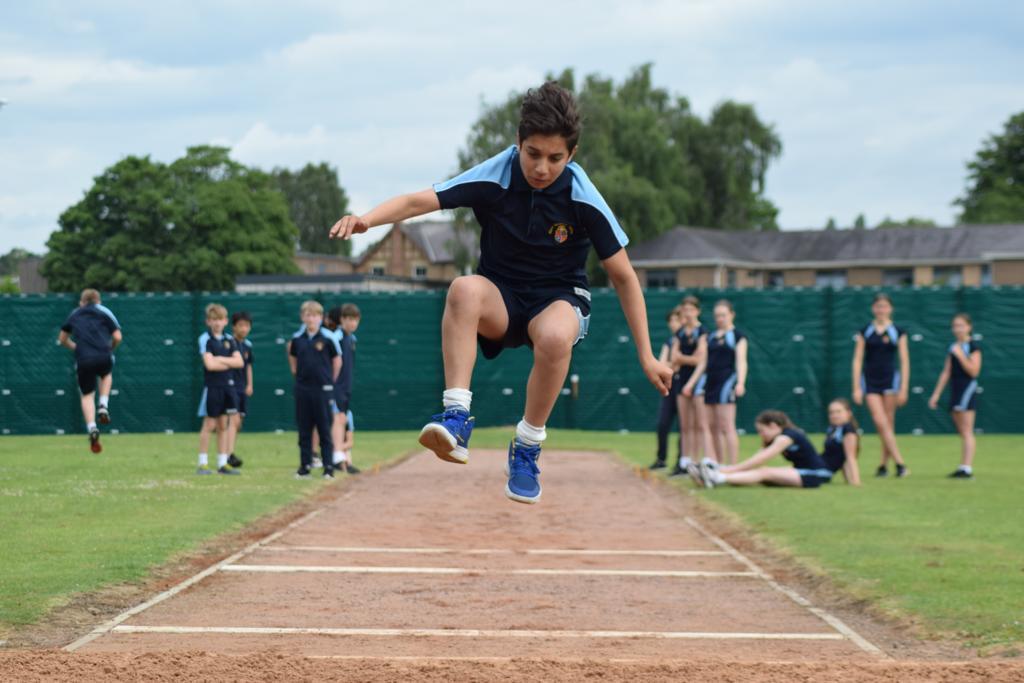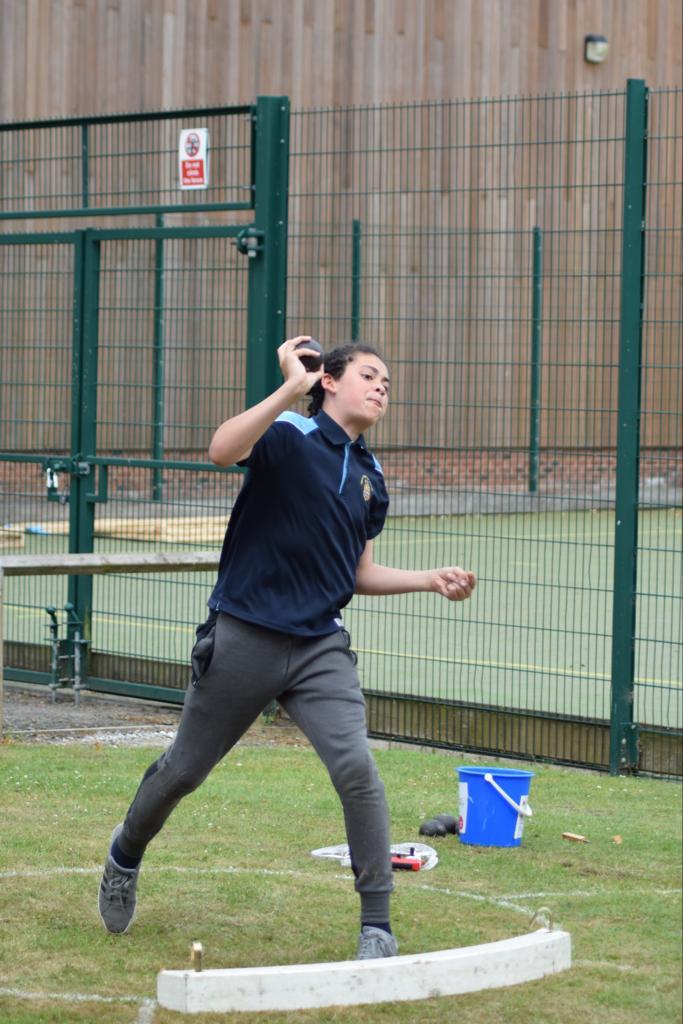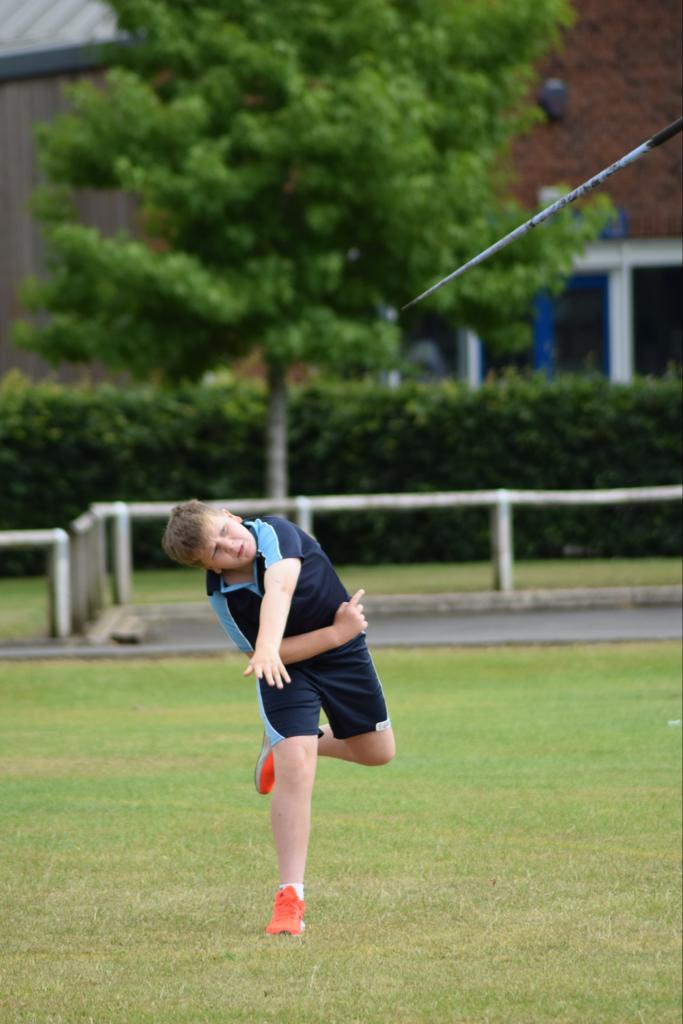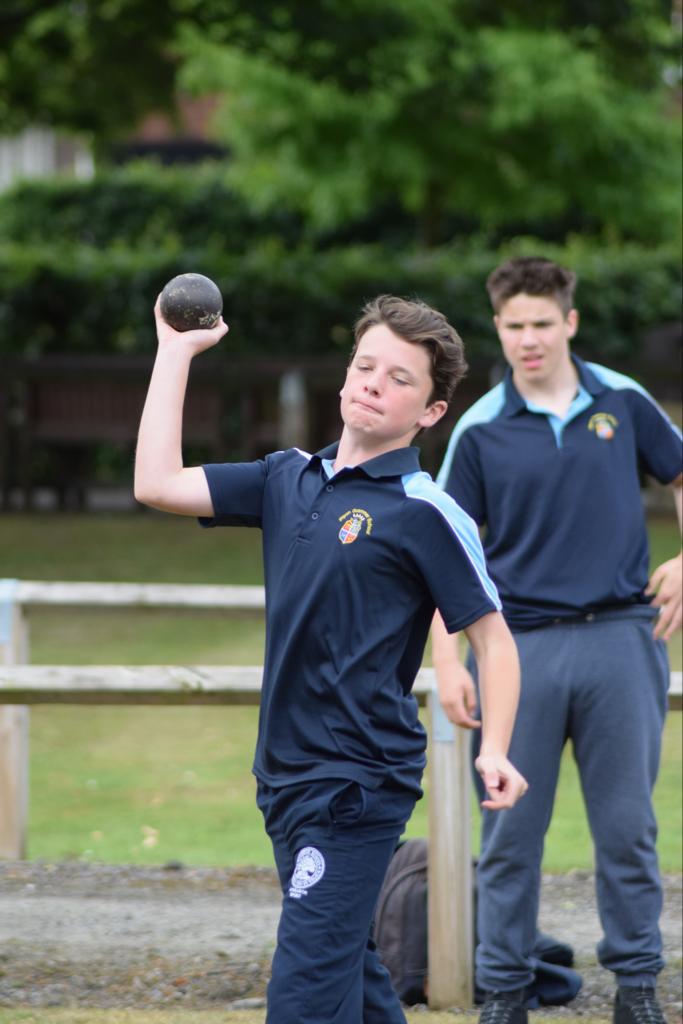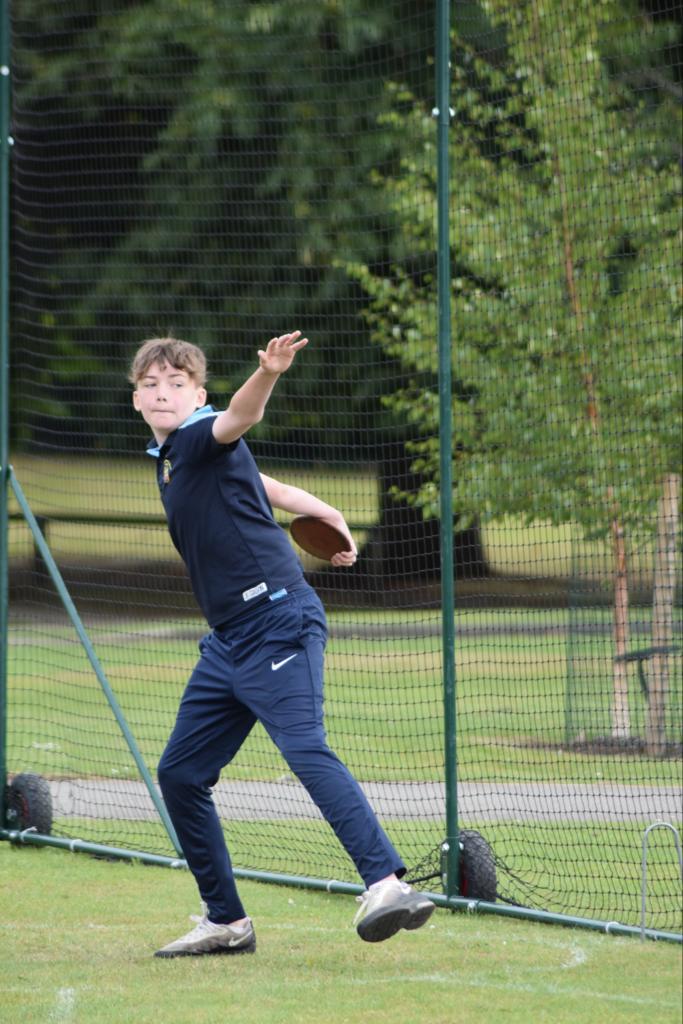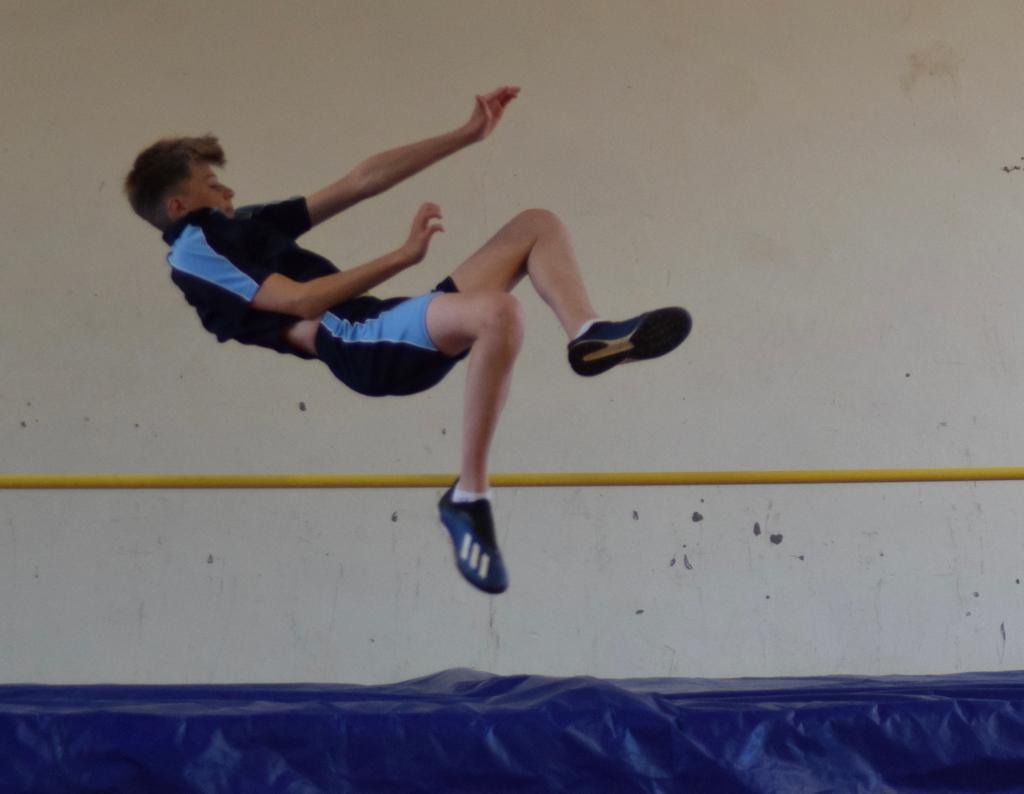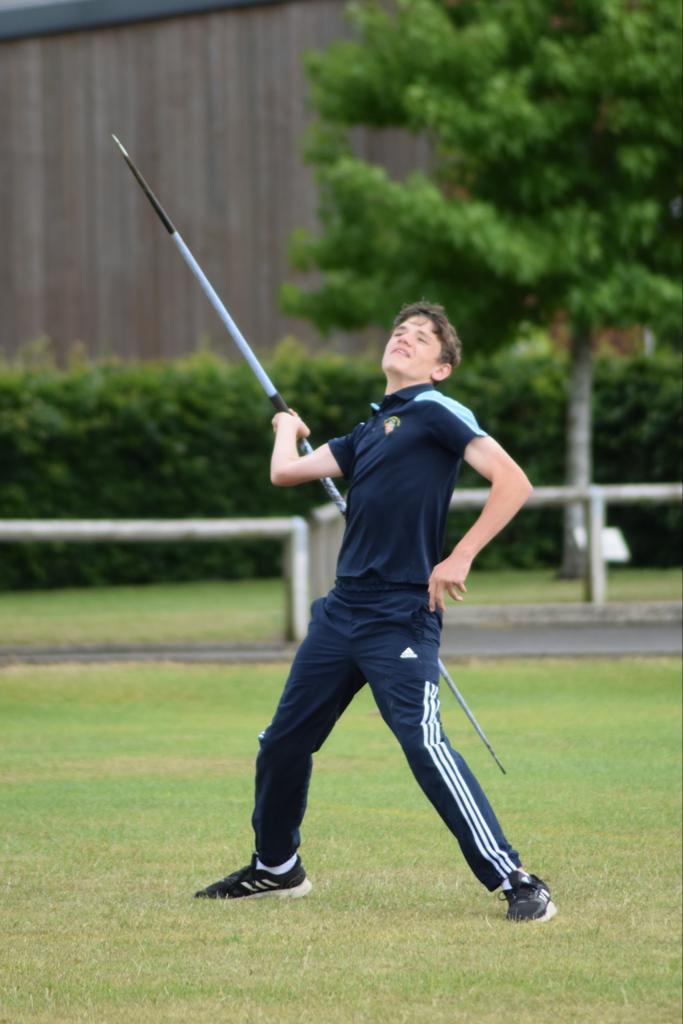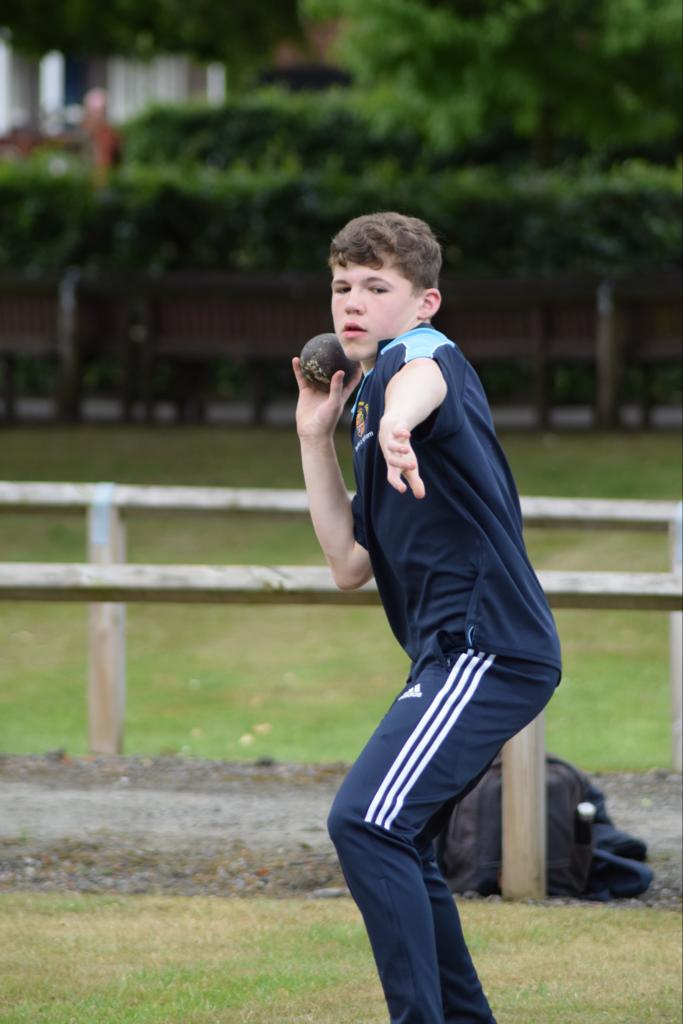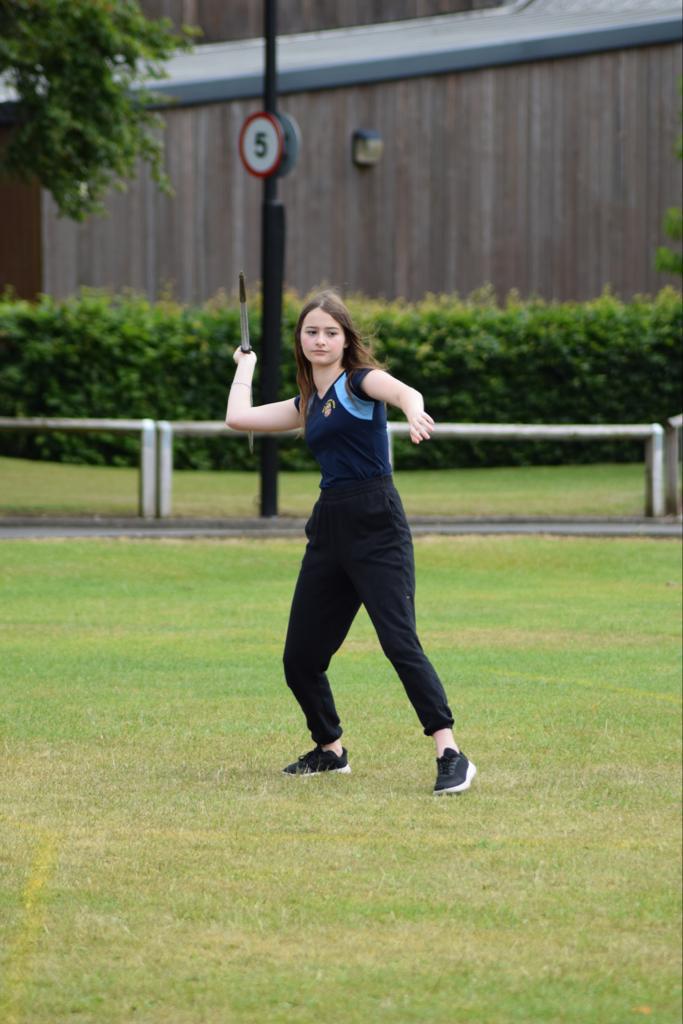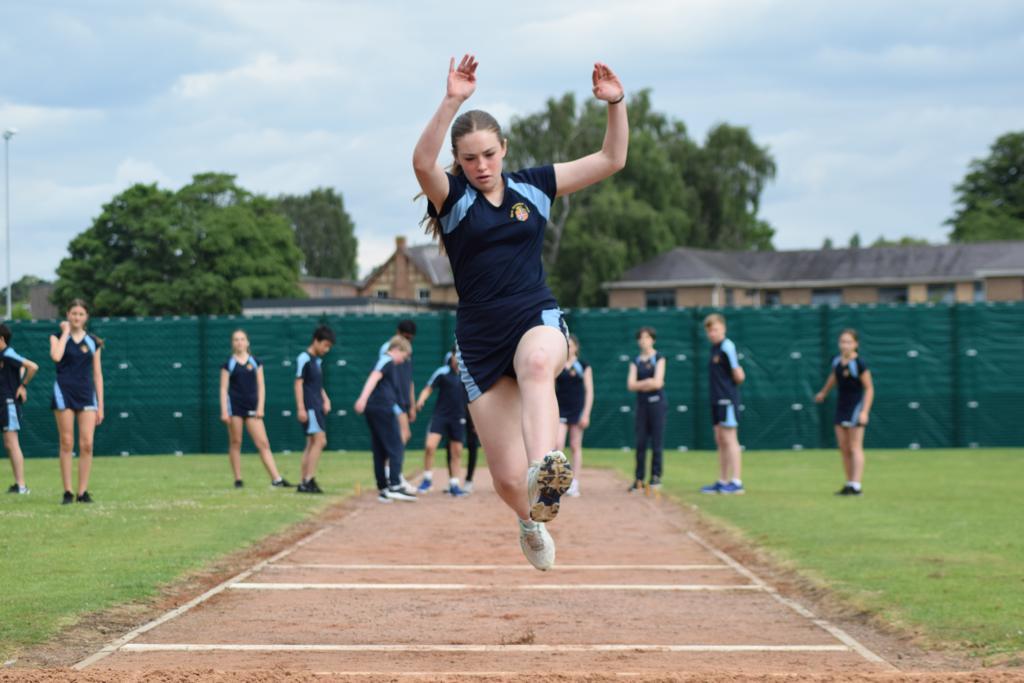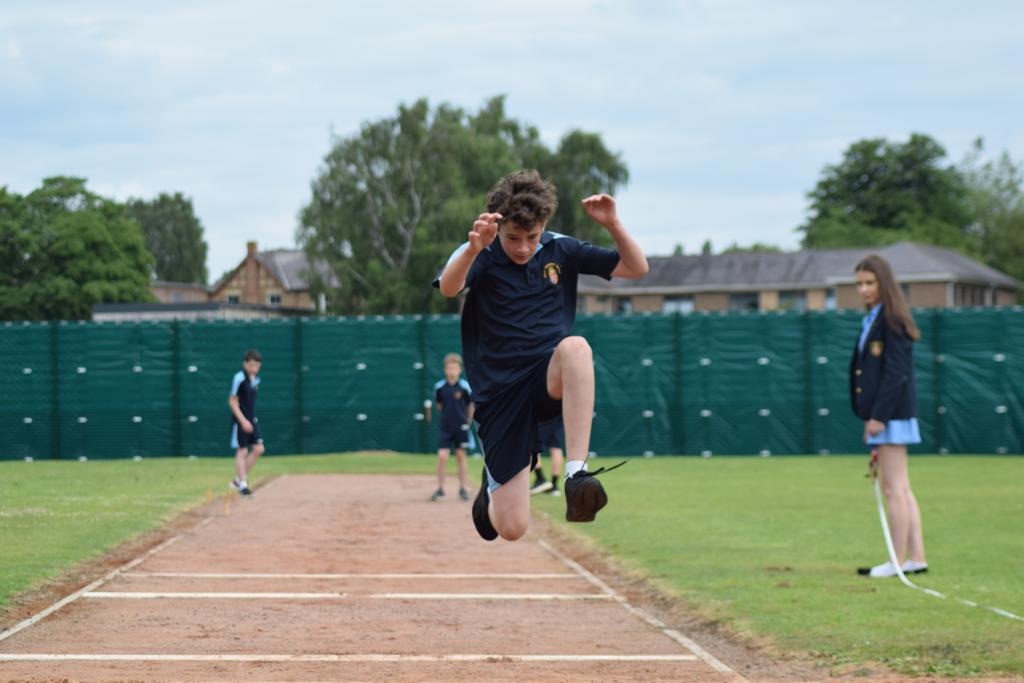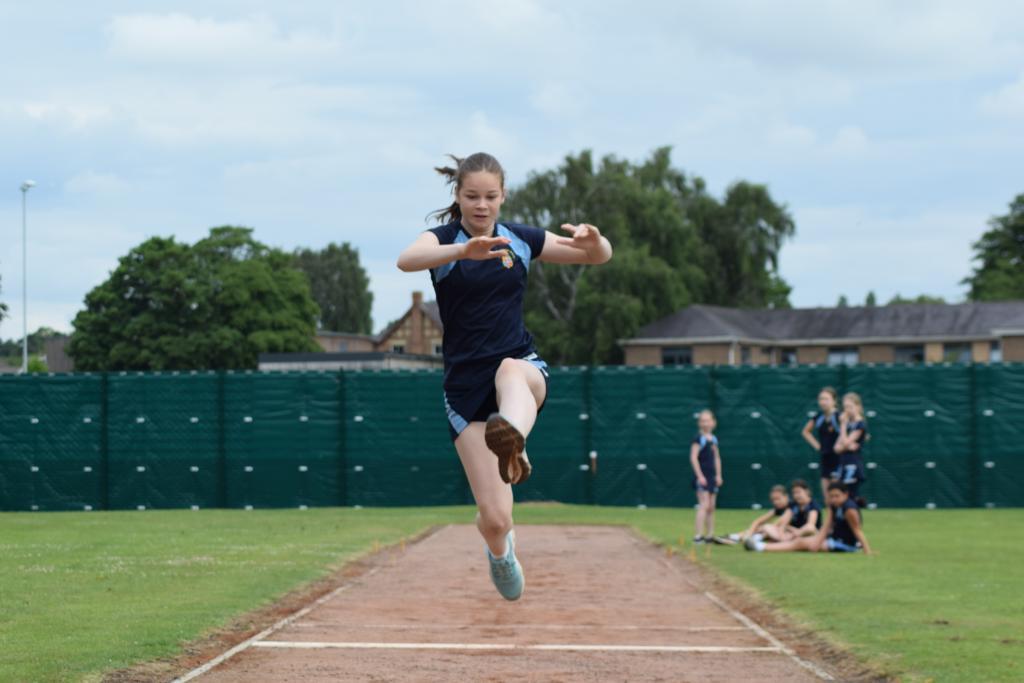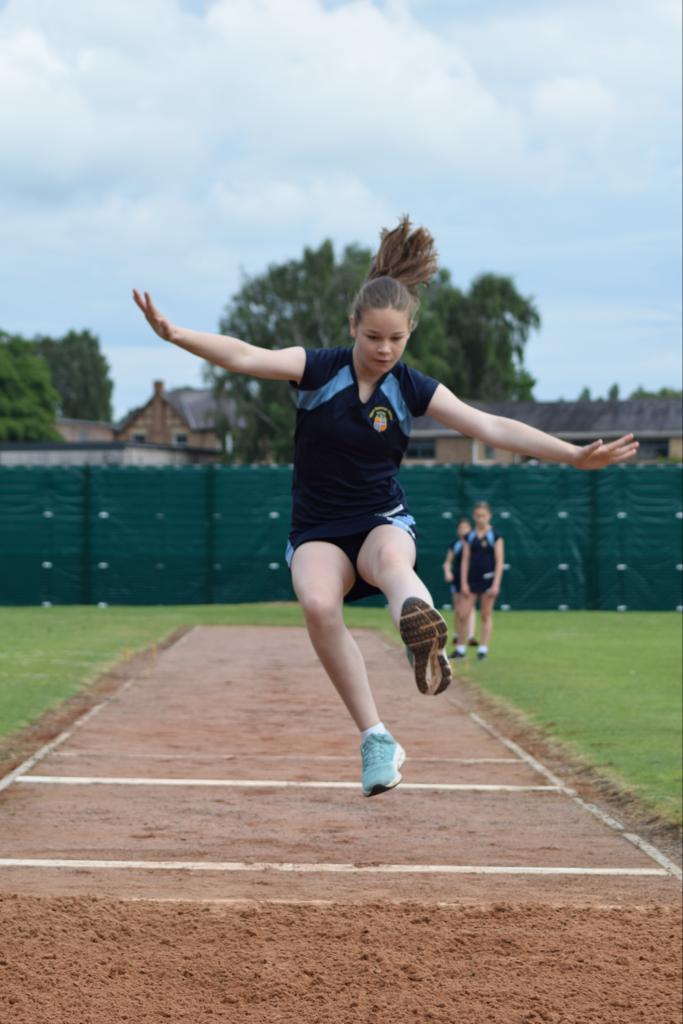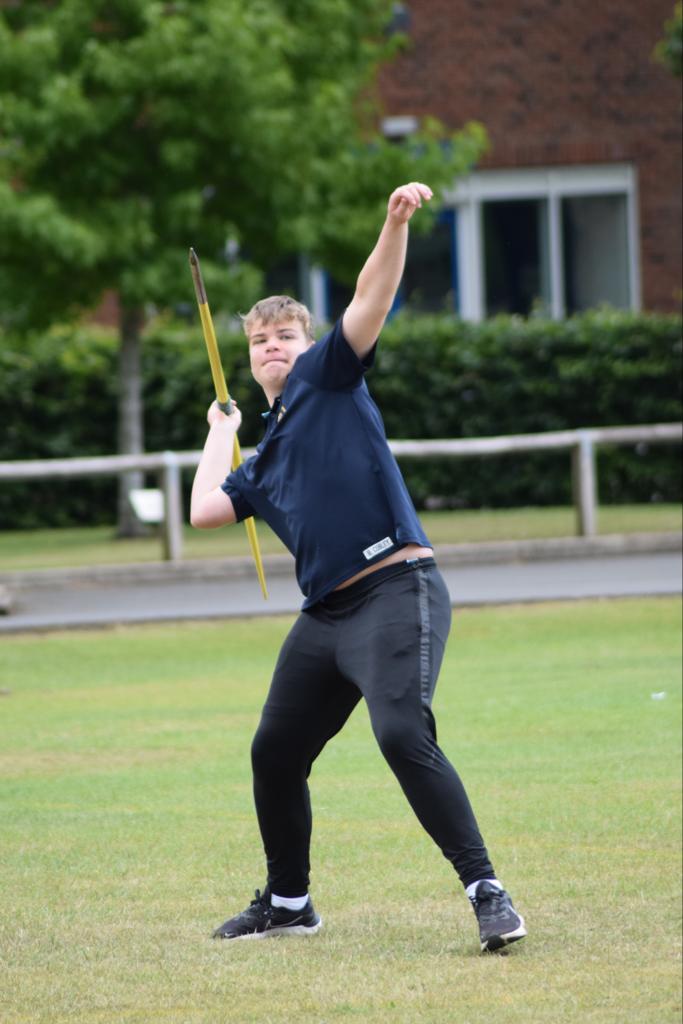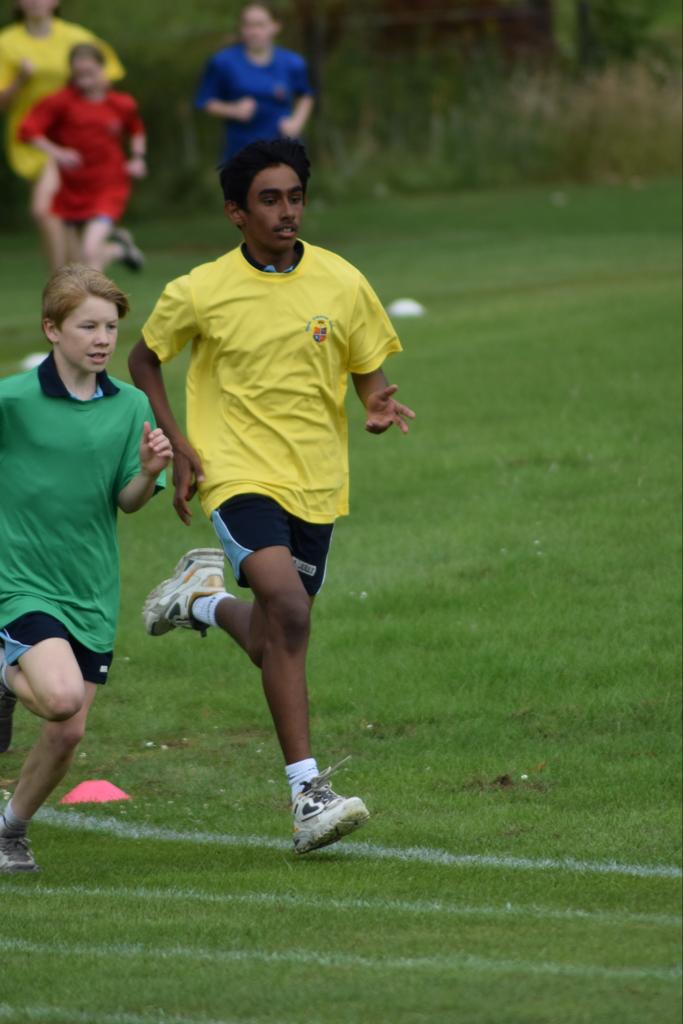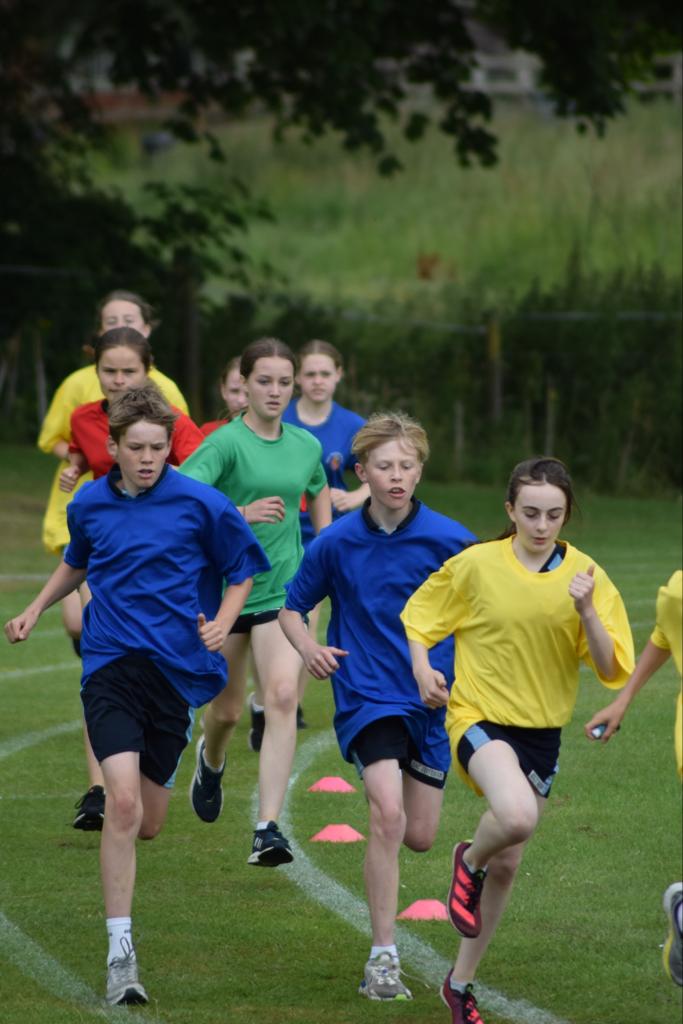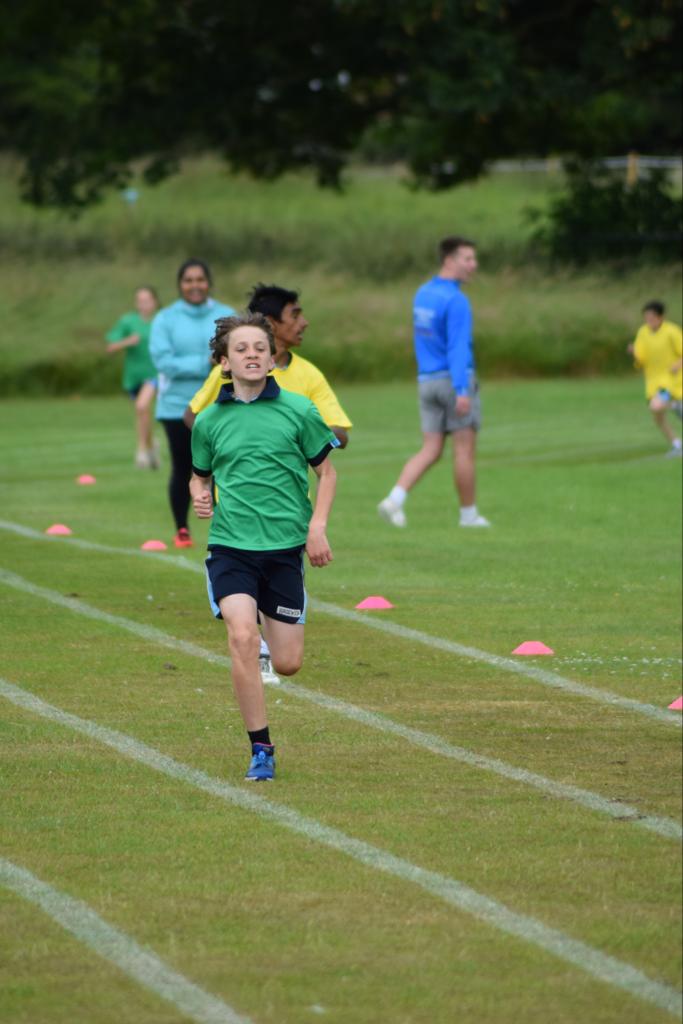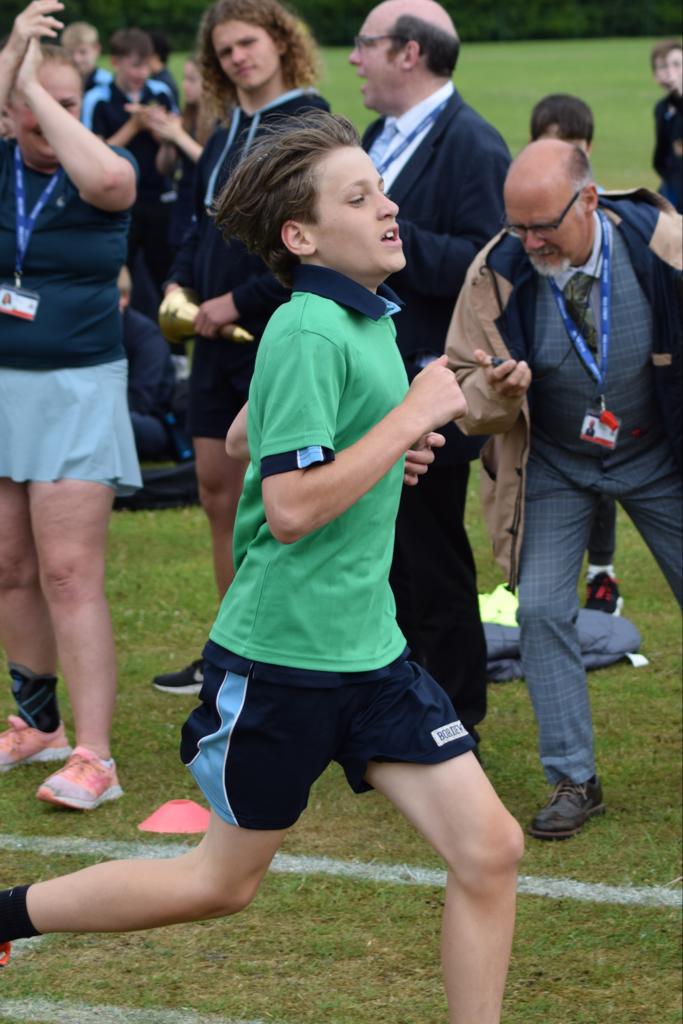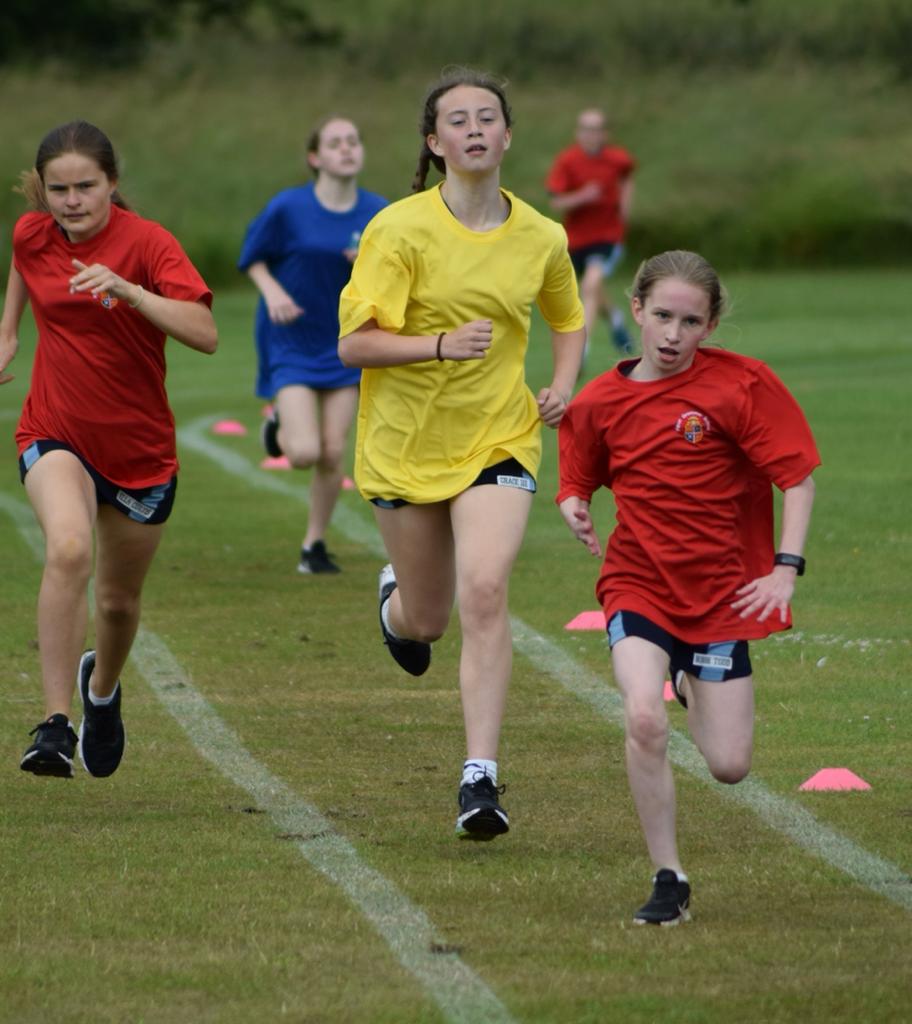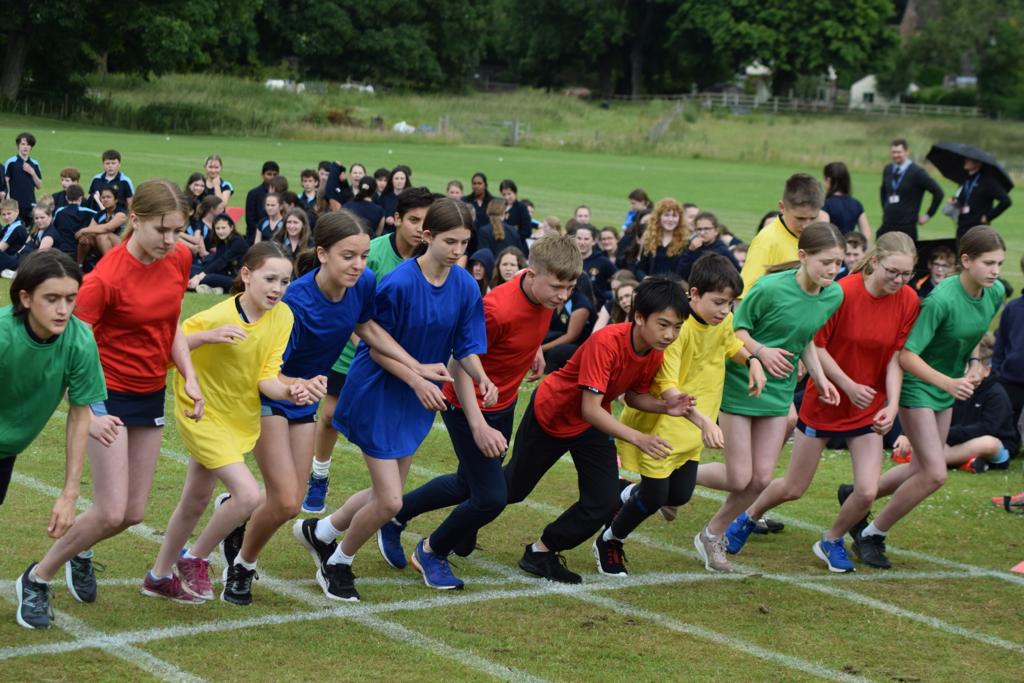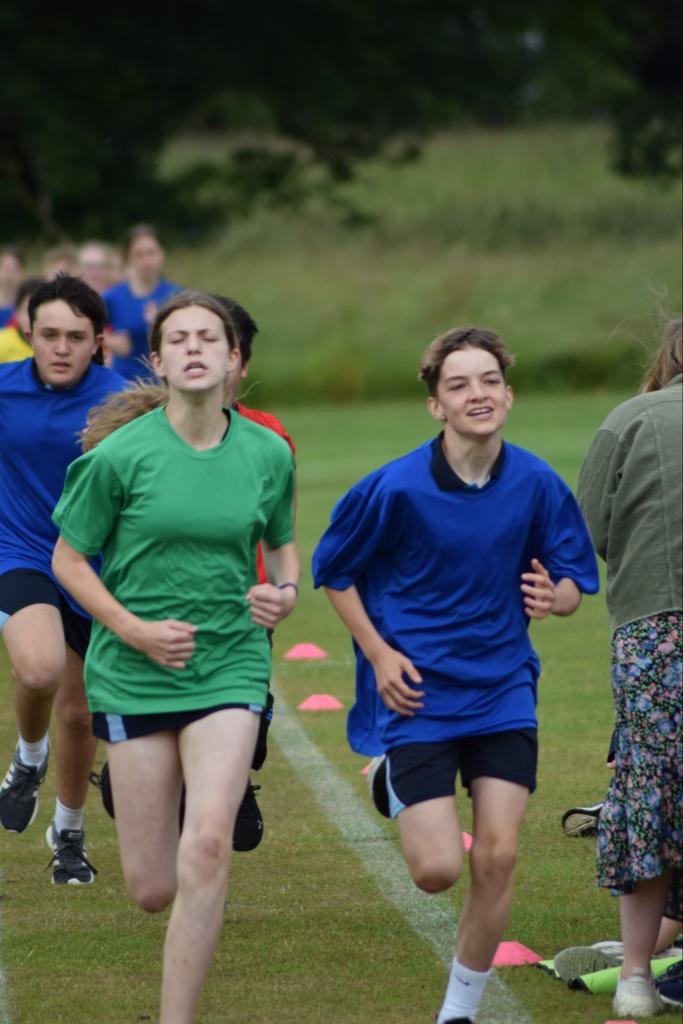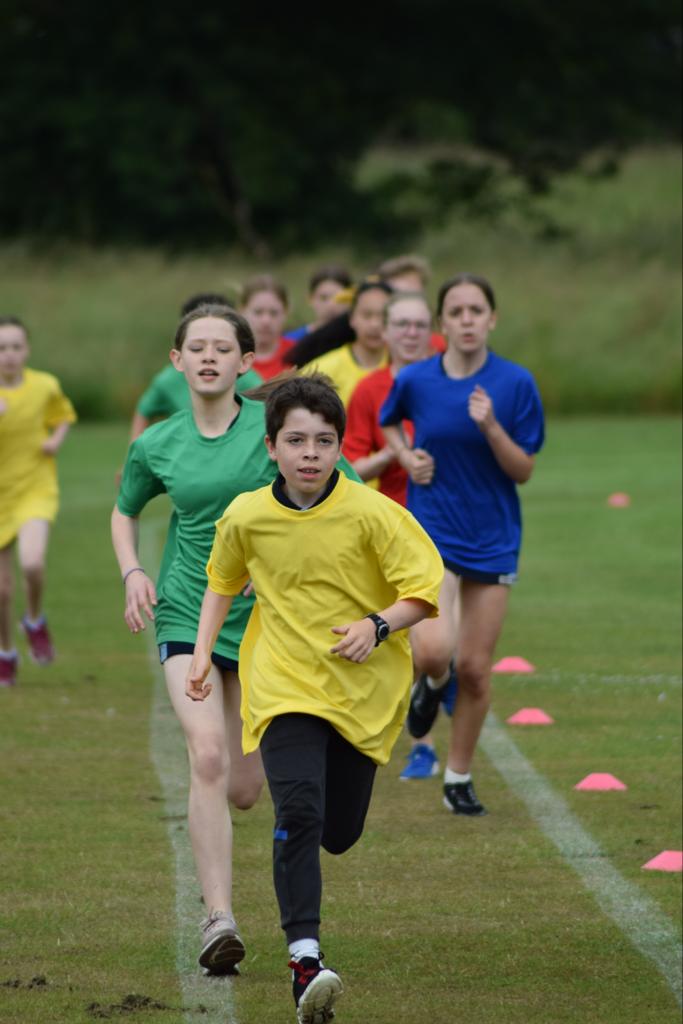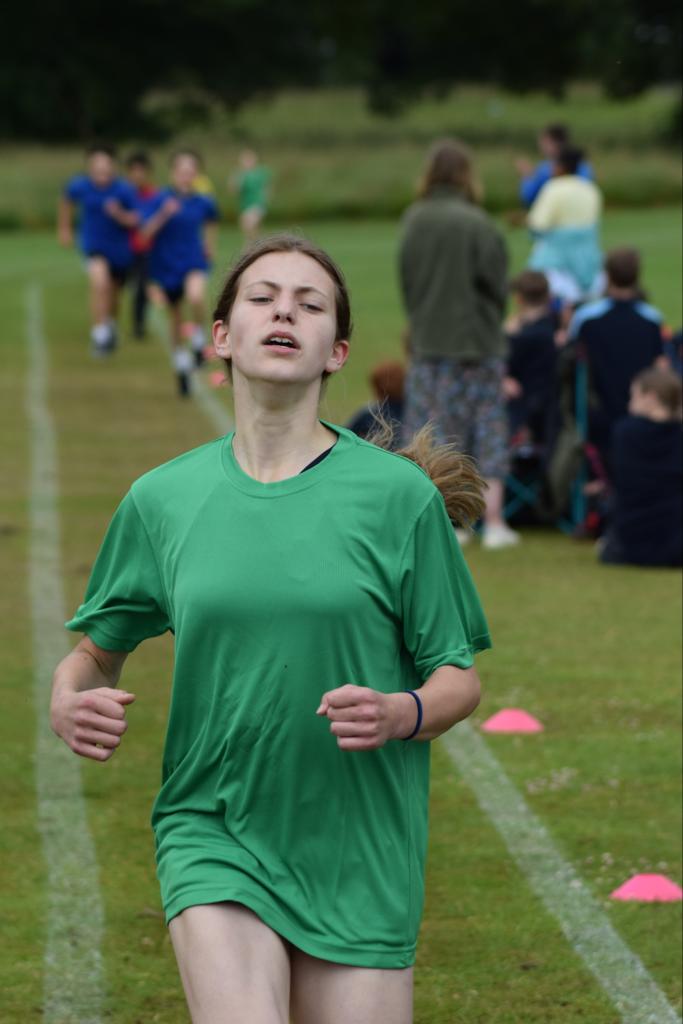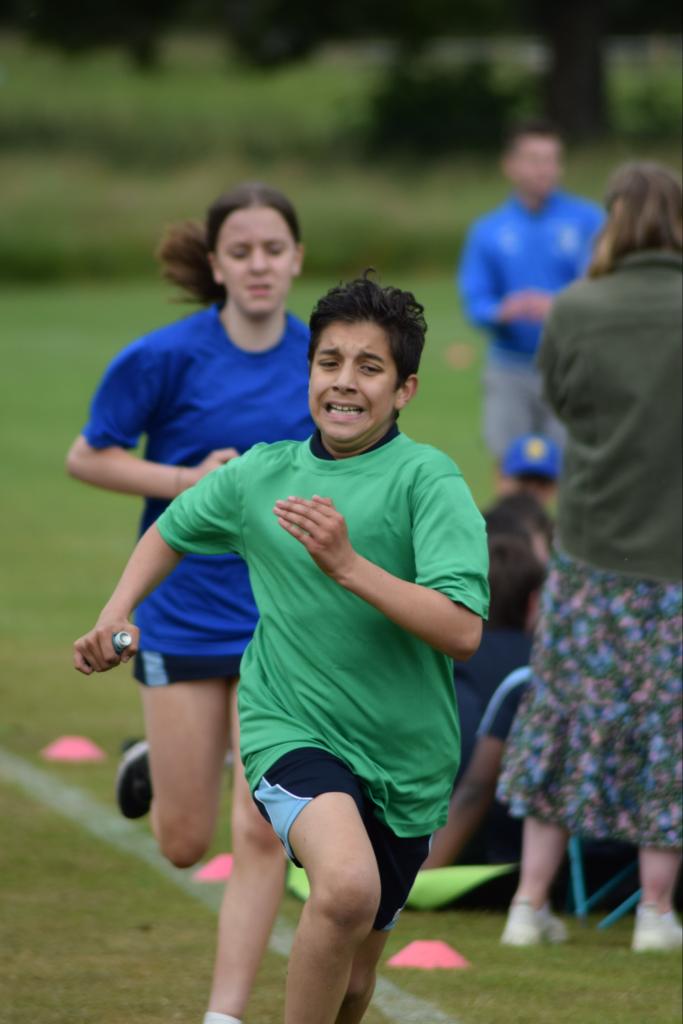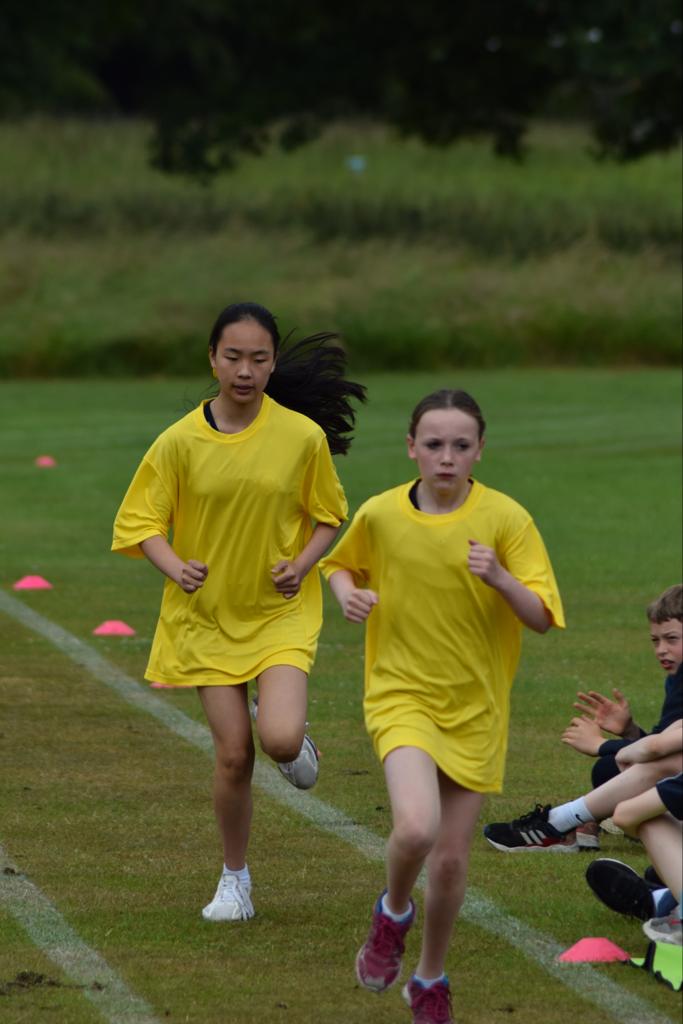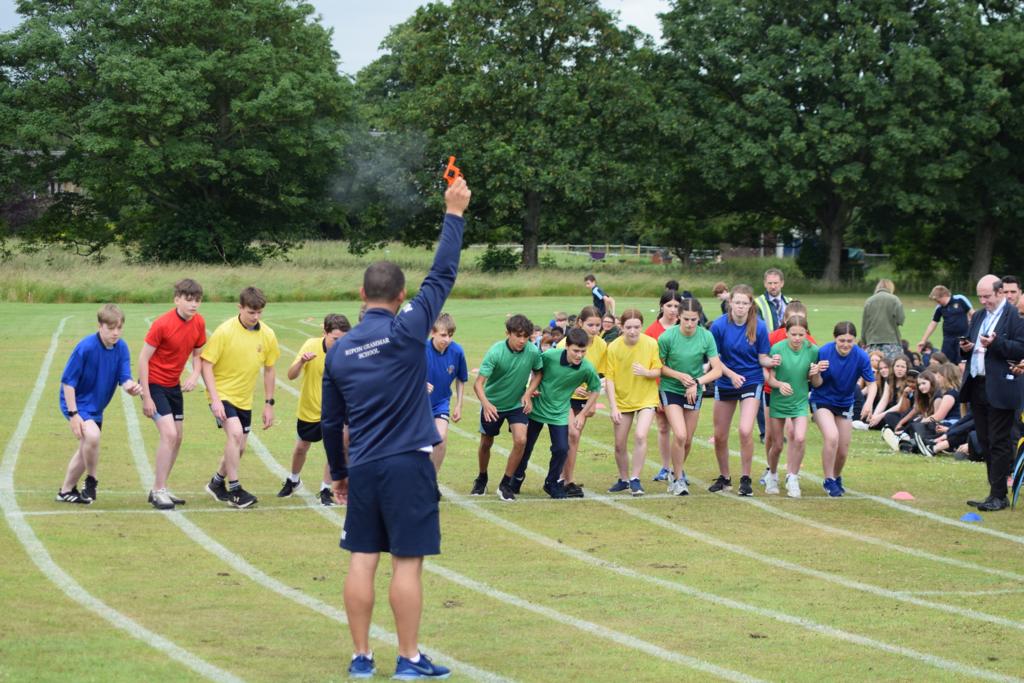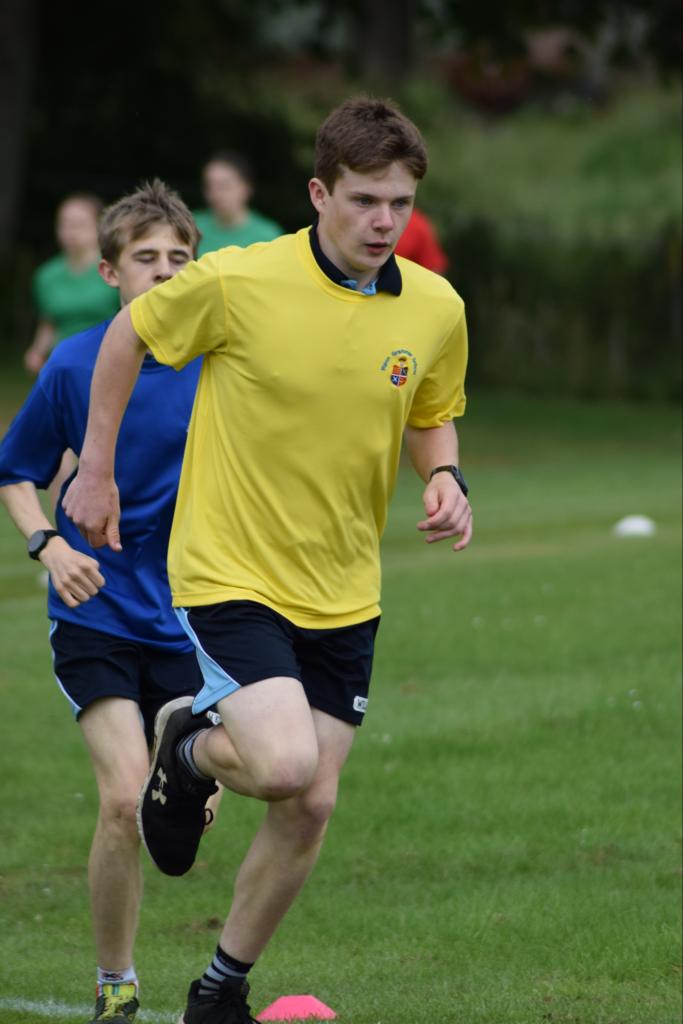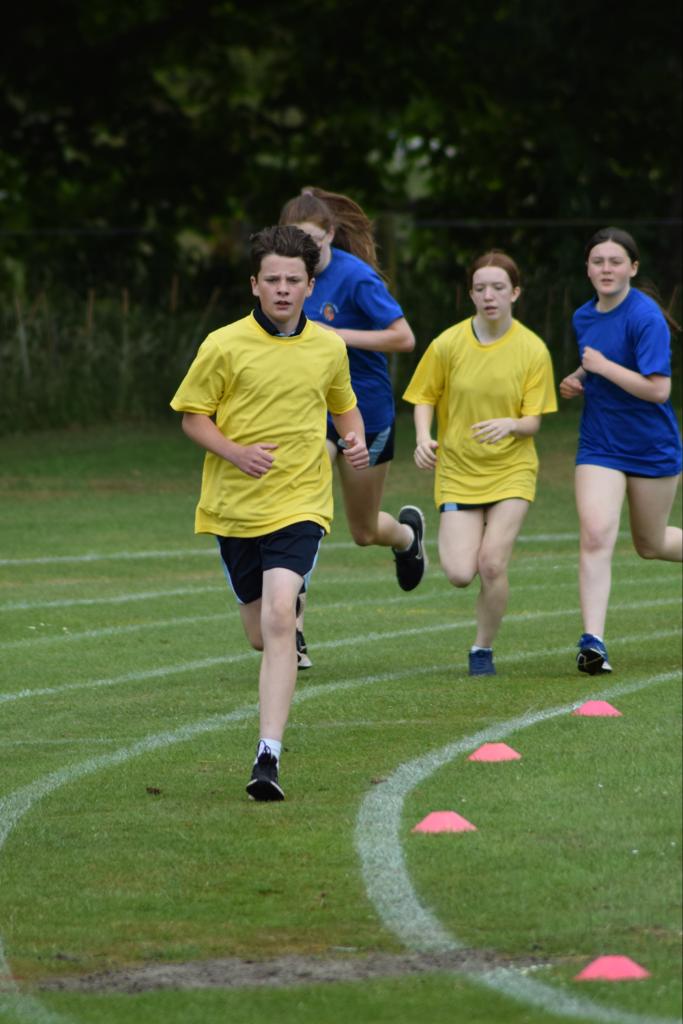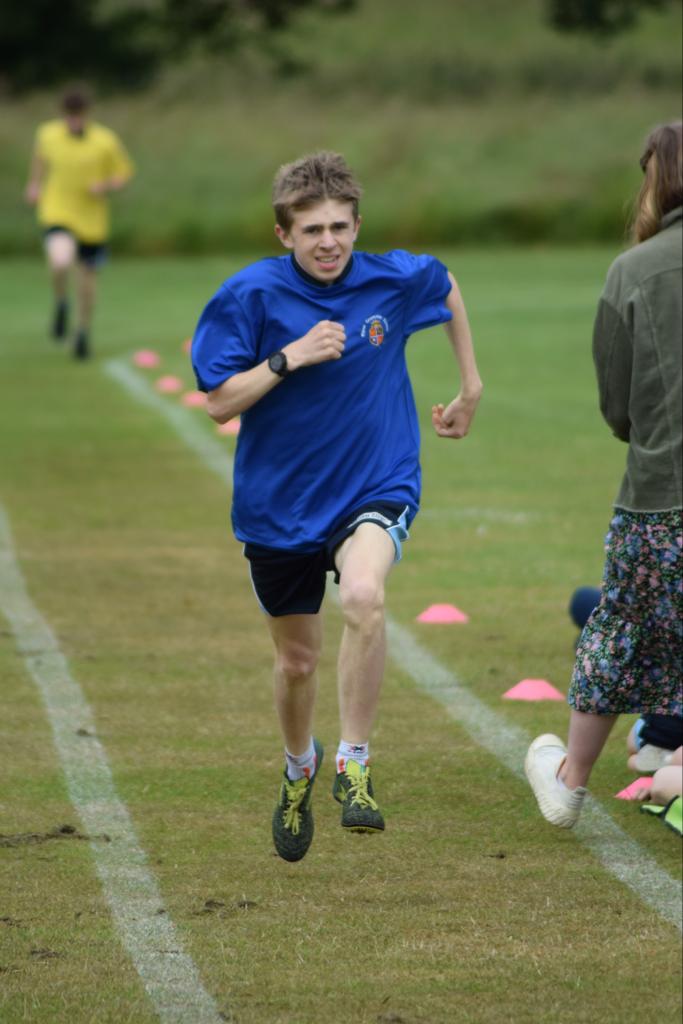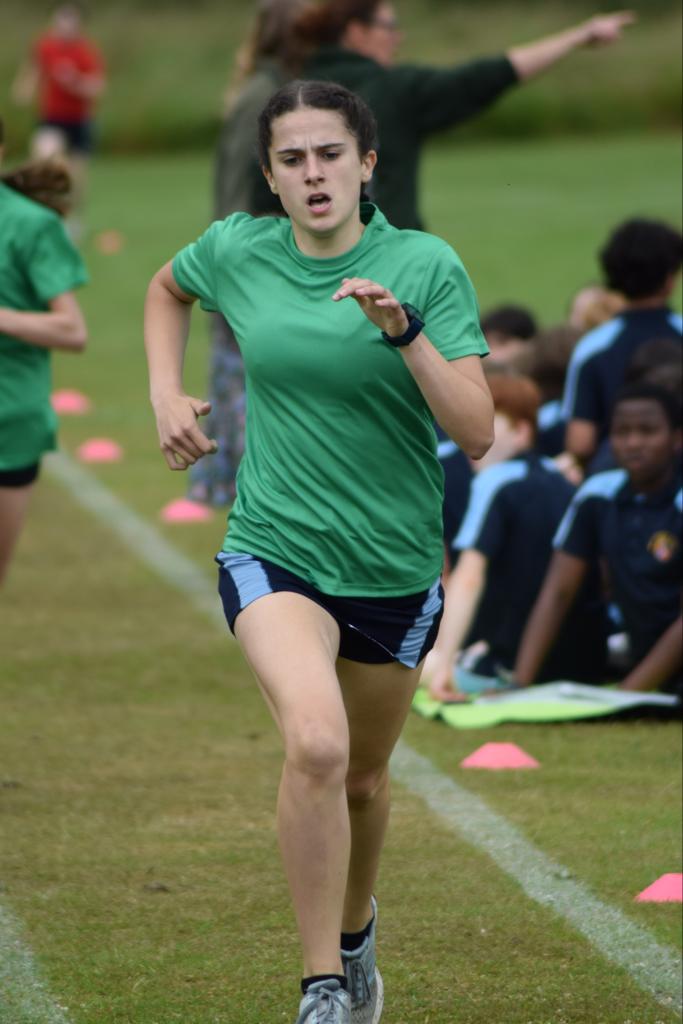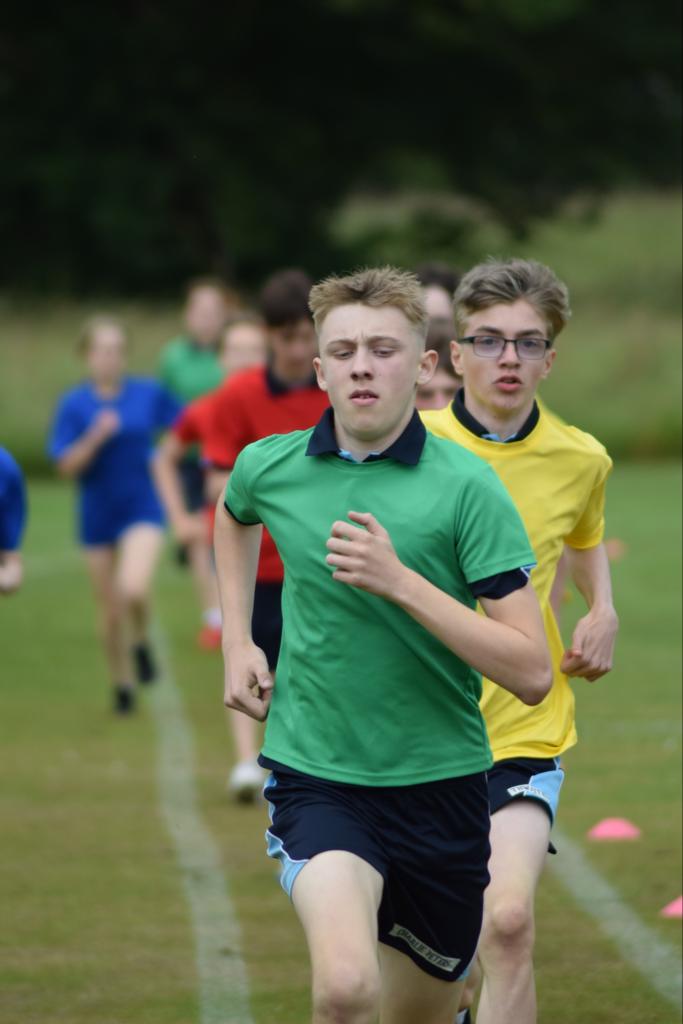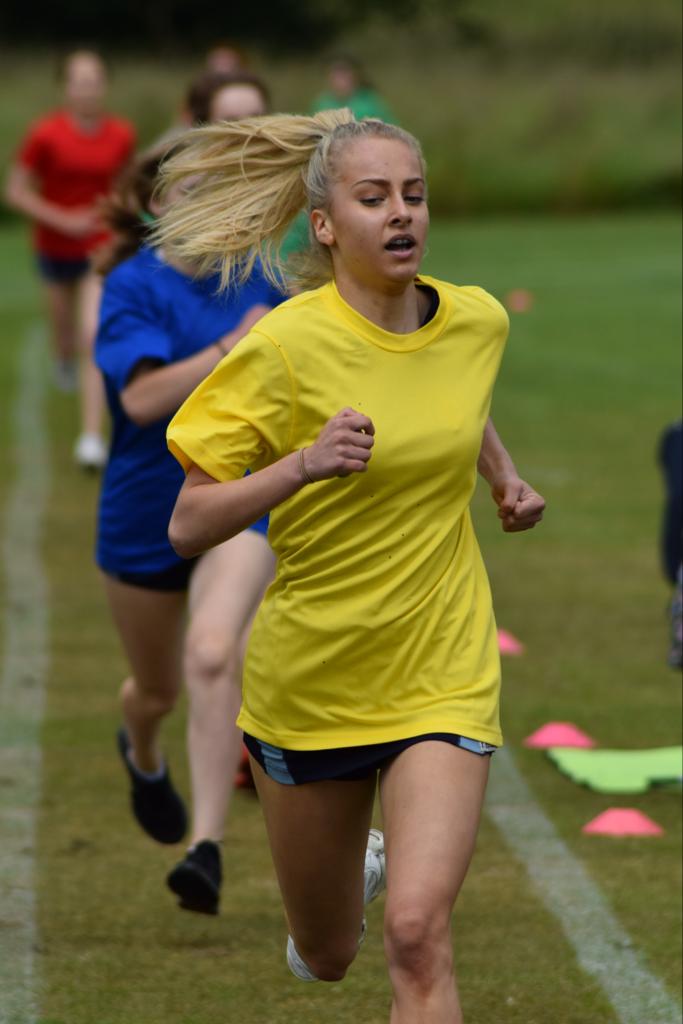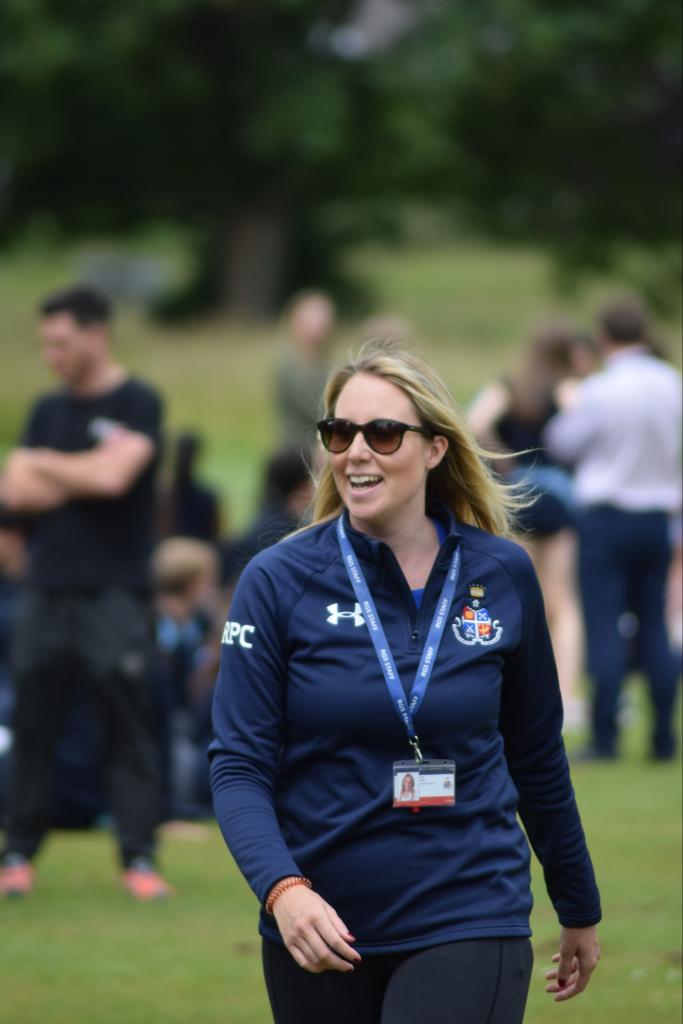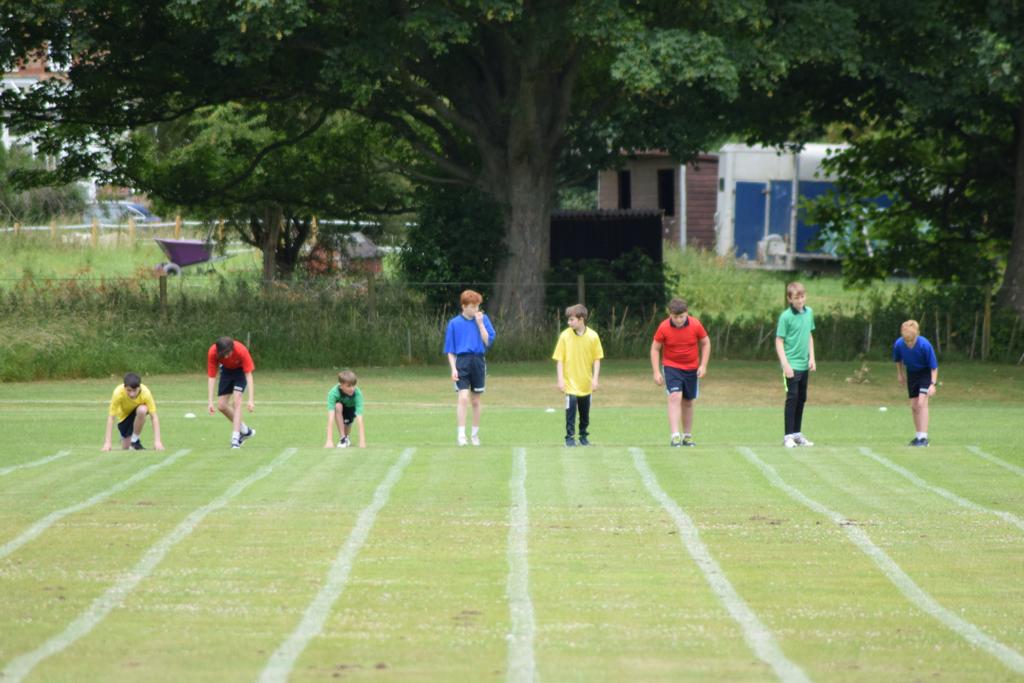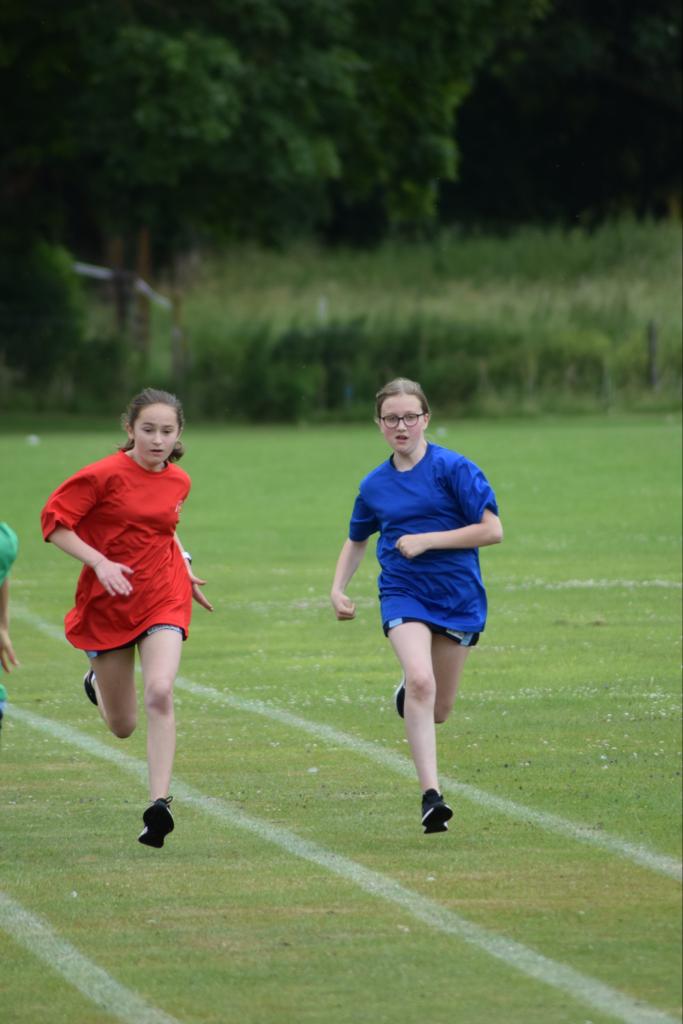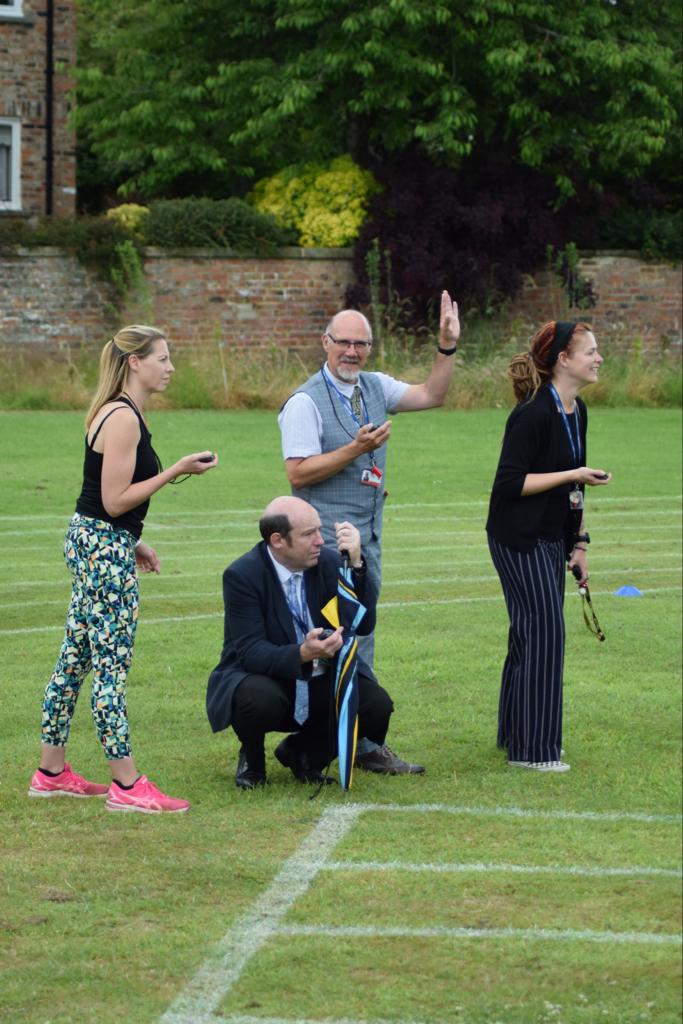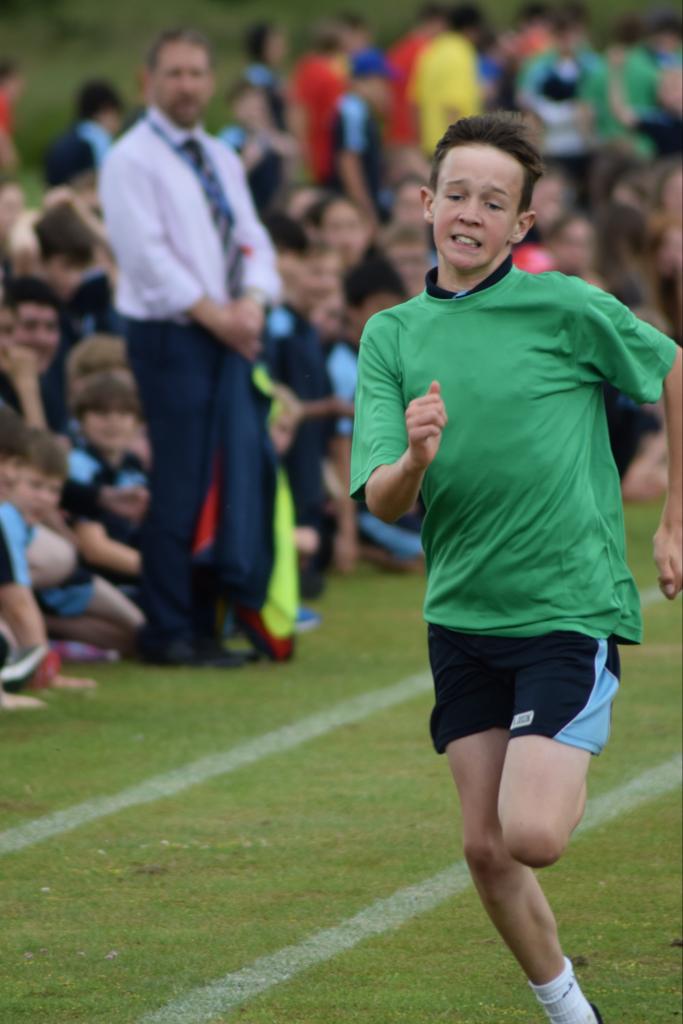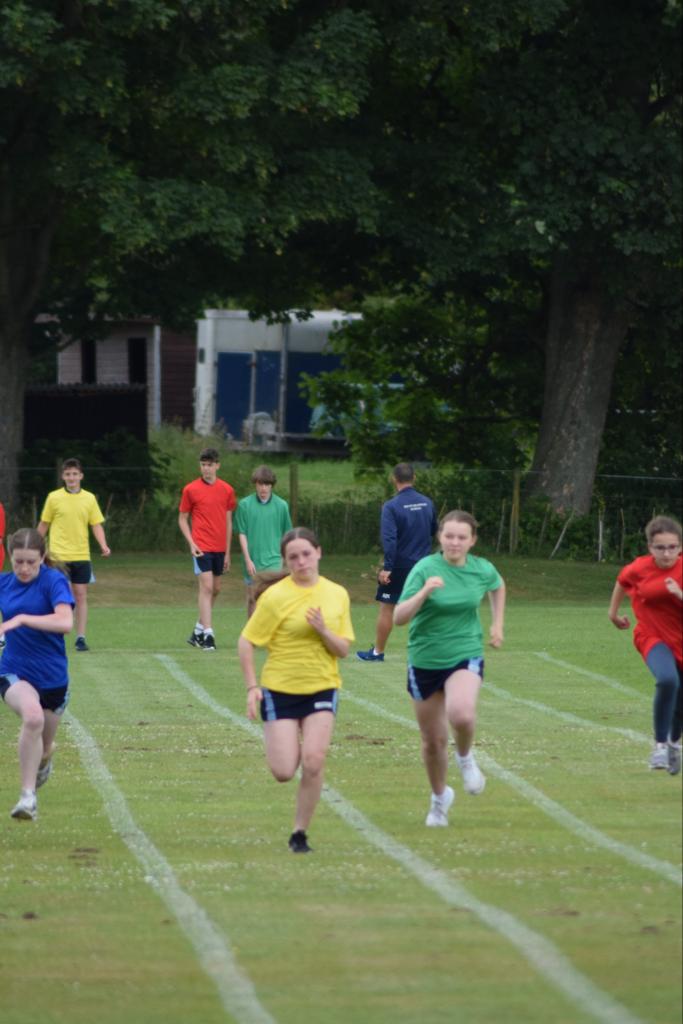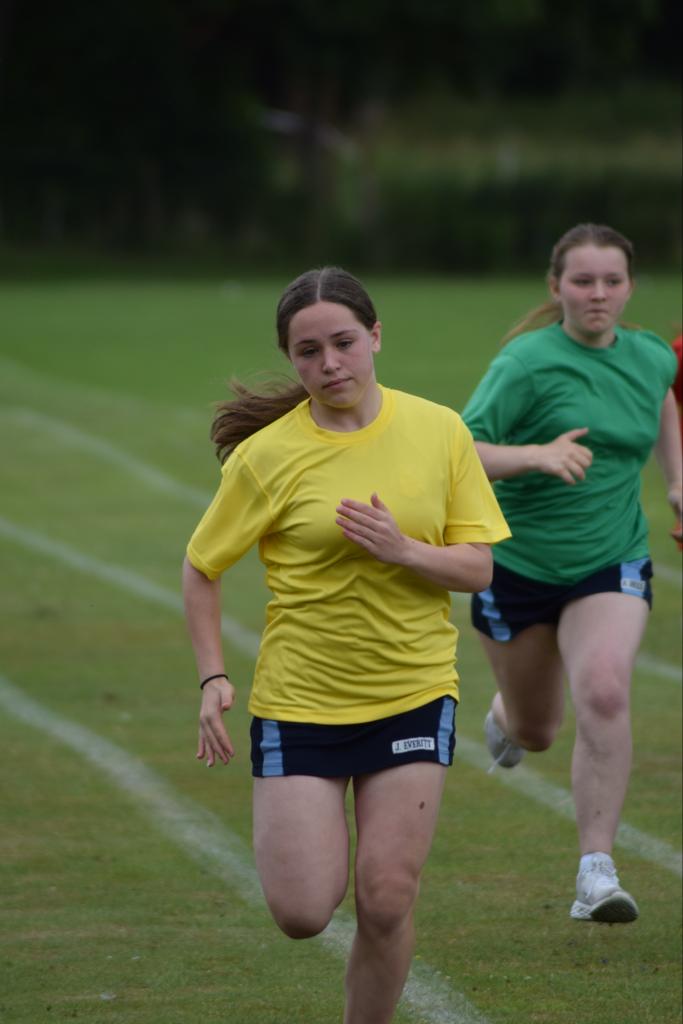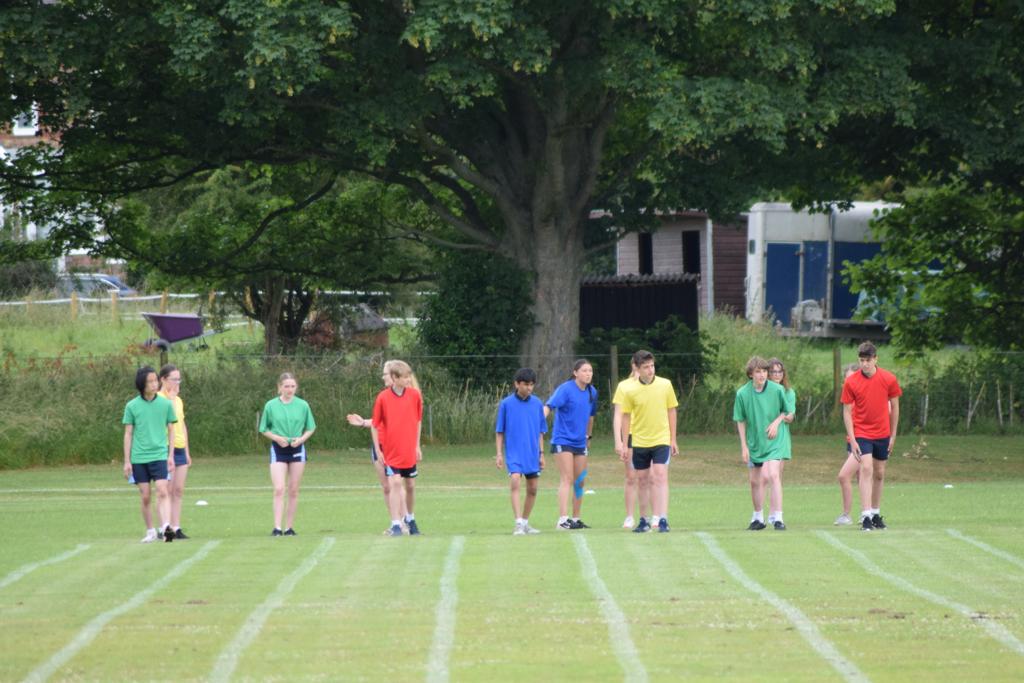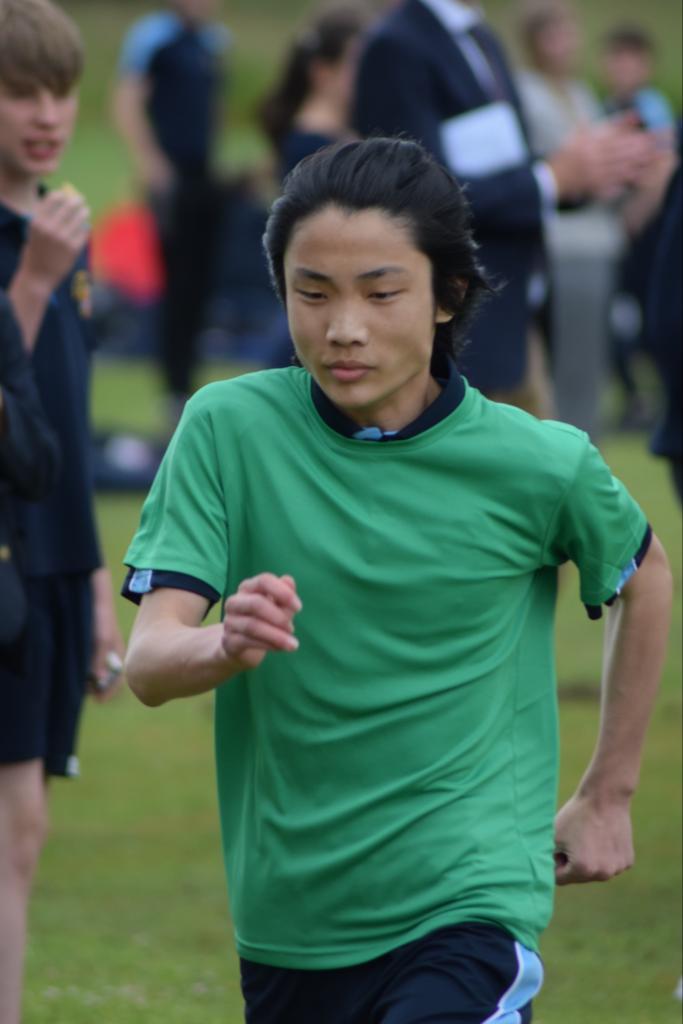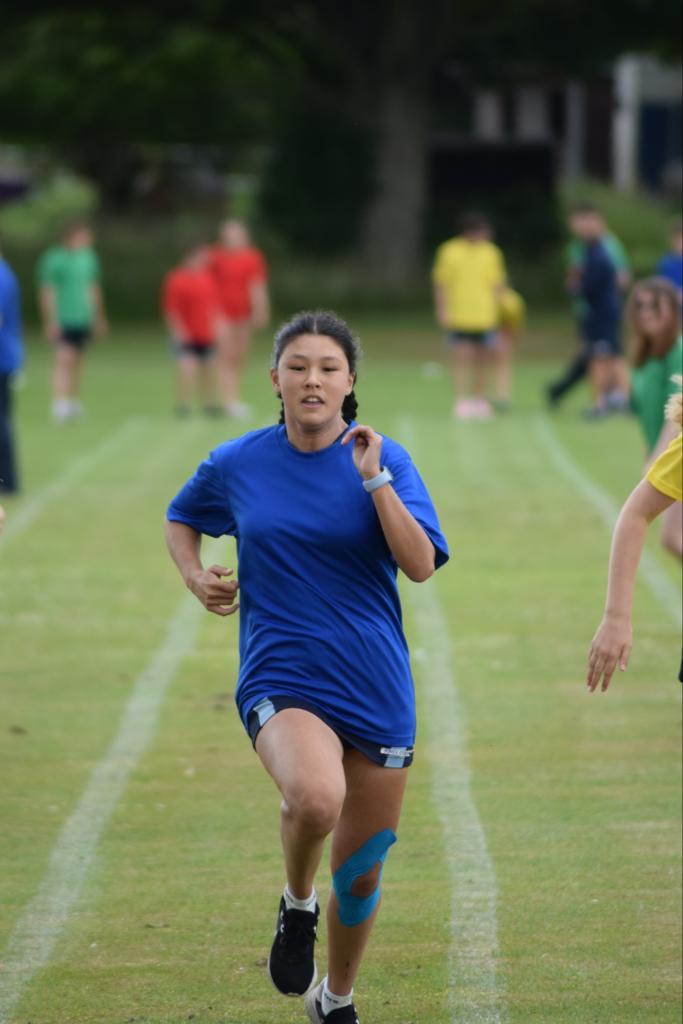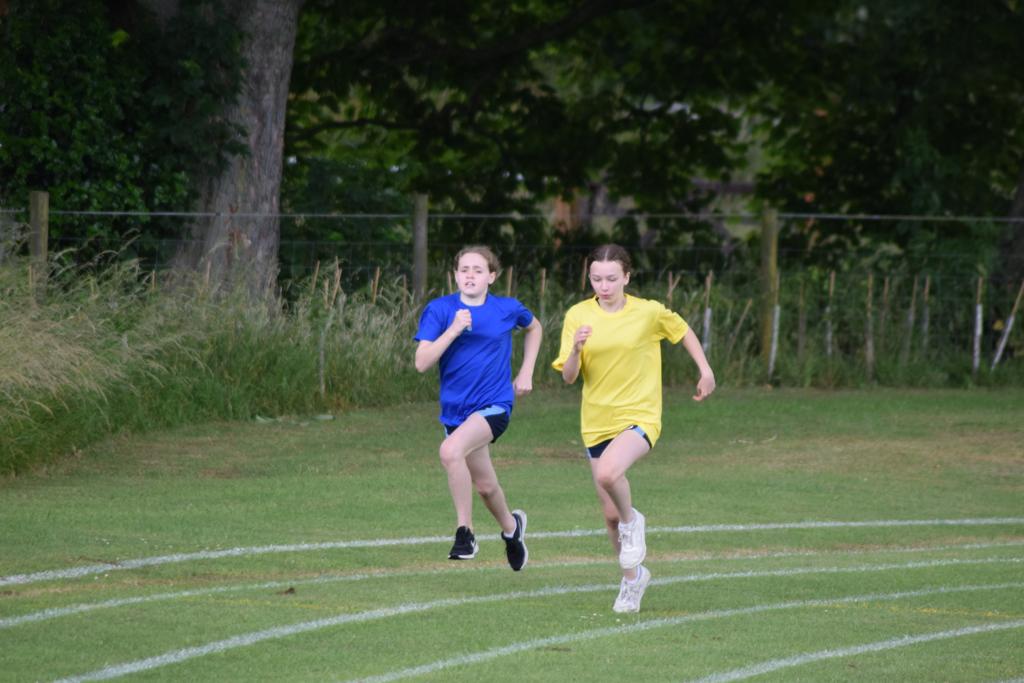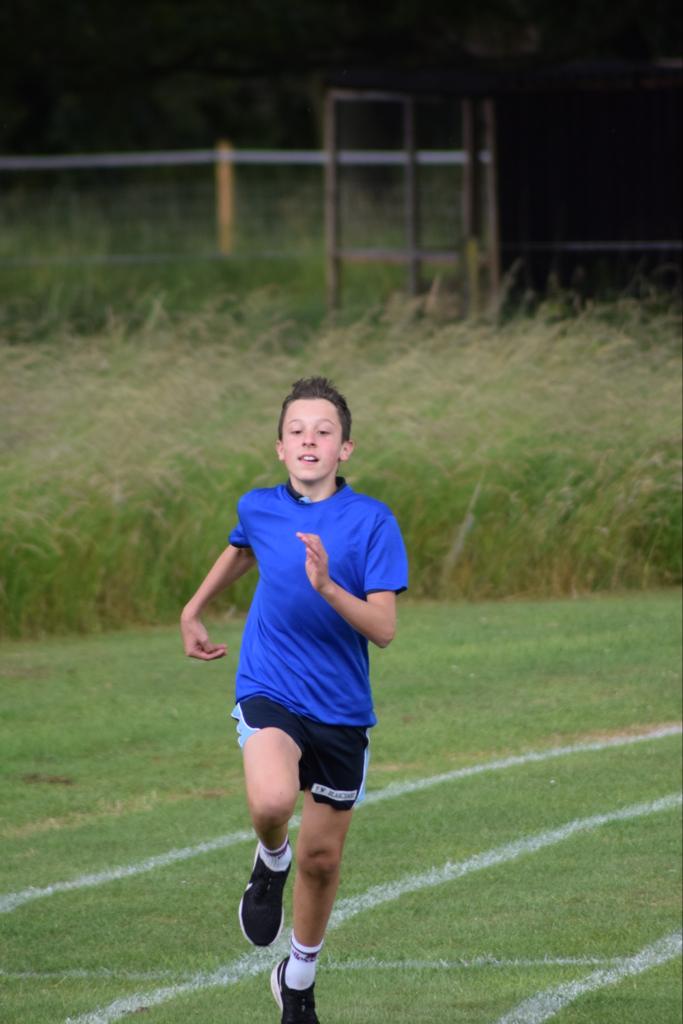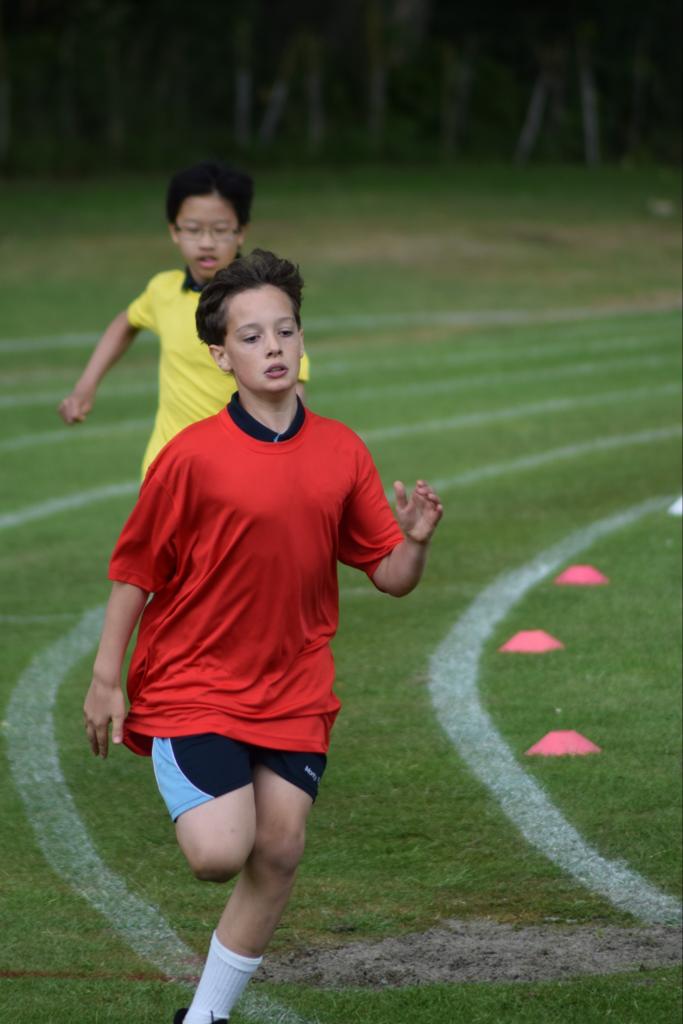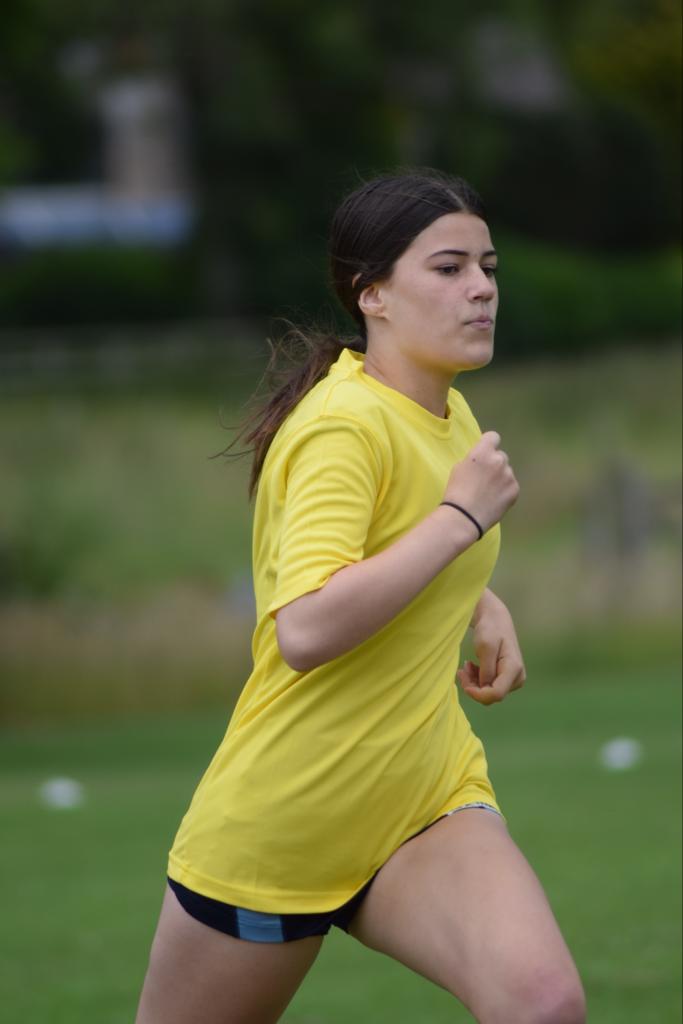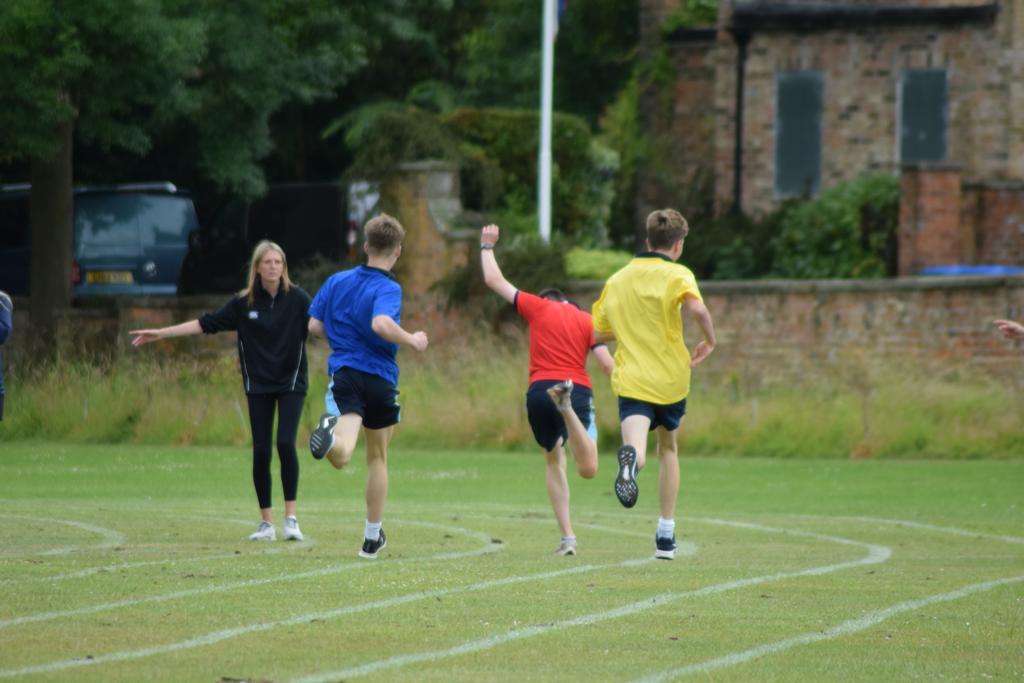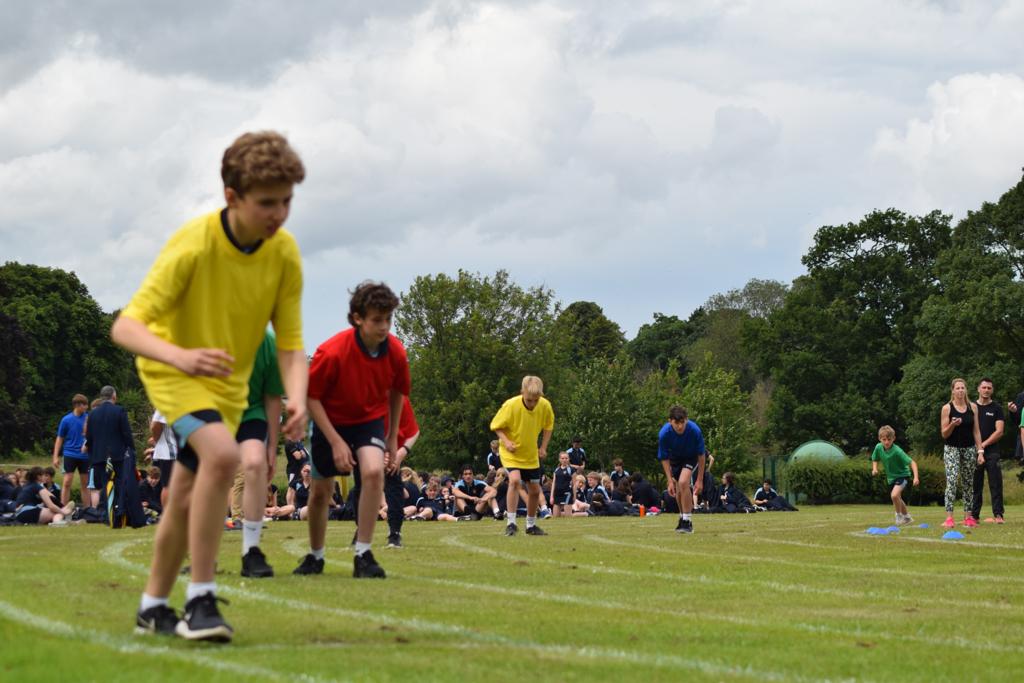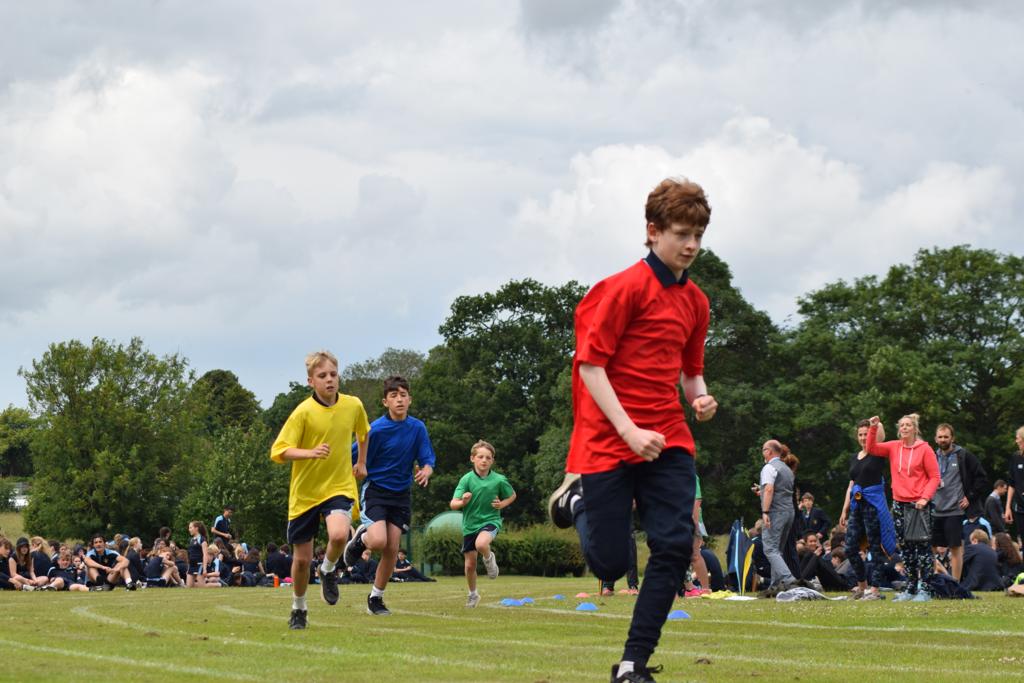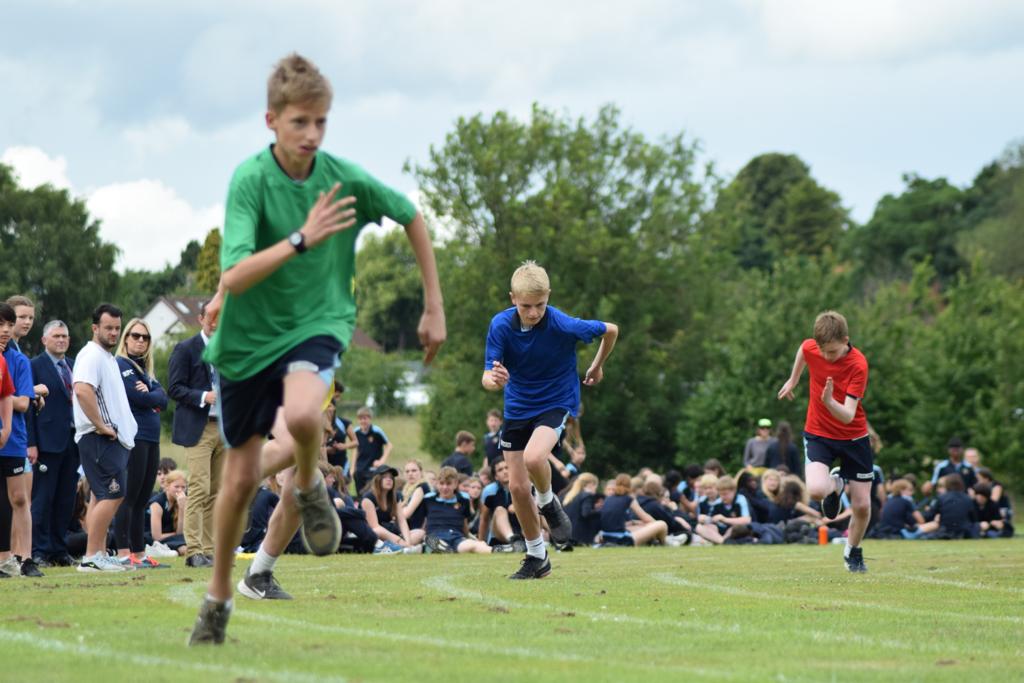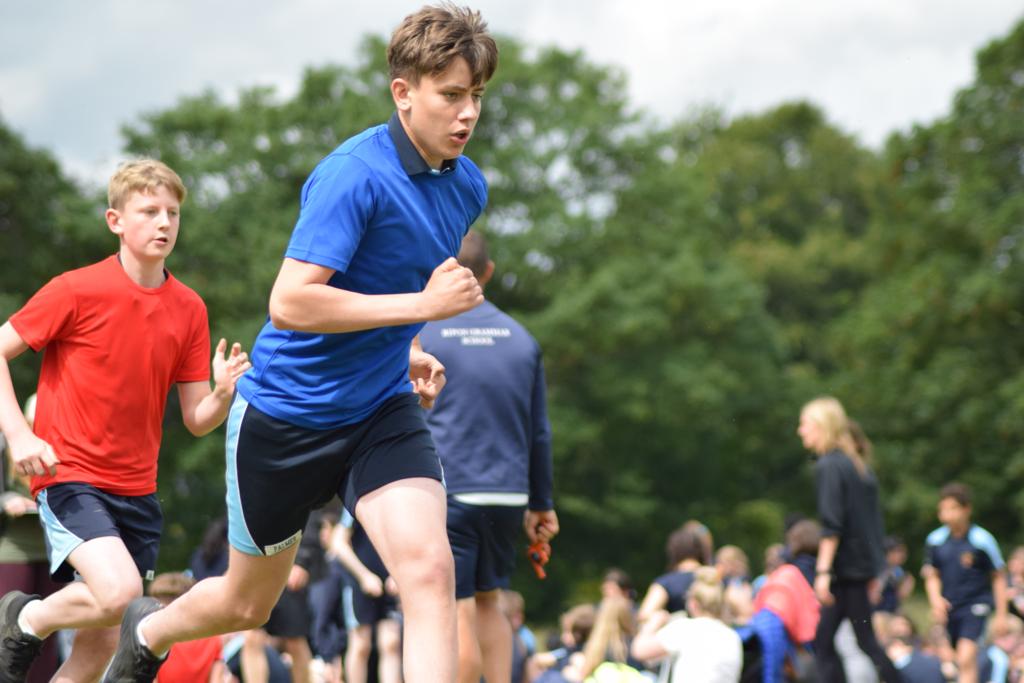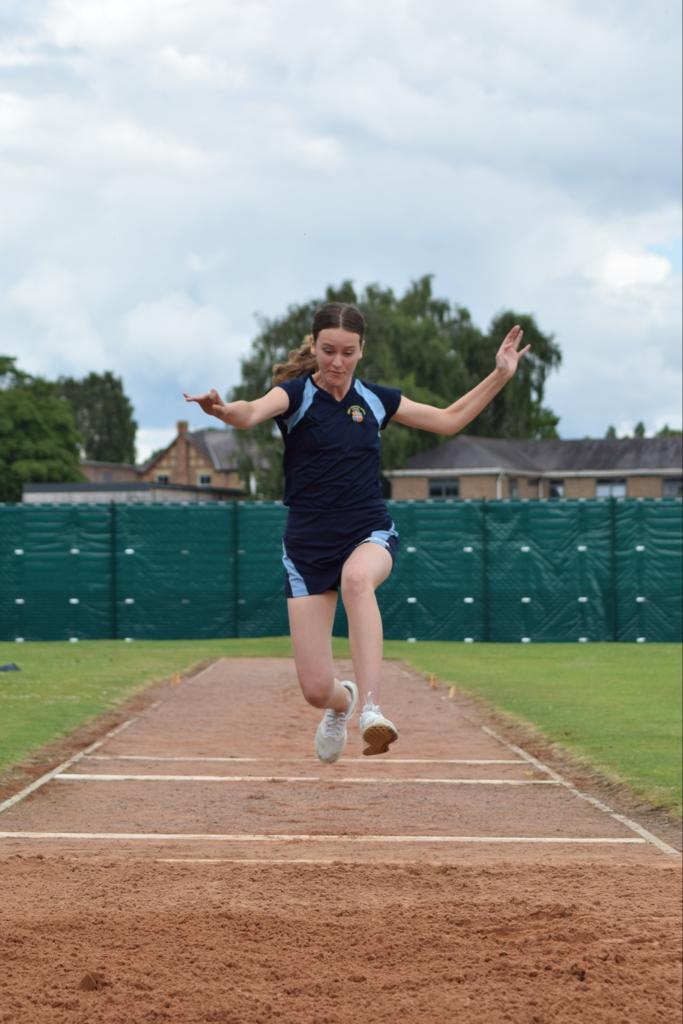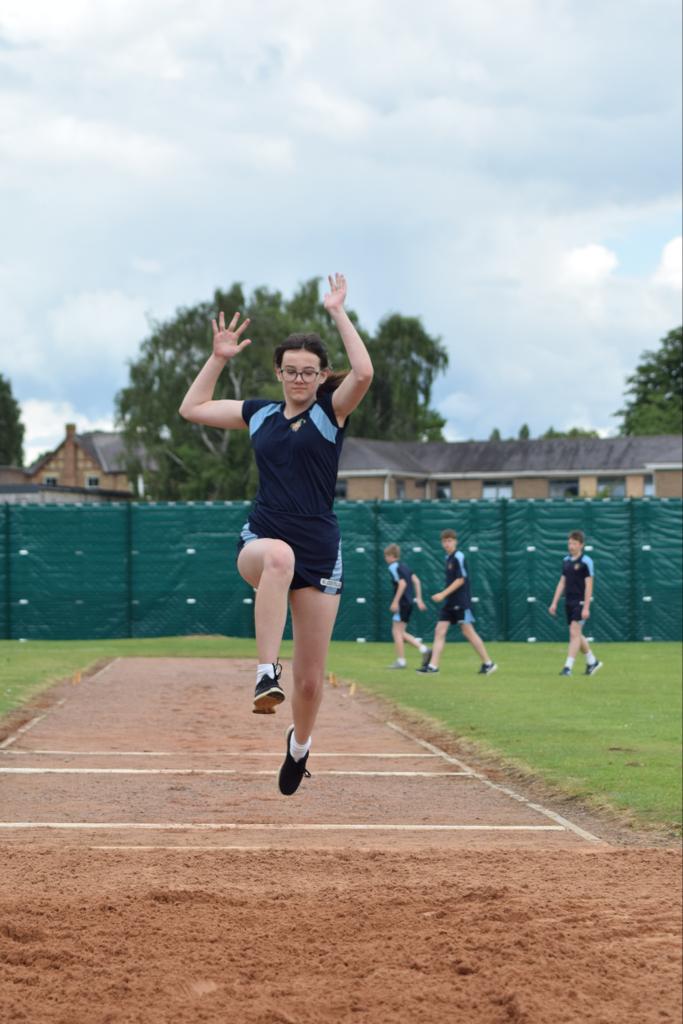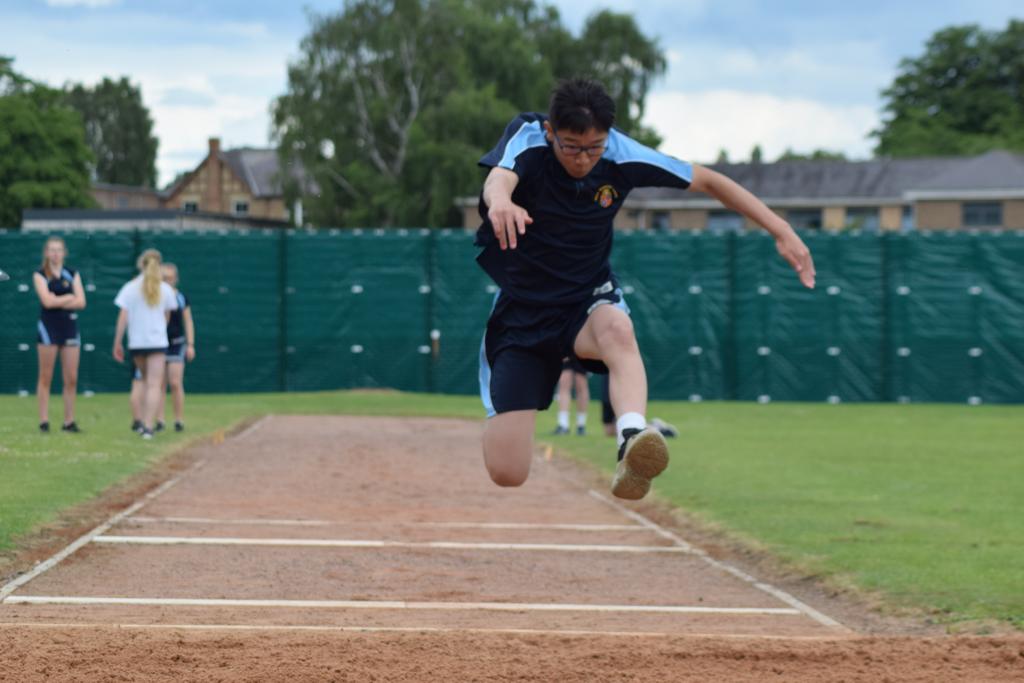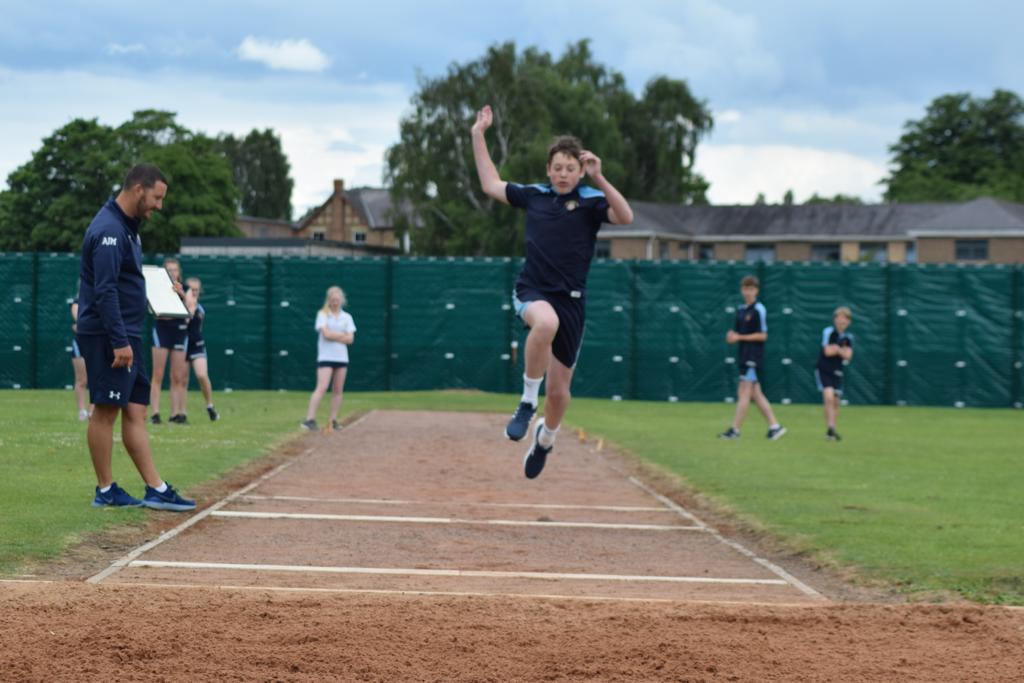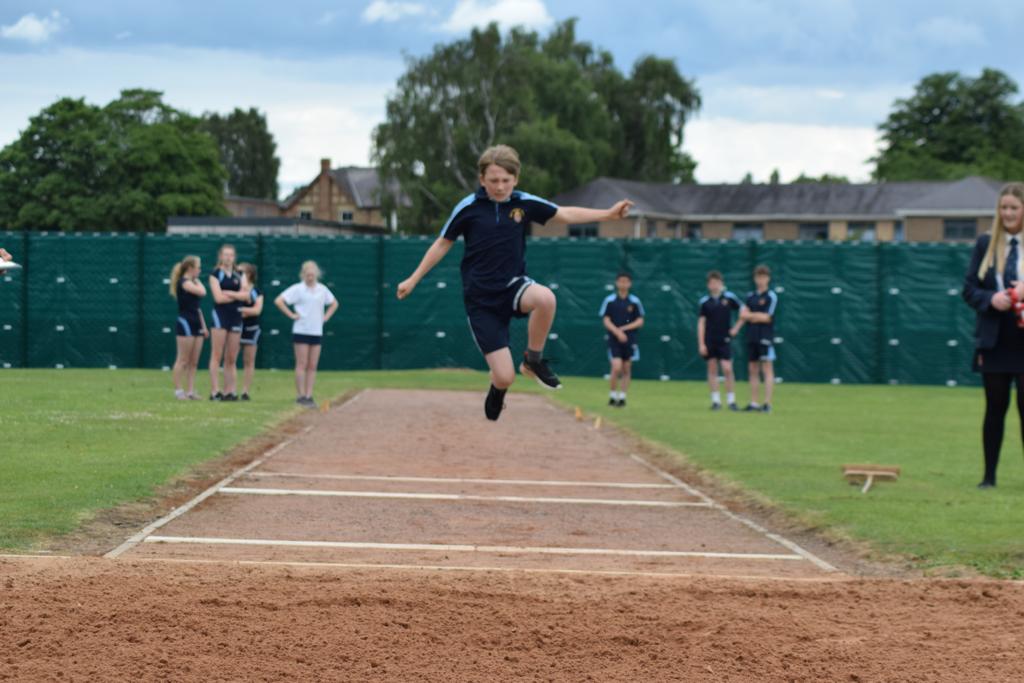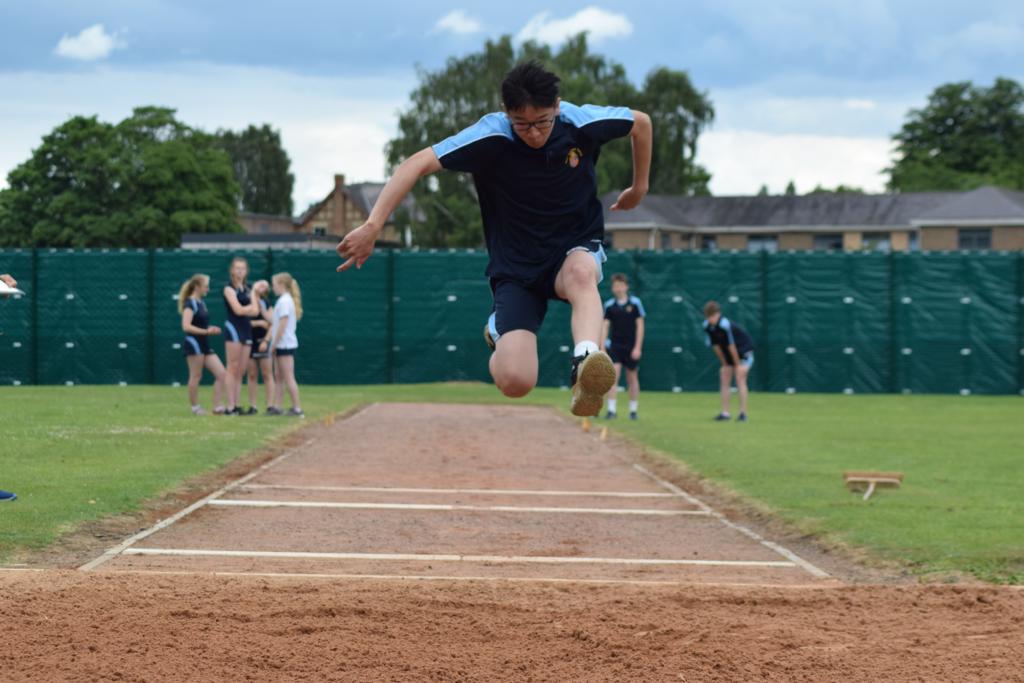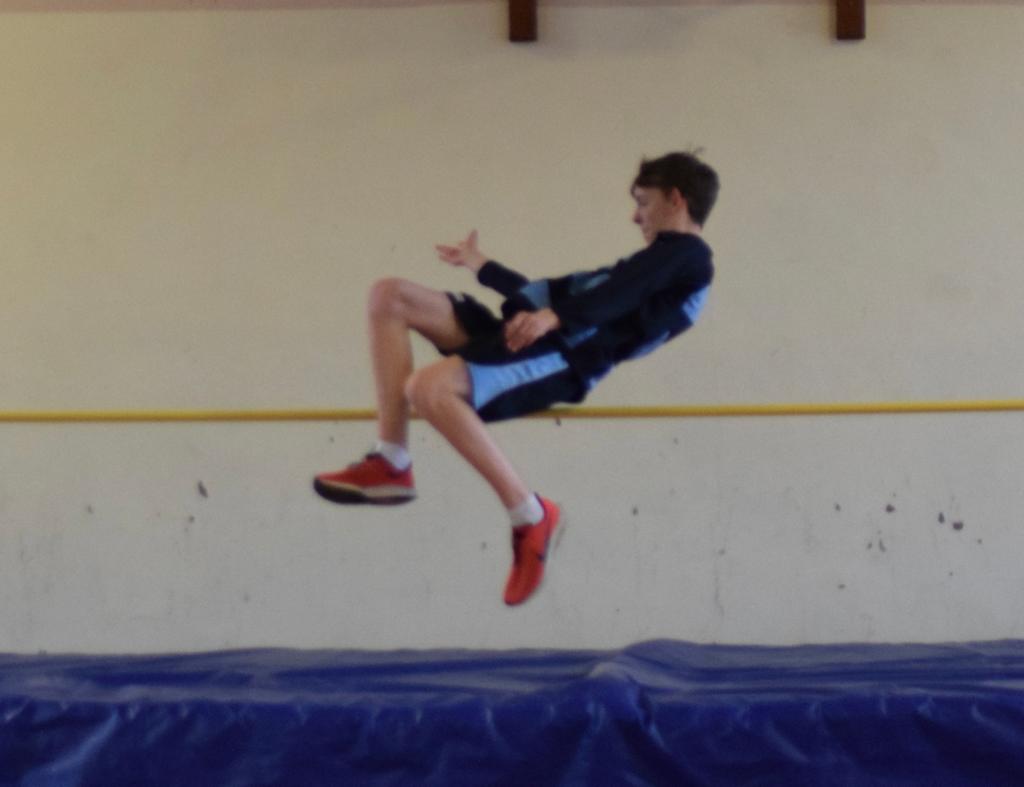 GIRLS' TRACK RECORDS
Event: Girls' 100m
Girls' 1st Year 100m – Record: Fiona Mingay (P) 2005 13.8s
Girls' 2nd Year 100m – Record: Record: Rebecca Hills 1996 12.9s
Girls' 3rd Year 100m – Record: Sola Sowole (DG), 2015, 12.63s
Girls' 4th Year 100m – Record: Sola Sowole (DG) 2016 12.1s
Event: Girls' 800m
Girls' 1st Year 800m – Record: Ella Foster (H) 2016 2m 39.4s
Girls' 2nd Year 800m – Record: Donna Riddler (H) 1991, 2m 33.0s
Girls' 3rd Year 800m – Record: Molly Acton (H) 2018 2m 33.3s
Girls' 4th Year 800m – Record: Donna Riddler (H) 1992, 2m 27.4s
Event: Girls' 200m
Girls' 1st Year 200m – Record: Claire Mitchell (H) 1977 29.2s
Girls' 2nd Year 200m – Record: Valerie Cooper (DG) 1976, 28.4s
Girls' 3rd Year 200m – Record: Connie Burkham (H) 2019, 27.51s
Girls' 4th Year 200m – Record: Joanne Parsons (P) 1980, Valerie Cooper (D) 1977, 28.0s
Event: Girls' 300m
Girls' 2nd Year 300m – Record: Emma Ibbotson (P) 2018, 45.2s
Girls' 3rd Year 300m – Record: Anika Schwarze-Chintapatla (P) 2016, 45.8s
Girls' 4th Year 300m – Record: Lucy Davies (DG) 2003, 45.6s
Event: Girls' Hurdles
Girls' 1st Year 70m Hurdles – Record: Maddy Lockey (P) 2018, 12.08s
Girls' 2nd Year 75m Hurdles – Record: Isabella Binks (DG) 2016, 12.38s
Girls' 3rd Year 75m Hurdles – Record: Isabella Binks (DG) 2017, 12.22s
Girls' 4th Year 80m Hurdles – Record: Hilary Wade (S) 1982, 12.8s
Event: Girls' 1500m
Girls' 1st Year 1500m – Record: Ella Foster (H) 2016, 5m33s
Girls' 2nd Year 1500m – Record: Ella Foster (H) 2017, 5m26s
Girls' 3rd Year 1500m – Record: Mena Scatchard (H) 2017, 5m11s
Girls' 4th Year 1500m – Record: Mena Scatchard (H) 2018, 5m22s
Event: Girls' Relay
Girls' 4th Year 4 x 100m – Record: (H) 1984, 54.2s
Girls' 3rd Year 4 x 100m – Record: (S) 2015 57.19s
Girls' 2nd Year 4 x 100m – Record: (P) 2018 55.87s
Girls' 1st Year 4 x 100m - Record: (S) 1977, 59.4s
BOYS' FIELD EVENTS RECORDS
Boys' 1st Year Long Jump - Record: Boys' 2nd Year Long Jump – Record:
Josh Risbey (S) 2021 4.27m D Quinn (H) 1976 5.01m
Boys' 3rd Year Long Jump - Record: Boys' 4th Year Long Jump – Record:
Will Ward (P) 2013 5.23m M Smith (DG) 1967 6.02m
Boys' 1st Year Triple Jump - Record: Boys' 2nd Year Triple Jump - Record:
Eliash Willis (S) 8.99m Adam Carpenter (P) 2018 10.25m
Boys' 3rdYear Triple Jump - Record: Boys' 4th Year Triple Jump – Record:
G Currigan (DG) 2005 10.48m Nigel Stockill (H) 1983 12.01m
Boys' 1st Year Shot – Record: Boys' 2nd Year Shot – Record
Fin Middlemiss (S) 2017 9.05m P Bradshaw (S) 1971 13.40m
Boys' 3rd Year Shot – Record: Boys' 4th Year Shot – Record:
Fin Middlesmiss (S) 2019, 10.75m Nigel Stockill (H) 1983 13.58m
Boys' 1st Year High Jump – Record: Boys' 2nd Year High Jump – Record:
Aidan Jolly (DG) 2022, 1.34m Josh Risbey (S) 2022 1.52m
Boys' 3rd Year High Jump- Record Boys' 4th Year High Jump – Record:
B Payette (DG) 2014, 1.55 S Wilson (P) 2001 1.65m
Boys' 1st Year Javelin - Record: Boys' 2nd Year Javelin – Record:
T Mewes (S) 2013 23.04m J Hill (H) 1984 38.60m
Boys' 3rd Year Javelin – Record: Boys' 4thYear Javelin – Record:
S Watkinson (S) 2005 34.3m B Marczak (H) 1996 42.04m
Boys' 1st Year Discus – Record: Boys' 2nd Year Discus – Record:
D Veakins (S) 2005 19.69m P Wilkinson (P) 1986 29.84m
Boys' 3rd Year Discus – Record: Boys' 4th Year Discus – Record:
William Barrett (H) 2017, 27.27m William Barrett (H) 2018, 32.51m
GIRLS' FIELD EVENTS RECORDS
Girls' 1st Year Long Jump - Record:Girls' 2nd Year Long Jump – Record:
Beth Takkiedine (DG) 2022, 4.15m Mary Marshall (H) 1967, 4.58m
Girls' 3rd Year Long Jump - Record: Girls' 4th Year Long Jump – Record:
S Dean-Stone (S) 2006, 4.09m Lisa Quin (H) 1984 5.18m
Girls' 3rdYear Triple Jump – Record: Girls' 4th Year Triple Jump – Record:
Isabella Binks (DG) 2017, 9.27m Lucy Coates (S) 2015, 8.75m
Girls' 1st Year Shot – Record: Girls' 2nd Year Shot 2- Record:
L.Williams 2013 & M.Lockey 2018, 7.27m Ellen McKeag (DG) 2017, 8.40m
Girls' 3rd Year Shot - Record: Girls' 4th Year Shot – Record:
Emma Ward (H) 2014, 8.70m Nicola Raddon (H) 1984, 9.74m
Girls' 1st Year High Jump – Record: Girls' 2nd Year High Jump – Record:
Lottie Day (H) 2022, 1.34m Victoria Nicholson (H) 1990, 1.41m
Girls' 3rd Year High Jump – Record: Girls' 4th Year High Jump – Record:
Helena Da Costa (H) 2017 1.40.m Rachel Berry (S) 1995, 1.50m
Girls' 1st Year Javelin- Record: Girls' 2nd Year Javelin - Record
Isabella Simpson (S) 2022, 21.18m Susannah Daish (S) 1980, 21.80m
Girls' 3rd Year Javelin- Record: Girls' 4th Year Javelin 2 – Record:
Amy Mackenzie (H), 2015 25.69m Judith Foster (DG) 1983 28.18m
Girls' 1st Year Discus - Record Girls' 2nd Year Discus – Record:
Hannah Fletcher (DG) 2005 16.58m Linda Watson (H) 1966, 20.54m
Girls' 3rd Year Discus Record: Girls' 4th Year Discus – Record:
Molly Disbury (H) 2017, 18.10m Ann Dunlop (S) 1959, 27.66m
BOYS' TRACK EVENTS RECORDS
Event: Boys' 100m
Boys' 1st Year 100m – Record: K Bowen (H) 1988 12.10s
Boys' 2nd Year 100m - Record: C. J. Charlesworth (P) 2013, 12.03s
Boys' 3rd Year 100m - Record: Benjamin Payette (DG) 2014 11.54s
Boys' 4th Year 100 m - Record: Elliot Hutchinson (H) 2017, 11.4s
Event: Boys' 800m
Boys' 1st Year 800m – Record: Isaac Henson (P) 2018 2m 34s
Boys' 2nd Year 800m – Record: M Hackett (S) 1987 2m 21.6s
Boys' 3rd Year 800m –Record: William Keens (H) 2022, 2m 17.40s
Boys' 4th Year 800m – Record: P Fitzpatrick (DG) 2003 2m 01.40s
Event: Boys' 200m
Boys' 1st Year 200m-Record: Titus Baker (S) 2013, 28.90s
Boys' 2nd Year 200m – Record: M Abel (DG) 1973 26.30s
Boys' 3rd Year 200m – Record: Elliot Hutchinson (H) 2016, 25.87s
Boys' 4th Year 200m – Record: Paul Dempsey (S) 1980 24.40s
Event: Boys' 400m
Boys' 1st Year 400m – Record: J Thomson (D) 2005 65.0s
Boys' 2nd Year 400m – Record: P Fitzpatrick (DG) 2001 61.05s
Boys' 3rd Year 400m – Record: Will Groves (S) 2018, 57.45s
Boys' 4th Year 400m – Record: I Hall (P) 1979 53.70s
Event: Boys' Hurdles
Boys' 1st Year 75m Hurdles – Record Ewan May (H) 2014, 13.48s
Boys' 2nd Year 75m Hurdles – Record: David Blyton (H) 2016, 12.82s
Boys' 3rd Year 80m Hurdles – Record: Lorcan Gallagher (S) 2014, 12.30s
Boys' 4th Year 80m Hurdles – Record: Isaac Henson (P) 2021, 12.92s
Event: Boys 1500m
Boys' 1st Year 1500m – Record: Archie Bordewich (H), 2018, 5m14s
Boys' 2nd Year 1500m – Record: Archie Bordewich (H) 2019, 4m58s
Boys' 3rd Year 1500m – Record: Toby Osman (H) 2014, 4m40s
Boys' 4th Year 1500m – Record: Toby Osman (H) 2015, 4m31s
Event: Boys' Relays
Boys' 4th Year 4 x 100m – Record: De Grey 1982 49.30s
Boys' 3rd Year 4 x 100m – Record: Porteus 2014 53.01s
Boys' 2nd Year 4 x 100m – Record: De Grey 1980 55.30s
Boys' 1st Year 4 x 100m – Record: De Grey 1978 56.00s