ART: The eyes have it: how Caitlin captures animals in art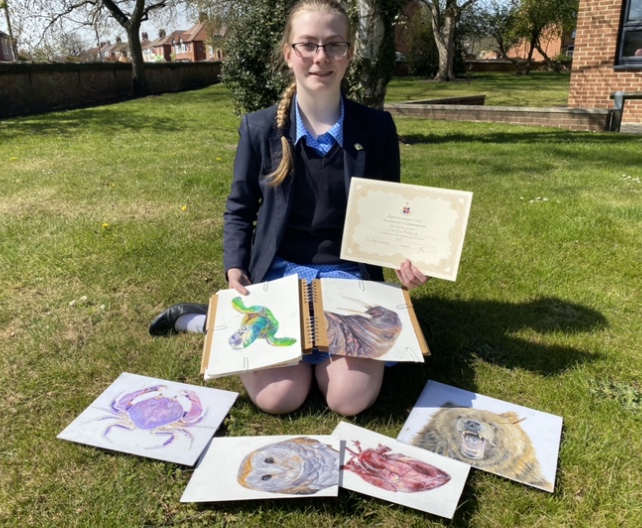 A YEAR 10 student has enjoyed a brush with success after producing a range of stunning lifelike animal paintings.
Animal-loving Caitlin McKeag, whose family has cats, ducks, geese, sheep and a dog, created the works for a Duke of Edinburgh Award skills project but also earned a headmaster's commendation.
Head of art Mrs Henson described the detailed paintings of animals including a zebra, lion, turtle, butterfly, owl and squid, as outstanding.
"The quality of her painting and time spent on each piece is incredible and I feel the work must be seen and celebrated," she said.
Caitlin, from outside Grewelthorpe, said: "I've always enjoyed painting and drawing as does everyone else in my family. I have also always wanted to be able to paint animals well, and to capture the life in their eyes and forms."
She studied photographs of the animals to paint them in watercolour and acrylic: "Animals and nature are truly beautiful, and I wanted to capture that in my paintings, as well as including lots of detail and texture to really make them look like the real animals."
The 14-year-old added: "I don't really have a specific technique, though I do spend time on it, and enjoy making the eyes as realistic as possible, as that is the part of the animal that really brings it to life on the paper."
She would like to work in the film industry one day: "I am interested in art and film-related jobs, like set designer, computer-generated imagery (CGI) artist or even makeup artist. I find that all the sets, props, makeup and CGI really make films amazing, so I would love to be a part of that.
"I would really love to continue with my art. It relaxes me and it makes me happy when I produce a piece that I truly love."