'Brilliant' work wins high praise from Cambridge academics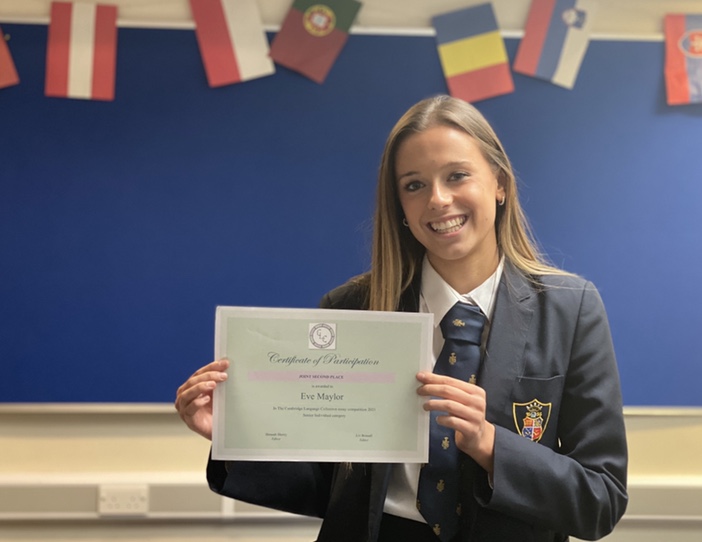 A RIPON Grammar School languages student has won a prestigious University of Cambridge prize after creating an innovative documentary exploring gender discrimination in France and Spain, which judges described as 'brilliant'.
Following the horrific murder of Sarah Everard, 17-year-old Eve Maylor was inspired by an app she discovered in lockdown which allows her to talk with native French and Spanish speakers who share her passion for languages.
As part of her research into cultural differences in other countries Eve, who also produced an 850-word report on the subject, spoke to French and Spanish students on the HelloTalk app to discover more about their experiences.
Judges praised how Eve had managed to create an original research study about sex discrimination in two different countries despite lockdown restrictions.
"The app has completely changed my life," she says. "I was absolutely over the moon to win a prize like this. I struggle sometimes with believing in my language ability."
The distinguished university academics judging the Cambridge Languages Collective essay competition singled Eve's entry out for outstanding effort: "Using both languages and an app independently to talk about your passion is exactly what we were looking for. Brilliant!" said the judgement.
Dr Hugues Azérad praised Eve's documentary for being brilliantly edited, emotional and sharp: "It was very creative with fantastic mixing of images and music, all sombre and powerful. It impresses for all the good reasons: topic, creativity, depth and range."
Dr Ares Llop-Naya added: "The author's maturity in developing such appealing research, as well as their mastery of both French and Spanish and their capacity to carry out the data gathering process in both languages should be highlighted."
Eve, from Ripon, who was awarded second place in the highly competitive competition, is taking A-levels in French, Spanish and psychology with a view to studying languages at university and eventually pursue a career in business or with the diplomatic service.
She explained how, as a response to the Sarah Everard murder, she began to accumulate research regarding how this level of gender prejudice translated to other countries and cultures.
"I then came up with the idea of using my app to interview some of the new friends I had made overseas about their experiences in their own countries, then edited all of the clips together and summarised some of the key details which I had learnt from my research to form a documentary."
She concluded: "In general, I found both France and Spain appear similar regarding progression of women's rights. The most valuable thing I obtained from my project was friendship. I love being able to communicate and form relationships with those from other countries by speaking in their language.
"I have always disliked the expectation for others to be able to speak English. I strongly believe there should be a stronger emphasis on improving our linguistic skills in British schools."
Eve who has played netball for North Yorkshire and also dances competitively, is the chair of the RGS language society and a member of the school's Prince's Trust team, as well as holding down two part-time weekend jobs in a hairdressers and restaurant.
See Eve's documentary here: https://youtu.be/Z0lDMeEUdsQ
Eve's written report:
Documentary Report- Gender discrimination in France and Spain:
What defines an adequate treatment of women in society? After spending countless hours scrolling through the internet trying to find the best definition/criteria, I have come to the conclusion that this is completely subjective. Stereotypically, due to socially sensitive inflicted normalities, people have a preconception that the male gender is a stronger and superior community. However, when conducting a survey amongst people from different cultures, going beyond these basic schemas, the conclusion I could draw was that everyone had different views regarding how effective their country has been in obtaining equality between the sexes. It is very rare that we actually take a step back from our everyday normalities to assess whether we could approach certain aspects of life differently, hence preventing change. In 2020, there were approximately one million more female inhabitants of Spain than men, and it is estimated that the female population of France consisted of almost three million more people than the male population. Therefore, the question is, why is it that females are still viewed as inferior to men, and which of these two countries has been more successful in minimising this very prevalent issue?
Currently, in France, male employees earn 6% more than their female counterparts, on average, across all sectors. Despite this still requiring amendments, there has been a noticeable improvement over recent years (in 2018, women earned approximately 15.5% less than men). This is likely due to the ten-point action plan set out by the French Government in order to put an end to the prejudiced salary difference. It involved: increased transparency requirements, a concrete methodology to calculate wage disparities, more frequent monitoring by the labour inspectorate and sanctions for non-compliance.
The Spanish Government similarly recognised the necessity of taking action, therefore leading them to introduce a law in 2020 that insisted businesses must disclose the salaries of each of their employees. Alongside this submission of pay figures, employers were also fined if they did not evaluate their gender positioning and prepare an equality plan with a remuneration report to address their movement in terms of non-discrimination. Additionally, the Spanish government has approved a legislative decree that aims to fight against gender discrimination in the workplace. It includes the progressive equalisation of paternity leave with maternity leave, which has granted new fathers up to sixteen weeks of time off work. Through analysis of the relative data, it appears that Spain has been more effective in reaching their targets than France. In 2018, the difference in the salaries of men and women was 18.3% whereas nowadays they have managed to reduce that to approximately only 4%.
However, saying this, despite the utter lack of justification for a gender pay gap, this is not necessarily the most pressing issue, currently, regarding women in the workplace. France's Higher Council of Professional Equality carried out a questionnaire in 2013 that revealed 80% of women face sexism in the workplace, hence the clamp down by the government on men demonstrating these attitudes. These women claim that being a victim to this chauvinistic behaviour impacted both their confidence and performance. Despite there being significantly less accessible research online regarding this same matter in Spain, when conducting my own personal study I reached a similar conclusion. It appeared that a slightly lower percentage of the females I interviewed had experienced similar treatment, however this is not necessarily a reliable comparison. I, unfortunately, could not access as large a collective as was reached in the French experiment, so my findings cannot necessarily be generalised to the whole population.
From a young age, children raised in certain cultures grow up surrounded by multitudes of stereotypes and social normalities regarding females, consisting of ideologies regarding how they should dress, which activities are appropriate for them to participate in, and more. These suppositions may initially appear harmless, nevertheless, in a documentary entitled "The Truth About French Women", the ladies interviewed had clearly been heavily impacted by them throughout their lives. Whilst interviewing native French and Spanish adolescents, I found that despite there being many cultural differences between the two countries, most people had been brought up immersed in the typical Western beliefs surrounding women.
Analysis of my findings reflected how the difference between the perception of women in France and Spain was not particularly notable. However, this is not to say that between the two countries there is not still a long way to go in terms of achieving equality. What I really enjoyed about this project, was not only being able to put my language skills to the test, but also, I hope that I was able to highlight the issues surrounding a very prevalent topic in a unique way. This is a subject that I feel very strongly about and having the opportunity to discuss and debate these topics in foreign languages was something I found really stimulating and enriching during the national lockdown. I hope that anyone taking the time to watch my documentary, is inspired to utilise their language skills to investigate something that captivates their own interest and attention.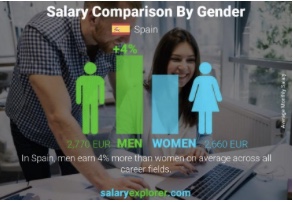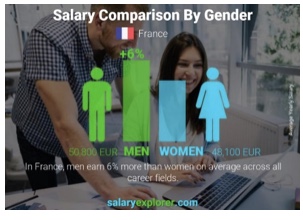 By Eve Maylor