Countdown to RGS mock general election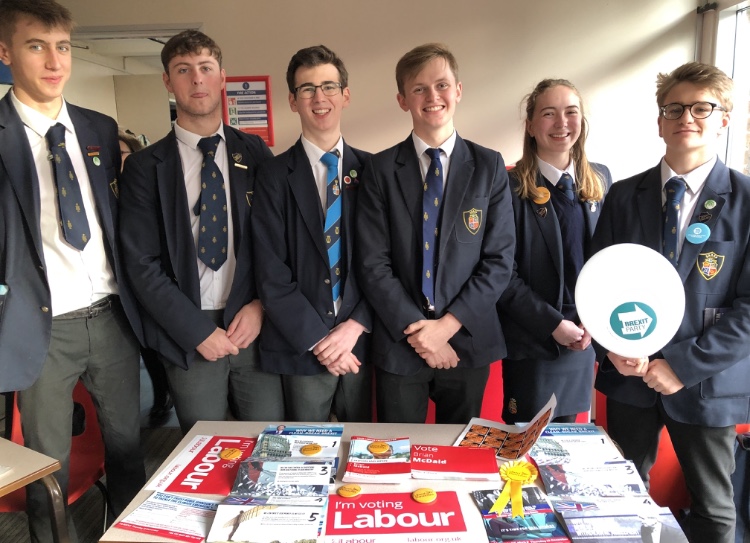 A STUDENT-LED mock election is giving Ripon Grammar School pupils and staff a taste of the real thing as the country prepares for the general election.
Sixth former Sebastian Lyons, one of the organisers of the RGS 'general election', urged every fellow pupil and member of staff to participate: "Ripon Grammar School has the chance to decide on which party we think promises the promote the UK's interest in the best possible way.
"For students and teachers alike, this is a chance for us to participate in politics, a topic which has large consequences for us as individuals As an electorate, voting enables us to create change, through discussion of who we support, and through giving a vote to the party we support.
Students will be standing for the Green, Brexit, Conservative, Labour and Liberal Democrat parties, which do not necessarily reflect their own political views.
Party manifestoes have been issued and each party will take part in hustings and assembly presentations, followed by question and answer sessions, as well as in a five-party debate.
Deputy head Kevin Auger explained how students had carried out thorough research into the parties they are representing: "This is a real opportunity for everyone to consider the current political debate in the UK and an opportunity to find out more, before casting their mock votes."
Voting will take place on Wednesday, December 11 and the result will be announced at 9am on Thursday, December 12, with a speech by the winning party at lunchtime.
Sebastian added: "This is not just a vote on the UK domestically, but whether we should be a part of the European Union. The forthcoming election is a referendum on Brexit, and the five parties are competing to provide a convincing solution to the issue of a lifetime. Although Brexit remains the dominant topic, there has been an increased focus on our social agenda – the NHS, education and tax reform."
Research by the Hansard Society, the UK's leading source of independent research and advice on parliamentary affairs, shows that young people are less likely to engage with politics than their older counterparts.
Director Dr Ruth Fox says: "Research has shown that one way young people become more likely to engage in political activity, including voting, is by participating in citizen-ship related activities at school, such as school councils, debating teams and mock elections.
"By participating in a mock election, students gain valuable and fun hands-on experience of the workings of an election, from running a campaign to organising voter registration and polling on the day."
She added that several of this year's general election candidates, as well as former MPs and other prominent political figures, participated in mock elections when they were at school.
Pictured: some of the students involved in one of the hustings events at Ripon Grammar School
MANIFESTOES
Brexit
Sixth form representative – Patrick Stone, U6F
Years 7-11 representative – Fergus Moon 5E
The Brexit Party is a new party – full of the vigour, youth and experience required to fulfil the biggest democratic mandate in British history. Together we have the power to take the democratic result of the 2016 EU referendum and to treat it how it deserves to be treated; as a democratic result. What sort of democratic society do we live in, if a few parliamentarians can defy the expressed will of the people? We're the only party who have a genuine desire to represent the British public, both in terms of fulfilling Brexit and in terms of reforming our democratic processes in order to make Britain a more modern and progressive democracy. Democracy is under threat unless we deliver a meaningful Brexit to the British public and we plan on using our influence to reform the political system: by throwing out the political elite in the House of Lords and making it an elected chamber; as well as ensuring members of the Civil Service are accountable to the public by making them sign an oath for political neutrality.
Furthermore, our Brexit policy has a progressive economic angle; using money saved from the EU along with cuts to the foreign aid budget and scrapping the failed HS2 project to invest in the future of the British economy. With a policy targeting areas of economic stagnation in British society, our thoughtful and responsible Brexit policy will help to reinvigorate our economy – along with the aim of restoring faith in this exceptional British democracy. It starts with Brexit.
Conservative
Sixth form representative – Geordan Branton, U6A
Years 7-11 representative - Jack Disby, 3B
The Conservative party stands as the only credible option for those seeking to 'get Brexit done'. But that's not all that our government has plans for.
Regardless of how we voted in 2016, we must all work to preserve the value of our democracy. This country will leave the EU by January 31st. The prime minister's deal is ready to go and with a majority Conservative government we will have fully left the EU and its institutions by 2020, opting for a Canada-style free trade agreement. This will bring an end to decades of uncontrolled immigration with the introduction of a points-based immigration system so we get the people who will work and bring prosperity for this country.
We will continue to work to bring a more efficient and effective NHS and by 2023 will have increased funding to our NHS by 29% (that's an extra £650million extra per week). Further to that, we will build 40 new and modern hospitals and employ 50,000 more nurses by reintroducing maintenance grants for those studying medicine and nursing. Furthermore, mental health will be treated equally with physical health.
The Conservative and Unionist party commits to spending above the required 2% of GDP on defence and we will maintain the Trident nuclear deterrent.
Labour intends to drain the pockets of everyone in this country, not just the rich. We will freeze all taxes at their current level followed by a gradual decrease for lower tax brackets.
Labour and the Liberal Democrats cheapen the value of British democracy and will leave us defenceless, penniless and may even bring about the destruction of this great Union. Jeremy Corbyn is too dangerous to be allowed near No 10 but it's up to you to keep this country free and free from socialism.
Green
Sixth form representatives – Grace Withyman and Alfie McEvoy, U6D
Years 7-11 representative – Jamie Pritchard, 4C
If not now, when? The overwhelming hostility and power-grabbing actions of politicians and corporations alike has capitulated the UK into a nightmarish situation in recent years. With our future marred by constant talk of Brexit and the ever-growing list of ugly truths about the harm austerity, implemented under the Conservative – Liberal Democrat coalition and upheld ever since by Tory governments, has caused. This election is a chance to reverse these issues once and for all, ending homelessness, poverty and discrimination in all its forms, and a vote for the Green Party is a vote for progressive change for all people in our country.
Whether it be our ground-breaking push for environmental policy unlike and above any other party, or our revolutionary electoral reforms of a proportional voting system and enfranchisement of 16 and 17-year-olds, our pledges look towards the future of our nation rather than dwell on what could have been. This includes a revamp of corporate taxation schemes so that these big businesses and their owners pay their fair share to live in a civilised society and allow low-income families to get onto the property ladder and maintain financial security through a universal basic income system. We will continue to work for the people in other societal ways as well, ending the unnecessary and detrimental cost attached to studying at university by scrapping tuition fees and student debts, and in broader societal terms by giving the NHS the funding it deserves, reforming and increasing spending in the education system, and returning funding that has been cut by the Conservative and Lib Dem austerity policies to emergency services, nursing, mental health and youth services.
The disastrous Brexit deals put forward by successive Conservative governments only highlight how incapable they are when it comes to 'getting Brexit done' and the negative backlash to these deals from the public, expressed in the 'People's Vote' march, only highlight the necessity for a new perspective on Brexit. The current deals would diminish the rights of our workers, migrants and refugees coming here to work and boost our economy, and would allow the Tory government to distance ourselves from human rights organisations such as the EHRC or necessary climate agreements which are undoubtedly detrimental for the future of our country as a prosperous, progressive nation. With a vote for the Greens, you will be voting for the right to a second referendum on the outcome of Brexit, where the Green Party will fight for the benefits of all people and campaign to remain in the EU, allowing us to fight for change within a unified body rather than as a weak, isolated island nation.
The UK is in an unprecedented time of change; an unknown and precarious future lays in the hands of the Tories and Lib Dems as they continue to fight for the interests of the 1% as shown by their time in power since 2010, yet hope is still not gone. In this election, make sure your voice is heard loud and clear. Vote Green for a happy, prosperous and progressive future for our nation and all the beings who call it home.
Labour
Sixth form representative – Lewis Dunn, U6A
Years 7-11 representative – Tom Hughes, 1D
This election is a once-in-a-generation chance to transform our country.
It is our last chance to tackle the climate emergency with a green industrial revolution that is at the heart of our plans to transform Britain. Labour will deliver the real change Britain needs, so that no one is held back and no community left behind. We will rebalance power from the South East to the North. We will put wealth and power in the hands of the many. Labour will rebuild our public services, and give our NHS, schools and police the money they need. We will borrow to invest and so guarantee no increases in VAT, personal national insurance contributions or income tax rates for 95 per cent of workers.
Labour will end the Brexit nightmare by giving people the choice between the best possible Brexit deal we can negotiate and remaining in the EU. We can't ignore the outcome of the 2016 referendum, but what matters is what people want now. Only by giving people a choice can we heal the divisions that have festered for the last four years.
The choice at this election could not be clearer. Labour is determined to bring a divided country back together, while the Tories and the Lib Dems only seek to divide us further. It's time for real change - for the many not the few!
Liberal Democrats
Sixth form representative – Phoebe Hall, U6B
Years 7-11 representative – Kieran Mitchell, 2D
It will not have escaped your notice that, as the Conservative government frantically scrabbles around to create some form of damaging Brexit proposal, politics in Britain has become increasingly divided, dull and outdated. The time of the two-party race is finished. We the Liberal Democrats offer a leadership that will unite Britain behind a centrist government, one that does not bow to or spread right wing lies or tie itself to a backward anti-Western obsession.
We will cohesively tackle the climate emergency by powering our country from 80% renewable fuel by 2030 and reaching net zero emissions before 2045; and recognising the power of young people by lowering the voting age to 16. To improve the overstretched education system, we will recruit 20,000 more teachers and give an emergency cash injection to restore class sizes before handing the curriculum to an independent body of experts. The Liberal Democrats want to stop the way in which successive governments have used education as a ball in political ping-pong and put our children first. To this end, we will also provide free childcare, allowing an economy founded on meritocracy and equality of opportunity. We will also electorally reform Britain, ending the unfair first past the post system which entrenches division and makes votes meaningless, replacing it with proportional representation, allowing every individual voice to be heard. The Liberal Democrats will transform mental health services and give the NHS the funding that Conservative austerity has starved it of. Unlike Labour, we are upfront about where our spending will come from: by raising income tax by just one pence per pound we can generate £7 billion to improve health and social care for the entire country.
In a world of instability, we seek unity and also common sense; the Liberal Democrats will end the morally abhorrent sale of arms to Saudi Arabia, whilst keeping our nation's safety as a priority, maintaining our nuclear deterrent as we improve our intelligent security systems and seek multilateral nuclear disarmament.
Our promise of a brighter Britain just leaves one other issue - the Liberal Democrats will categorically stop Brexit and withdraw Article 50 with immediate effect. This will allow us to save £50 billion in exit fees, remain in the EU Common Market and put a stop to the endless negotiations we have all been subjected to. Whatever your political leaning, all that the past three years have taught us is that Brexit is bad for the UK, both economically and politically. There is no sense in hoping for global cooperation and simultaneously hacking ourselves away from the EU, with a very high chance of us crashing out and trying to survive on so-called World Trade Organisation terms – an arrangement so precarious that almost no other country survives trading on that basis.