ENGLISH: Pictures capture fragility and joy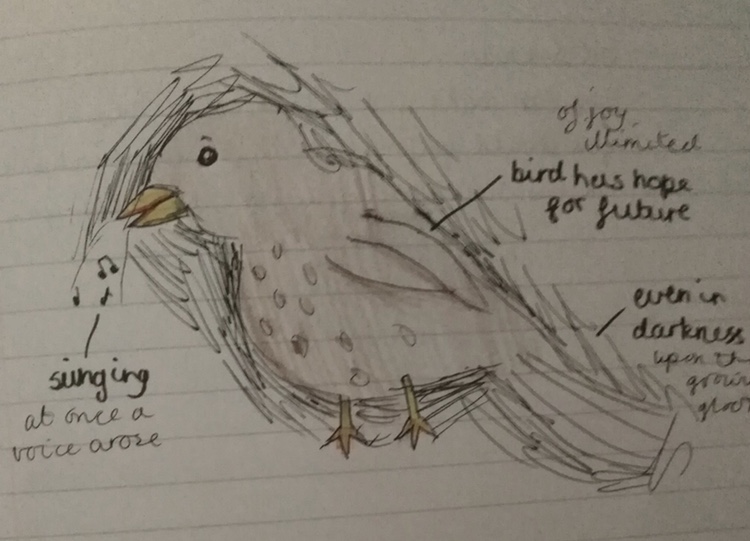 YEAR 9 English students have impressed their teachers with stunning illustrations they have created to convey their understanding of Thomas Hardy's poem The Darkling Thrush.
English teacher Ms Cortazzi said the students had captured the mood of the poem perfectly in their drawings: "Hardy wrote the poem to show his sadness about the century ending in 1900," she explained.
"He imagined the dying century as a corpse, lying stretched out in the landscape, and crafted a wintery, desolate scene to convey an image of his despair. Perhaps this linked to his concerns about industrialisation and the loss of the countryside?
"However, at the end of the poem there is a sign of hope for the new century, represented by the joyful singing of a frail and aged thrush. Despite the thrush's fragility, it sings with power and joy, inspiring Hardy to hope for better things in the future."
You can see some of the students' illustrations, below, as well as the poem in full.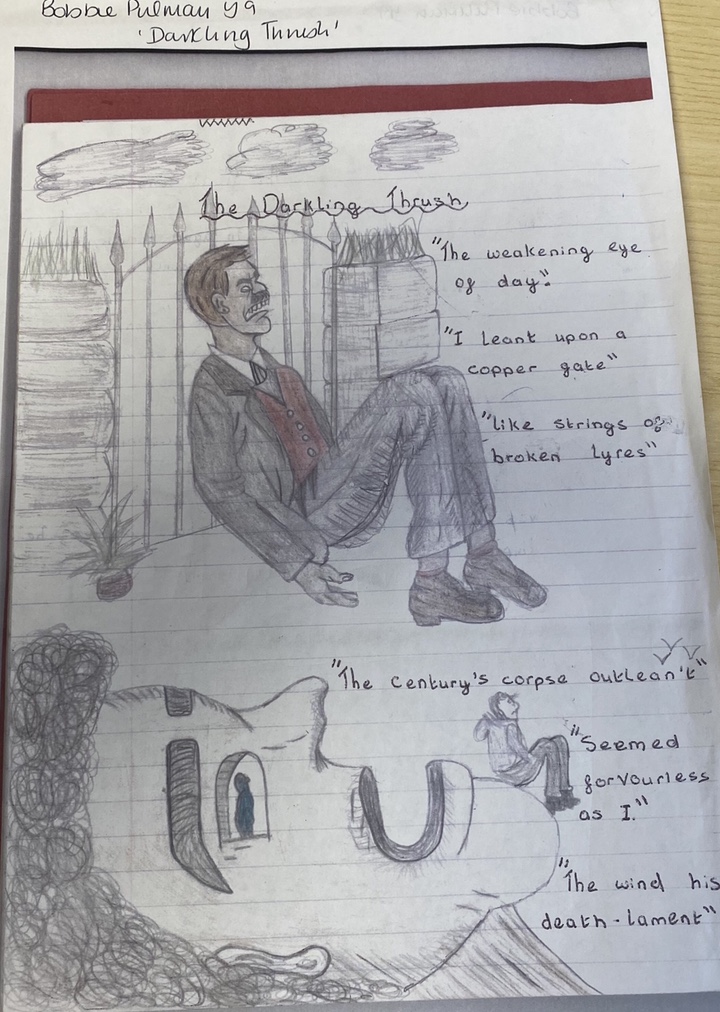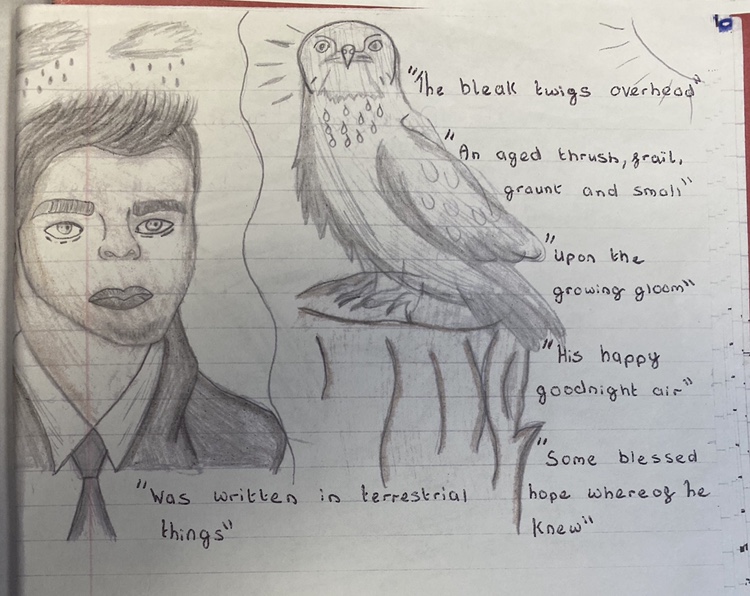 By Bobbie Pulman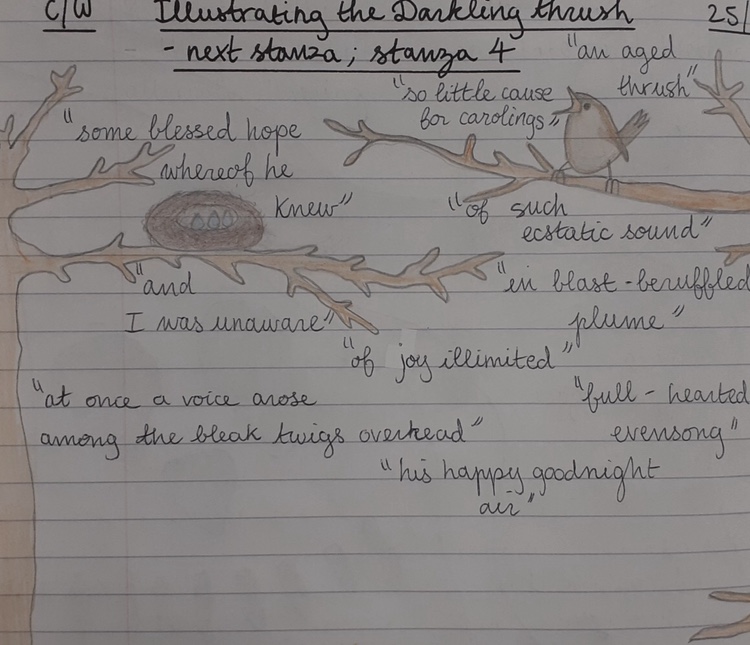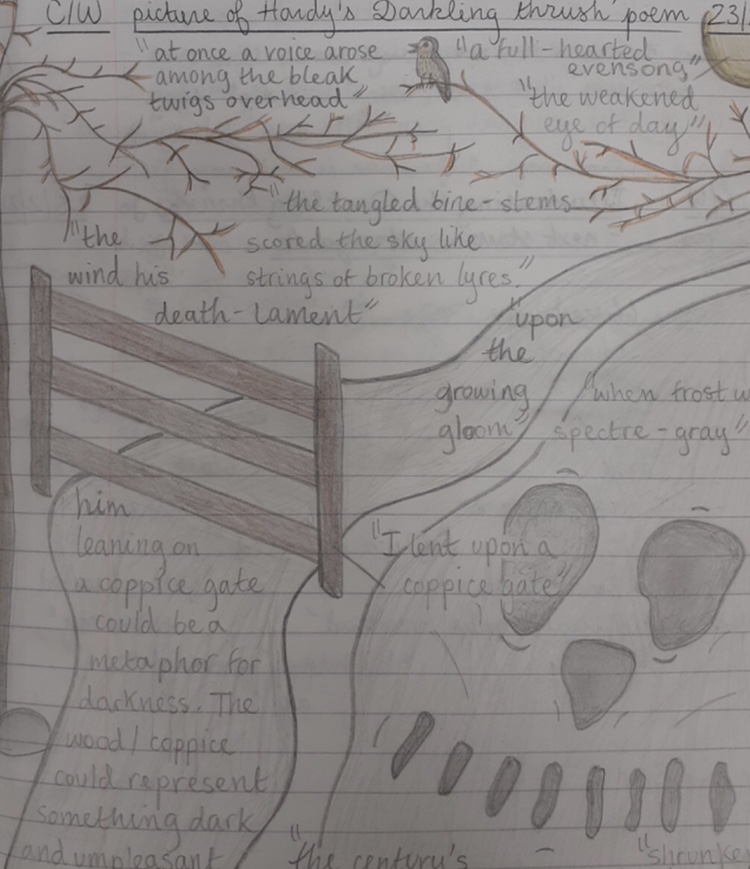 By Beatrice Pickles-Mercer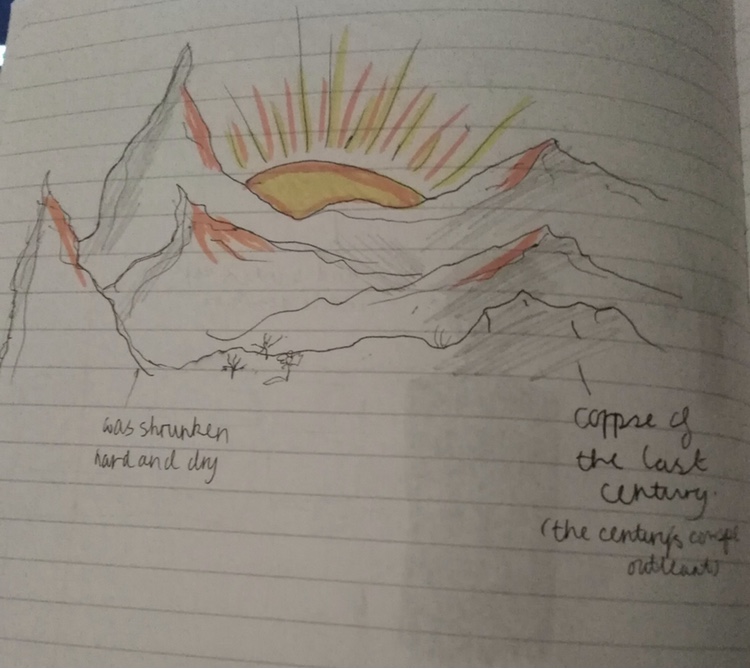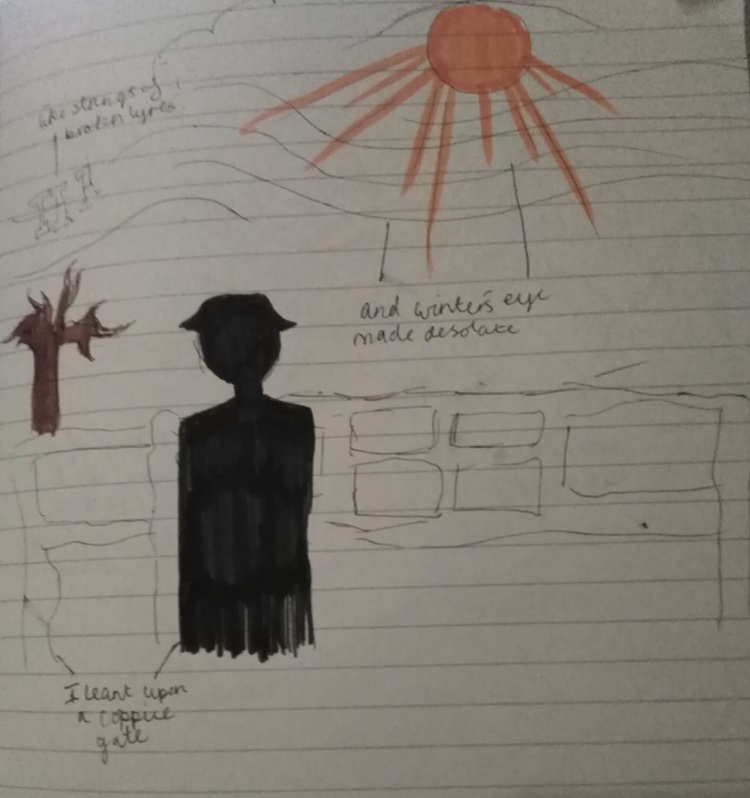 By Tess Holloway
The Darkling Thrush
BY THOMAS HARDY
I leant upon a coppice gate
When Frost was spectre-grey,
And Winter's dregs made desolate
The weakening eye of day.
The tangled bine-stems scored the sky
Like strings of broken lyres,
And all mankind that haunted nigh
Had sought their household fires.
The land's sharp features seemed to be
The Century's corpse outleant,
His crypt the cloudy canopy,
The wind his death-lament.
The ancient pulse of germ and birth
Was shrunken hard and dry,
And every spirit upon earth
Seemed fervourless as I.
At once a voice arose among
The bleak twigs overhead
In a full-hearted evensong
Of joy illimited;
An aged thrush, frail, gaunt, and small,
In blast-beruffled plume,
Had chosen thus to fling his soul
Upon the growing gloom.
So little cause for carolings
Of such ecstatic sound
Was written on terrestrial things
Afar or nigh around,
That I could think there trembled through
His happy good-night air
Some blessed Hope, whereof he knew
And I was unaware.
YEAR 9 student Phoebe Burton also produced an atmospheric gothic picture to go with this introduction to a gothic story she wrote for another English class exercise.
It
By Phoebe Burton
Lights flickered as It walked slowly, slouched over a stick with stumbling rhythmic thuds on the creaking floorboards. Crackled breaths could be heard as it moved with difficulty. Blackened hair ran down Its face, creating drape like curtains. Its cheeks sagged with old age. A malicious intent glinted bright in Its eyes.
A whistle of wind blew the fire out.
Fearful, and with quick, anxious breaths, I retreated away from Its slow, determined approach. Despairing, I stumbled and fell backwards…A sly shadow fell on me. A piercing scream escaped my mouth.
The grandfather clock in the corner of the room counted every second. It moved closer until I could feel its deep and rancid breath on my skin.
I closed my eyes, expecting the worst.
One, two, three…