Eva wins place at top music college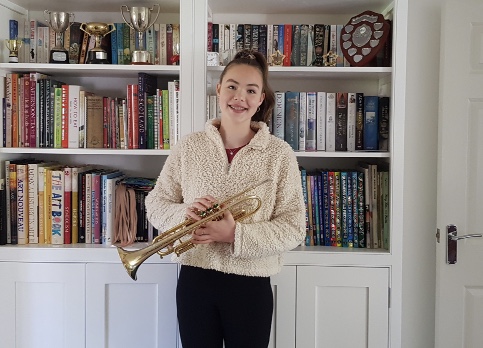 Unable to attend her audition for a coveted music college place in person, singer and trumpet player Eva Scullion had to adopt a novel approach
GIFTED Ripon Grammar School singer and trumpet player Eva Scullion has won a coveted place at a prestigious music college after undergoing an audition with a difference as a result of the coronavirus pandemic.
The 15-year-old was due to take part in an audition at the highly competitive Junior Royal Northern College of Music in Manchester in March.
But, due to Covid-19 restrictions, the event was cancelled the day before and Eva was asked to submit a last-minute video audition, featuring her performing and talking about why she wanted to study at the college instead.
The Year 10 student, who has been playing piano and singing since she was four and began playing trumpet when she was seven years old, rose to the challenge, accompanied by her voice and piano teacher Helen Johnson.
Mum Beki, who filmed the unusual audition on her smartphone, explained: "We stopped the filming for a short break after each piece to allow Eva to have a breather and gather her thoughts. She found it strange to have to talk to camera about why she wanted to join the college."
The hastily-produced video audition certainly presented a challenge, says Eva: "I found it really embarrassing making a video. I would much rather have had the chance of auditioning in person."
Eva, who hopes to study music at university, will be joining another RGS student, James Kitchingman, who won a place in the joint study of piano and voice at the top college last year.
RGS director of music Michael Barker said: "I am so proud of Eva and the place is well deserved. She is an excellent all-round musician in theory, performance and composition and a stalwart member of our RGS music groups. She has a promising musical future."'
A former Ripon Cathedral chorister, Eva is now looking forward to working with internationally acclaimed musicians every week to help her develop her musical potential during the two-year course, which involves travelling to Manchester every Saturday from September.
It will mean an early start to catch a 730am train from Harrogate for an action-packed day including one-to-one voice and trumpet tuition, classes in musicianship, composition, theory, harmony and improvisation, plus chamber music and instrumental ensemble coaching.
Eva has achieved Grade 8 in voice and grade 6 in trumpet, despite the fact her teeth were fitted with braces last Easter, which make playing top notes difficult.
One of the things she enjoys most is the way music helps her express emotions, she says: "Especially in singing, I really enjoy exploring the different moods in songs and how you can be a completely different person than in real life."
As well as singing in the cathedral consort and youth choir, Unity Voices, Eva - who has been a cathedral chorister from age six to 14 years old - performs with RGS's chamber choir and senior girls' choir and plays the trumpet in her school's big band, brass group and wind band.
She also won a place on the National Youth Girls' Choir last year and has represented Ripon in Yorkshire Rotary's Young Musician competitions three times.
More recently, just before the school closure, she played the part of Crystal, one of the Ronettes, in the RGS production of Little Shop of Horrors. Eva also performs with Prima Musica Singers, run by Mrs Johnson, singing at a number of community events in the Ripon area,
Mum Beki said: "We are so proud of Eva achieving this offer and being prepared to make the commitment to take it up. She was singing at such a high level as a chorister and this is such a great way to carry on and build upon that experience and also widen her experience."