Festive concert gets us all in the mood for Christmas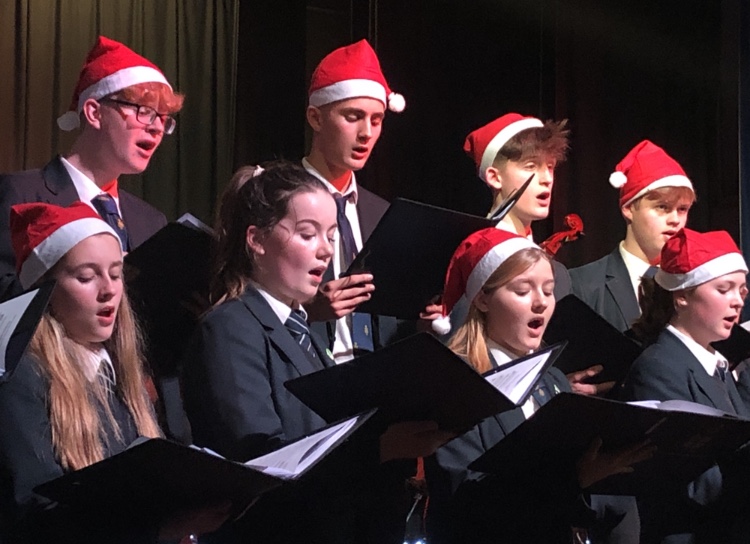 MORE than 130 musical students showcased their talent to rapturous applause at our annual Christmas Concert.
From the Big Band to our chamber orchestra, junior strings, wind band and brass and guitar ensembles, our gifted instrumentalists treated an appreciative audience of parents, friends and staff to everything from a rousing New York, New York and upbeat Soul Man to the ever popular Beauty and the Beast and Phantom of the Opera.
Our choirs - Musicality, Man Choir, senior girls and chamber choir - enthusiastically summoned up the Christmas spirit with a series of familiar festive numbers, including Sleigh Ride, It's Beginning to Look a Lot Like Christmas and All I Want for Christmas is You.
A new choral group also made an appearance when the junior Man Choir took to the stage to impress everyone with their debut performance, a beautiful and moving rendition of Hallelujah.
All the performers came together for a powerful combined orchestral and choral rendition of Candlelight Carol, a fitting end to another thoroughly enjoyable live music event at Ripon Grammar School.
Director of music Michael Barker said: "The musicians of RGS sang and played their hearts out in this most festive of events, especially in the second half of the concert. A massive congratulations to those students for whom it was their first time performing in front of an audience. We hope everyone in the audience left with a Christmas spring in their step!"
Thank you to all those hardworking and dedicated students and staff who took part and to all those who supported this event.
Our next live music event will be the Nine Lessons and Carols service at Ripon Cathedral on Tuesday, December 17, 7.30pm, featuring all choirs and our brass ensemble. Our production of Little Shop of Horrors, featuring our orchestra, runs from Wednesday, March 11 to Saturday, March 14.
*Follow our music department on Twitter @RiponMusic for regular updates.
Social media reviews:
'Such a lovely evening @RiponMusic @RiponGrammarSch Christmas Concert. So many talented students who looked to have enjoyed performing as much as we enjoyed watching' #feelingchristmassy (Anik)
'Congratulations to all involved in a wonderful Christmas Concert at RGS tonight. A spectacular array of talent! Great to see so many students involved. Well done and thank you to everyone @RiponMusic @RiponGrammarSch' (Elizabeth Jarvis)
On the junior Man Choir: 'Great performance. Much better than our compulsory junior boys choir of Christmas 1982!' (Trevor Bushell). 'They were great! Only a few rehearsals too! (Tracey Kendrick)