Former RGS head boy wins TV Pointless jackpot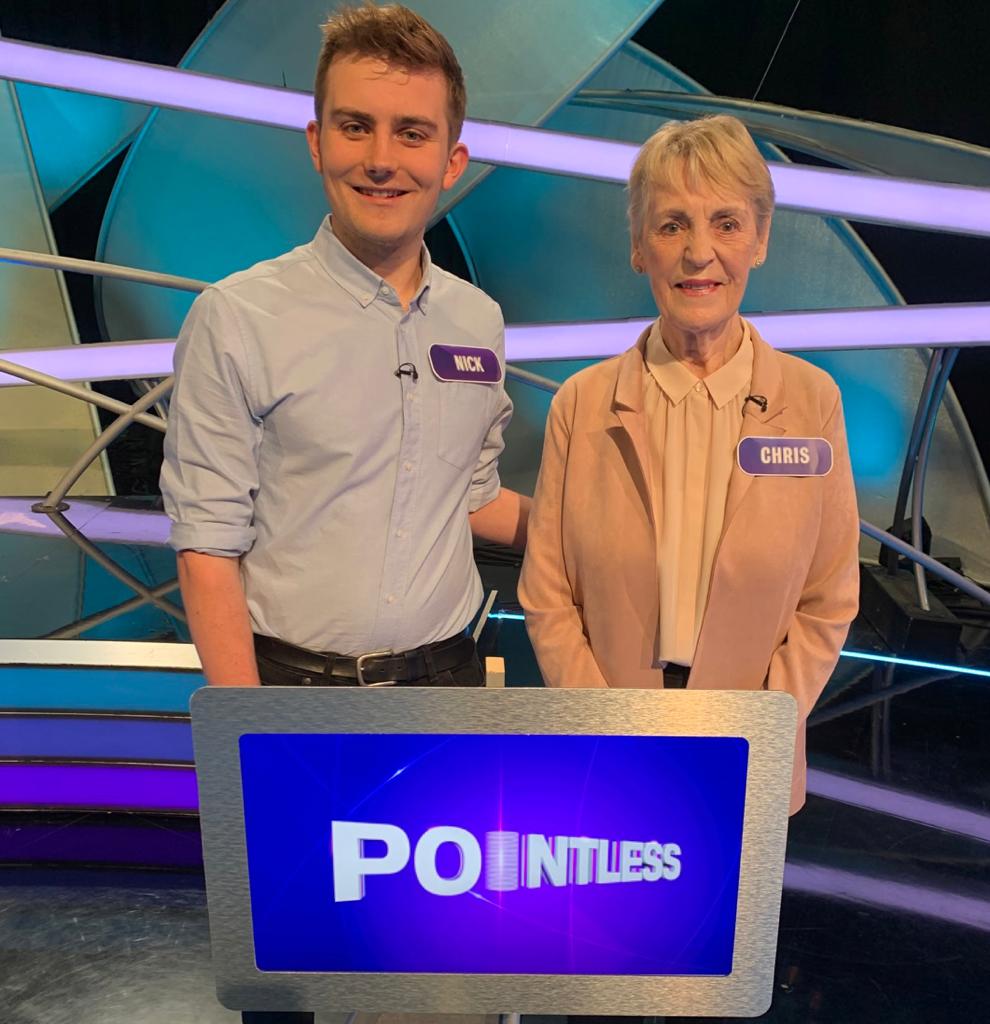 FORMER RGS head boy Nick Edwards won the BBC TV show Pointless jackpot of £1,250 after scoring zero when he and his grandmother took on the challenge.
The episode where Nick and 82-year-old Christine Robson, from York, hit the jackpot was broadcast for a second time in January 2023 and made headlines in newspapers throughout the region.
Those who have missed the programme can watch it on BBC iPlayer to see the pair coming up with the winning answer to the question 'Name any past winner of the Spanish, French or Italian Cup' here: https://www.bbc.co.uk/iplayer/episode/m0017xcw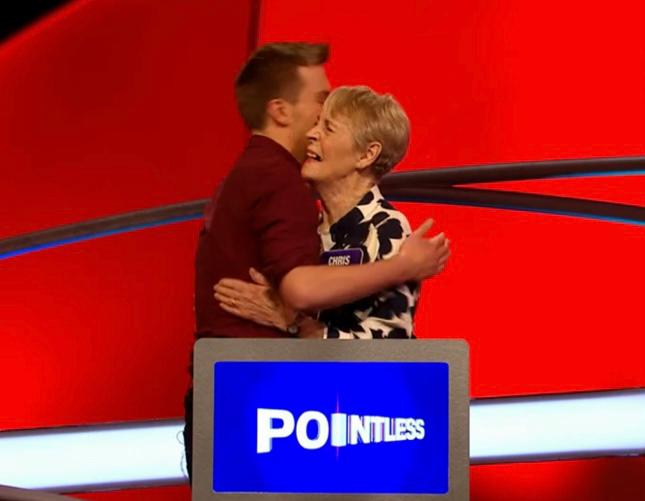 Nick, originally from Copt Hewick, Ripon, left RGS in 2015 to study French and Spanish at the University of Edinburgh..
He now works for the sustainability team of the West Yorkshire Combined Authority in Leeds, where he runs the circular economy programme, which aims to reduce waste and prevent non-biodegradable items from going to landfill.
Speaking about the experience of visiting London's Elstree Studios and taking part in the show hosted by Alexander Armstrong and Richard Osman, he said:
"More importantly than the show itself was the fact that I did it with my grandma."
Mr Edwards, who now lives in Harewood, between Harrogate and Leeds, said they planned to spend their winnings on a big family meal out: "But we haven't been able to get everyone in one place yet. It will happen at some point, I've promised them!"
The application process involved filling in an online form and undergoing Zoom auditions. Nick would urge others to give it a go: "I'd encourage anyone to do something like that, it was a really unique experience. We were on the last show before Richard Osman left to do his writing."
*And his answer to the footballing question that foxed the 100 people on the Pointless panel? Real Zaragoza – winner of the Spanish Cup, the Copa del Rey, on six occasions.
Nick in the news: Former Ripon Grammar School head boy wins BBC quiz show - The Stray Ferret
Pointless answer sees North Yorkshire pair scoop TV jackpot | Darlington and Stockton Times
York grandma and her grandson win the Pointless jackpot | YorkMix
Pointless answer sees North Yorkshire pair scoop TV jackpot | The Northern Echo
Pointless: York grandmother wins BBC show with Ripon grandson | York Press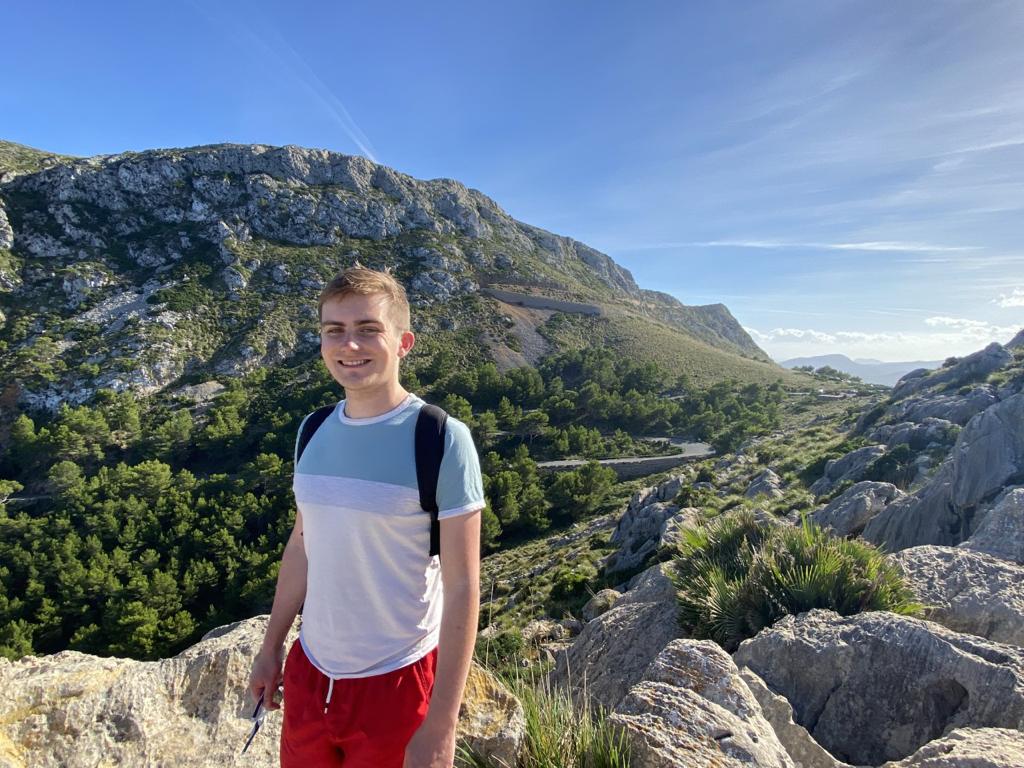 Nick Edwards, who left RGS in 2015 to study French and Spanish at the University of Edinburgh after taking A-levels in Spanish, maths and chemistry now works for West Yorkshire Mayor, Tracy Brabin. He fills us in, below, on what he's been up to since leaving RGS
Q: Where has you career path led you since leaving university?
A:When I first left university, I worked at a hotel furniture company for 18 months, living in Leeds with two guys from my year at RGS. In March 2021, I joined the West Yorkshire Combined Authority, where I now work for the Mayor of West Yorkshire, Tracy Brabin. My first role was providing grants to small and medium businesses to help them grow and create jobs. In April 2022 I joined the sustainability team, providing grants and consultancy to help businesses go greener. I run our circular economy programme, a concept where we must eliminate waste as a society, meaning no more use of finite resources or sending non-biodegradable items to landfill.
Q: What is a typical working day like?
A:I usually work from home, so have plenty of video calls with my team and clients. Often, I go out to visit businesses, look round factories and speak to directors about how they can become more sustainable. Particularly since the cost-of-living crisis began, loads of businesses need energy-saving projects such as installing efficient lighting and machinery, or putting in solar panels.
Q: What have been the highlights of your career to date?
A:My career highlight so far has been securing a role in WYCA's sustainability programme and contributing to reaching our carbon saving target. As of November 2022, the programme has supported projects saving a total of 1,990 tonnes of CO2 - equivalent emissions to around 300 laps of Earth in a diesel car.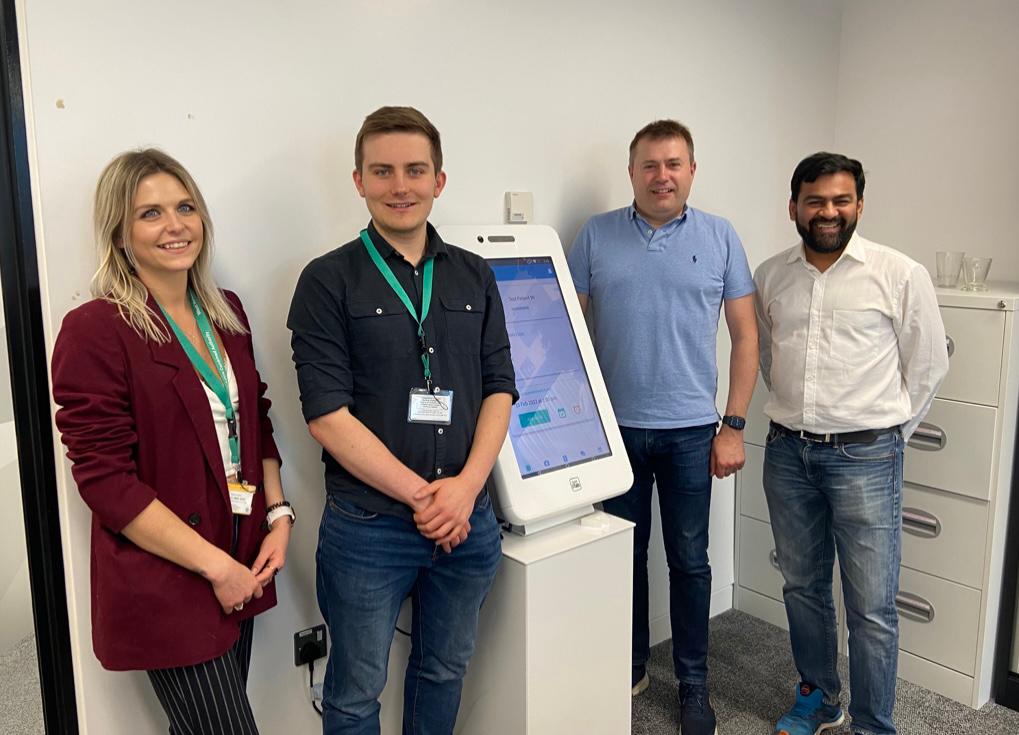 Q: What's the best bit about your job?
A:Working for WYCA, I've loved being involved in regional programmes which have positive social outcomes, including cutting down on carbon usage and creating jobs. Some of the sectors Leeds is known for, like medical technology or television, develop interesting businesses to learn about and support.
Q: And the worst?
A:The worst bit is that working from home, you have to try harder to connect with people. The most important thing is to be aware of it as a potential issue, so you can make the effort to get into the office when your team is there or arrange social activities. It's a good idea to go for a walk or call someone at lunchtime so you don't end up feeling isolated.
Q: What have been the biggest challenges you've faced?
A:The biggest challenge in my career came during my first full-time job, working as a project manager in hotel furniture installations. I was put into a lot of stressful situations without proper support or training. It was the first job I was offered out of university, and in retrospect I should've waited for something that was more right. After 18 months, I quit and spent a couple of months unemployed looking for something which was a better fit - this was one of the best things I ever did. My advice to anyone in a similar situation would be that a job doesn't have to be for life, so don't be afraid to leave a job or change career path if it's not right for you.
Q: What was the most important thing you learnt at RGS?
A:At RGS, I was told to choose subjects and activities I enjoy. I think enjoying learning at school is important, because it encourages you to continue your education as an adult. I still take online courses now and choose jobs where I can learn new things, and I think that's because I had fun while learning at school.
Q: What extra-curricular activities were you involved in while at RGS?
A:At RGS I was head boy in my final year, so that involved arranging Charity Week, which I really enjoyed. I also did a lot of sport in and out of school, including swimming, hockey and football, and played piano, which I still do. Possibly my favourite extra-curricular activity was the annual House Drama Competition.
Q: What do you wish you'd known back then?
A:I wish I'd known in First Year how much I'd enjoy House Drama, so I could've done it from the start. I think I was probably too nervous, but eventually took the plunge in later years and had a great time.
Q: What did you aspire to do when you left school?
A:I had absolutely no idea what I wanted to do for a career when I was at school, I've just worked it out as I go along.
Q: What is the one piece of advice you'd give students interested in following a similar career path?
A:My advice to anyone wanting to work in sustainability is, go for it. We need all the help we can get! There are all kinds of roles, dependent on your skillsets, so there's something for everyone. My advice to anyone in any career is that quitting doesn't mean failure. If you know you've done your best, then it doesn't mean you're not good enough for the job - rather, it's not good enough for you.
Q: Who was your favourite teacher and why?
A: Mr Spiers, my history teacher and form tutor. He clearly loved the subject, which made lessons fun. More than just passing exams, it was about wanting to find out more.
Q: Who or what inspired you when you were at school?
A:My biggest inspiration was always the successes of my friends and family. Particularly having a brother, Laurie, in the year above, I always wanted to chase him - if he did well at maths or swimming, I wanted to beat him.
Q: What would you say has been your greatest success?
A:My greatest success might be winning Pointless! More importantly than the show itself was the fact that I did it with my Grandma. I moved away to Scotland for university, which I absolutely love as a place, but moving back to Yorkshire has been brilliant because I'm close to my family, who are a huge part of my life.
Q: What do you miss most about Ripon?
A:The main thing I miss about Ripon is having all my school friends in one place, meaning I don't get to see them as often. But it means I get to take some great trips round the country to see them all now.
Q: What are your hopes for the future?
A: I don't tend to plot too far ahead, so I don't have any grand plans. I've recently taken up a couple of new hobbies though, screenwriting and cycling, so I'd like to continue working on them. Maybe I'll apply for the Chase!