GEOGRAPHY: Iceland trip brings studies to life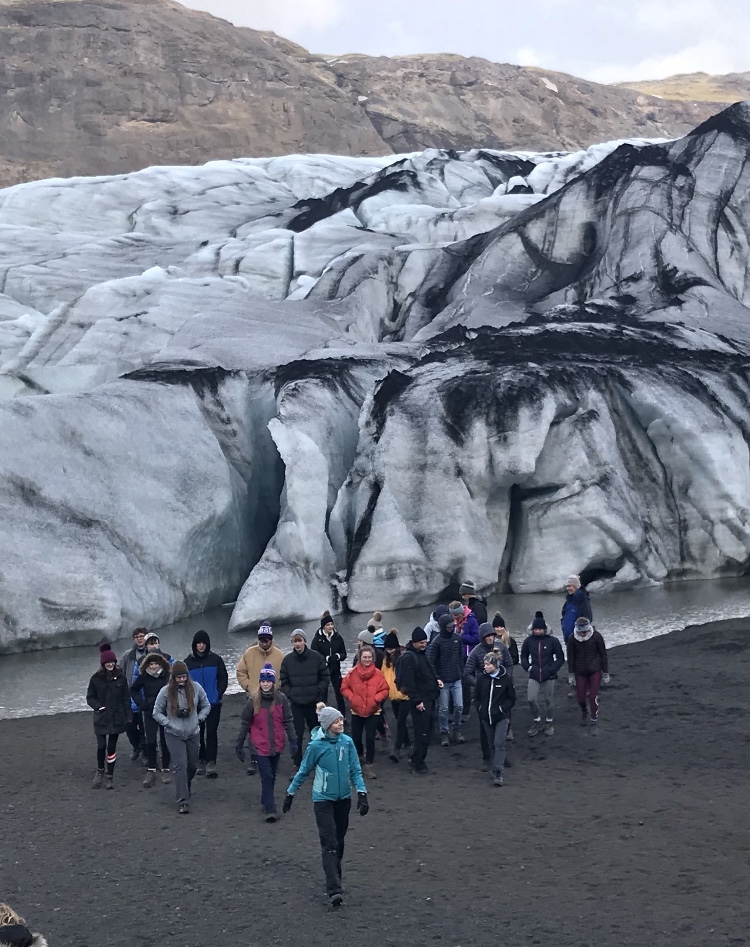 Georgie Turner joined more than 20 sixth formers on a voyage of discovery in Iceland, which brought A-level geography studies to life
WE enjoyed a packed itinerary from the second we set foot in Iceland, with plenty of stops alongside our scheduled tour visits enabling us to take a closer look at this remarkable tectonic landscape, while witnessing geothermal activity first-hand.
On our first day in the Thingvellir National Park we enjoyed ice cream tasting and visited the Strokkur Geyser and incredibly powerful Gulfoss waterfall, with its amazing blue water, before ending up at the geothermal Secret Lagoon to enjoy some much-appreciated relaxation time.
Our tour guide, Val, showed a real passion for the area which made our trip quite unique, as we were able to appreciate not only the geography but the wider culture and history of Iceland.
Day two started with Seljalandsfoss waterfall followed by a visit to a glacier. This was a really hard-hitting part of the trip as we saw how it had sadly retreated almost 300m in the last six years. Witnessing the local effects of climate change in such a beautiful region was a particularly valuable experience.
After this we travelled to Vík, the most southern settlement in Iceland, where we walked on the black beach of Reynisfjara, with its basalt columns and caves, while avoiding the Atlantic 'sneaker waves', which can suddenly surprise and knock down beach-goers!
On the way back we visited the LAVA Centre to discover more about the volcanic history of Iceland and also where numerous minor earthquakes were occurring in the country at the time.
After visiting the local geothermal power plant ON Power, where we learned how 85% of Icelanders power their homes, we ventured into the capital city of Reykjavik to explore its food, culture and shops - which was an eye-opening experience, given the difference to our capital. The third day ended with competitive ping-pong matches in our hotel.
Saturday was our last day in Iceland and we had saved the best for last, paying a visit to the famous Blue Lagoon in the morning, where we tried on face masks and enjoyed bathing in the beautiful blue water despite the choppy weather conditions.
After a short walk in the afternoon to Kerid Crater we were able to experience a simulation of a 6.6 magnitude earthquake. We were all surprised by the intensity and thankful not to have experienced such a real event while we were there.
Our schedule was jam-packed and there is no doubt that we loved every moment of the experience, as well as it being extremely valuable for our upcoming summer exams. Being able to see the fascinating landscape up close in Iceland certainly helped us gain a better understanding of the geographical processes and systems that we have learnt about.
Finally, a huge thank you to Mr Smith, Mrs Keelan-Edwards and Miss Murray for organising this amazing trip, which we will remember for the rest of our lives.