George and the TV Dragon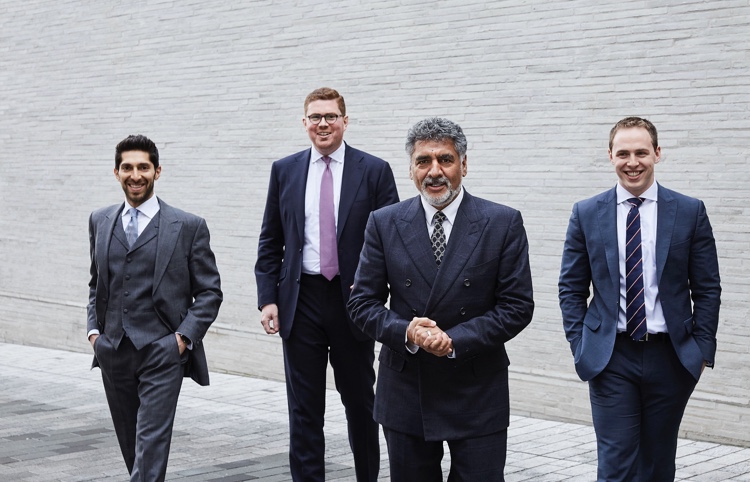 A former student who juggled his schoolwork with evening and weekend jobs has launched an ambitious new business, backed by TV Dragon James Caan - with the pandemic proving no bar to success
GEORGE Dobbins is no stranger to hard work, having juggled jobs in restaurants and pubs, as well as working in a gym and as a lifeguard, with his schoolwork while he was at Ripon Grammar School.
Today, from his impressive office based in the historic nucleus and modern financial centre of the City of London, in a refurbished building with a bar and roof terrace on the top floor, he looks like a man for whom hard work has very much paid off.
The 28-year-old, who left Ripon Grammar School in 2010, has launched an ambitious and dynamic new executive search firm, backed by former Dragons' Den star James Caan.

Along with co-founder James Pope, he heads up the team at Beaumont Bailey Executive Search, which has a turnover of £1.2m and aims to expand its workforce to 35 in the next five years.
Caan himself talent-spotted Dobbins and Pope, who had an impressive track record working in recruitment, describing them as 'a pair of bright entrepreneurs with the personal touch'.
Their company, also backed by Mayfair-based entrepreneur and investor Faisal Butt, uses big data to analyse leadership development within companies and boost diversity in leadership teams across the property, industrial, investment and technology markets.
Although it's a precarious time for many businesses, coronavirus hasn't held Beaumont Bailey back: "Many people have the impression that organisations are not hiring at the moment, however, many of our clients are hiring faster than before the pandemic," George explains.
He's grateful they established good remote-working practices when they founded the business: "We're about 60 per cent up on our first year and have won work in Switzerland, France, Germany, Poland, the US and the UK. It's just a shame we can't travel to any of them for the time being."
George explains that, aside from executive search, Beaumont Bailey's leadership development, assessment and consulting, providing high-quality advice to CEOs and their teams, particularly in areas such as diversity, board dynamics and succession, makes them stand out from others in the field.
He has a clear vision for the future: ""I genuinely believe there is an opportunity to improve the existing executive search model. Personal relationships will always play a crucial part of the industry and we want to embrace that by supporting organisations to recruit, develop and retain their future leaders. But we also can see the opportunity to introduce technology that can use predictive analytics to better understand workforce performance and therefore organisation's talent needs.

"We won't improve the productivity or diversity of key industries simply by moving the same talent around within the industry. We need to be able to objectively and accurately identify the best leadership, for now and for the future, especially from sectors that provide new experiences, and transferrable skill-sets."
George, who describes business and people as his two biggest interests and regularly chairs discussions on leadership at major industry conferences, looks back on his time at RGS, where he studied business, psychology and history at A-level and enjoyed sports, with fondness.
"There are a few teachers I really value. Dr Grime was always hard on me, but that was probably deserved. Mr Garvey and Mr Miller were great, they both had a sense of humour and a keen interest in sport, which appealed to me as a rugby player and sports enthusiast. Finally, Mrs Fell was brilliant for the one year she taught us history in A-level."
Originally from Lancashire, he moved to Ripon when he was ten years old and was particularly inspired by his mother, Carole Hilton-Stone: "She set up a ladieswear boutique when we moved to Ripon and raised me and my sister all at the same time singlehandedly. Knowing the hours we're putting in with the new business, I'm not sure how she managed to balance everything."
His sister Rebecca, three years above him at RGS, qualified as a barrister and went on to work for the law firm Clifford Chance in Amsterdam, before switching to work as a government civil servant.
George went on to study business at the University of Leicester: "I had no idea what I wanted to do, other than that I wanted to work in the business world and potentially run my own business at some point," he explains.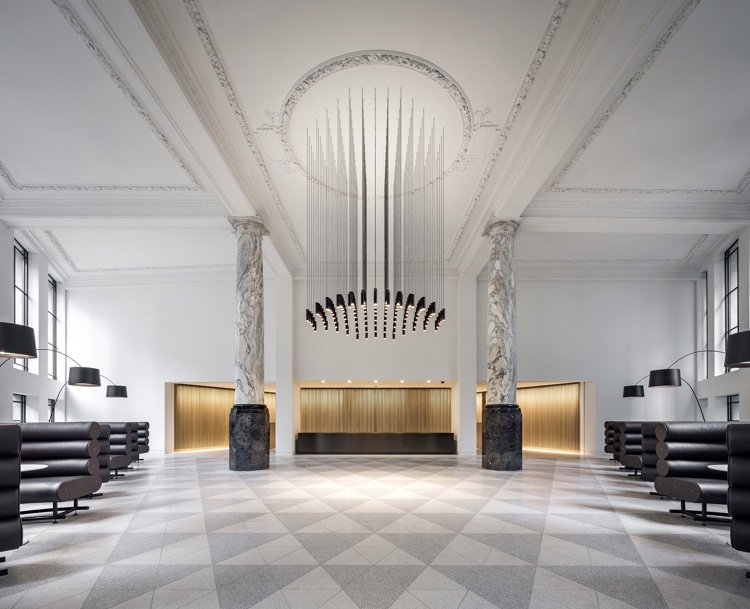 After leaving university, he was attracted to executive search by the meritocratic environment and the opportunity to influence key decisions in organisations he admired., George joined a Leeds-based business where the job involved long hours and hard sales. He soon moved on to join the UK's largest executive search firm, Odgers Berndtson.
He was soon promoted to consultant, the youngest in the business: "It was a great environment to learn from experienced individuals and I made some amazing contacts."
After four years he was approached by Spire Ventures, a venture capital firm run by Caan and Butt, to set up an executive search firm with them. "My partner James and I had already discussed the idea over a beer in the pub," said George, who launched Beaumont Bailey in April 2019.
"It'san amazing opportunity to build something you really believe in. At this time in my life, there's relatively little risk and a lot of upside, so it felt like a no-brainer," he says.
The main challenge, he says, is finding time for everything: "There are literally not enough hours in the day for theworkload. Getting the balance right between work and life is key. Before the pandemic, I was working away three to four nights a week, which is sometimes a bit tedious, especially when the trains are cancelled."
While the worst part of the job, he explains, is when a candidate rejects an offer at the last minute - "After a three to five-month process, to be back at square one can be very frustrating." - that's more than made up for by everyday successes.
"It's very rewarding to have new employees buy into the Beaumont Bailey vision, something which my James and I created together. It's a personal feeling of pride when someone believes in our values.

And he continues to work hard to fulfil his dream: "We want to build Beaumont Bailey to a to around 40-45 with offices in the UK, Europe and potentially the US, with a reputation for outstanding quality."
Caan, who started out in recruitment himself, has every confidence: "Recruitment is all about personal relationships. I'm backing a pair of bright entrepreneurs with the personal touch, both professionals who have the intuition to interpret a situation and the experience to make the most of it."
Tell us an interesting fact about yourself
I'm one-eighth Jamaican. My great-grandfather came over from Jamaica and landed on the shores of Scotland. He was a street singer for a period before he met my great-grandmother.
What is the achievement you are most proud of?
There was cool moment when the human resources director of a FTSE-listed housebuilder called me up to say they needed a new senior leadership role to counteract some bad PR. To be the first person they thought of when they were in need was a great feeling.
What would be the one piece of advice you would give to current RGS students who might be considering a career in the same field?
Similar to many industries, there are some excellent businesses, but also some very poor ones – so don't be put off by the first company you talk to or join. Join a business with a good reputation that allows you to learn the industry and develop your own relationships. It's an incredibly rewarding industry when you have clients who trust your judgment and ability to connect people together.
For anyone wondering about the industry, anytime you see a leadership change for a business, whether it is a PLC, privately-owned, venture-backed, charity or public sector, 80% of the time there is an executive search firm behind it.
*For more information, visit www.beaumontbailey.com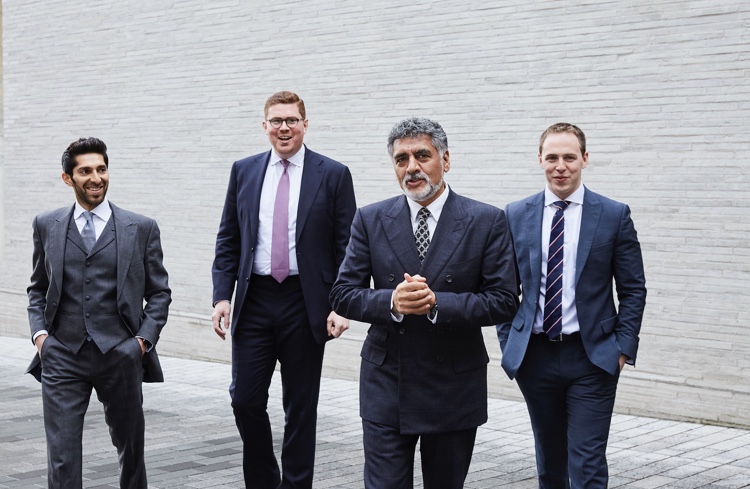 Photos:

Top: George, far right, with (l-r) Faisal Butt, James Pope and James Caan

George pictured at his graduation

George's plush new London offices in the City

Above, the Fab Four of Beaumont Bailey