HEALTHCARE SOCIETY: A breath of fresh air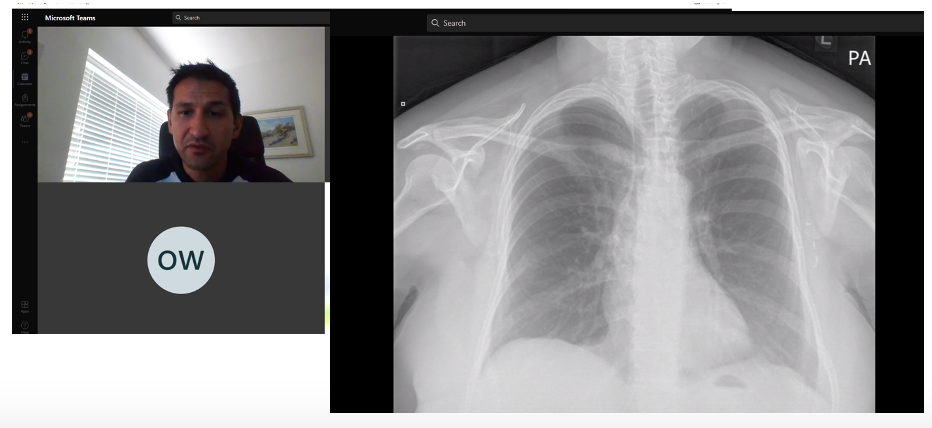 ELOISE HOPKINS reports on how RGS students were given new insights into the world of medicine, including how to read a chest X-ray and the different routes you can take when embarking on a career as a doctor
Harrogate Hospital consultant radiologist Dr Neal Larkman, and foundation Year 1 doctor Dr Murayama delivered a talk to our Healthcare Society on chest X-rays and their pathways to medicine.
Dr Larkman took us through an interactive presentation which detailed how to read a chest X-ray. We looked at a range of X-rays from real, anonymised patients and located either where a problem had occurred in the patient, or where they had undergone treatment. There was a huge variety shown to us such as patient with haemothorax, a collapsed lung and breast cancer. Dr Larkman highlighted the key areas to look at when reading a chest X-ray and explained to us what diagnosis could be made. He then emphasised how little time they would have to make a correct diagnosis whilst under a great deal of pressure due to the large numbers of patients they deal with on a day-to-day basis.
Dr Murayama gave us an insight into her journey to becoming a doctor and how she'd originally undertaken an undergraduate degree prior to medical school, allowing her to explore other areas of interest in arts and science, before entering the healthcare industry. Dr Murayama also provided us with valuable advice for the application process, which we all are currently undertaking, telling us how important it is to choose a specific course style that is most beneficial to our learning style and underlining the use of reflection in our personal statements. She encouraged us to research about all the possible routes into medicine and think about which would be the best choice for us.
At the end of the talk, we had a question and answer session, where students asked questions related to choosing a speciality and the opportunities of studying medicine abroad. Both doctors highlighted the aspects of their job they enjoy the most, whether it be patient contact or the variety of work each day, and they established the importance of having interests outside the medical profession.
The Healthcare Society extends a huge thank you to Dr Larkman and Dr Murayama for this insightful and enriching opportunity that has further encouraged each member to pursue a career in this field.
*Additional reporting by Febe Elsayghe