Hero's return for former RGS pupil who fled Ukraine to help refugees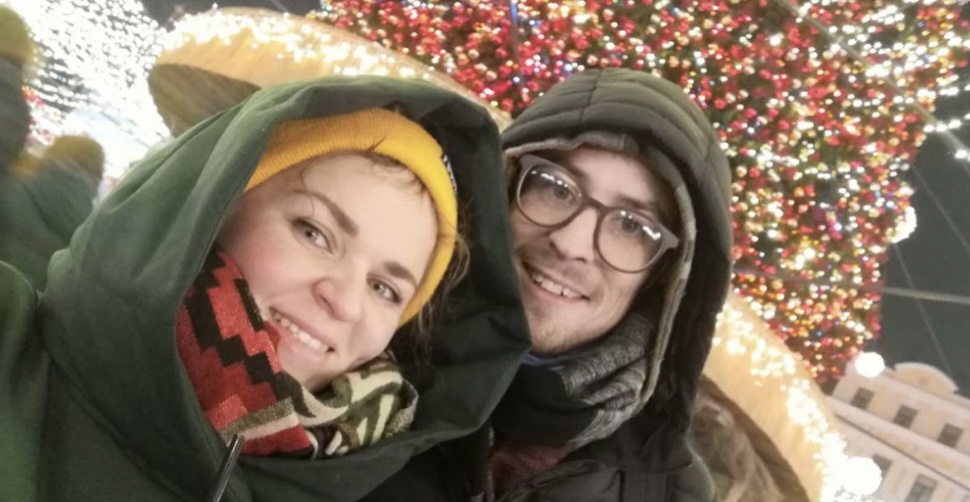 Former RGS student Lewis Edwards dodged shells and air strikes as he and girlfriend Tanya fled Ukraine, where they were working as teachers when Russia invaded. After reaching Slovakia, the 33-year-old joined a volunteer hub and has been carrying out heroic work to help refugees. Reporter TIM FLANAGAN of Harrogate's Stray Ferret has been following his story
Visit www.thestrayferret.co.uk
Latest update: From May 16, 2022
Ukrainian refugee plans to rebuild her life in Ripon
AFTER receiving a hero's welcome from the mayor of Ripon, Ukrainian Tanya Bogdanovska is looking forward to rebuilding her life in the city.
Councillor Eamon Parkin, along with his consort Nigel Guy, greeted Ms Bogdanovska, her partner Lewis Edwards and his mother Ali, at The Magdalen's pub.
To a round of applause, he spoke of the heroism of the young couple who have captured the hearts and minds of the Ripon community.
In her first media interview, Ms Bogdanovska, who made the long journey to seek sanctuary in the UK with support from her partner and his family in Ripon, told the Stray Ferret:
"All of the time, I think about Ukraine and the ongoing suffering of the people there facing Russian aggression and cruelty.
"Thankfully, members of my family managed to escape the attacks on Zaporizhzhia and move to a safer part of the country, but I have friends who didn't make it."
Ms Bogdanovska said:
"On February 24, Lewis and I were teaching children and the next day we were fleeing for our lives, heading for the Slovakian border."
Having made the 500-kilometre journey on roads packed with cars and coaches carrying women, children and men over the age of 60 to the safe haven of a NATO country, they and eight friends set up a shelter to help fellow refugees following on behind them.
The shelter was set up largely through the generosity of Ripon people, who read of their plight on the Stray Ferret and dug deep to donate more than £20,000 to a gofundme page launched by Lewis's family,
Before setting up the page, they received invaluable advice from Nicola David, chair of Ripon City of Sanctuary.
Mr Edwards said:
"Tanya and I stayed for as long as we could in Slovakia but, as we were officially refugees ourselves, there was a limit on the time we could be there.

"However, we and our eight friends were able to help those on their journey to seeking sanctuary and people who were left trapped in Ukraine, by providing vital supplies such as medicines and sourcing military ambulances.

"It was a surreal situation to find ourselves in, but we knew we had to do something."
Since his recent return to Ripon, Mr Lewis and Ms Bogdanovska have been welcomed with open arms everywhere they go. She said:
"We are grateful for the kindness and love that we have received and are moved by the support being given to my countrymen and women who remain fearless in their fight against the Russians."
As part of getting her life back on track, Ms Bogdanovska is seeking employment from any local company that may be looking for a graphic designer and illustrator.
From March 22, 2022
Ripon man who helped Ukrainian refugees set for hero's return
A MONTH after the Russian Invasion of Ukraine, Lewis Edwards is planning to return to his home city of Ripon with Ukrainian partner Tanya Bogdanovska.
Teachers Mr Edwards and Ms Bogdanovska fled Kyiv, where they had been working at a private school, on February 25.
Joining the mass migration of refugees who sought safety in neighbouring NATO countries, they arrived in Slovakia.
There, they and eight friends created a shelter to help Ukrainian women, children and men over 60 find sanctuary in other parts of Europe.
Mr Edwards told the Stray Ferret: "We are awaiting the outcome of Tanya's application to travel with me to the UK and once all is in place, our plan is to head straight to Ripon.
"That will give us time to find our feet again, while being with family, friends and meeting some of people who have been so generous in supporting our work with refugees."
Former soldier Mike Heelan is also returning home to Harrogate after travelling to Slovakia to help. Mr Edwards said:
"I would like to say a massive thank you to Mike Heelan, who came over from Harrogate when he read about what we have been doing in Slovakia. His help has been invaluable and we will be wishing him well when he heads off back to the UK later today."
Their efforts have been supported by a gofundme page launched by Mr Edwards' family. More than £19,000 has been raised.
Though they are leaving Slovakia, the fundraising will continue.
Mr Edwards' mother, Ali, said: "We are excited that he will be returning to the UK with Tanya and look forward to their safe arrival in Ripon.
"Though they are leaving Slovakia, we are committed to continuing the fundraising for the people of Ukraine, who face a desperate situation for the foreseeable future. The monies raised will go to other groups who will be providing humanitarian assistance."
Ripon Mayor Coun Eamon Parkin, supported the gofundme appeal through an event staged this month at The Magdalens Pub, which he owns and runs with his consort, Nigel Guy,
Coun Parkin, said: "We already have the flag of Ukraine flying on the town hall and Lewis and Tanya will be welcomed as heroes, when they arrive in the city."
Funds raised in Ripon have been used to source ambulances, buy and transport vital medical supplies and food and provide shelter.
This work will continue, through the increased involvement of the Slovakian government, acting in liaison with humanitarian aid agencies and on-the-ground volunteer groups.
From March 7, 2022
Ripon man helping Ukraine says ambulances are being shot by Russians
FORMER Ripon Grammar School student Lewis Edwards told the Stray Ferret that ambulances in Ukraine are being attacked by Russian forces.
This is among the latest in a growing list of breaches of the Geneva Convention committed by the invading troops, as the situation for civilians trapped in towns and cities under siege becomes more horrific and desperate by the hour.
The targeting of the emergency vehicles follows a weekend in which fleeing refugees came under attack during a supposed ceasefire in Mariupol.
Speaking from Slovakia yesterday afternoon, Mr Edwards said: "I got a phone call from an organisation in Ukraine saying they wanted me to try and source armoured ambulances, because the Russians have started shooting at the normal ambulances used to take injured people hospital.
"Through contacts, I've managed to find two already and I've been phoning around asking if there is anybody who might know where we can get some more.
"The whole situation is chaotic and insane, as the aid agencies that we are working alongside seem to be relying on us – ten refugees – to provide logistical support, because we appear to be able to get things done that they can't."
Mr Edwards, 33, and his 30-year-old Ukrainian partner Tanya Bogdanovska — both teachers who had been working at a private school in Kyiv — fled the Ukraine capital on February 25.
After crossing the border into Slovakia a week ago, they teamed up with eight other volunteers to help people seeking sanctuary in countries including the UK.
As well as helping refugees — mostly women and children who are arriving in Slovakia each day — they are continuing to do all that they can for Ukrainian people, including friends and family, who have been unable to escape.
In addition to sourcing ambulances, they have supplied a generator for an area without electricity and have assembled a shipment of essential medical supplies that will be setting off to Ukraine tomorrow.
In Ripon, a gofundme page set up by Mr Edwards's family to support the work with refugees has now raised more than £11,000.
His mother, Ali Edwards, said: "I'm so proud of what they are doing, helping people who have made it to safety in Slovakia, while remaining focused on those still in danger in Ukraine.
"The attacks on ambulances that Lewis has told me about are appalling, obscene and show a total lack of humanity."
From March 1, 2022
Ripon family's plea: 'Please help the people of Ukraine'
AS the Russian bombardment of Ukraine continues, former Ripon Grammar School student Lewis Edwards and his partner Tanya Bogdanovska are safe in Slovakia, but constantly thinking about family and friends facing the horror of war.
Lewis, whose family live in Ripon, has been providing regular updates.
He told the Stray Ferret, this morning: "Tanya spent the night talking with friends online, while they hid in stairwells during non-stop rocket attacks.
"She has been telling them that they will survive and asking them not to lose hope, but what do you say when someone tells you they don't want to die like this? They are young, they are scared and they don't know what to do."
With the worsening situation, the urgency of Ukraine's plea for help increases by the minute and for Tanya it is a personal plea, because she comes from Zaporhisia, which has been under heavy attack for days.
While she and Lewis can only add their voices to the world-wide call for the military assistance that Ukraine needs, they and a growing group of friends are preparing to provide practical, on the ground support for fleeing refugees through a shelter in Slovakia.
This will provide food, rest, the opportunity to bathe and obtain essential items such as sanitary products for women and nappies. The shelter will also have private areas where the refugees can make calls to loved ones back in Ukraine.
The plans for creating the shelter are taking shape and in Ripon, a Go Fund Me page set up on Sunday by Lewis's family is steadily receiving donations from the local community.
Lewis's mother, Ali, said: "We would like to thank all those who have made donations and ask those who haven't so far, if they will help support the people of Ukraine in whatever way they can."
The shelter will give respite for traumatised Ukrainian refugees before they make onward journeys.
Final destinations are currently unknown to the fleeing women, children and men over 60, who left their homeland with hastily-packed suitcases, back packs and carrier bags.
The majority had to bid farewell to loved ones, including husbands, partners, brothers and uncles aged between 18 and 60, who stayed behind to fight for their country.
This is happening city by city and street by street, as Ukrainian soldiers, along with civilians armed with Molotov cocktails and guns provided by allies, continue their desperate struggle against Russia's military might.
Lewis, said: "The current situation is absolutely dire, but we hope that we can provide some light at the end of the tunnel.
"Our friends, a group made up of Ukrainians and foreigners, are working together now to try and do what we can."
The collective, including teachers like Lewis and Tanya, who met at Point Camp (a children's summer camp in Ukraine) come from a number of European countries.
From February 28, 2022:
Former Ripon student fleeing Ukraine today to set up refugee shelter
AS rockets and mortar fire rained down on Kyiv and Russian tanks moved menacingly on the capital's streets, a former Ripon Grammar School student and his partner hatched a plan to flee Ukraine and help others seeking sanctuary abroad.
Teachers Lewis Edwards, 33, and Tanya Bogdanovska, 30, arrived in Uzhhorod in the early hours of yesterday morning, after leaving Kyiv on Friday to drive 500 kilometres to the border with Slovakia.
Today they face a long wait to cross into the neighbouring country, where their plans for a shelter that will provide assistance to fellow refugees from Ukraine are starting to take shape.
They have growing support from a team of people that includes doctors and other professionals.
Back home in Ripon, Lewis's family launched a Go Fund Me page yesterday, which aims to raise an initial £10,000 to get their humanitarian venture off the ground.
At the time of publication, more than £3,000 had been raised.
Advice is being provided by Nicola David, chair of Ripon City of Sanctuary, who has expertise in resettlement programmes from her work with organisations that have assisted Syrian refugees.
She said: "I was in contact with Lewis yesterday to offer advice on the structures that need to be put into place, both here and in Slovakia, to support the shelter in its work."
She added: "We have been worrying, as we have witnessed hour by hour coverage of Russia's invasion and attacks on Kyiv and other parts of Ukraine, while praying that Lewis and Tanya will get out safely.
"I'm very proud of them for the way that they always think about others and hope that people in Ripon and further afield will give their financial support at this desperate time for the people of Ukraine."
Last night, Lewis told the Stray Ferret about the horror of seeing his adopted country invaded by Russia: "A week ago, Tanya and I were teaching children at a private secondary school in Kyiv and on Thursday, our lives were turned upside down as the first rockets and mortars were fired at Ukraine and the invasion began.
"We sought safety in the shelter of an underground metro station, but could hear explosions above and when we emerged we discovered that residential blocks, schools, hospitals and nurseries in Kyiv and other parts of Ukraine had been indiscriminately attacked by the Russians.
"Then came a terrifying moment as we walked along the street and heard the sound of a gun being cocked. We didn't know if we were the target, all we could do was hope and fortunately we survived."
He added: "We have seen some surreal sights in Kyiv and on our journey to the border, including old ladies with machine guns, who are ready to fight for their country street by street
"People are making Molotov cocktails to throw at tanks and changing road signs to confuse the Russian invaders. One side read: 'Russians turn left and up your own ar**'
"It's clear to us that Putin has made a complete misjudgement, thinking that Ukraine's military would surrender, but the soldiers, airmen and citizens are ready to fight to the last.
"Tanya and I just hope that further practical aid will be provided by NATO as soon as possible."
Visit www.thestrayferret.co.uk
Photograph: Lewis Edwards