'Imagine a world where healing replaces harm'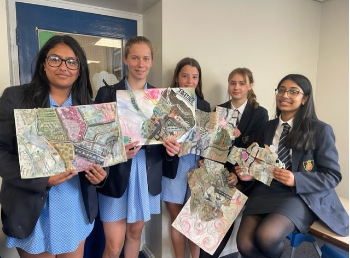 Religious studies teacher CLAIRE JACKSON reports on a student exhibition in Ripon Cathedral which explores the meaning of sanctuary
CANON Matthew Pollard from Ripon Cathedral kindly came to RGS to speak to students, from Year 7 to Year 9, delivering an assembly to raise awareness of Refugee Week earlier in the summer term.
Refugee Week began on June 20, a week when people around the world take time to think about and reflect on the experiences of millions of people forced to flee from their homes in order to keep safe from war, persecution or natural disaster, leaving their lives behind in the search of a new life somewhere safe. It's thought around half of these people are children.
As part of Ripon Cathedral's Sanctuary Year 2023, it is currently holding an exhibition of students' work on the theme of sanctuary and healing, from June 13 to July 4. Ripon has a long history as a place of sanctuary, and the exhibition intends to continue the idea of sanctuary in our city.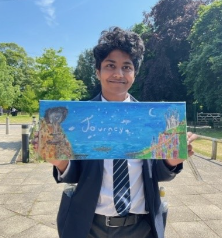 For the Sanctuary Exhibition, RGS students were invited to share their own perspectives on sanctuary through art, poetry, photography and prose.
Year 7 students were invited to lunchtime sessions in the religious studies(RS) department to create their own stained-glass windows from tissue paper, linked to their summer study of religion and art.
Together students discussed the meaning of sanctuary and where they feel especially safe and serene. Students created designs they felt symbolised sanctuary and the idea of imagining a world where healing replaces harm.
In contrast, following on from an in-depth study into human rights and social justice in RS, Year 8 students were asked to create a piece of work linked to agape in Christianity and the importance of helping refugees.
Many students chose to write a poem or a short story from the perspective of a refugee, others created posters including images related to the theme of offering sanctuary, hope and healing.
Inspired by the assembly, Year 9 students looked at Google maps of their home environment in art lessons and were asked to create a mixed-medium piece based on the maps and their experience of living in Ripon. Students then added symbols and imagery which could include and connect others to their environment.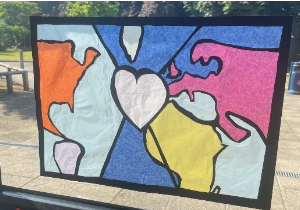 For their particularly thoughtful and beautiful pieces William Auckinson (1C) and Trinabh Srinivasan (2D) have been nominated for a Headmaster's Commendation.
Students' work will be on display in the cathedral in the north transept until the evening of Tues July 4. Do pop in and have a look!