Is humanity at a crossroads?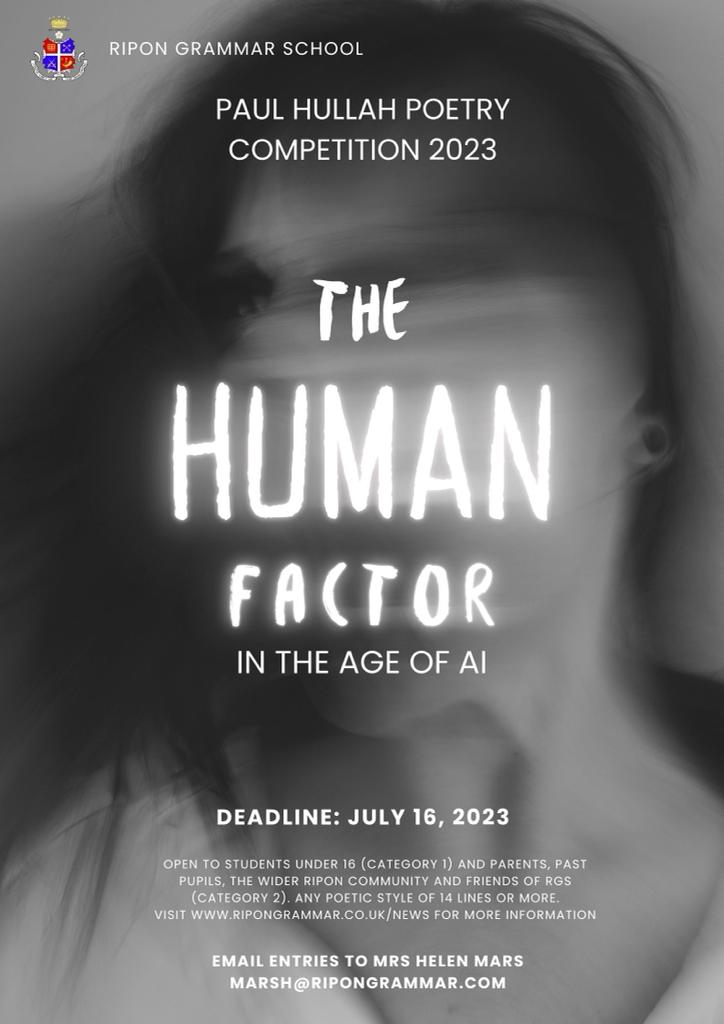 The Human Factor is the theme of this year's RGS Hullah Poetry Competition which is open to the wider community, including RGS parents, friends and past pupils
STUDENTS, parents, past pupils and the wider Ripon community are being urged to consider what it means to be human in the age of artificial intelligence (AI).
The dramatic rise of digital intelligence is the inspiration behind the theme of the latest annual Ripon Grammar School Hullah Poetry Competition, which has been running since 2014 and attracts hundreds of entries every year.
Judge Dr Paul Hullah, a past pupil of the school and now professor of poetry at Tokyo's Meiji Gakuin University, explained his choice of theme: "We educators here are genuinely concerned. Forever playing catch up, it seems. A real game changer, in lots of ways. Are we 'necessary' now?
"AI has developed to the degree that that the poetry now created by machines is virtually (pun intended) indistinguishable from that made by human beings. Should we welcome this diminishing of 'the human factor', or worry about it? Celebrate, or condemn it? Ban, or embrace it? Keats's famous pronouncement that 'If poetry comes not as naturally as the leaves to a tree it had better not come at all' takes on a whole new meaning in this Age of AI.
"The dramatic rise of AI-driven software programs, 'thinking' algorithms, and digital technology has implications in other spheres of life apart from poetry too: visual art, music, photography, education, transport, healthcare, and the workplace at every level will likely be affected. What's left that humans can do but machines cannot?
"Of course, there is always initial resistance to radical technological innovation: the Luddites and machine breakers of the early 19th century protested against machines which replaced human labour in 'a fraudulent and deceitful manner'. But many think that the new AI-created art goes one step too far. They claim that it is a 'grotesque mockery of what it is to be human' (the musician Nick Cave), while others regard AI as a logical stage in the ongoing evolutionary process, offering exciting new possibilities for innovation and expression.
"What do you think, and how do you feel about this? This year, the task is to write a poem of fourteen or more lines (or a sequence of connected shorter pieces of more than 14 lines in total) that somehow connects to the (very vague: interpret it as freely, as you like!) concept of THE HUMAN FACTOR. Any poetic form, rhyme scheme or narrator is allowed.
"Good luck! Oh, and poems created by AI will not be accepted!"
*Please submit your poem via email by Sunday, July 16, 2023, to Mrs Mars at marsh@ripongrammar.com
Category One: pupils of RGS only (trophy and a cash prize).
Category Two: staff, Old Rips, inhabitants of Ripon and friends of the school (book token prize).