Lessons on life: 'Never give up or be put down'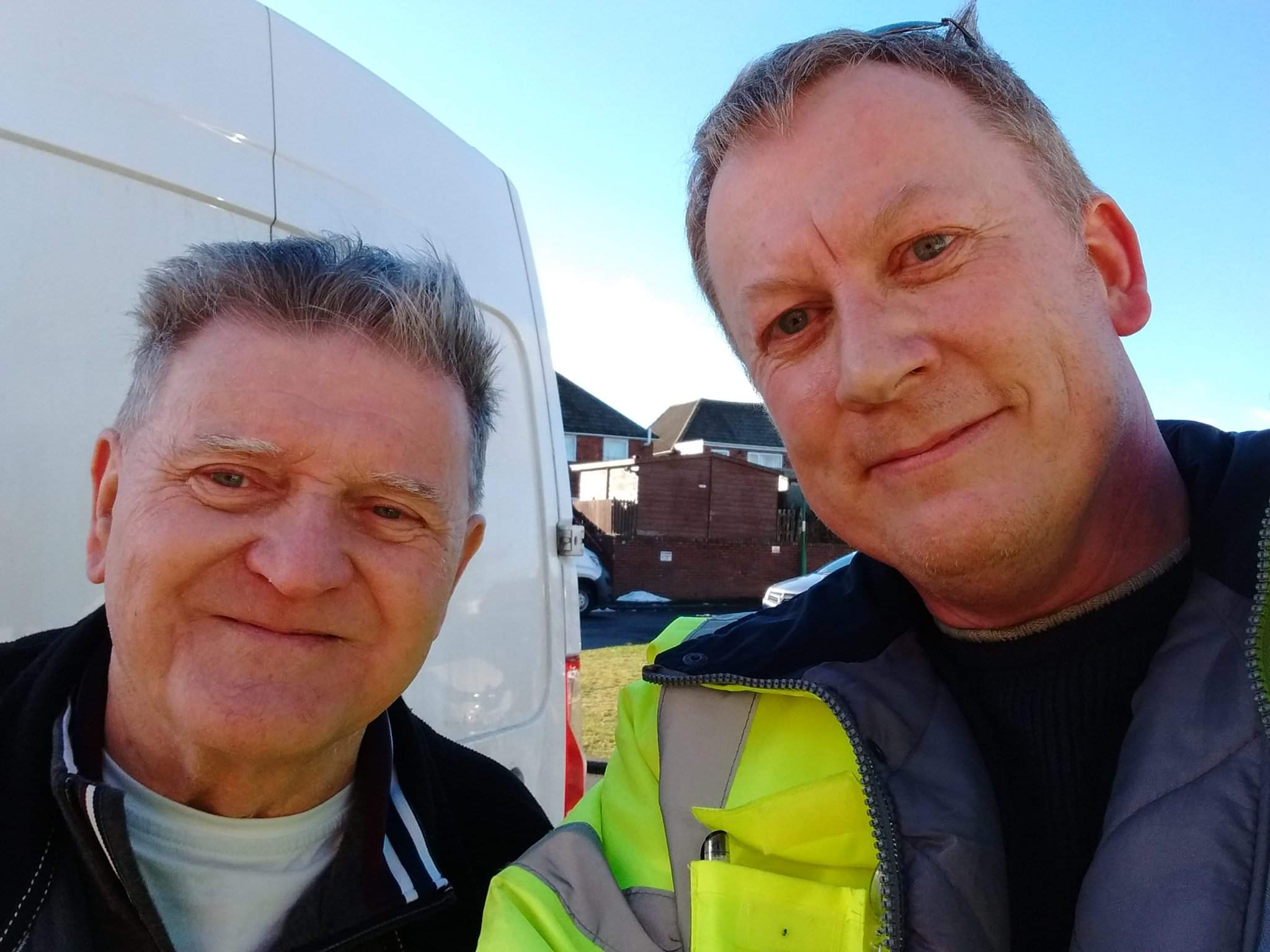 (Ian, right, has recently reconnected with one of his favourite former RGS teachers, Mr Hogg)
FORMER assistant head teacher and RGS past pupil Ian Thompson looks back on the twists and turns of his life after his post-A-level RAF officer training place was cancelled due to a defence review.
What started as a 'bit of a mess' eventually resulted in a distinguished career in education, during which Ian created the Leeds City Learning Centre's digital inclusion project and was introduced to Prince Philip as a result of his work across schools in County Durham (when he proudly wore his old RGS sixth form tie!).
Despite some testing challenges along the way, Ian describes how he has made the most of every opportunity, viewing difficult circumstances through a long-term lens, while being flexible, listening to good advice and trusting in the things he could do well.
'The most important lesson I've learnt is to never give up or be put down', says Ian, who has recently reconnected with one of his favourite former RGS teachers after they met while volunteering together at a food bank.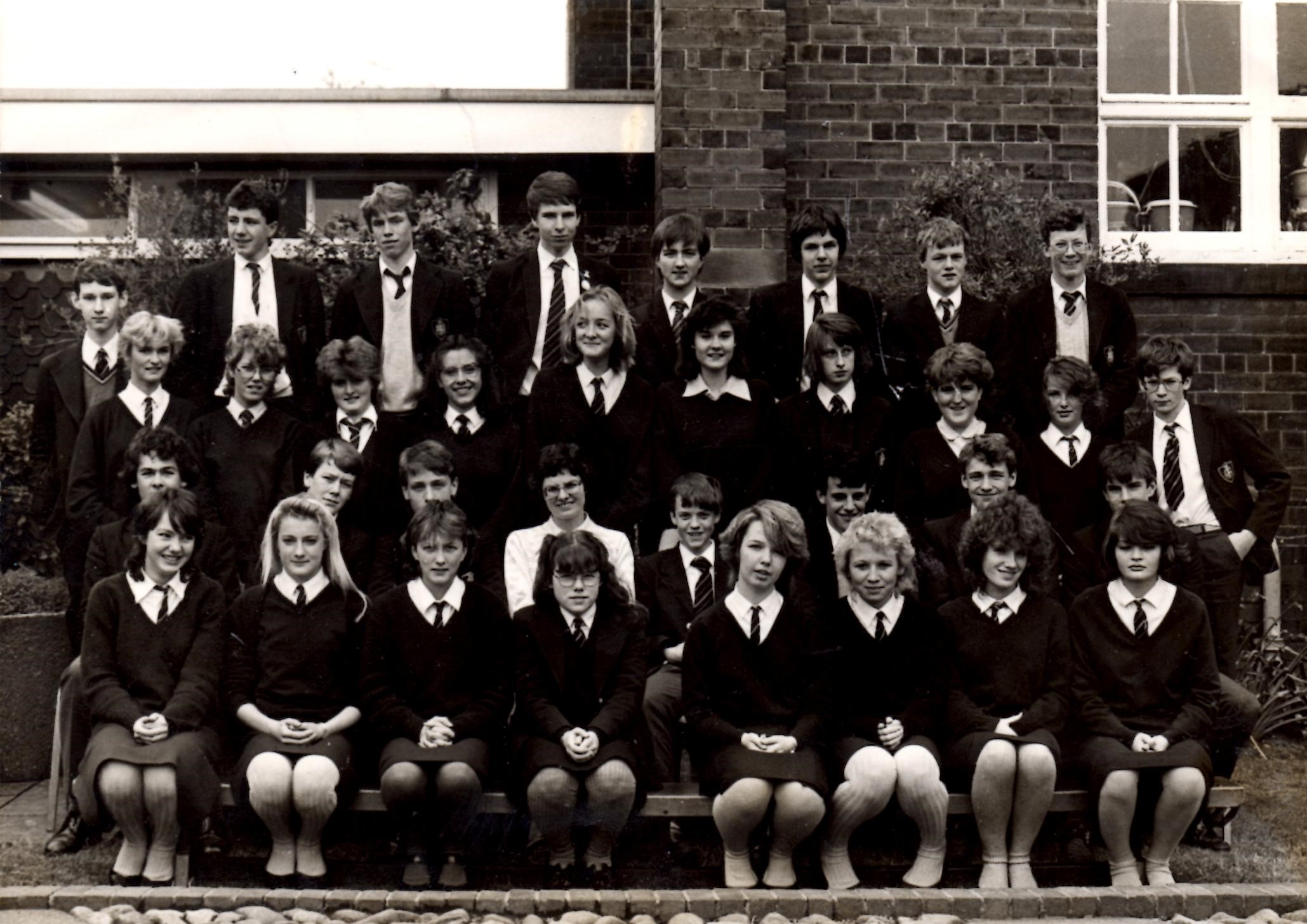 (Ian pictured top right in his 1985 O-level form)
"I LEFT RGS in 1987, after A Levels were completed but the next stage was a bit of a mess.
"Since the age of 12, I wanted to join the RAF and applied for a commission as an officer, attending the officer and aircrew selection at Biggin Hill RAF base in summer 1987. Having passed the initial stage, I received a letter to start as pilot officer at Cranwell in January 1988.
"During that summer, 38th Regiment Royal Engineers, based at Claro Barracks in Ripon, arranged for a group of RGS students, including me, to experience service life in Hameln, in order to get a bit of a head start on Forces life. Not all of the group were aiming at service, but enough to make it more than just a jolly time messing about with guns and big vehicles in pre-unification West Germany. Visiting the East German border at Wurmberg, near Braunlage in Lower Saxony was definitely one of the most memorable moments.
"Another turned out to be that Richard Hammond (pictured centre) was part of the group for part of the journey, as he was travelling over to join his family in Europe. (Richard's left RGS after lower sixth form to go down a different route which took him to Radio York, BBC Top Gear and beyond.)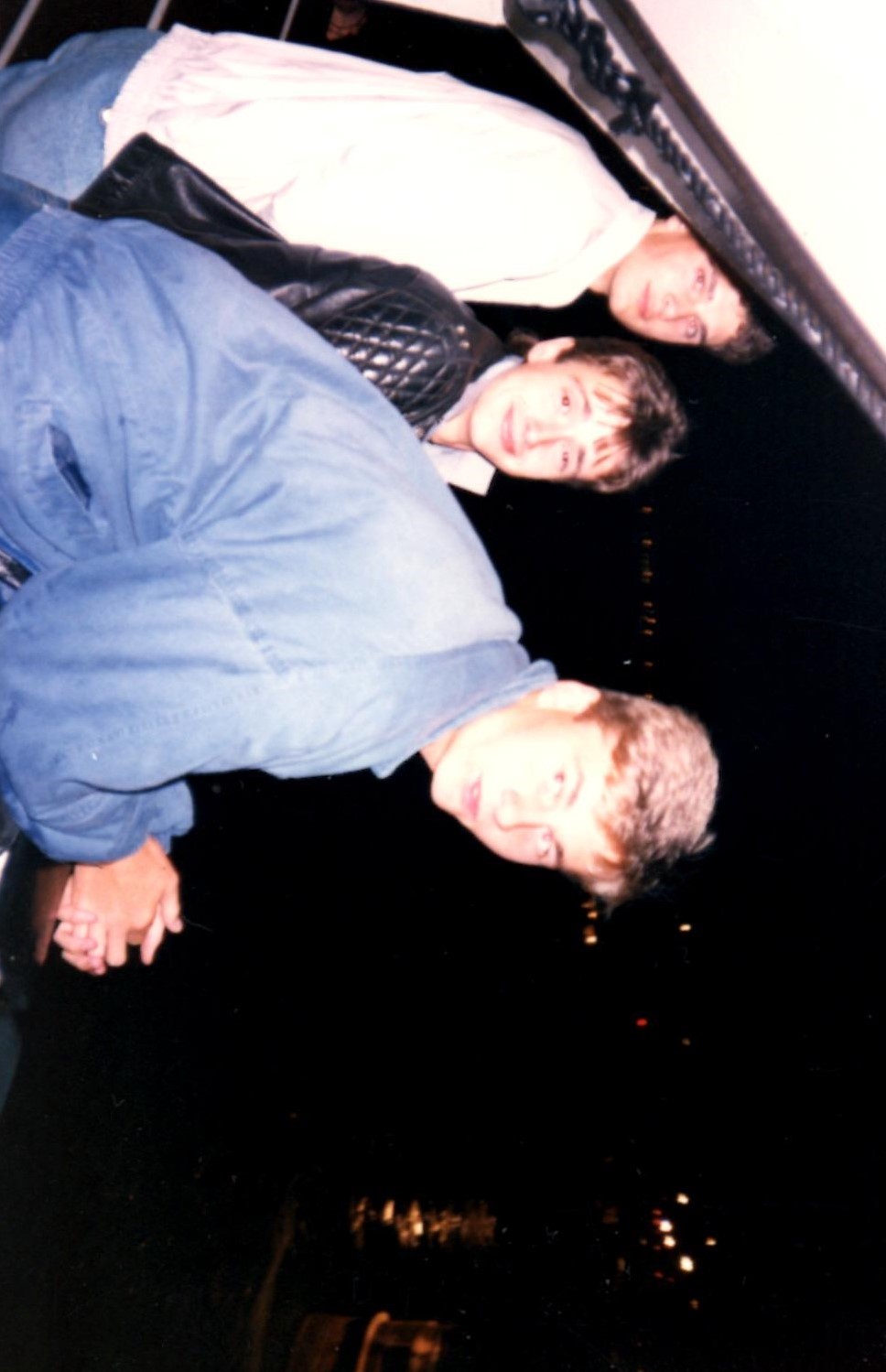 "All seemed to be progressing well, and I had given up my university offers to focus on the pending RAF career. However, things didn't turn out that way. In a momentous series of events that were no doubt very good news for the world, though bad for my upcoming career, the USSR was disbanded, and a defence review was carried out.
"All three forces were told to reduce by a significant number so, at the end of October 1987, I received a second letter telling me the offer of a commission had been withdrawn. Although told I had exactly the sort of aptitude that they were looking for, there was nothing could be done to change the outcome.
"So, I was briefly unemployed - it was a pretty low time.
"I had done a variety of jobs already (Morrisons, Lightwater Valley, farm work), so just pitched in at the Job Centre with an "I'll do anything" approach, which saw me being asked to go to the Buxted Chicken plant on Dalamires Lane to work on the 10pm-6am maintenance and cleaning shift.
"Whilst at RGS, I had been extremely interested in technical drawing, gaining Mr Chambers's award for my O-level result, which was presented by the Right Honourable Keith Joseph MP at the1985 awards event.
"This interest led to me taking an A-level in engineering graphics at night school while in upper sixth form (having studied the relatively new subject of computing to fill in time in lower sixth) which led to me working at the Yorkshire Regional Health Authority as a building services design engineer.
"Following an HNC in Heating, Ventilation and Air Conditioning (HVAC) and with several years' engineering experience under my belt, I finally went to university, studying engineering at the University of Liverpool.
"While completing my degree, I kept on working, designing engineering for various ground-breaking schemes. However, a career change beckoned, and I completed a one-year PGCE course at the University of Leeds, switching from being an engineer to teaching secondary-school students about engineering.
"Following this, in addition to supply teaching, I was offered research work at the University of Leeds School of Education on a project studying the work-relatedness of General National Vocational Qualifications, which informed national strategy.
"Once I began full-time teaching, my time shifted variously between engineering/technology and ICT teaching. I also became an examiner, later a team leader, for Edexcel, to gain a better understanding of the qualifications being taken by my students and was part of the small group that assisted the principal examiner for ICT when setting the national exam and mark scheme.
"I enjoyed a number of key secondments, including developing, managing and delivering an innovative E-Inclusion Programme, hosted by the Leeds City Learning Centre network to help with high numbers of pupil exclusions by offering qualification routes to enable students to return to mainstream schools.
"E-Inclusion operated as a virtual school. Through it, I know of around 240 Leeds students who were able to continue with their studies and on into further education, some from very challenging circumstances. For a few, E-Inclusion was the only way back into education. It was this experience that enabled me to step directly into senior school leadership and I moved on to become assistant head teacher at Tanfield School, near Stanley in County Durham.
"I was also introduced to Prince Philip as part of my work across schools in Durham, in this case volunteering Tanfield facilities and my time to improve Langley Park Primary gardens. I must admit, I did wear my old RGS Sixth Form tie.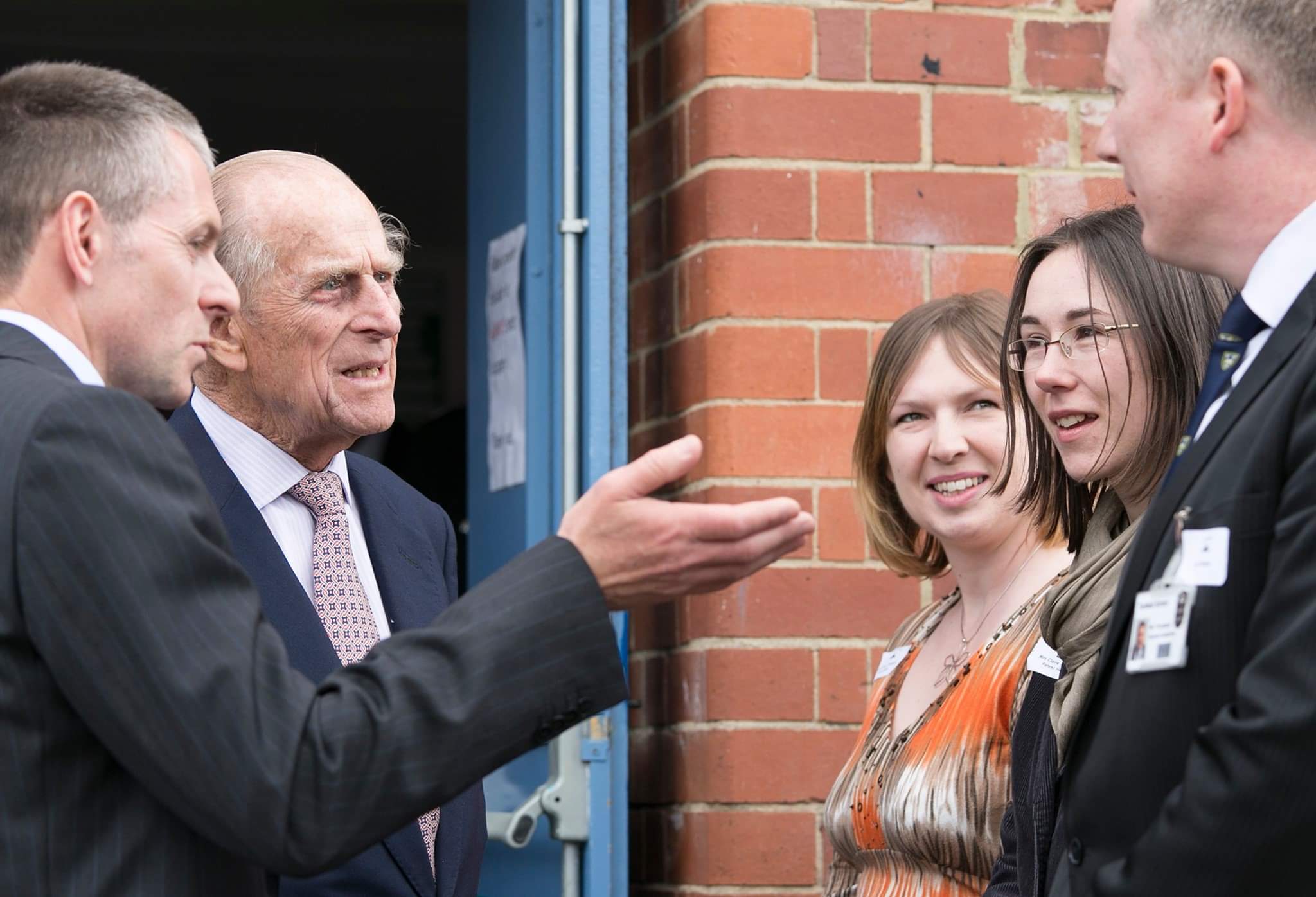 (Ian, wearing his RGS sixth form tie, meets the prince, with his wife Julianne, centre)
"My son was a pupil at the primary school at the time and sat on the same table directly opposite the prince for lunch. There was one very over-awed girl next to HRH, not really eating her food, and the prince turned to her saying "Don't worry, I get nervous when meeting new people too".
"Sadly, during this time my health began to fail so, following several traumatic incidents, I was offered an exit route during a school restructure. And my 22-year career as teacher and school leader came to an end.
"However, within a few months I was asked to help out with work at County Durham Foodbank, which is still one of the very largest groups within the Trussell Trust network. Initially, I was one of two volunteer van drivers, helping to collect donations and deliver supplies to over 35 Foodbank distribution points dotted across a largely rural area – a few bigger towns, but many former mining villages, and helping out with fuel and debt advice too.
"With the continued growth in the need to support people in crisis, the central storage needs of County Durham Foodbank grew beyond the space offered by a church sports hall, so in December 2020 we moved the whole show into a 1000m2 warehouse, with offices, 5m-high industrial shelving systems and forklift trucks.
"Shortly after that move, I was back in paid employment looking after all that equipment. I am now so far away from what I thought I would be when sat in Dr Smyth's A-Level biology class, looking forward to a career as an officer in the RAF.
"Looking back on my time at Ripon Grammar School, "I could list many of my teachers for one thing or another - Dr Smyth, Mr Locke, Mr Garvey, Mr Chambers, Mrs Swainston, Mr Postlethwaite, Miss Potter/Mrs Bullock, LV and SAS - but one in particular is Mr Hogg.
"Mr Hogg is a fan of basketball - he ran the school's club in the early Eighties - and has fascinating tales of driving relief missions in Land Rovers across Africa. He didn't actually teach me his subject, biology, but since I was a lanky sort I played in the basketball team.
"He also currently lives in the Tanfield area of County Durham, where I was assistant head teacher for a decade or so, where he helps run the Stanley Foodbank distribution point. This is where I met up with him once again as part of my time as volunteer driver.
"He attended Stanley Grammar School as a boy, and in due course that morphed into Tanfield School, where I was assistant head teacher - small world!
"Looking back, the most important lesson I learned was to never give up or be put down.
"Life throws interesting things at us all from time to time, and the best way to deal with these that I have found is to be flexible and trust in the things that I could do well, regardless of what anyone may have said.
"This has helped me at all the key change-points in my life, including dealing with my father's untimely death in 2006, and on into dealing with my own failing health that led me to reluctantly give up on my second (or third, maybe fourth) career as a teacher.
"I have had to deal with quite challenging circumstances even during what might be considered the steady times, but by listening carefully to good advice, viewing things with a long-term lens instead of ring-fenced by the immediate surroundings, and trusting in the things I know to be true, I have been able to cope comfortably, even if the specifics were stressful."
'As assistant headteacher I always research my subject,' jokes Ian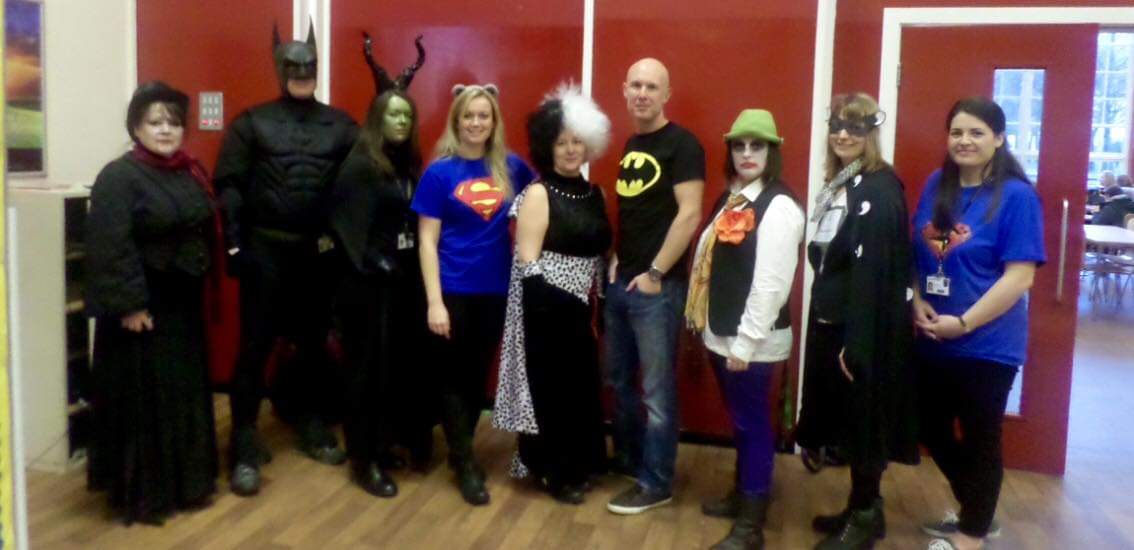 At Tanfield School non-uniform day, with Ian as Batman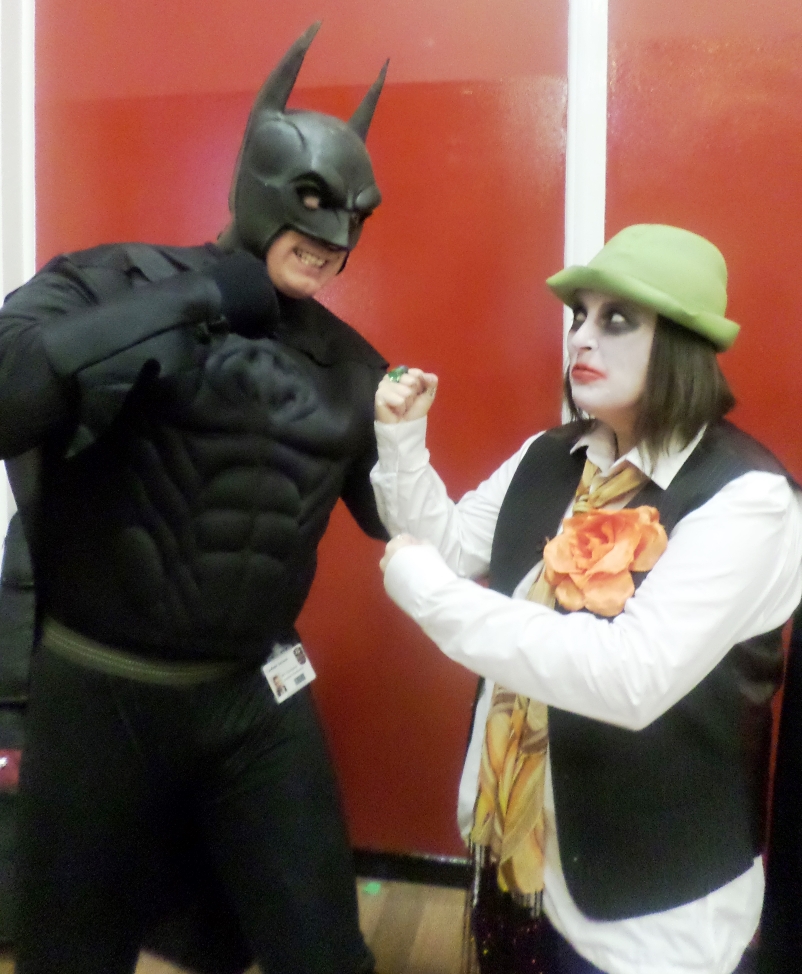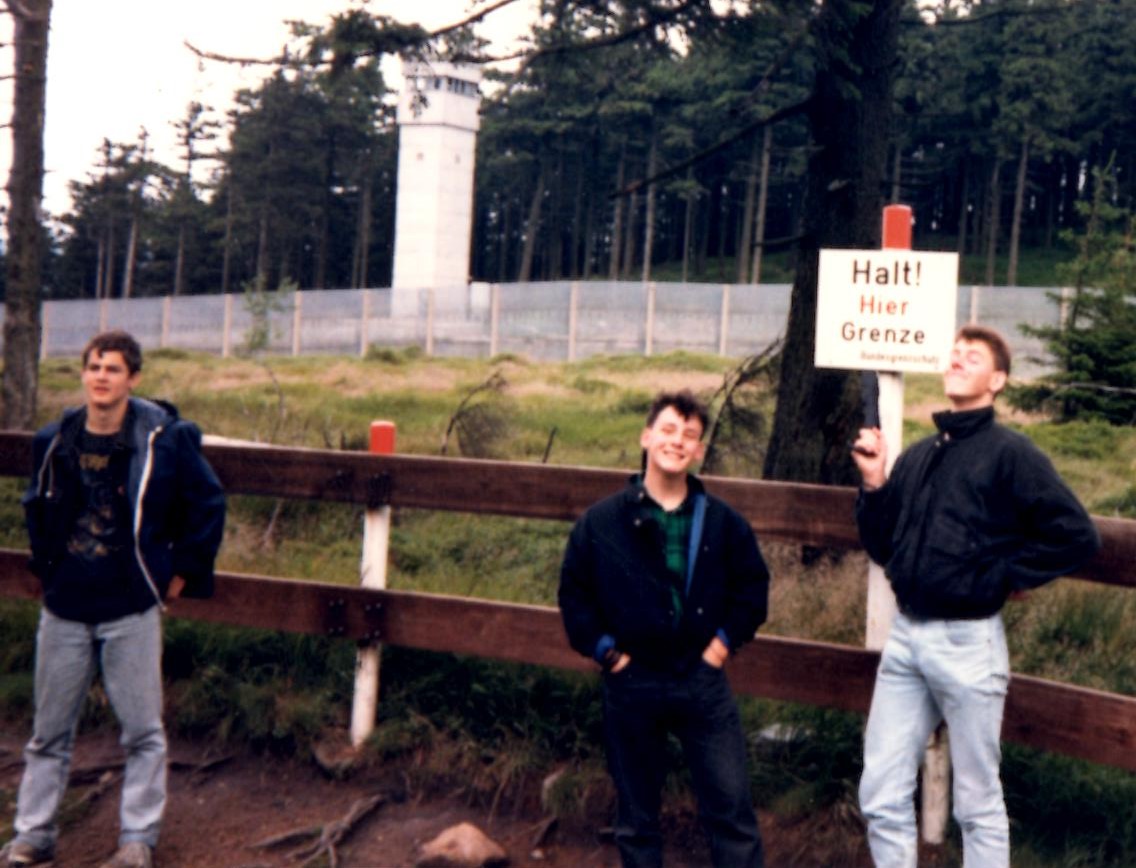 German school trip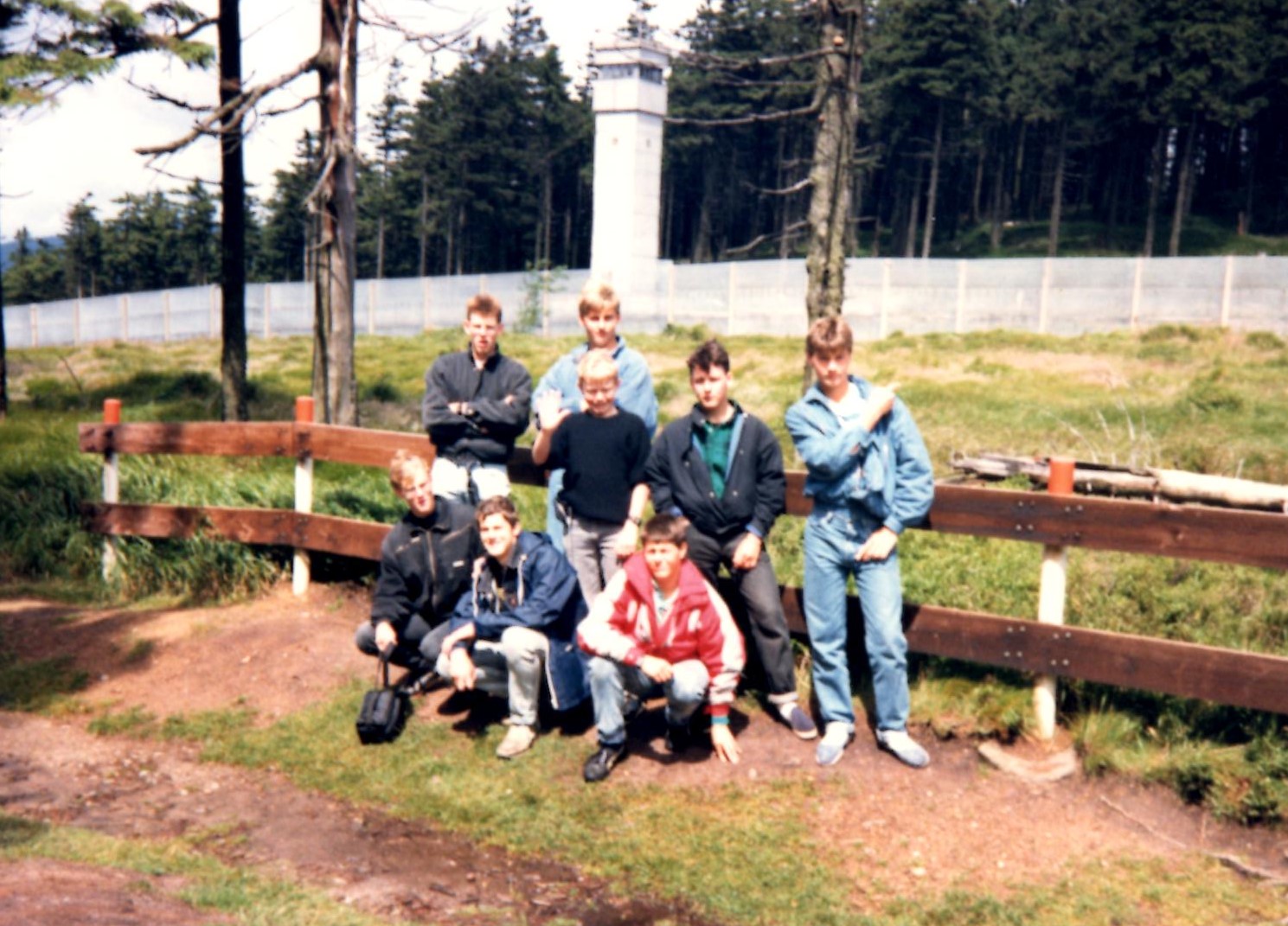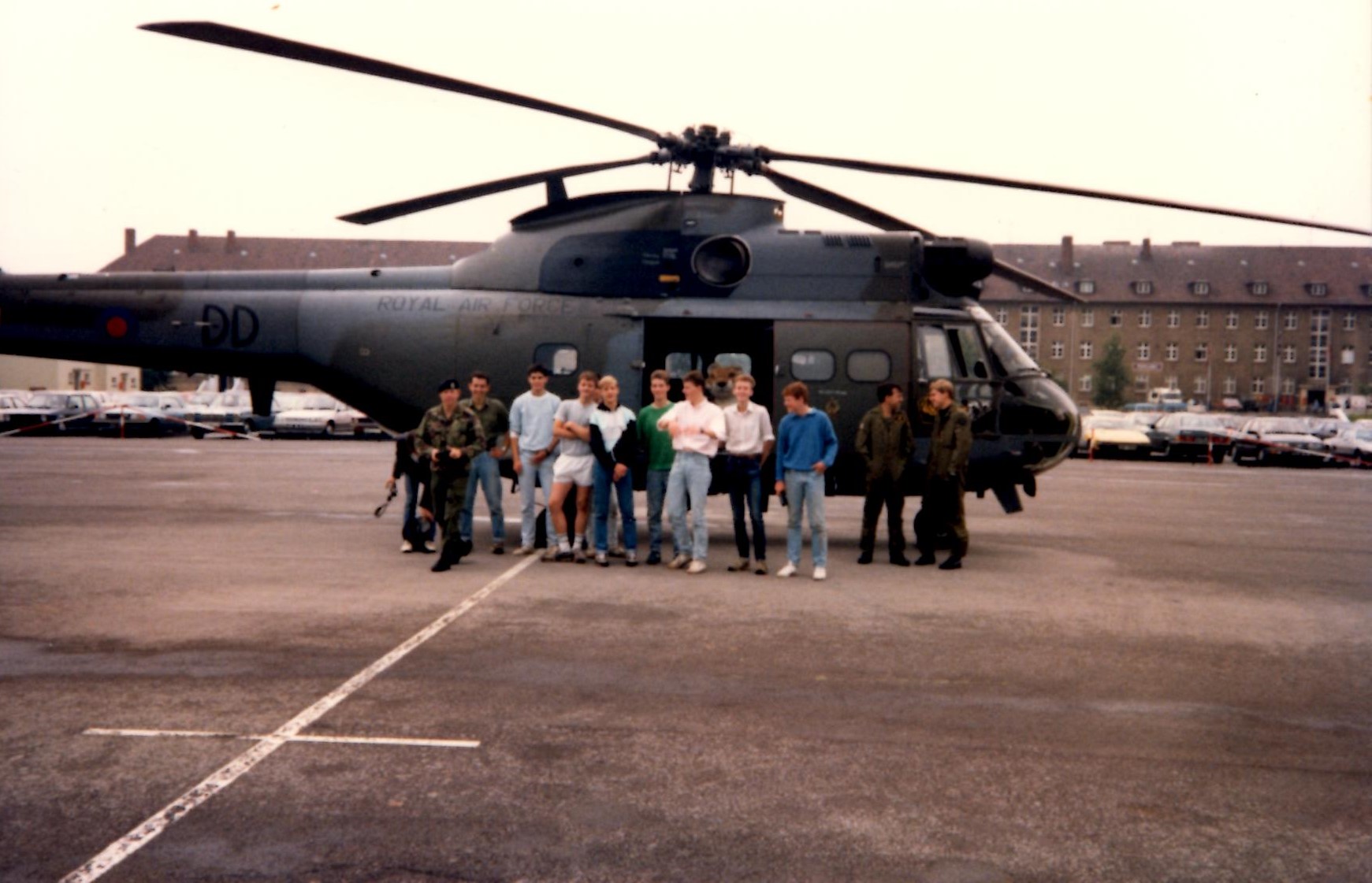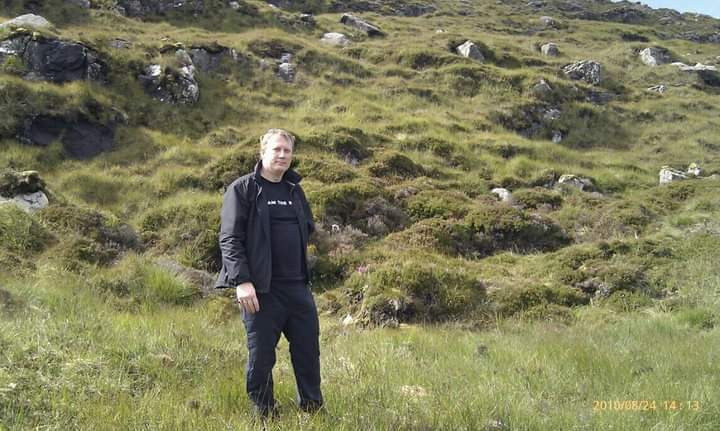 Near JP165 crash site
*Some readers may be aware that my father answered a call for engineers to help set up the Yorkshire Air Museum, before the current site at Elvington was acquired.
I helped him with the initial work cleaning fuselage sections from a Halifax bomber, plus stripping down two of the four Rolls Royce Merlin XX engines recovered on the Isle of Harris in Scotland from a separate aircraft, JP165.
I also worked on the airfield buildings long before the museum opened. Much later, after the YAM's Halifax 'Friday the 13th' had been completed and rolled out, and after he had died, I finally got to climb to JP165's crash site on Beinn Na' Leac, something that dad had always said he would one day like to do, but never managed.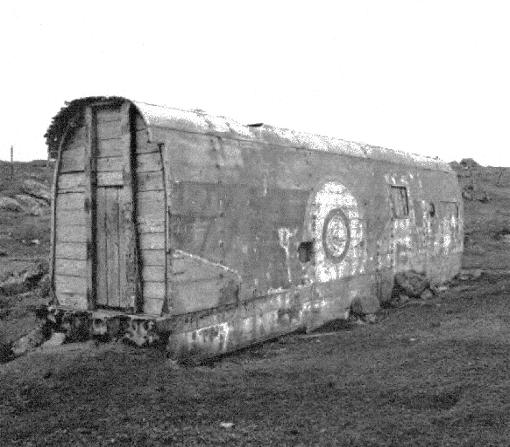 Halifax fuselage as a chicken coop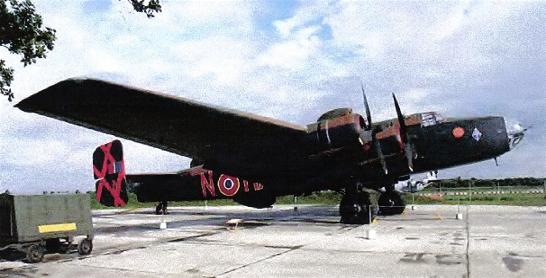 Now part of YAM Halifax