LIBRARY: How books helped us escape lockdown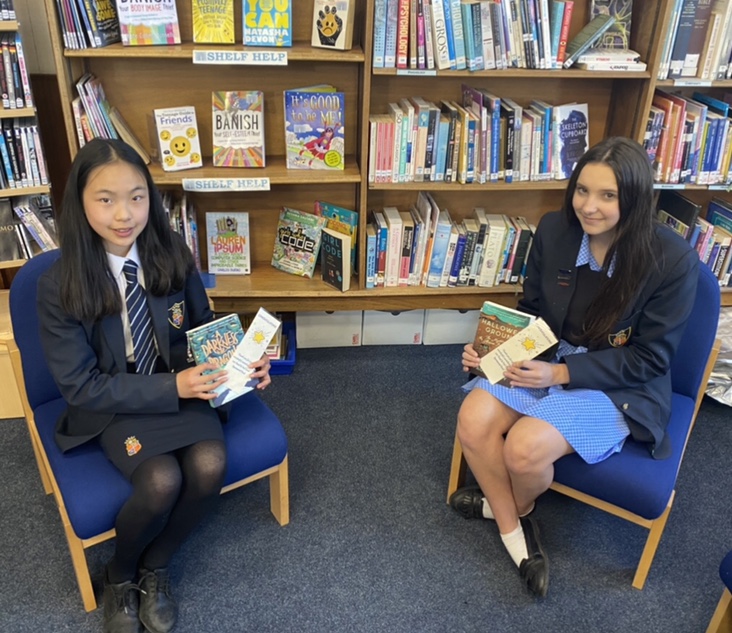 RGS librarian MRS DRING reveals how both students and staff threw themselves into lots of creative and fun activities to celebrate World Book Day, from creating toilet tube characters to a reading challenge which raised £500 for charity
IN 2020, World Book Day just sneaked in before the first lockdown and we were able to hold the usual events – a couple of author visits, quizzes, competitions and fun in the library. World Book Day in 2021 was a very different affair, taking place remotely during lockdown.However, Miss Szczerbinska and I were still able to arrange a variety of activities which students could take part in from home and all students and parents received a newsletter outlining what was going on. (You can see the newsletter at the end)
Our main event was our Read and Feel Good sponsored read, which all students could take part in from home. The challenge was to read as much as you could during a week and to log the number of minutes on Track Your Read, an online tracking tool from Read For Good (https://readforgood.org/track-my-read-faq/). Each student had their own login details and could enter their reading times – even better, everyone could see how the whole school's minutes were adding up. Students were asked to gather sponsors for their reading efforts to raise funds for this year's RGS nominated charity, Blueprint for All, formerly the Stephen Lawrence Charitable Trust (https://www.blueprintforall.org/). As you can see from this photograph, our students beat the target with a total of 16, 435 minutes of reading in total, and to date they have raised just under £500 for Blueprint for All.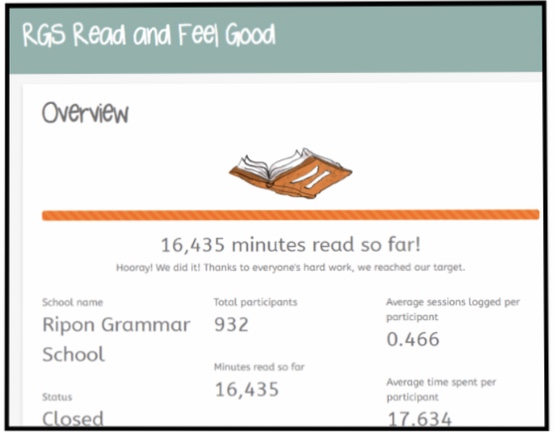 There were also some incredible individual efforts during the sponsored read, with 18 students reading for more than 200 minutes each. All these students are receiving prizes for their endeavours. Amazingly, six students read for more than 500 minutes and special mention should go to Yanxi in Year 7 and Agatha in Y11 who clocked up 1,120 minutes and 1,090 minutes respectively! (See Yanxi and Agatha, pictured top)
Bearing in mind that some people may not have access to reading matter during the lockdown, our newsletter flagged the official World Book Day website (https://www.worldbookdaysocial.com/) which was offering a huge variety of links, podcasts and extracts to celebrate reading for pleasure, including free audiobooks. We also created a Teams area for World Book Day with other links, such as North Yorkshire Libraries, which is free to join and offers myriad free resources for members to use, including audiobooks.
Staff members didn't get left out, with several filming themselves reading book extracts. These included Mr Milner reading from Kick by Mitch Johnson, Mr Long reading Abraham Lincoln's Gettysburg Address and Mrs Seymour narrating the opening of The Hundred-Year-Old Man Who Climbed Out of the Window and Disappeared, by Jonas Jonasson.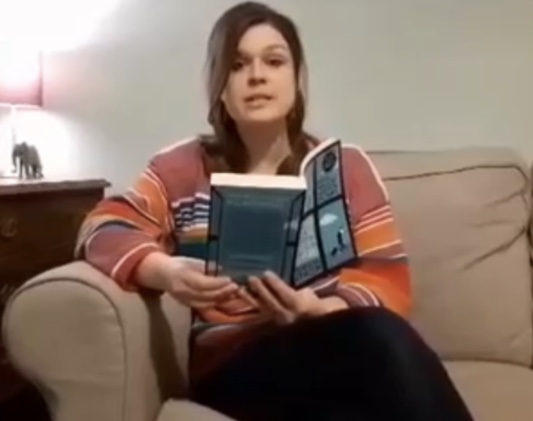 The videos were uploaded to the library channel of Office 365's Stream for students to watch.
To add some more fun to the proceedings we ran a competition for students to decorate a toilet roll tube as their favourite book character. From Minions, Cheshire Cats, and The Very Hungry Caterpillar to the BFG, we had some fantastic entries which were displayed on the school screens once we returned mid-March. It was very difficult to choose from all the outstanding entries, but in the end we chose Amelia's White Rabbit, Neve's Avatar characters, Isla's Hedwig, Dexter's shark from Jaws, Jake's BFG and Thomas's Harry Potter as prize-winners.
Well done to everyone who read, entered the competition, or took part in any way. Fingers crossed for an even bigger celebration in 2022.