Marnie talent-spotted by England Hockey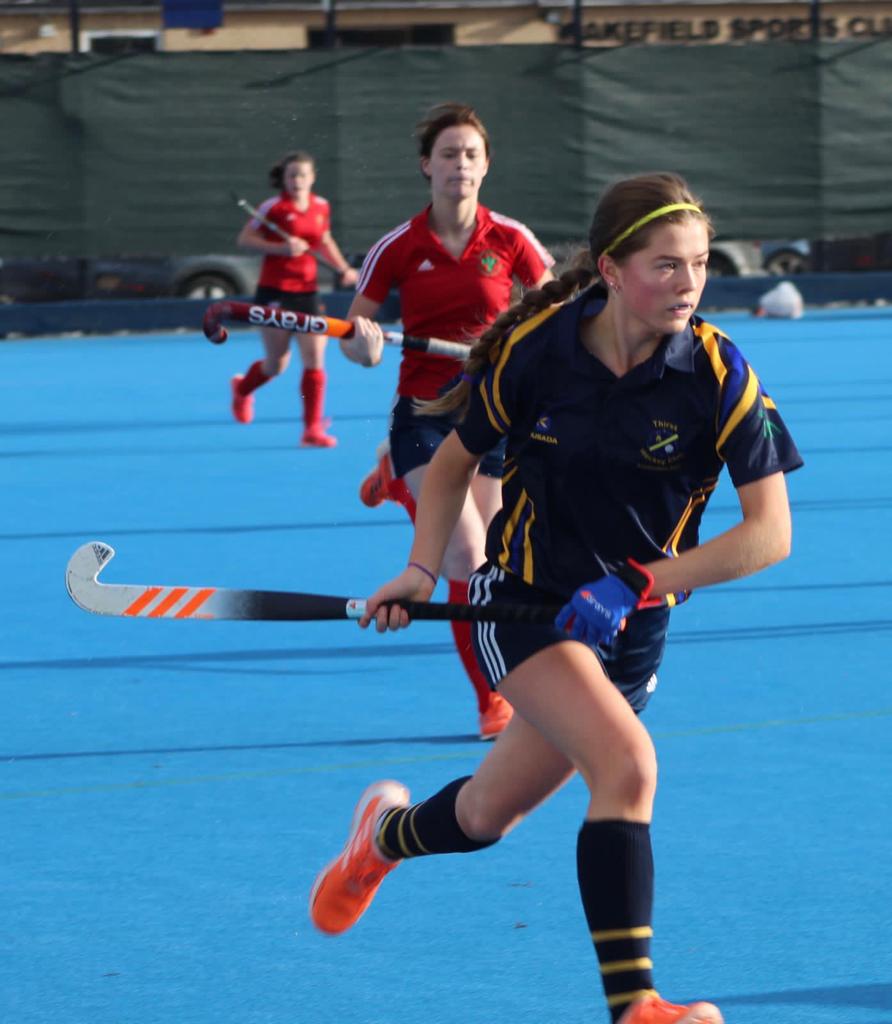 A RIPON Grammar School student has been talent spotted by England Hockey.
Sixth former Marnie Scatchard, from Hutton Conyers, has been selected for an elite programme aimed at developing a supply of players who can transition into the Team GB and England U18 and U21 squads.
She was nominated for the prestigious Diploma in Sporting Excellence (DiSE) programme for 2022-23 following her success in playing at Yorkshire level, alongside scoring for Thirsk U16s when they won the junior national finals last year.
As well as being a key member of her school hockey team, the 17-year-old attacker trains in the national league with Ben Rhydding, one of the largest hockey clubs in Yorkshire, and currently plays with the second ladies' team: "I'm training with the first team and hope to get to play with them next season," she says.
Excited to be selected by England Hockey, she explains: "The main benefits include the excellent and extra training and coaching. It provides the foundations to progress as a player and into other roles such as coaching, umpiring and sports science specialist support.
"It's a new programme with new coaches and potentially new ideas which could help me in new ways."
RGS director of sport Adam Milner said the whole PE department was extremely pleased and proud of Marnie, who follows in the footsteps of another RGS student, Poppy Lawson, in gaining a place on the prestigious programme: "This is a fantastic achievement for Marnie who, through hard work and dedication, thoroughly deserves this opportunity.
"She is an outstanding sports performer and is an excellent role model to both her peers and younger students. We look forward to seeing and supporting her progress for the duration of the programme and beyond."
The diploma, delivered in partnership between England Hockey and Loughborough College, is a government-funded scheme to support young hockey players in full time education, designed to run alongside sixth form studies.
It's designed to directly measure the athlete's ability to plan, apply and evaluate their development in the appropriate aspects of hockey.
Players are expected to attend four national camps that provide a rich blend if on-pitch technical and tactical sessions, presentations, one-to-ones and elements of portfolio work, supported by coaches, specialist practitioners and tutors.
England Hockey and university scouts regularly visit the camps, where nutrition, health and fitness, media and communications are just some of the topics included.
And at end of first year players have the opportunity to take part in UK School Games, a huge biennial event based on the Olympic Games model.
The 19-month programme, tailored to fit in with A-level studies, is funded by the Education and Skills Funding Agency and leads to a Pearson BTEC Level 3 Diploma in Sporting Excellence, 64 UCAS points and an England Hocky level 1 umpiring qualification.
Studying art, biology and geography at A-level, Marnie hopes to study marine biology or geography at university and is also considering applying for an Ivy League university field hockey scholarship in the States.
The teenager, who has also played netball and run for her county and was first talent-spotted by the England Hockey's Performance Centre programme scouts three years ago, is now dedicating herself to her hockey: "I hope to be picked for Ben Rhydding first team in national league and to play at university in a good team."
Marnie, who comes from a sporty family, is the younger sister of Mena Scatchard, one of the fastest young middle-distance runners in the UK, who won a sports scholarship to Princeton University last year.