Musical RGS family shoots to stardom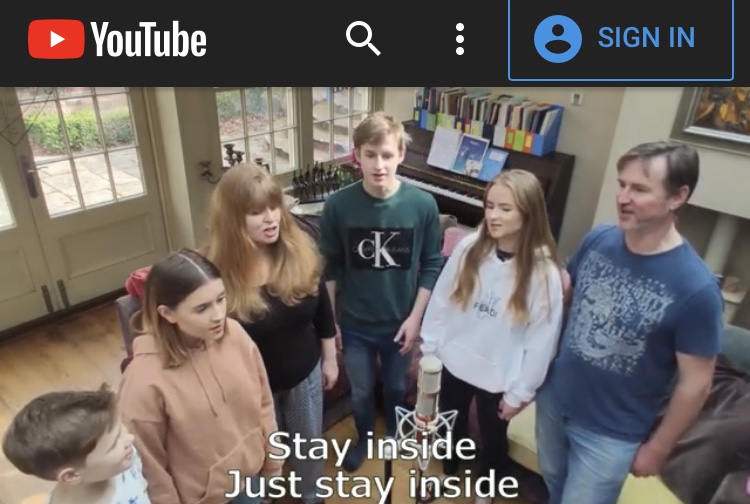 A MUSICAL Ripon Grammar School family has shot to stardom after filming a special tribute to NHS and key workers which has attracted attention from all over the world.
The Sladden family's recording of their moving version of the Take That song Shine, with the lyrics tailored to praise those fighting the coronavirus battle while emphasising how important it is for others to stay at home, has gone viral on social media.
Around 90,000 people have viewed their song on various sites, including in America, Australia and South Africa, in addition to the hundreds of thousands of listeners who will have heard it when it was played on BBC Radio 3. The family has also appeared on BBC Look North and been interviewed on a number of radio stations, including BBC Radio York and Stray FM.
Mum Ruth runs RGS's Senior Girls' Choir and dad Dan our Junior Man Choir, while four of their five children have all enjoyed being a part of the RGS family of choirs, in addition to being Ripon Cathedral choristers.
"We are incredibly lucky as a family of seven to be quarantined together, as we make up a whole choir," says Ruth, who confesses she is a big Take That fan.
The family decided to do something creative together after the Ripon Amateur Operatic Society production of Oliver at Harrogate Theatre - which Year 8 student Ned was supposed to be starring in - was cancelled.
"Following months of rehearsals, we found ourselves at home. The week would have been full of dress rehearsals and technical run throughs. We're also missing our weekly choir sessions at RGS. So, we thought we'd make a video together instead," explains Ruth.
Full of admiration for those workers whose job is key to the wellbeing of the country, they adapted the lyrics of the song to spell out the message: 'Doctors, nurses, key workers - you all are heroes to me.'
Ned and RGS Year 10 students Evie and Barnaby (who was behind the camera) all joined in the singing, alongside older brother Archie, who used to sing in the school's Man Choir and Chamber Choir before leaving RGS in 2018 to study maths at the University of Edinburgh.
They were joined by sister Lil, a former music scholarship student at Sedbergh School, who rushed home from her gap year in France just before lockdown and is due to start at Oxford Brookes University in September.
"We wanted those frontline folk to know how much they're appreciated and what we must do to stay safe," explained Ruth. "We offer it too as a thank you to all the teachers and staff still working at RGS, amazing key workers," she said.
The family is overwhelmed by the reaction to their video: "We've had messages of thanks and encouragement from all over the world, including choirs in America, Australia and South Africa.
"A woman running a choir just outside Sydney messaged to say said she would be sharing it with her members and that she would visit Ripon when travel restrictions are limited. A preacher in South Africa messaged and said it was inspiring families to keep going and he was sharing it with his group. A member of The King's Singers - who called us the Von Sladdens! - messaged to say it was great, which was kind."
Ruth felt particularly honoured to have their song played on Radio 3: "It's most unlike Radio 3 to play anything by Take That. And we were broadcast just after Andrea Bocelli sang Nessun Dorma!" She was also delighted that her alma mater, Clare College, tweeted it part of its Music Monday message, featuring the well-known composer and conductor John Rutter.
"We are just thrilled it's been so well received and it goes a little way to thanking the NHS and keyworkers, while also reminding those who can to stay home.
"Those risking their lives to save others are so brave and committed. It's beyond admirable. It's the same with all the key workers, helping people to stay safe and fed - nursing home staff, care givers, posties, delivery personnel, supermarket staff, farmers, and more, the list is enormous. We cannot praise them enough," she said.
"This is a worrying time for everybody, but there are still moments of joy to be found in the wonderful community spirit being shown across the district."
She hopes the video will continue to help lift spirits: "We hope it will make people smile and maybe sing along. Singing is so good for the soul. I would say to look out for the positives, share joyous posts, and be kind in your comments. There is so much to celebrate in the heroism of our NHS and key workers."
See the Sladdens' video here: