Past pupil achieves his round-the-world cycle dream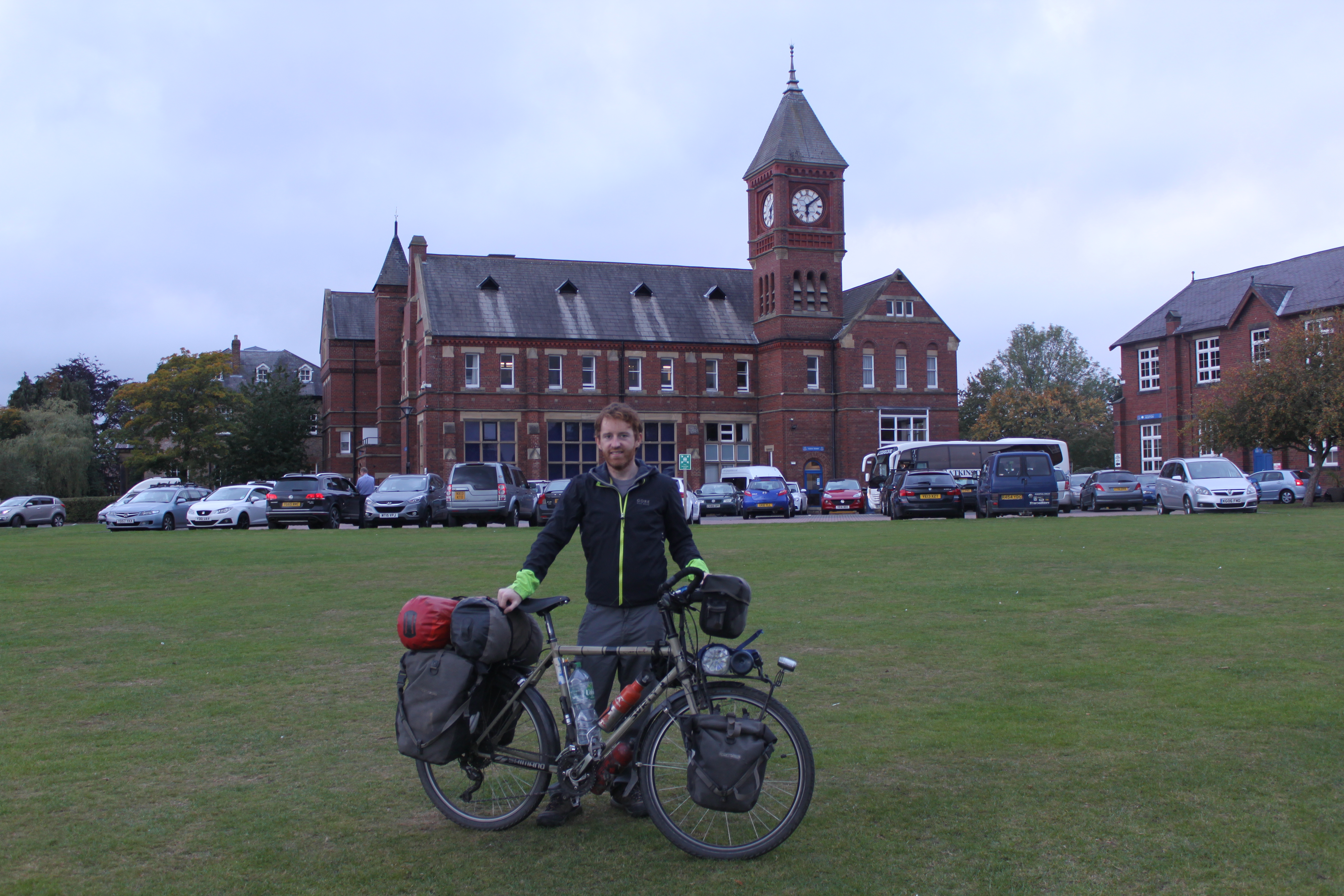 A FORMER Ripon Grammar School student has achieved his dream of circumnavigating the globe by bicycle after arriving back home in Yorkshire, where his epic 17,134-mile journey began 15 months ago.
Iain Johnston successfully completed his monumental challenge when he cycled into his home town of Ripon after pedalling for more than 1,600 hours through 29 countries.
The 30-year-old accountant marked the occasion by stopping off with his bike at his old school, where students, staff and parents have been following his progress.
"It feels surreal that I can now say I have cycled around the world. It has been an incredible journey and I'm sure the trip has changed me as a person," he said.
"My plan is to rest up as the last week of cycling in the wind, rain and cold really took it out of me. I'm sure it'll take a little getting used to not having to get up on a morning get on the bike," added Iain, who spent a remarkable 305 days in the saddle.
Headmaster Jonathan Webb said the whole school was proud of Iain's amazing achievement, an inspiration to students and staff alike: "We've all been following Iain's progress with interest through regular updates in our alumni magazine. It is an incredible accomplishment."
Inspired by celebrated Scottish cyclist Mark Beaumont, who cycled the world in 80 days, Iain even slept in an under-stairs cupboard so that he could rent out his bedroom in order to help fund the £16,000 cost of the trip.
"I took the risk of leaving my job and told anyone who would listen about my trip to make it difficult to pull out," he explained.
Unlike Beaumont, Iain completed the solo trip with no back-up support, camping in secluded spots most nights and carrying all his kit on a bike which he built himself.
Now that he's back home in Yorkshire, where he's about to start a new job later this month, Iain says it feels odd not sleeping in a tent at night: "I'm sure I'll soon get back into the swing of ordinary life again," he says.
Getting up most days at 5am, he cycled an average of 56 miles in temperatures ranging from minus five to 50 degrees Celsius for around six-and-a-half hours each day, surviving on a diet of bread, noodles, beans, pasta and eggs, supplemented by the occasional restaurant meal.
His journey took him through Holland, Germany, the Czech Republic, Slovakia, Hungary, Croatia, Serbia and Bulgaria, where he climbed a challenging and particularly breath-taking 2,500m summit on the Turkish border before descending into Georgia.
Some of the astonishing sights he saw along the way, he says, included Istanbul's Ahmed Mosque and the ancient city of Troy, which he recalled learning about in ancient history classes at school.
From Georgia, he crossed the Caspian Sea, through Azerbaijan, Kazakhstan, Uzbekistan, Kyrgyzstan, into India: "India was one of the hardest countries to cycle through, the roads were in an awful state of repair and the amount of pollution gave me a persistent cough. But I really enjoyed the friendliness and kindness the local people showed me, building me fires to keep me warm and sharing their food."
After spending a few months in South-East Asia, he cycled across Australia, from Perth to Sydney and took a flight to the States.
"I found North America the most difficult part of the trip due to the heat and remoteness of some sections, especially cycling across the Mojave Desert, the hottest desert in the world.
Apart from the heat, I have been faced with daily thunderstorms, hail the size of golf balls, cayotes, altitude sickness, sandstorms and the threat of tornadoes.
"But visiting the Petrified Forest National Park, the Grand Canyon caverns, the starry night skies in the deserts and the friendly Americans I met along the way made all the hardship worthwhile," added Iain, who cycled across Ireland and Wales before returning to England.
"It would be nice if I could inspire a few people to get on their bikes and head off on an adventure themselves," he added.