Rail enthusiasts produce first class work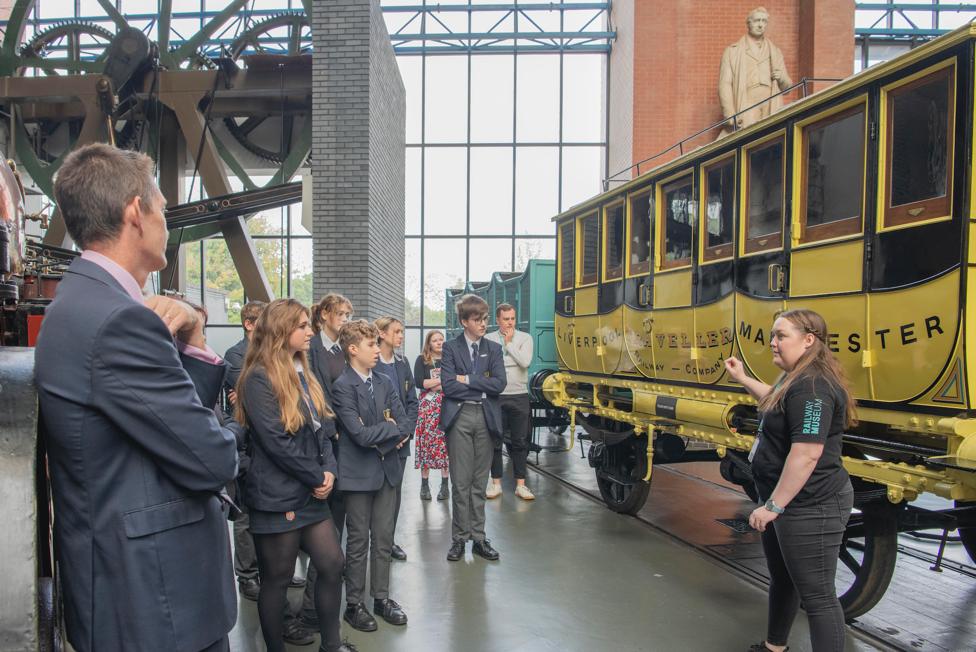 RIPON Grammar School students have been praised for their first-class entries in a rail-themed essay competition created in memory of a former deputy headmaster.
The young railway enthusiasts attended a prize giving ceremony at the National Railway Museum in York, where they discovered more about the unrivalled collection of iconic locomotives on show, as well as the engineering brilliance behind them, during a fascinating personal guided tour.
Philip Benham, chair of the Friends of the National Railway Museum (FNRM), which organises the annual competition, said: "Once again we were greatly impressed by the quality of entries and especially the originality of thought they displayed. Whether a winner or not, we extend our congratulations to all those who took part."
The competition was set up in memory of Michael Wallace MBE, FNRM's late honorary secretary and a former deputy headmaster at Ripon Grammar School, who died in 2018.
After teaching at the school for 34 years, Mr Wallace wanted to leave a legacy to help young people and he set aside £2,500 to be shared over the next five years with the winners of a railway-themed writing competition.
The winner in the senior category (Years 11-13) was Lucy McClean, 17, from Knaresborough. Her essay argues that rail travel should replace domestic aviation in mainland UK. Runners up were Mia Barnett and Ronnie Mann.
Evelyn Semple, 15, from Leyburn, received first prize in the junior category (years 7-10). Her essay explored ghost stories surrounding trains and stations around the world. Runners up were Edie Ash and Sophie Bean.
Both winners received £150 and runners up £50 each, with every contestant in the 1,500-word-plus essay competition awarded a certificate in addition to the guided tour.
Head of sixth form at Ripon Grammar School, Terry Fell, said: "We were absolutely delighted by the sheer range of the essays and the quality of research and obvious enthusiasm that went into them. Everyone thoroughly enjoyed the museum tour and our thanks go to the Friends for setting up the competition."
The aim of the competition is to commemorate Mr Wallace's contribution to education and his enjoyment of railways while encouraging young people's interest in the subject.
Mr Wallace was a life member and active volunteer with the Friends charity and was awarded an MBE in 2011 for his work with the museum.
*First set up in 1977, The Friends of the National Railway Museum is a registered charity, which supports railway heritage and the work of the museum. Significant projects to benefit from the Friends' support include the purchase and restoration of the world's most famous locomotive, no. 60103 Flying Scotsman. For more information about the Friends of the National Railway Museum, visit: www.nrmfriends.org.uk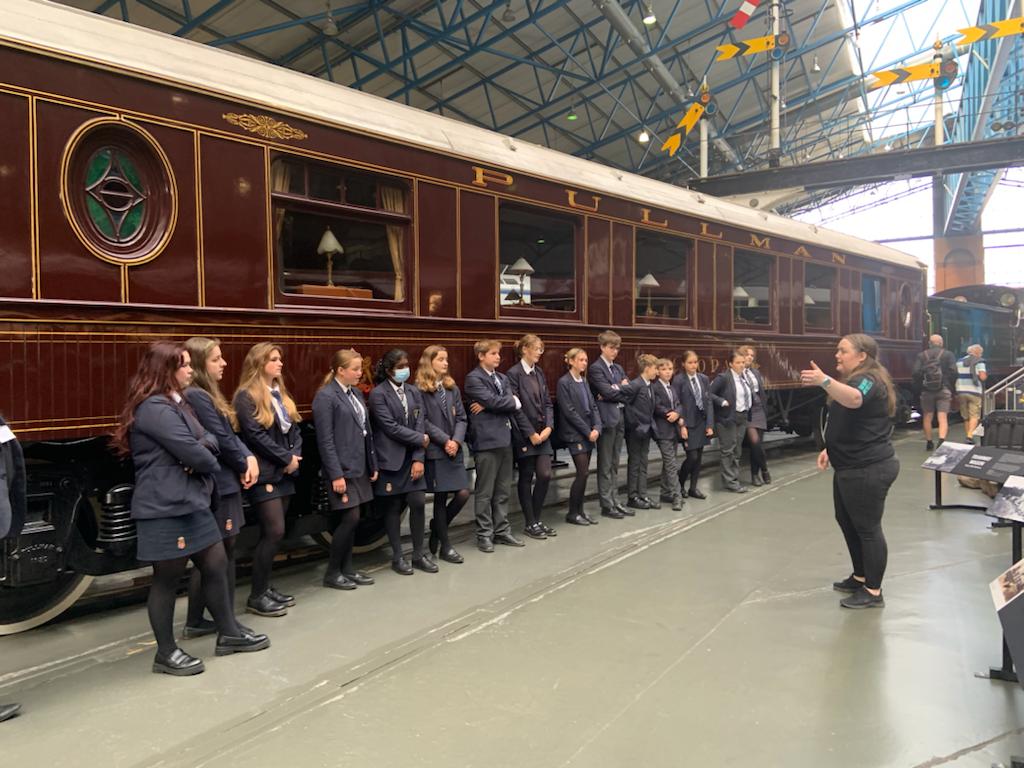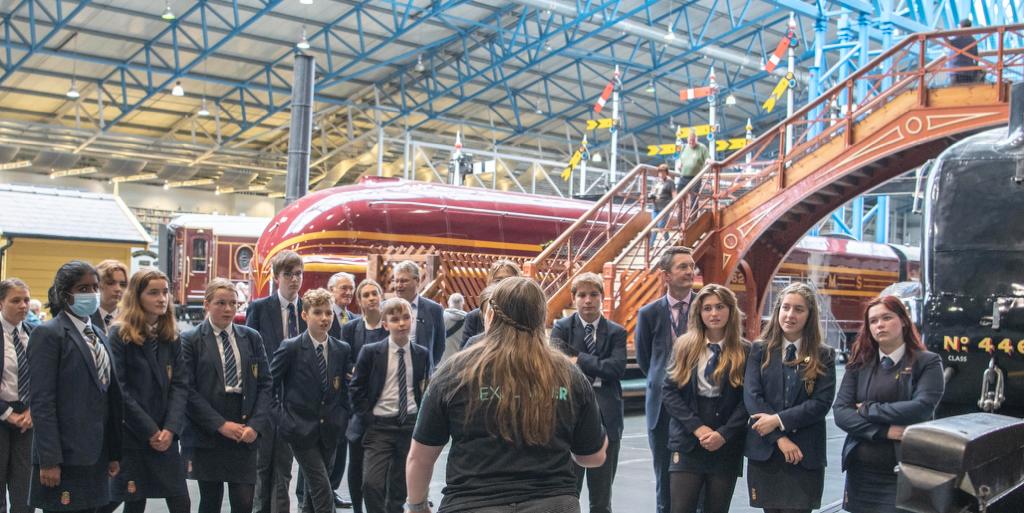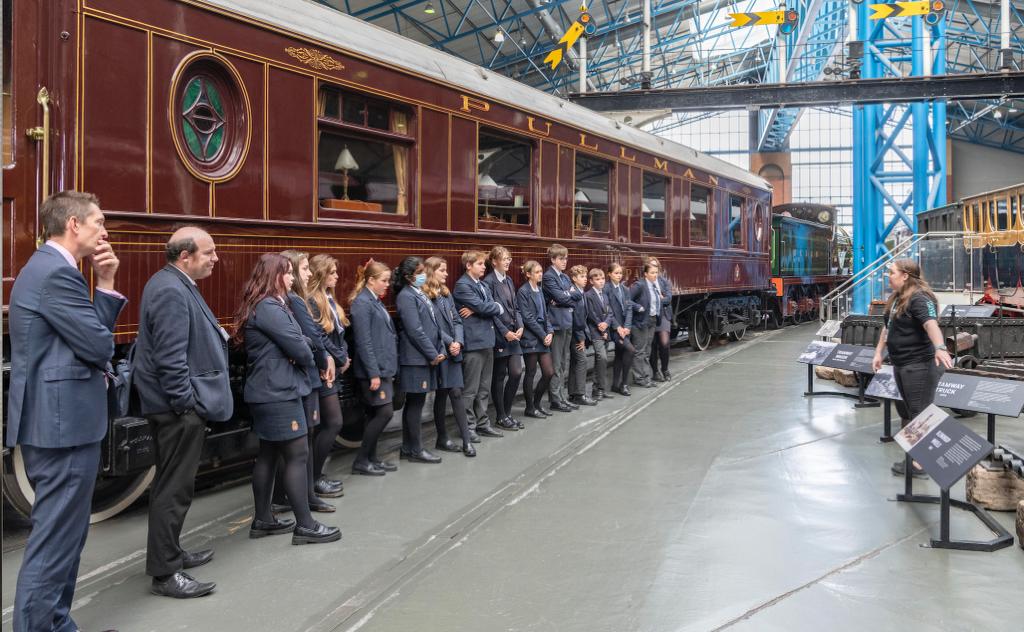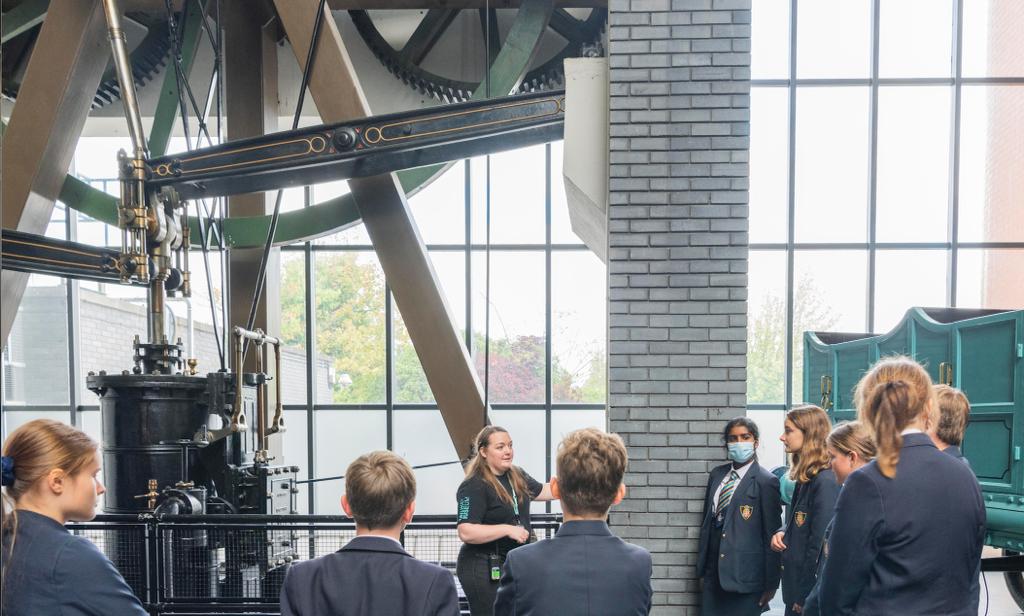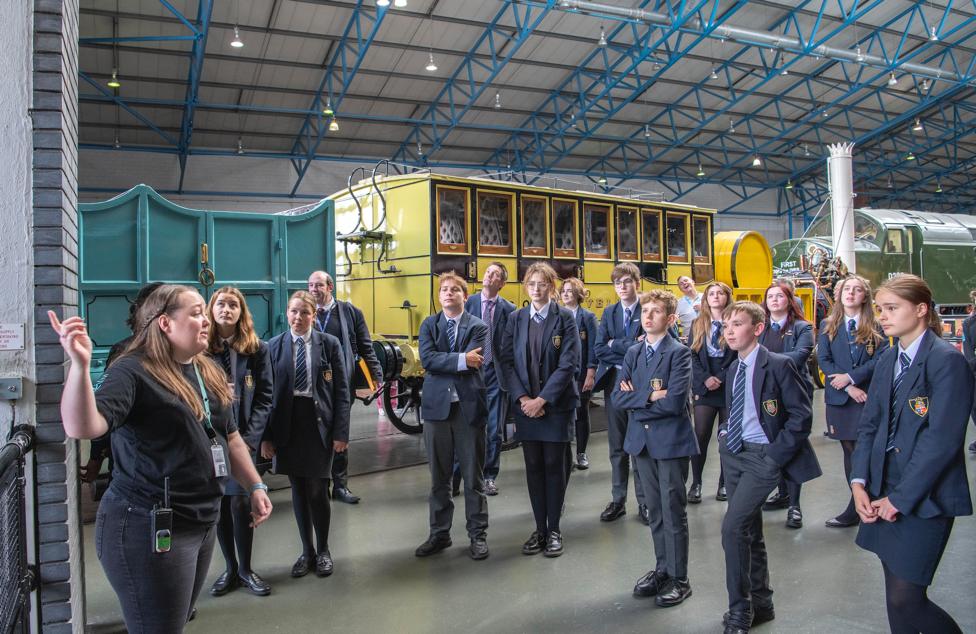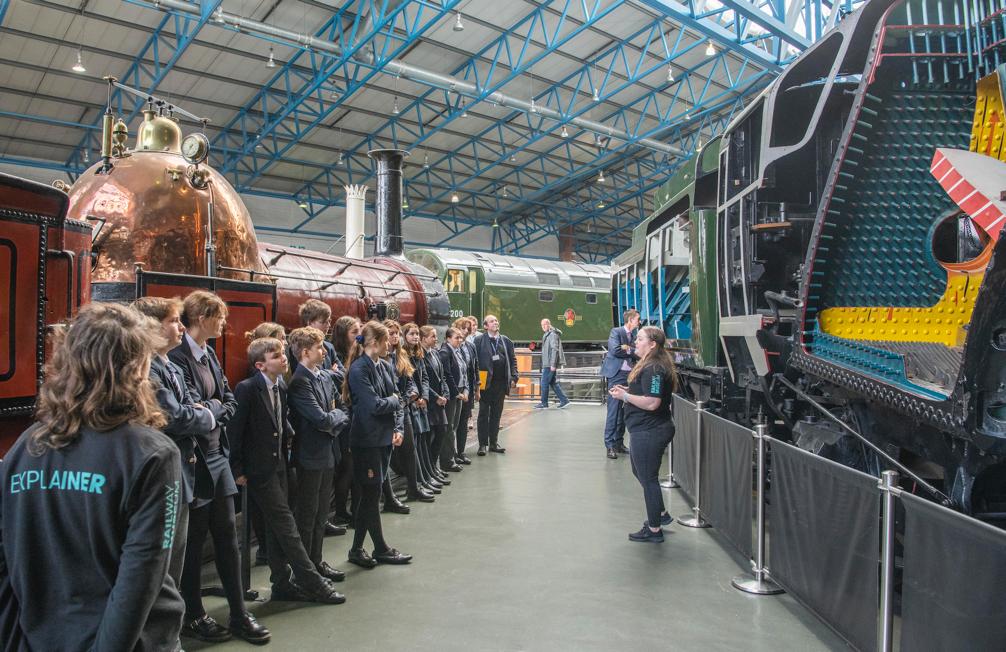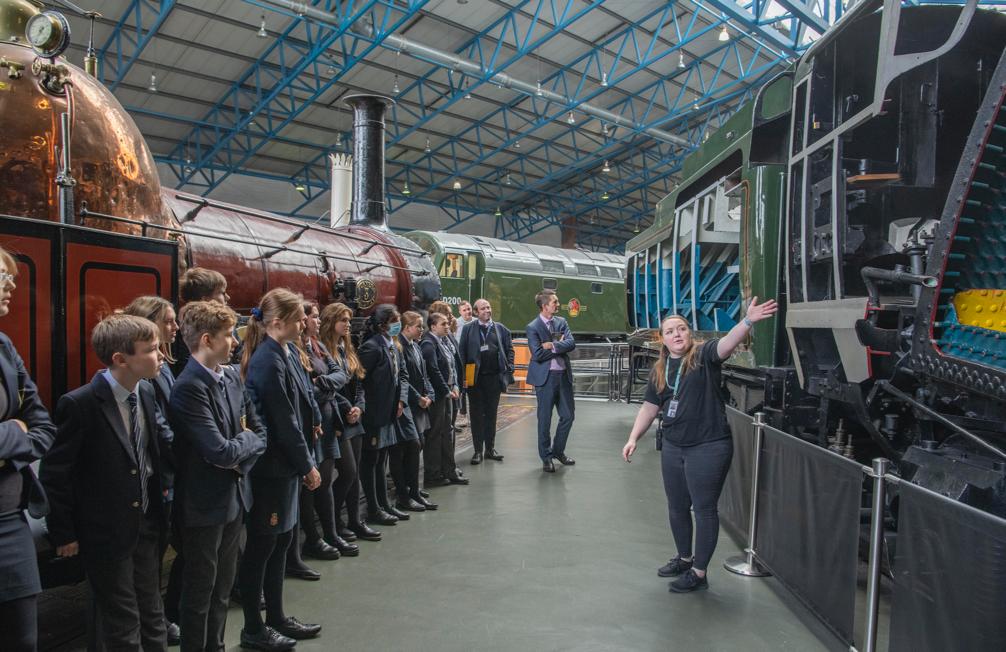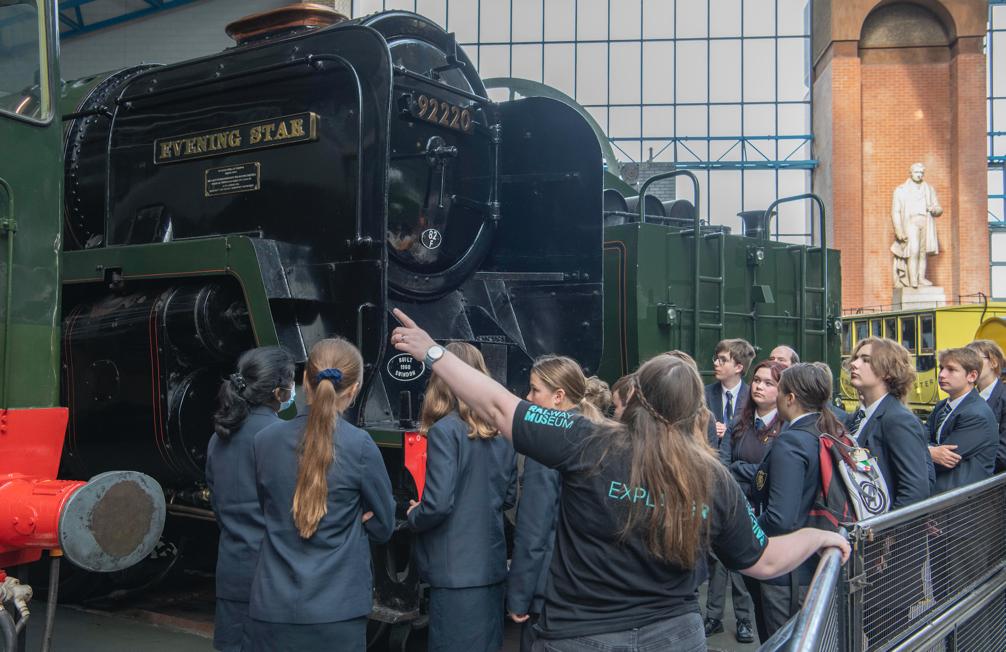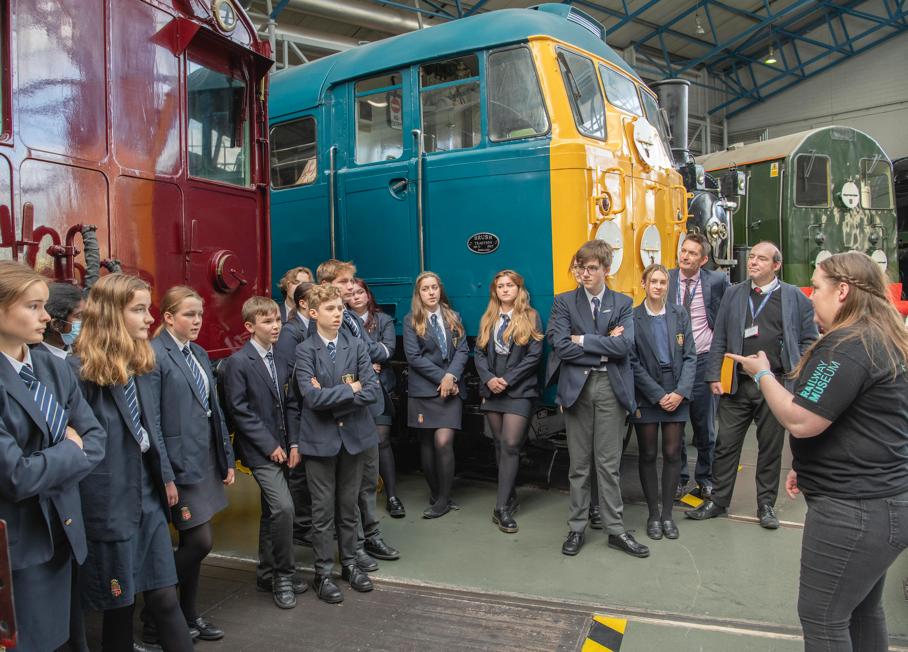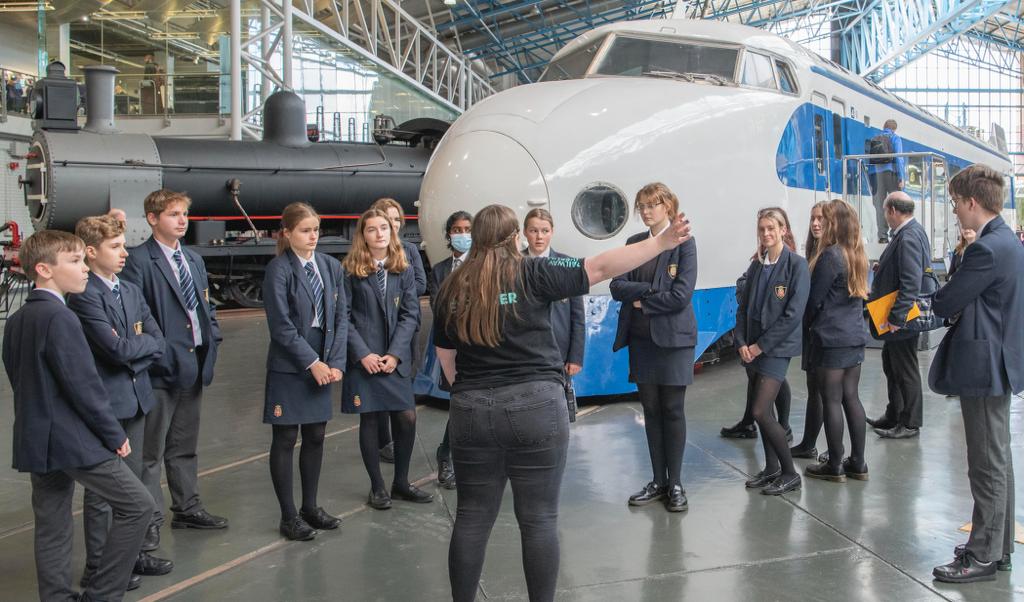 Fright trains
Terror on the tracks? Or stories gone off the rails?
Written by Evelyn Semple
I personally have always been fascinated by the supernatural. Freaky stories, horror films, alleged 'ghost sightings'- I cannot get enough. But- despite being a massive sceptic myself, if I so much as see the phrase 'based on a true story', you can find me hid under a bed with all of the lights turned on genuinely near tears. But- despite this, I am going to look into the ghost stories surrounding several trains and their stations around the world.
When I started looking into trains and the supernatural, I didn't expect much. It was another vague grasp at an essay idea, and I didn't think that my idle google search of 'trains ghosts hauntings supernatural' would actually yield results- let alone the volume that it did. As it happens- train stations and railway tracks seem to be a viable hot-spot for supernatural activity. Following this- I will not be able to include all of my findings, because I cannot exaggerate the sheer volume of alleged ghost sightings in and around trains and their stations. And- whilst all of them are certainly questionable, some are a lot less legitimate sounding than others.
So- on that note, the first sighting! The station is in Begunkodar, in the Puralia district of west Bengal. It was set up by the joint efforts of the queen of Santals, Lachan Kumari, and the Indian Railways to provide villagers with transportation into nearby towns and cities. It was opened in 1960, and was wildly successful. It was well kept, and very frequently used. Reports from villagers state that it was always busy, and actually catching a train was difficult because the station was so overrun with people. Then- suddenly, seven years later in 1967, it was completely abandoned. It turned from a heaving sea of people into a literal (forgive the play on words) ghost town. Now- for this to happen basically overnight is very unusual, so it begs the question- what happened?
We now shift the focus to the station master (He is not named in any records I could find) making his final rounds. He is checking the locks of the station, and while locking the doors notices a woman stood on the tracks outside. She is wearing a white sari, and appears to just be standing on the tracks. This- understandably- gives the station master quite a fright, so he leaves. A first-hand account was published of the events, and there are claims that she matches the description of a woman who died on the train tracks in an accident.
Now- at this point in the story, it could all be blamed on coincidence. A potential trick of the light- an inebriated worker resulting in a drunken vision- even early onset schizophrenia- because nothing has actually happened. There is no physical evidence of anything ghoulish yet.
Well, this is where the trouble begins. The next morning- the station master wasn't at work. First it was assumed that he was just late. But then the whole day passed without a word from him. So, in an effort to make sure that he was okay, some of his co-workers decided to stop by his quarters after work- expecting to find him ill or perhaps hungover. They did not expect to find him, and his entire family laid dead on the floor. Now this in itself is strange, but upon closer police inspection and full autopsies to determine a cause of death, it was discovered that there was no cause of death to be spoken of. Poison, wounds, asphyxiation- all checked for, but none discovered. By all inspection, they had all just stopped breathing simultaneously.
After this occurrence, noises (groans, wails, screams; your typical ghostly plethora of paranormal noises) became very common in and around the station. Creepy occurrences became standard, and because of the inexplicable nature of the situation, and the confusion and fear surrounding the family's deaths, villagers abandoned the station, and it had to be closed.
Whilst this genuinely does seem like supernatural activity, recent events have dictated otherwise. In December of 2017, the new Indian express published an article about a team of nine people who set out to investigate the alleged hauntings. According to the official report, at around 2o'clock in the morning strange voices were heard from the bushes behind the station. Upon closer inspection by the investigators, a group of teenagers were discovered, making weird noises to try to preserve their hangout spot. Years of 'hauntings' blamed on a legacy of antisocial teenagers led to the reopening of the station, but it still goes mostly unused because- whilst the night-time noises can be blamed on a group of antisocial youths, the deaths of the station master and his family still go completely unexplained.
Whether or not this haunting is to be believed is up to personal opinion. Because I am absolutely terrified by the notion of ghosts, and I because cannot rationalise their deaths, I am going to lock it in a box in my mind and never open it.
Now- onto the second haunting. After the first story being a lot more gruesome than I expected, I am going to turn to a slightly less ominous ghost tale for the next. Partially (if not wholly) because I am an absolute wimp who cannot handle another grim ghost story.
For this story, we are situated in Vancouver, Canada for ghosts originating in the 1920s! Located on Burrard Inlet between downtown's historic Gastown and Canada Place; Waterfront train station was opened in 1914. It was the Pacific terminus for the Canada pacific railway's transcontinental passenger trains to Montreal, Quebec and Toronto.
Noted to be one of the best sights for those interested in architecture, waterfront station was built over one hundred and twenty years ago, it is not only still standing, but still functional. Originally constructed (as previously mentioned) to handle transcontinental trains, it has blossomed into a twenty-first century transit hub for sky-trains and sea-buses. Despite its relatively old structure, it has retained all original architectural features, and still contains all original artwork. It has gone from exclusively bringing in people from the east, to transporting commuters from all points of the compass to Vancouver.
Revered by locals for being an excellent link to surrounding cities, it is a widely used train station, and is considered to be the most haunted building in Vancouver.
With the last case- there was only one ghost to worry about, but here there are several supposed sightings. These take place in the modern day, with all of them occurring after the year 2000.
Our first apparition is quite benevolent when contrasted to others discussed- a 1920s flapper girl! This glamorous ghost has been spotted four total times around the station, with all four sightings having a similar playthrough.
So- it's 1:30 in the morning, and the night-time security guard is doing the rounds. They enter the west wing of the building and suddenly hear 1920s music playing from one of the corridors. Upon further inspection, they discover a beautiful, dark-haired woman in a black flapper dress dancing. The security guard approaches her, but upon seeing them she screams and disappears.
Now- if this was just one sighting- by one person- it could easily be written off- an overactive imagination perhaps. But this ghost has been seen on four different dates by four different people all at the same time in the same place! Now- this repeated occurrence could be quite formidable, but the ghost in question seems to be the least troublesome out of the three.
In the building's northwest corner, a more menacing apparition lurks. Now the most any of the waterfront station ghosts do is create a minor inconvenience and perhaps freak out the occasional employee, but this ghost is really creepy. Dubbed 'the woman in white' by all who have seen her, this elderly woman resembled a receptionist who worked in the station in the seventies. Except for one distinguishing feature: she appears to glow. Not just brightly- like a torch, or a candle- but a stark, phosphorous white. Like magnesium when it's set alight! She has been described as so bright it hurts you to look at her head on, but too mesmerising to look away. A decently odd phenomenon to note!
Anyway, this woman can allegedly be heard wailing on rainy nights, and when one of the station's staff went to investigate this and encountered the elusive 'woman in white', she reached out to them, and for the brief moment that they were in contact, the statement of the worker states that he 'felt such an intense pang of sadness' that he retracted his hand, exited swiftly and promptly requested a change to the daylight shift.
Now- despite the emotive nature of the statement provided by the worker, I am still very doubtful about it. Because do you know what else wails when it rains? The wind. Perhaps this 'haunting' is just a symptom of an unquiet mind. But- as always, do not let my personal scepticism bear any weight on your opinions.
The last ghost of waterfront is a rather morbid one, so I would like to issue a warning that this ghost is certainly not for the faint of heart.
So- first to set the scene. This ghost certainly has a flair for pathetic fallacy, only being sighted on rainy nights, and much more commonly in thunderstorms. This ghost roams the territory of the railway tracks north of the building, which- unsurprisingly, is the place of his tragic death.
The cadaver in question was a man named Hub Clark. One rainy night in 1928, Hub was making some repairs in the rail yard. He was employed on a two week contact to complete the necessary maintenance on the north tracks, but- due to the weather conditions, he slipped on the tracks and was knocked unconscious. Then- tragically unluckily, a passenger train (the last of the day), came along and decapitated him. So, on rainy nights, a headless ghost can be seen wandering the place of his demise.
Perhaps he still thinks he is on the job? Or- more morbidly, perhaps he is looking for his head.
Aside from poltergeist like activities, that draws the terrifying tales of Waterfront station to a close.
For my final horror story, I have chosen a slightly different subtype of ghost. Last- but certainly not least, I shall be discussing Macquarie fields station in Australia, which is allegedly haunted by the ghost of a stroppy teenage girl. Finally, a ghost I can relate to!
(Excluding the horrifying blood covered demeanour and screeching ...but we'll get to that)
Macquarie Fields station opened on October 3rd, 1888, with additional tracks added to the station as part of the Glenfield-Ingleburn passing loop in 1995. This unelectrified track was used mainly by long distance freight and passenger trains, but in the December of 2012 was incorporated into the Southern Sydney Freight Line, and as a result of this, subsequently became freight only.
Since the latter half of 2017, Macquarie fields railway station has been serves exclusively by the Airport and East hill line.
Located on the main south line and serving the Sydney suburb of Macquarie fields, it is quite a low-key location and surely should be a relaxed, non-threatening place to be?
Well dear reader, if you are this far through the essay you will have realised by now that is it most definitely not.
As tends to be the status quo with these supposed hauntings, this too begins with a death. The hauntings begin in 1906, after a woman named Emily Gengeson was reportedly ran over and killed by a train, and it was on the night of this tragedy that the hauntings began.
It started with a wailing- faint at first, then it started growing louder and louder, and reports from workers and the sparsely scattered clientele at 11:30 at night state it gradually grew into a scream. A particularly plucky employee decided to investigate the source and discovered a blood-soaked teenager in tears near the tracks. He tried to reach out and help the girl, but his hand apparently 'passed right through her'. Spooky stuff!
Other encounters have listed seeing the same girl sat staring mournfully at the tracks, crying in the women's bathroom, and giving strangers dirty looks as they pass. It pains me to admit it, but I have also done all of these. I have to wonder if she's looking for a companion in haunting. I reckon I could give it a good try.
There is not much more to be said in regards to this ghost, she has never actively harmed anyone, seems to be reasonably dormant, only is spotted at night, and follows the same pattern of dirty looks, general misbehaviour and/or wailing, crying and occasional screaming. Apart from her blood-soaked chest and the fact that she is dead, she sounds like a fairly standard teenager to me.
It is on that note that I will be signing off, both because I think I have stretched the mandatory word count far enough, and don't want to risk droning on, and, I am thoroughly creeped out by all of the things I have learnt. For informative purposes, or just perhaps for further reading if you are interested, I will link the sources below. I can assure you it is an interesting- albeit harrowing rabbit hole of equal parts socioeconomic history of train stations, and what lurks beneath their clean-cut exteriors. I hope I don't leave you in such as state of fear as I am in now, and thank you very much for reading!




We need to get our heads out of the clouds and back on track
Why rail travel should replace domestic aviation in mainland UK
Lucy McClean
L6D
The rail industry and domestic aviation have always battled one another to satisfy customer demand for travel across the United Kingdom. Ever since domestic flights and trains have been able to move customers from one side of the country to the other in a matter of hours, there has always been conflict over which method of transport is better. Surely if one method of transport is superior to another, then this should cause customers always to prefer this mode of travel. Both these industries have survived past the Covid 19 pandemic and the economic turbulence that it brought with it. This is due to the supply and demand for both products being consistent prior to the Covid 19 pandemic. So, why would one method of travel be better than the other? There are three criteria that shall be used to judge and assess the modes of transport: environmental, social and economic. Overall, this essay will review which method of travel has the best long-term and short-term effects for the customers and for the wider community of the United Kingdom.
The first factor to consider is the environmental impact of train travel and domestic aviation travel and assess which mode of transport is evolving and adapting to become more beneficial for the environment, as well as which mode of transport currently is the most environmentally friendly. "Domestic air transport will continue to evolve in response to changes in the political, regulatory, economic, social, physical and technological environment in which it operates. There are three potentially disruptive and/or transformative changes that will affect UK domestic air transport demand: changes to our future trading relationships; HS2 and the development of other competing surface transport modes; and new airline business models and business practices." (The UK domestic air transport system: how and why is it changing? Dr Lucy Budd). This argument suggests that domestic aviation will continue to evolve and adapt to the ever changing environmental and political climate. This idea that domestic flight is greener, making it healthier for the environment can be supported by the percentage of carbon output it emits compared to international flights. As seen in Figure 1 below, domestic flights in 2011 accounted for only 5% of aviation emissions, with the other 95% being accounted for by international flights.
(For charts, see images above)

Figure 1: Graph to show total MtCO2 output of aviation
Source: DECC (2013); 2011 UK greenhouse gas emissions, final figures.
This makes it appear as though if domestic aviation produces a small carbon footprint. However, this still means that domestic flights produced about 1.75 MtCO2 in 2011. This amounts to roughly 4,416 tonnes of carbon dioxide every week, which is the same volume as 1,205,094 large bottles of Coca Cola (How much CO2 do we emit from domestic air travel each week?, leasefetcher ) To put that into perspective, "A single passenger travelling on a domestic flight in Britain, for example, can lead to climate impacts equivalent to 254g of CO2 for every kilometre they travel, according the UK's Department for Business, Energy and Industrial Strategy (BEIS)." (BBC, Jocelyn Timperley). If this output is compared to the output of train for CO2e per passenger per kilometre then trains are considerably more beneficial. From April 2019 to March 2020, 35.1 g CO2e per passenger per kilometre (Rail Emissions, Office of Rail and Road) were emitted, which is a 4.1% decrease from train emissions in 2018-2019 and represents only 13.8% of the carbon dioxide emissions from domestic flights. Therefore, environmentally train travel is currently preferable to domestic flights as the carbon output is far lower overall per passenger and so the use of train travel is currently the best short-term and long-term solution for travel across the United Kingdom. This conclusion can be supported by the estimated emissions of carbon dioxide (MtCO2e) by transport category, UK, 1990 to 2018. These estimates are found in Figure 2 below.
Figure 2: Graph to show percentage output of CO2 per transport method
Source: Final UK greenhouse gas emissions national statistics: 1990 to 2018 BEIS (Table 4) At first glance this graph looks as if it may disagree with this conclusion as aviation and railways appear to have the same estimated emissions of carbon dioxide. However, railways made up 1.4% of the UK's transport C2 emissions in 2018, but in comparison 10% of all passenger kilometres were made using rail, and rail emissions accounted for 0.5% of the UK's total C2 emissions. This is compared to the fact that aviation accounts for 6% of UK carbon dioxide emissions
How much CO2 do we emit from domestic air travel each week?, leasefetcher
). As a result train travel currently is the most environmentally friendly method of national travel as it has the lower carbon output of the two mode of transport per passenger and only accounts for 0.5% of UK carbon dioxide emissions. However, these findings only consider the current environmental impacts of train and domestic aviation travel. For a full understanding of their impacts we must look at how they will evolve and adapt to further reduce their carbon emissions and become carbon neutral. "In 2018 the Department for Transport (DfT) challenged the rail industry to remove all diesel- only trains from the network by 2040. The Scottish Government has set a target to decarbonise domestic passenger rail services by 2035. As rail traction accounts for the largest proportion of rail emissions, to achieve net-zero, diesel traction will need to reduce. The alternatives to diesel passenger trains are battery, electric or hydrogen rolling stock."
Rail Emissions, Office of Rail and Road
). This challenge will allow the entirety of the United Kingdom's rail industry to become carbon neutral by the year 2040. Since this challenge was announced, rail companies up and down the country, both government operated and privately operated, have been working to make this a reality. The quote below highlights the methods being taken by a number of companies within the United Kingdom's rail industry.
Rail Emissions, Office of Rail and Road
). These new adaptations and evolutions of the train industry are all due to come into effect to allow train travel to be carbon neutral by 2040, barring any further complications from further Covid 19, or similar, outbreaks. This is clear evidence that the rail industry is evolving to become more environmentally friendly and eventually have no negative impacts on the environment. However, a very similar scheme has been established for domestic flights. "The Government's Jet Zero consultation discusses plans for domestic flights, such as a target for UK domestic aviation to reach net zero carbon emissions by 2040."
Domestic flights in the UK: where do we fly?, House of Commons Library).

Figure 3: Graph to show possible MtCO2 emissions of domestic aviation
Source: Jet Zero Consultation, A consultation on our strategy or net zero aviation
Figure 3 suggests that if nothing is done to reduce the carbon output of domestic travel, then carbon emissions will rise to higher than current levels, an increase of almost 20 MtCO2. This graph also presents a variety of possible solutions to the issues, which will overall dramatically reduce the carbon emissions of domestic aviation to almost half the original figure. However, this graph proves that by 2040 the net production of carbon dioxide will not be zero MtCO2. Overall, rail travel clearly outperforms domestic aviation travel in terms of the environmental impact, both long-term and short-term. This further supports the argument that national railway should replace domestic plane travel, and thus trains take the lead in the race for national travel.
Another factor to consider is the social impact of rail travel verses domestic aviation. To fully consider the social impact, both convenience and ease must be considered. A customer will almost always choose a mode of travel that is quicker and more convenient. This may be the reason that both rail and domestic plane travel have coexisted for so long, because both modes of transport are more convenient for different purposes. It is impossible to have a train service that connect the islands of the United Kingdom, such as Northern Ireland, The Isle of Man and many of the Scottish islands, to the mainland of the United Kingdom. Such endeavours would require a high cost and a lot of time to build. In this respect, domestic plane travel emerges the victor, as it is the only option available for some routes of travel. The same can be said for rail travel. Airports are not evenly spread throughout the United Kingdom, and often areas of lower economic growth or areas of smaller communities, such as parts of the Scottish Highlands, do not have an airport for domestic flights to travel to, however, most areas do have a train station. This allows trains to connect all of mainland UK in a way that domestic flight could not. Therefore, it is very difficult to fairly compare the two modes of transport in this respect as they both serve different purposes.

Figure 4: Illustration to show domestic flight patterns within the UK in July to September 2021
Source: Civil Aviation Authority
Figure 4 highlights the most popular travel routes for domestic aviation across the United Kingdom. It shows the most popular route as being from Heathrow Airport in London to Edinburgh Airport. This flight takes on average one hour and twenty-five minutes (Flight time from London to Edinburgh, prokerala). However, this fails to consider the average time it takes to travel through security at Heathrow Airport, which is advised to be about three hours (Checking in at Heathrow, Heathrow). This makes the total journey time, on average, four hours and twenty-five minutes, not taking into account any time spent in Edinburgh for bag pick up and travel back into central Edinburgh. For trains the journey from Heathrow Airport to Edinburgh is approximately five hours and twenty-five minutes (train tickets, Rail Europe), making domestic air travel one hours faster. However, realistically a commuter would depart from London Kings Cross train station rather than Heathrow Airport train station. This journey takes approximately four hours and thirty minutes (train tickets, Rail Europe). So, in reality domestic plane travel is only approximately five minutes faster than train travel. This means that domestic flights are slightly advantageous compared to trains in terms of travel time. Therefore, currently plane travel outperforms rail travel in term of timing and so customer convenience, making it better liked and so favoured. However, this may change in the near future with the introduction of the new HS2 line. This new line will connect the mainland of the United Kingdom with a high-speed train travel.
Figure 5: Illustration to show train routes of the HS2 rail Source: HS2 Our Story and Key factsThis graph shows that this new train line will connect the south of England to the North of England and Scotland, including London to Edinburgh. However, there are no new plans to reduce the flight time for the journey from Heathrow to Edinburgh. The new HS2 line will dramatically reduce the journey time from train stations in London, such as Euston, to train stations in Scotland, such as Edinburgh. Therefore, in the future the average journey time for trains will likely be quicker than domestic aviation, meaning that train travel will be the easier mode of transport for convenience and ease, making it more socially acceptable.
Figure 6: Illustration to show usage of trains across the UK Source: Williams' Rail Review, The rail sector in numbersAnother factor to consider in the social usage of the rail versus domestic flight is the purpose of the commute. For the rail sector the most common use is for a commute for work or education, as seen abiogenesis in Figure 6. These journeys can not be completed by domestic aviation as it would be impractical from a timing and cost point of view, but would also be futile due to a lack of available airports. Most domestic flights travel across the country, and so can not perform such small commutes. These journeys can be fulfilled by the rail sector. Therefore, domestic aviation can not be used to replace the most common function that trains are used for, short distance commutes. However the rail sector can not be replaced by domestic flights as this would be impractical and impossible due to a high cost, long journey times and a lack of airports. So overall, in the short-term domestic flights are slightly easier than rail journeys for national travel due to their shorter travel times, but can not be used for short distance commutes. In the long-term new innovations such as HS2 will allow train travel to be easier and more convenient to use. This further supports the argument that domestic aviation should be replaced entirely by national rail travel, as in the near future rail travel will become easier, allowing it to be the socially acceptable way to travel and thus eliminating the need for domestic aviation.
The final factor to consider is the economic impacts of rail travel and domestic flight on the United Kingdom's economy, and reviewing which mode of travel is most beneficial to the economy, especially after the downturn in economic growth since the Covid 19 pandemic. Again, to review and evaluate these methods of transport the short-term and long-term factors affecting the economic benefit shall be examined. One factor to consider is the amount of money that is contributed to the UK economy by each mode of travel. The rail sector could be argued to be the better industry due to their high input into the United Kingdom's economy. "The UK railway sector supported £42.9 billion of economic production (GVA) in 2019" (The economic contribution of UK rail, Oxford Economics). This statistic shows that in 2019 the UK rail sector put £42.9 billion into the United Kingdom economy.
Figure 7: Illustration to show a breakdown of cost and spending within the UK rail sector Source: Williams' Rail Review, The rail sector in numbersFigure 7 above allows a clear illustration of the detailed inputs of the rail sector into the UK economy. It provides a clear breakdown of costs and Government funding. It proves that the amount that the government supplies to the rail sector is overshadowed by the profits put back into the United Kingdom's economy, thus the rail sector provides a stable boost to the United Kingdom's economy, even after the turbulence of the Covid 19 pandemic. This figure is compared to "£22.3 billion contributed directly through the aviation sector (airlines, airports and ground services, aerospace itself)"
UK Aviation Industry Socio-Economic Report, sustainable aviation
). This statistic fails to isolate the money provided to the United Kingdoms economy from domestic flights alone, not including international aviation, and so the true sum contributed by domestic aviation is likely significantly lower than this figure. Therefore, the rail industry provides significantly more for the UK economy in term of financial input. This further reinforces the idea that domestic aviation is futile in terms of national travel, as even as an economic sector it does not outcompete its competitors. Another key factor to consider is the amount of jobs that each mode of transport provides. Number of jobs is a vital figure to review, as this allows the economic prosperity of the individual sector to grow, but it also allows further growth across the entire United Kingdom economy as these employees will spend their wages and boost other sectors of the economy. The rail sector supports 710,000 jobs
The economic contribution of UK rail, Oxford Economist
), making it a large provider of jobs within the United Kingdom. These job types can be categorised as shown in the graph below.
Figure 8: Illustration to show percentage of jobs within the Uk rail sector Source: Williams' Rail Review, The rail sector in numbersFigure 8 above illustrates the wide variety of jobs provided by the rail sector, not just in rolling stock operations and coordination but also in the manufacturing and management of the infrastructure involved. This allows the rail sector to have a wide range of influences within the United Kingdom's economy, and so allows it to be highly beneficial within the economy. Aviation also provides a wide range and number of jobs too, as seen in the following quote :"The aviation sector supports 961,000 jobs in the UK."
Economic Benefits from Air Transport in the UK, Oxford Economics
). This statistic opposes the view that the rail sector is the most beneficial to the United Kingdom's economy, as aviation overall provide more jobs. The distribution of these jobs can be seen in the following quote: "341,000 jobs within the aviation sector itself; 350,000 jobs indirectly supported through the aviation sector's purchase of inputs from UK suppliers; and 269,000 jobs supported through its payment of wages which stimulates consumer spending."
Economic Benefits from Air Transport in the UK, Oxford Economics
). These statistics show the break down of where the jobs lie within the aviation sector. Most jobs reside directly within the aviation sector, with many others being supporting roles. These two figures comparing the total number of jobs provide by each mode of transport are not entirely proportional as the aviation statistic reaches out and far wider to connect jobs to the aviation sector than the rail sector statistic. Figure 8 illustrates the number of jobs in the rail sector and only includes jobs that are directly paid by this industry. However, the domestic aviation figures take into account jobs indirectly affected by domestic aviation, such as "jobs supported through its payment of wages which stimulates consumer spending."
Economic Benefits from Air Transport in the UK, Oxford Economics
). If these figures are removed to make the results more comparable then only 341,000 jobs are directly from the aviation sector, and a further 350,000 from indirect support from the aviation sector's purchase of inputs from UK suppliers. Therefore in reality only 691,000 jobs are created within the aviation sector, allowing the rail sector to maintain a better economic input into the United Kingdom's economy due to the real amount of jobs being 19,000 higher than that of the aviation sector. Overall these figures do not support the continuation of domestic flight within the United Kingdom. Many of these jobs would remain supported if domestic aviation were eliminated as international aviation would continue. Airlines would still fly internationally and airports would still need management and maintenance. Therefore if the rail sector fully replaced the domestic aviation sector within mainland UK, then much of the input into the economy would remain due to job security from international aviation. The rail sector is overall more beneficial to the United Kingdom's economy. Throughout the contributions to the United Kingdom's economy, the rail sector proves to be the most beneficial mode of transport for economic input and job production. While the total number of aviation jobs does outrank that of the rail sector, many of these jobs - and thus economic input - would be kept, even with the loss of the domestic aviation sector. Thus rail travel is more beneficial for the UK economy in the short-term with economic growth and in the long-term with job growth and economic input. It would be feasible to replace the domestic aviation sector within the United Kingdom without any detriment to the economy.
Taking all factors into account, the rail sector proves to be the more resilient and more advantageous mode of transport within the mainland United Kingdom. Environmentally, socially and economically the rail sector outperforms domestic aviation. Therefore across the United Kingdom there should be a move to enact a change and eliminate the usage of domestic aviation, cutting down to one primary mode of national travel. It is vital that this change is implemented soon as in the current climate, post-Covid 19, the domestic aviation sector has not fully reestablished its operations. This is highlighted in Figure 9 below.

Figure 9 Graph to show UK aviation movement form 2008 to 2020
Source: Civil Aviation Authority
Domestic aviation must be prevented from restarting operations. Covid 19 has brutally damaged all sectors of the transport industry and so all sectors, including rail and domestic aviation, are rebuilding. This can be viewed specifically for the domestic aviation industry in Figure 9 above. If the domestic aviation sector is prevented from rebuilding then the country may resort to a single mode of travel: rail. The rail sector has proven to be the more beneficial of the two methods of transport and so should replace domestic aviation and become the primary mode of national travel. This change should be implemented soon to prevent domestic aviation from building back after the Covid 19 pandemic, as if it were allowed to be reconstructed, and subsequently eliminated, this would cause damage to the United Kingdom's economically, environmentally and socially.
Bibliography:
analysis, D., 2022. Data and analysis | Civil Aviation Authority. [online] Caa.co.uk. Available at: [Accessed 8 May 2022].
Assets.hs2.org.uk. 2022. HS2 Our Story and Key Facts. [online] Available at: [Accessed 8 May 2022].
Assets.publishing.service.gov.uk. 2022. Jet Zero Consultation. [online] Available at: [Accessed 8 May 2022].
Assets.publishing.service.gov.uk. 2022. Williams Rail Review. [online] Available at: [Accessed 10 May 2022].
Baker, C., 2022. Domestic flights in the UK: where do we fly?. [online] House of Commons Library. Available at: [Accessed 8 May 2022].
Budd, L., 2022. The UK domestic air transport system: how and why is it changing?. [online] Assets.publishing.service.gov.uk.Availableat: [Accessed 8 May 2022].
Calculator, F., 2022. Flight Time London - Edinburgh | London to Edinburgh (LHR to EDI) Flight Duration. [online] Prokerala.com. Available at: [Accessed 8 May 2022].
Dataportal.orr.gov.uk.2022.RailEmissions2019-20.[online]Availableat: [Accessed 8 May 2022].
Heathrow Airport. 2022. Checking in | Heathrow. [online] Available at: [Accessed 8 May 2022].
Lease Fetcher. 2022. How bad for the environment are domestic flights? We've calculated the emissions for an average week of flights to London and the results are quite shocking.... [online] Available at: [Accessed 8 May 2022].
Oxford Economics. 2022. The economic contribution of UK rail. [online] Available at: [Accessed 10 May 2022].
Parliament. 2022. Impact of the coronavirus pandemic on the aviation sector. [online] Available at: [Accessed 10 May 2022].
Rail Europe. 2022. Heathrow to Edinburgh by train. [online] Available at: [Accessed 8 May 2022].
Sustainableaviation.co.uk. 2022. UK AVIATION INDUSTRY SOCIO-ECONOMIC REPORT. [online] Available at: [Accessed 10 May 2022].
Timperley, J., 2022. Should we give up flying for the sake of the climate?. [online] Bbc.com. Available at: [Accessed 8 May 2022].
2022. DECC (2013); 2011 UK greenhouse gas emissions, final figures.. [Graph]. [Accessed 8 May 2022].