REVIEW: Beauty and the Beast
'A truly awe-inspiring and utterly mesmerising production'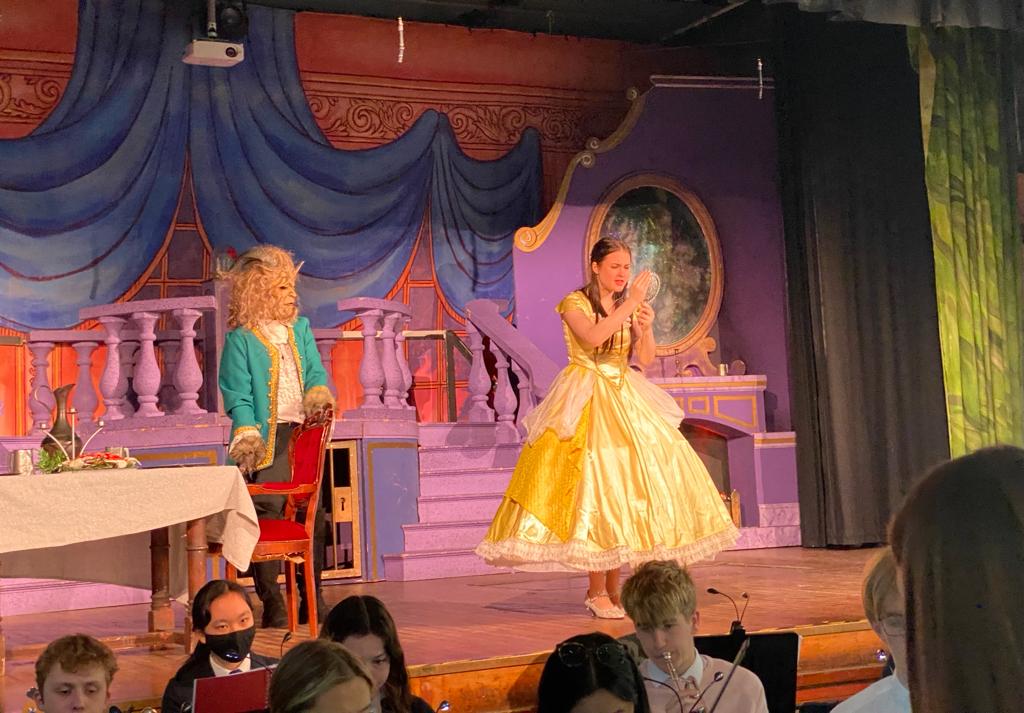 AMBITIOUS Ripon Grammar School students bounced back from the pandemic to present us with a wonderfully sumptuous and spectacular show, guaranteed to lift our spirits.
With a fabulously talented cast of actors, singers and dancers, combined with a magnificent live orchestra and amazing set and costumes, this was a truly awe-inspiring and utterly mesmerising production.
Disney's first stage musical, which has been wowing audiences since it first opened on Broadway in 1994, tells the story of the handsome prince who is transformed into a beast and doomed to stay that way forever unless he can win someone's love.
RGS's fast-moving sold-out show was performed to around 1,000 parents and friends over four action-packed nights, each evening providing a few hours of welcome escapism with tender moments, laughs-aplenty and wonderful songs.
Tehya Sutton and Neive Zenner, utterly enchanting as the tender and brave but feisty and headstrong Belle, displayed amazing vocals, showcasing a huge range of emotions in both their acting and singing to captivate the audience in this iconic role.
Sam Cann as Beast showed great physicality, moving animal-like about the stage as he raged in temper and despair, until his tender side emerged and love replaced anger.
Tristan Paris as Gaston, the village heartthrob who wants to marry Belle, played his swaggeringly arrogant and pompous role to a tee, his rapport with bumbling sidekick Lefou (played by a confidently engaging Sam Stead and Scott Turner) resulting in some brilliantly funny scenarios.
The 24-piece West End-standard student orchestra was magnificent, raising the show to another level altogether, mastering a wide range of musical numbers, from tender and emotional to fun-filled, toe-tapping tunes you want to sing along to.
The glitzy and glamorous song-and-dance ensemble number Be Our Guest was one of the highlights of the show, a riot of colour and music, with slick choreography, stunning costumes and impressive set.
The house-staff-turned-household-objects, full of character and humour, with amazing voices to match, gave the audience lots of laugh-out-loud moments.
Helena McMurray as the suave Lumiere was hilarious – truly lighting up the stage - and made a charismatic double act with Felix Denby as the pompous Cogsworth, as they tried to engineer affection between Belle and the Beast in order to lift the curse they had been living under.
Both Imogen McMurray and Ruby Todd made a perfectly faultless, warm and bubbly Mrs Potts, delivering beautifully tender renditions of the title song.
Izzy Kirby showed her star quality in the role of the flirtatiously funny Babette, dazzling from the moment she appeared on stage, while Eva Scullion as Madame De La Grand Bouche shone as both a singer and actor.
The Silly Girls (Neive Zenner, Tassy Bell, Ruby Todd, Imogen McMurray and Tehya Sutton) had everyone in stitches while the audience warmed to Belle's inventor father Maurice, played with aplomb by Nick Hart.
The loveable and endearingly cute Chip was played by the delightful James McNamara and Bobbi Todd while David Fernandes made an impressive Monsieur D'Arque.
Hats off to the props and stage management team, who worked smoothly and seamlessly to transport the audience from the village to the spooky woods and the Beast's castle without a hitch.
The intensely dramatic scenes in the woods were outstanding, made all the more darkly atmospheric thanks to the orchestra and lighting team's consummate skills.
In these uncertain times, this fabulously uplifting and colourful show, a few hours of pure escapism with a gloriously happy ending, was just what the audience needed.
Thanks to all who helped make the magic happen, particularly director Mr Barker, musical director Mrs Morpeth and choreographer Mrs Levahn.