RGS singers honoured by Ripon Cathedral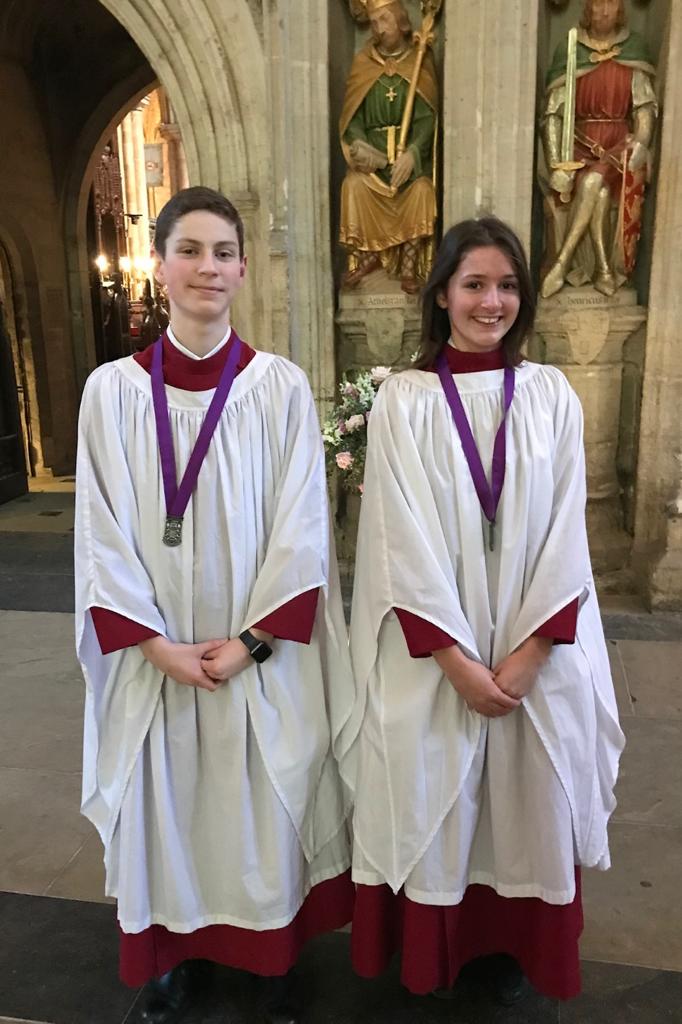 TWO RGS students have been appointed head choristers at Ripon Cathedral.
Ethan Kendrick and Zara Ali, both aged 13, were presented with their prestigious head boy and head girl chorister badges of office, while promising to show leadership and encourage others by example.
Zara, from Littlethorpe, has been singing in the cathedral choir for more than six years and was recently awarded a merit in her Grade 8 singing exam.
"I love the choir and having the opportunity to sing in the magnificent cathedral we have in Ripon because it has opened so many opportunities and has introduced me to some of my best friends who all love music as much as I do."
Ethan, from Ripon, is the longest serving boy chorister and has also been singing in the cathedral for around six years.
A senior chorister for the past 18 months, he said: "I enjoy the social side of the choir as well as the singing. We had an amazing tour in Germany in 2019 and I hope that now we seem to have Covid under control we'll be able to do more choir tours."
The pair were selected by the cathedral's new director of music Dr Ronny Krippner and will be working closely with him.
Zara explained that, as well as helping improve the choir even further, she and Ethan will show leadership to younger students, setting a good example in behaviour and singing.
Ethan added: "We are to be role models to other choristers, helping the younger choristers with robes, music and what to do during rehearsals and services, as well as supporting the director of music."
The teenager, who has already secured a post-school apprenticeship with Harrison & Harrison Organ builders, wants to become a professional organist and work as an organ builder and tuner one day: "That has been my ambition for as long as I can remember," he said.
Having played piano since he was six and taken up organ - lessons a few years ago, he added: "I've been fascinated by the sound and mechanics of pipe organs since I was a young boy as my uncle is an organist."
Along with playing percussion in the school wind band, Ethan - who gained a distinction in Grade 4 organ and a merit in Grade 5 piano, and is now working towards his Grades 5 and 6, - also sings in the chamber and man choirs.
Zara, who plans to apply for choral scholarships at top universities, said: "Although I don't know what I want to study and go into yet, I know for sure I want to continue with my music."
As well as being in the cathedral choir, she plays netball, performs with the RGS wind band and musicality choir, and takes oboe, piano and singing lessons.
Having passed Grade 5 in piano and 4 in oboe, she is now working towards her diploma in singing: "I don't think I would have excelled in my instruments if it wasn't for the cathedral teaching me how to read music and the history and theory behind the incredible sound.
"The staff are all so kind and organise activities and trips for us, we've been able to sing in amazing places such as Cologne Cathedral."
She now plans to investigate the Royal School of Church Music awards, which involve examinations designed to test your knowledge and performance of choral music.
Zara appealed: "If there is anyone aged 7-12 interested in getting involved, experiencing all the choir has to offer and getting paid, visit the Ripon Cathedral website and get in touch.
"You can learn to read music and sing, make new friends, go on tour, sing in breath-taking places, and make precious memories."