RGS staff recommend top books to read in lockdown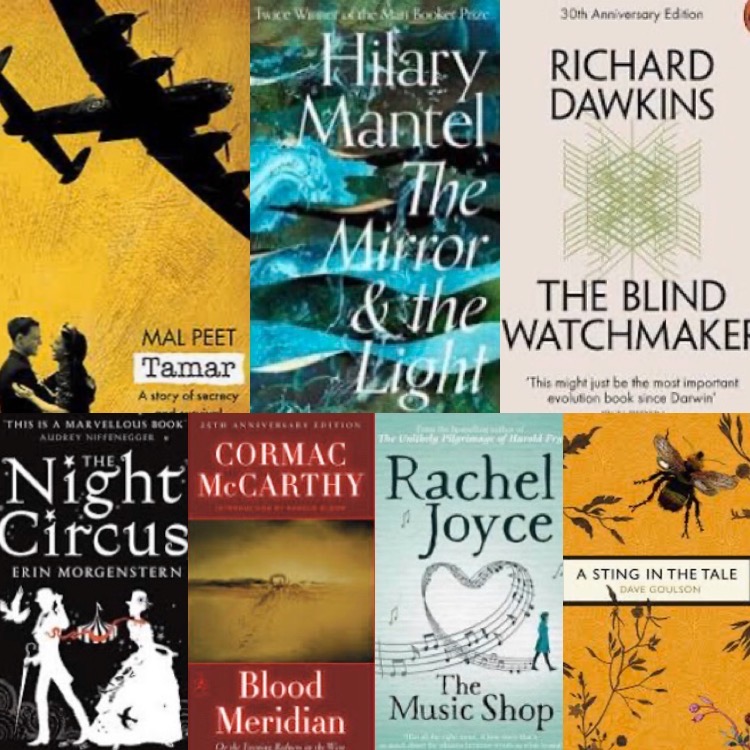 As latest research shows reading books has surged in lockdown, we ask RGS staff for their top recommendations
Physics teacher MIKE BARKER
The Elegant Universe, Superstrings, Hidden Dimensions and the Quest for the Ultimate Theory by Brian Greene (W W Norton). This is like the modern version of A Brief History of Time by Stephen Hawking (also recommended). Reasonably easy to understand for non-specialists but makes you think about the world around you much more deeply.


The Blind Watchmaker by Richard Dawkins (Penguin Books). A much easier read than Darwin's On the Origin of Species. I read this on holiday and found it fascinating. I am not a biologist and did have to look up a few things along the way but couldn't put it down and learnt so much about the natural world around me.
The White Princess by Phillippa Gregory (Simon and Schuster). Just for the fun of it. I love my medieval history, particularly around the Tudor and York period. It is fiction, but loosely based on that time and around the mysteries from that time too.
English teacher HELEN MARS
If you only read one book, read this:
The Mirror and the Light by Hilary Mantel (Macmillan). The last of a trilogy that saw the author win the Booker prize for the first two instalments, this phenomenal work follows the last years of Thomas Cromwell's years of influence on Henry VIII. It's absolutely absorbing.
Librarian SALLY DRING
The Music Shop by Rachel Joyce (Penguin Books). I loved The Unlikely Pilgrimage of Harold Fry by Rachel Joyce and this had a similar lovely feeling of bittersweet yearning. Set in a music shop selling vinyl, with an owner who refuses to give in to the rise of the CD in the Eighties, this is a gentle love story and atestimony to the power of music.
The Seven Deaths of Evelyn Hardcastle by StuartTurton (Raven).I have seen this book described as a cross between Gosford Park and Inception, via Agatha Christie, and that sums it up perfectly. It's amurder mystery in the setting of a party at a country mansion, but the main character time-hops between bodies. It's not an easy read as youhave topay attention, but it's clever and gripping.I absolutely loved it!
The Places I've Cried in Public by Holly Bourne (Usborne). This is a hard read in terms of content. It's a very popular book among young adults and is definitely for age 16 and above. That being said ,it's an excellent book and well deserves all the plaudits it is receiving. It's about toxic teenage relationships and follows teenager Amelie as she descends into a coercive, controlling relationship with a peer. It is raw and honest andconveys an important message.
History teacher ED LONG
The Night Circus by Erin Morgenstern (Doubleday). Makes it into my top five fiction ever, somewhere behind American Gods by Neil Gaiman. A surrealist magical circus focusing on two competing magicians. Reminded me a bit of my second favourite author Haruki Murakami but with a wizardly twist. Hugely appropriate middle of the night reading with a newborn baby!
The Wolf and the Watchman by Niklas Natt och Dag (John Murray). Quite gruesome in parts but a tremendous murder mystery set in eighteenth century Sweden. Many parts woven nicely together by the end.
The Plantagenets by Dan Jones (Random House). One of the best history books I've read, especially as my expertise on later Plantagenet kings is quite limited. Doesn't quite usurp Team of Rivals by D K Goodwin or S S Montegfiore's Young Stalin at the top of the all-time list, but a tremendous read nonetheless.
Biology teacher ARWEN HOSKINS
If you only read one book, read this:
A Sting in the Tale by Dave Goulson (Granta). The author actually established the Bumblebee Conservation Trust and was also my lecturer at university. His book describes the behaviour of our native bumblebees and the reasons for their decline, whilst describing their interactions with the earth and their importance for ecology. Alongside this, he describes his travels around the world to study bees in their native habitats. It is an easy factual read and very funny in parts - definitely a recommended read for any aspiring conservationists and those interested in saving the planet. His description of the fascinating life cycle of a bee gives an intimate insight into these organisms which do so much for us, but are often overlooked in the world around us as we go about our daily routines.
PE teacher ADAM MILNER
If you only read one book, read this:
A Clear Blue Sky by Jonny Bairstow (Harper Collins) This local cricketing superstar talks openly about the influence his late father's suicide on his journey from a young boy growing up in Marton-cum-Grafton who rose through the ranks at Yorkshire County Cricket Club before becoming England's leading wicket keeper batsman and Test centurion. A talented sportsman in his youth, Jonny could have chosen careers in rugby or football with Leeds United, but cricket was always his passion
Headmaster JONATHAN WEBB
A People's Tragedy by Orlando Figes (Vintage) This is a monumental narrative of the Russian Revolution, bristling with so many individual stories caught up in the inexorable march of the proletariat. It's a book that compels you to visit Moscow and St Petersburg.
Blood Meridian by Cormac McCarthy (Random House). I am torn between McCarthy and another modern American author, Philip Roth but will plump for this searing account of the brutality of 19th century life caught up on the borderlands of Mexico and Texas. If you've seen the film No Country for Old Men you get the idea.
21 Lessons for the 21st Century by Yuval Noah Harari (Jonathan Cape). I really enjoyed the expansive pace of this book,which acts like a bluffer's guide to predicting the future. Packed full of assembly topics.
'Broadsword Calling Danny Boy': On Where Eagles Dare by Geoff Dyer (Penguin). For a more light-hearted and shorter lockdown read try this.
PE teacher HELEN MACKENZIE
If you only read one book, read this:
Chris Hoy: My Autobiography (HarperCollins). Chris Hoy is my all-time favourite sportsman. My father was an international cyclist, so I was brought up loving Eddy Merckx, Fausto Coppi and the like. With Chris Hoy there is something just so likeable about him, the effortless way he beats down his opposition, and those massive thighs - his nickname in the cycling world is Quadzilla. He's also gracious in defeat (not that that happened often) and I have always admired modesty in greatness. He interviews really well too (always had a thing for a Scottish accent) and I find him utterly motivational. I studied many biographies and autobiographies for my sports psychology diploma but this was the book that stood out for me. I have a massive signed picture of Sir Chris in my downstairs loo.
English teacher BEN FEARNLEY
Blindness by José Saramago (Caminho). This is a suggestion for adult readers or those in the Year 11 and above. This selection is not recommended for those wanting to get away from the current news cycle about the pandemic, but if you want to see how much worse things could be then Jose Saramago's novel Blindness is definitely worth a read. There are plenty of books out there imagining a dystopian world where social structures have all but vanished: The Roadby Cormac McCarthy is one of the bleakest, while Emily St John Mandel's Station Elevenis perhaps one of the brightest (it tells the story of a travelling theatre company who perform Shakespearean plays to the few survivors of a pandemic that wiped out 99 per cent of the world's population). However, Saramago's book is the one I'm recommending here. It tells the story of what happens when a highly contagious disease causing blindness suddenly sweeps the world. It asks whether a physical blindness might lead to a moral blindness and invites us to consider what we may or may not do if there was nobody to see our actions.
Tamarby Mal Peet (Walker Books). This is a suggestion for readers in Years 7 to 10 (but adults might enjoy it too - I did). Tamartells the story of a group of resistance fighters in Nazi occupied Holland during the Second World War. Mal Peet brilliantly conveys the struggles of those fighting undercover, the fear they had to overcome and the courage they demonstrated. So, it's a war novel, but it's also a love story and one of loyalty and betrayal. The novel is made more interesting by the use of a dual narrative where we follow the events of the war, but also the storyline a young girl named Tamar, who is of one of the descendants of those wartime heroes. Tamar inherits a box from her grandfather containing a series of clues and coded messages that she must use to try and work out the truth behind her grandfather's wartime experiences. As Tamar pieces the different parts of the puzzle together, the wartime strand of the narrative moves towards its brilliant conclusion. This is a great piece of historical fiction that will transport readers to another time and place. It's very readable and at over 400 pages long it will help pass quite a few of those long lockdown hours.
Poetry Podcast by Frank Skinner (Planet Radio). Okay, so this isn't a book recommendation, but it's kind of book related and might lead you towards a whole series of book recommendations from evangelical poetry enthusiast Frank Skinner. Each episode of this relatively new podcast focuses on a different poet, a particular school of poetry, a particular book of poetry or a particular idea that is explored by different poets. Recent episodes have focused on Philip Larkin's The Whitsun Weddings, the Beat poets and the work of Stevie Smith and William Carlos Williams. Early on in the first podcast Frank Skinner makes clear that he is not an authority on poetry and he is frequently at pains to emphasise that he is only seeking to offer his own personal views, but this is part of the appeal of the show and what each podcast lacks in background knowledge and technical analysis is more than made up for by the host's unalloyed enthusiasm. Skinner will read a section of a poem he loves and then release a pent-up groan of admiration and awe at the sheer brilliance of what he's just read. At least twice in the first few episodes he has compared himself to a poetry missionary whose sole aim is to share his love of poetry with his listeners, and the metaphor is apt. True, poetry aficionados might find little that is new in these podcasts, but those who previously have been unlikely to touch poetry with a large bargepole, might just find themselves growing curious. You might not always agree with his interpretations, or indeed with his choice of poems for the show, but like any good stand-up comic, Frank Skinner is able to hold his audience with personal narratives and reflections that we can all share and relate to and I think they make for good listening. I recently ordered a copy of Donna Stonecipher's Model City. She's a poet I've never previously heard of, but I'm eager to find out if she's worth all the praise that Mr Skinner has lavished upon her work.
Receptionist CLAIRE KINREAD
If you only read one book, read this:
Luger by William Kinread (Amazon). I know I am biased, but my top lockdown book has to be my husband William's new (and debut) novel, Luger. It is a thrilling and dramatic story about young lawyer Ian Sutherland who is asked to write a deathbed will and has no idea that the dying man, John Field, had been a Royal Marine sniper in the Second World War.Having shot an SS officer during the Battle of the Bulge, Field removed a Luger, a rare Rolex watch and a wallet from his corpse. His dying wish is that Sutherland returns the watch and the wallet to the SS officer's family.Reluctantly embarking on a journey which firstly takes him to Munich, Sutherland exposes links to Nazi supporting aristocrats at the heart of the British banking establishment and a cover-up of both personal secrets and business impropriety.Falling in love with a German girl along the way, on his return to London, Sutherland is interrogated by Simon Black, head of the German desk at MI6 only to discover that he too has a secret past and a hidden agenda.In the ensuing battle of wits, Sutherland fights to hold on to his integrity even at the risk of his own life.
Enterprise and work experience coordinator BOB WALKER
Rover 75 and MGZT Manual (Haynes) My favourite book at the moment is an instruction manual. I have been taking one of my five cars apart and I've haven't stopped reading it. I've changed the battery and starter motor, given it a full service and replaced the lower engine mount. I like a challenge. Next on my list is a new exhaust for my wife's little MGTF and to replace all the discs and pads.