RGS swimmers among the fastest in England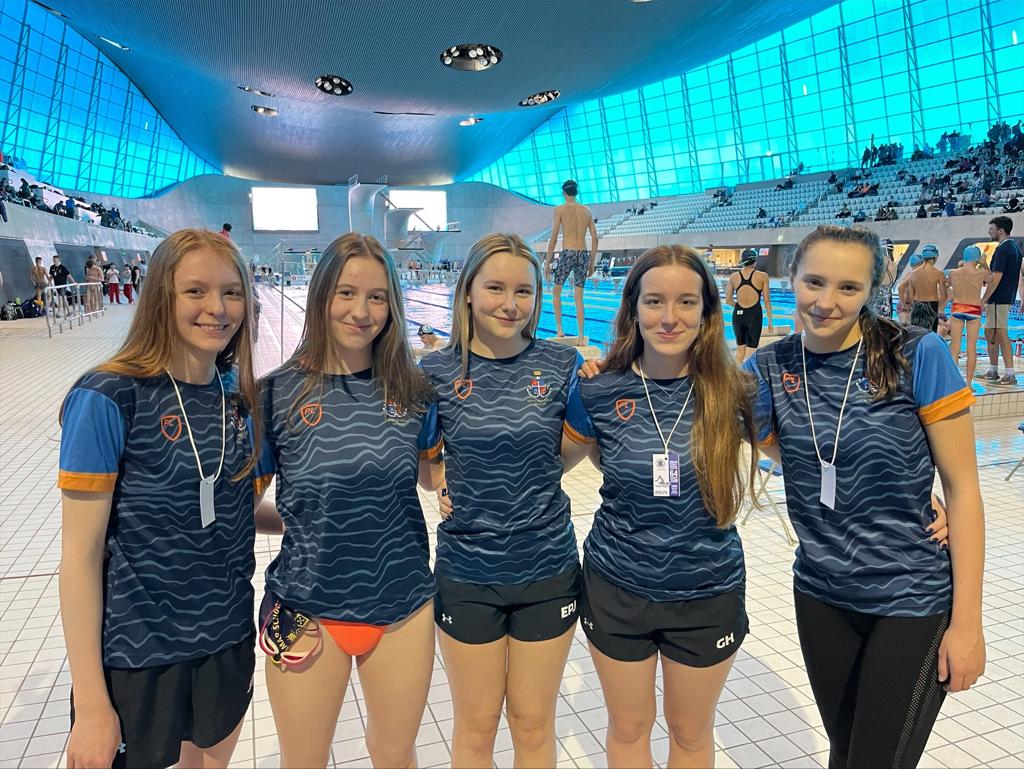 FIVE Ripon Grammar School swimmers took on England's finest school relay teams to emerge second fastest state school in the country at prestigious national championships.
The girls beat off stiff competition from some of the country's top sporting public schools to be placed 8th overall in the medley relay and 17th in freestyle.
A delighted Evie Palmer-Jones, 17, from Ripon, told how the whole team was thrilled with the result.
"Many of the schools we were up against are specialist swimming schools such as Millfield School in Somerset and Mount Kelly in Devon, where the swimmers are scouted and given scholarships to swim for the school in their performance programme."
They were competing at the 64th English Schools Swimming Association championships (ESSAs) at the London Aquatics Centre's Olympic pool.
Evie, along with her dedicated teammates Agatha Scott, Jessica Reilly, Darcy Harper and Georgi Houseman, made up one of the four teams to qualify in the regional heats, held in Durham, joining the top 30 fastest school teams in the country competing in the national finals.
She told how, during a day of action-packed swimming, Jess (backstroke), Evie (breaststroke), Agatha (butterfly) and Georgi (freestyle) put in a heroic effort in the medley relay.
They completed the 200-metre event in an impressive 2minute 8seconds to finish in eighth place.
"It was a thrill to be competing in the Olympic pool in such a challenging competition, up against so many top-quality, highly experienced teams," said Evie.
The medley was followed by Jess first, Darcy second, Evie third and Agatha as anchor in the 200m freestyle relay, completing the event in 1minute 57seconds to come in 17th.
Agatha, 17, from Ripon, added: "The facilities at the London Aquatics Centre are amazing, the 50m pool was great to swim in, and there were underwater cameras which were used in the live stream of the event.
"We loved representing our school and trained very hard for this competition."
Boarding student Darcy, from outside Bedale, who began swimming aged four has now competed in the ESSAs twice.
"It has given me a chance to witness amazing talent and help support and swim with my team," she said.
The 17-year-old, taking English literature, chemistry and maths at A-level, has competed for Bedale, Richmond and Northallerton clubs and has now qualified as a lifeguard and works as a swimming coach.
"My main ambition is to help the next generation of swimmers and I volunteer to teach some local St Wilfrid's primary school pupils to swim. It is honestly the highlight of my week."
Georgi, from Bishop Thornton, started swimming aged five and has competed in the ESSAs championship three times, in addition to competing individually in the English nationals in 2019.
The 17-year-old, who also plays hockey and cricket for school, is taking maths, physics, chemistry and PE at A-level and plans to study chemical engineering at university
Year 12 student Jessica, 16, from Knaresborough, began competitive swimming aged seven and has qualified for the nationals multiple times: "I love being in the water and have a passion for the sport."
The committed Harrogate District swimmer trains for 16 hours a week, made up of four early morning and two or three evening sessions.
Year 13 student Evie started swimming when she was nine years old and competes for Tadcaster. She trains four to six times a week, often involving 4.30am starts, and helps coach the RGS swimming team.
Taking psychology, biology and chemistry at A-level, plans to study psychology at university: "I have always loved being in the water and look forward to having more time to train and compete at university."
Agatha began swimming competitively aged nine and trains six times a week, often getting up at 4.15am to train for two hours before school.
A qualified swimming coach, she plans to study psychology at university, where she will keep up her swimming and continue to compete at the nationals.
The Year 13 student, who swims with Harrogate District and qualified for Swim England's national winter championships for the last two years running, achieved two personal best times of 27.6s and 29.9s in London.
"The schools we were competing against were very good - most of them private schools with multiple pools and team coaches so I think it's great we managed to come eighth, and it was fantastic to see all our hard work pay off," she said.