SCHOOL TRIPS: Fun on the Italian slopes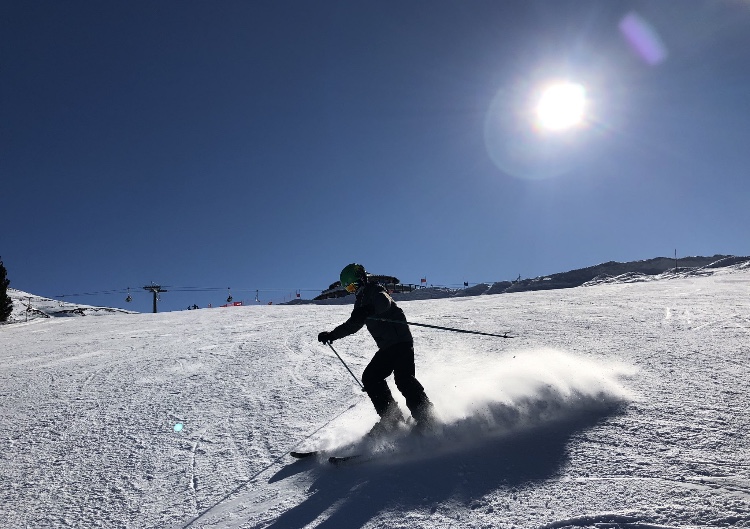 First-time skier ABI SMITH tells how she was completing black runs by the end of her week in Italy. The fourth former now wants to go back to do it all again with her family
THE school ski trip to Italy is an amazing opportunity. No matter what skiing ability you have, there will be a group for you. I was a first-time skier with a couple of indoor lessons, but with the help of my great ski instructor I completed three black runs by the end of the week. My instructor, Gio, was funny but a great teacher at the same time. We went to three different places to ski in the week. Each was completely different, we got to experience different types of runs and different types of snow whether it was icy, powdery, compact or loose. I had such a great time, that I am now hoping to to go with my family and would recommend this trip to absolutely anyone.
Fourth former LAURA ECCLES, who returned with many happy memories, would recommend the ski trip to others
WE set off on our 27-hour journey from school, with everyone excited about what was to come. We were not disappointed. When we got off the ferry from Dover, we drove through the night towards Italy, stopping for breakfast in Germany. After a few more stops we finally arrived in Italy, and everybody's excitement was replaced with pure exhaustion, so after dinner we went straight to sleep ready for the next morning.
The hotel was nice and in the perfect place in town. Everybody liked their dorms and we were never bored, with lots to do each night. On the first night we went to the swimming pools, including an amazing outdoor pool, which was one of the best things we did. We also went snow biking later in the week, which everyone loved and will always remember. The week, sadly, went very fast and I think everyone already wishes we were back there skiing and having a laugh. I would recommend this trip to younger students as it was such good fun.