SPORT: Fencing star Joel is making his mark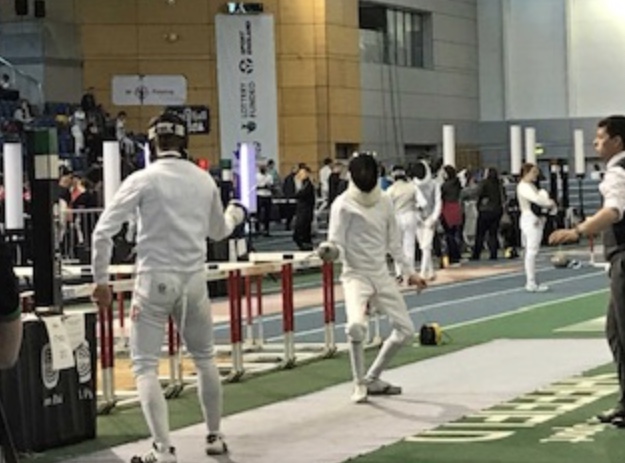 Joel, right, pictured at the British Youth Championships
BOARDING student Joel Wilson is a rising star in one of the most tactical and technical sports around – fencing.
Although relatively new to the sport, the 14-year-old Ripon Grammar School pupil had the honour of representing North-East England in the British Youth Fencing Championships in Sheffield in May.
Competition was stiff, with Joel - who trains with a top-level coach based at Durham University - winning two and losing three matches at the English Institute of Sport arena before being knocked out in the direct elimination phase.
He will next be competing in the Youth Series competition, aimed at fencers throughout the North of England, when it comes to Darlington.
The fourth former, from Gainford, County Durham, first took up epee sword fencing in 2016 when he joined Street Swords, in Darlington. He now trains with Laszlo Jakab, based at Durham University's Graham Sports Centre, which he attends twice a week for group and individual coaching.
Laszlo, who has coached Olympic gold and silver medal winners and a number of national teams, is currently the lead coach for GB's wheelchair fencing athletes but also coaches fencers of all ages and levels.
Joel said he discovered fencing when looking for something to do after school: "I quickly found that it was definitely the sport for me. I've met new people through fencing and would recommend it to anyone who has an open mind.
"Representing the North-East was a big deal, and fencing higher tier people was an informative experience to say the least," he added. "The competition was great fun, and definitely worth the trip.
"I am happy with my place, and the fact that I have gained valuable experience but I aspire to be placed higher next year. I hope to continue fencing when I leave school. I don't want to be the best, but I do want to be the best that I can be."
One of only five sports to have been represented in every modern Olympic games and often referred to as a sporty version of chess, fencing is as much a mental game as a physical one.
Joel fences with the epee sword, the heaviest of the three modern fencing weapons and the only one in which the entire body, rather than the area just above the waist, is the valid target area.