Students get a head start on their careers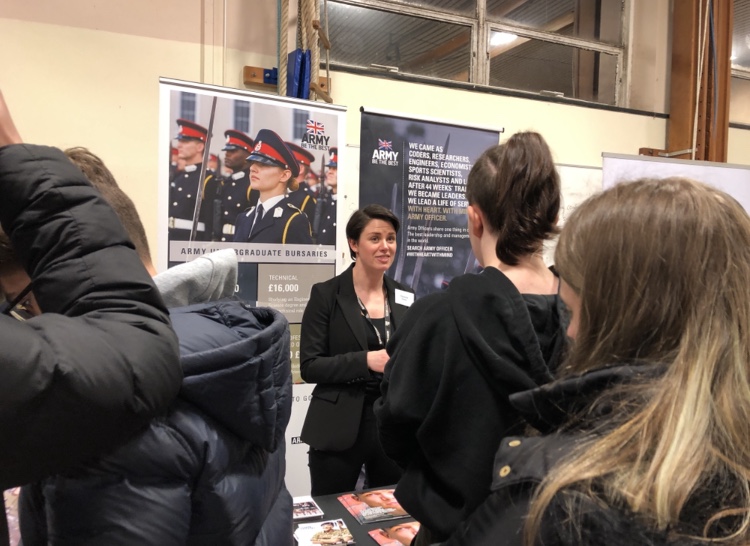 More than 50 exhibitors from the world of work and education showcased a wide range of opportunities at our increasingly popular careers fair. Sixth former EMILY KOSCIK-JONES picked up some top tips from those offering advice and information
STUDENTS got a head start on planning their futures at a school careers and higher education fair which showcased the vast array of opportunities available.
More than 50 exhibitors, including law and engineering firms, public relations and design companies, accountants, banks and luxury hotels, gave Ripon Grammar School pupils a taste of some of the choices they have on leaving school.
The principal message from employers was that work experience and being able to perform well in a team is key, with many urging students to explore the variety of career paths open to them, including apprenticeships and workplace-funded degrees.
Universities and colleges from all over the UK, gap year advisors, the police and Armed Forces were also represented at the event, which attracted more than 460 students and parents.
Past pupil Toby Kinread, now an account manager for the Swedish bank Handelbanken, told students that getting work experience with prospective employers was vital: "I did a summer internship. Most investment and private banks recruit from those who get placements with them. It will also give you a taste of the job."
Toby, who left RGS in 2013 to study international relations at the University of St Andrews, also emphasised that it doesn't matter which degree students choose: "Banks are keen on variety and want to know more about your interests. Do you watch the Bloomberg channel and read the Financial Times, for example?"
Nichola Coleman of Lancaster University agreed, advising students to study what they enjoy and have a true interest in, in order to get the most out of their time at university.
Another top tip came from Army recruiter Elizabeth Taylor, who told pupils that the Army, which offers a range of opportunities – including sponsored degrees - in everything from engineering to medicine, was looking for 'personality', as well as physical and intellectual potential in recruits.
Sixth form boarding student Dipraj Jimee, 17, who plans to take a degree in computer science, said he found the event particularly useful: "I discovered a lot more about work experience and apprenticeships, as well as bursary schemes in the Army."
Dipraj, 17, from Surrey, who is studying maths, chemistry and history at A-level, added: "It's made me think about possibly doing something a bit different."
Another sixth form boarder, Toby Antcliff, 17, from Kirby Moorside, who wants to work in design engineering, said he found out much more about the wide range of options in his field, including work experience opportunities.
"It's been really helpful. I've spoken to some of the universities offering product design and also some graphic design companies. It's great to be more aware of what's out there."
Simon Armitage, a tax manager with Saffery Champness chartered accountants, was one of many employers advising students of the importance of demonstrating strong personal qualities.
"You have to be able to show that you can work as part of a team and manage your time so that you can cope with day-to-day work, studying for a professional qualification and having a life outside that," he said.
He added that the leap from school or university into the world of work could be difficult: "Any kind of work experience, whether in a café, bar or an office, anything which shows you can cope with the discipline of work, will be beneficial."
And he told students to consider the benefits of school leaver programmes: "In accountancy or tax your career can progress ahead of those who go straight to university."
Student Abi Burke agreed: "I think it is really helpful to be able to explore career paths other than university, so I can make an informed decision about which route is most suitable for me."
Hattie Eve, 18, a boarder from Helmsley studying geography, biology and PE who plans to take a gap year before university, summed up the event: "It has opened my eyes to lots of different opportunities. I got lots of good advice."
Jill Locke, head of careers at Ripon Grammar School, added: "I am delighted to have so many universities, colleges and businesses here who are able to offer such excellent advice, as well as fantastic work experience opportunities, for students of all ages across the school.

Past pupil Toby Kinread of the Swedish bank Handelbanken talks to students

TOP TIPS FROM OUR CAREERS AND HIGHER EDUCATION EVENING EXHIBITORS INCLUDED:
*Tom Moss, a finance graduate working for Cummins engineering, said he got the job through a work placement: "Work experience is generally one of the best ways in," he said, adding that languages were useful when working for a global company with opportunities for travel.
*Simon Brown of Definition PR and communications agency in Harrogate said they were looking for people with good communication skills and an inquisitive nature: "You have to be able to get under the skin of the client. Work experience and demonstrating a good work ethos is important," he said.
*Joe Wilkinson, partner in Addleshaw Goddard law firm said: "We are looking for people who are rounded individuals, bright and dynamic, looking to succeed, and who are also commercially aware.
"We're also emphasising the different pathways into law. University is not the only way and you don't have to have law degree. It's useful to have done work experience in an office environment, and that demonstrate you have some leadership skills."
*Samantha Fearnley and Bethany Stubbs from the soon-to-be-opened five-star Grantley Hall hotel and spa came to offer a more unconventional path of apprenticeships and employment from school. They commented on the "valuable training and experience that comes with going straight into the workplace whilst also being paid".
*Mark Nichols of Barclays bank - which offers university degree programmes, post graduate apprenticeships and jobs in everything from accountancy to management and computer programming - said that Barclays valued those who offered a "will to learn" over a list of qualifications.
*Universities from all over the UK, including Falmouth, Nottingham, Manchester and Durham were on hand to offer advice including emphasising how important a unique and informative personal statement is in ensuring students will stand out from other applicants. Helen Jamison of Durham University said of the university experience: "It gives you three years to develop, transform and change as a person, while building motivation and potential to gain as many qualifications as possible to make you the most suitable applicant for any job."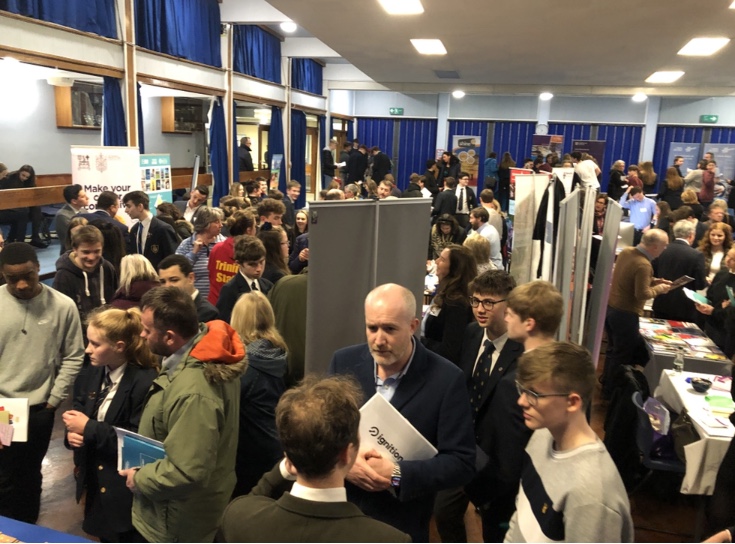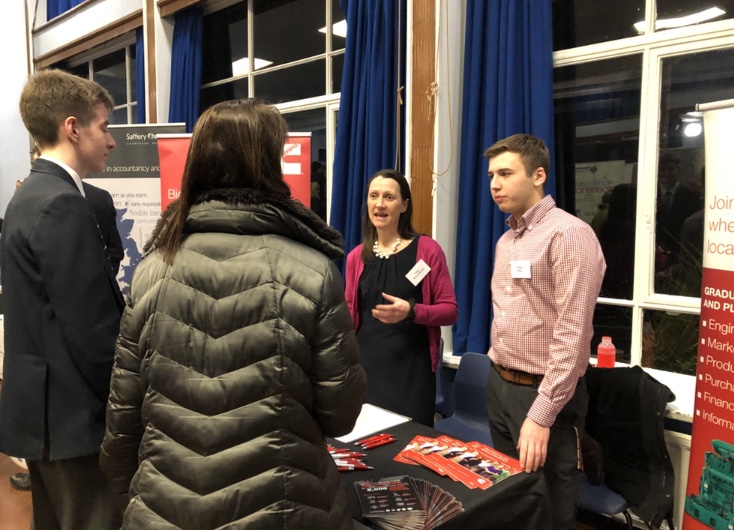 Cummins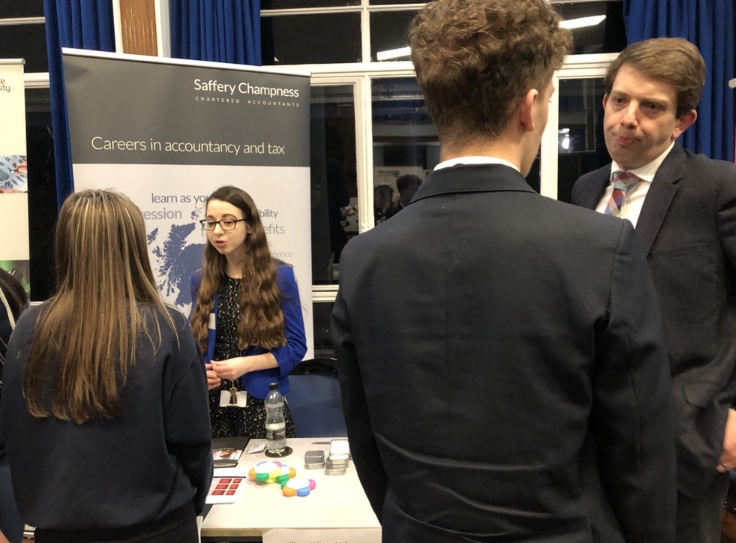 Saffery Champness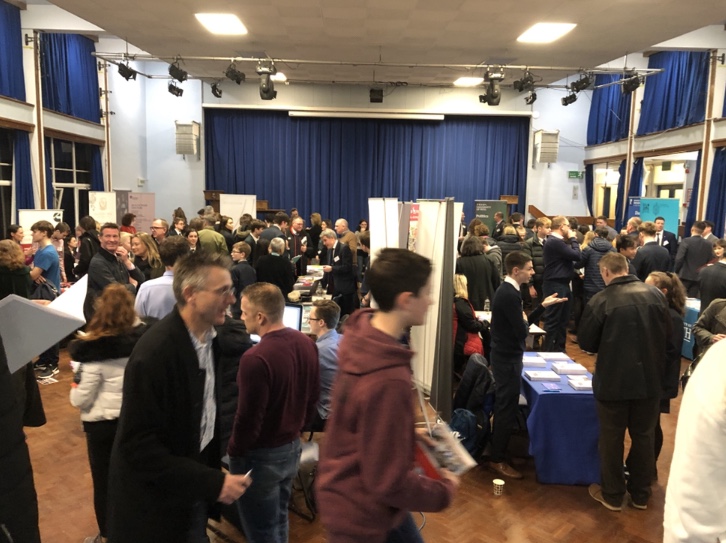 RAF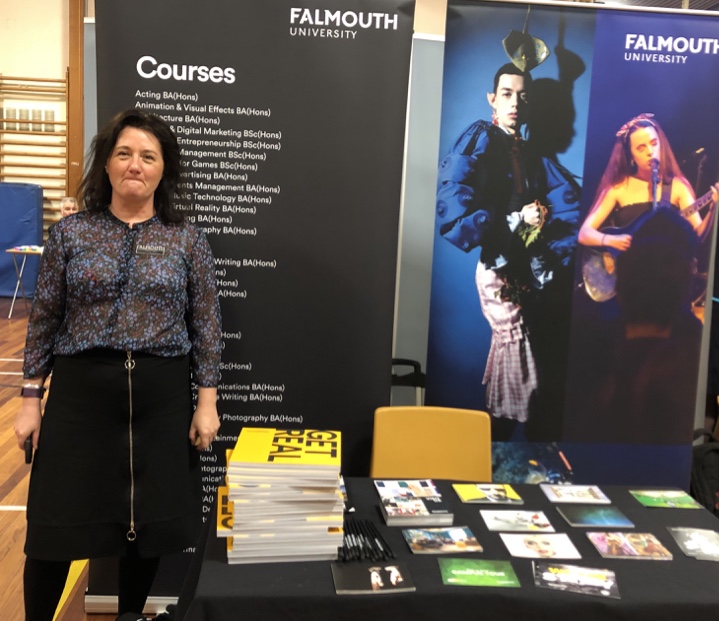 Exhibitors from Falmouth University travelled more than 400 miles to attend the event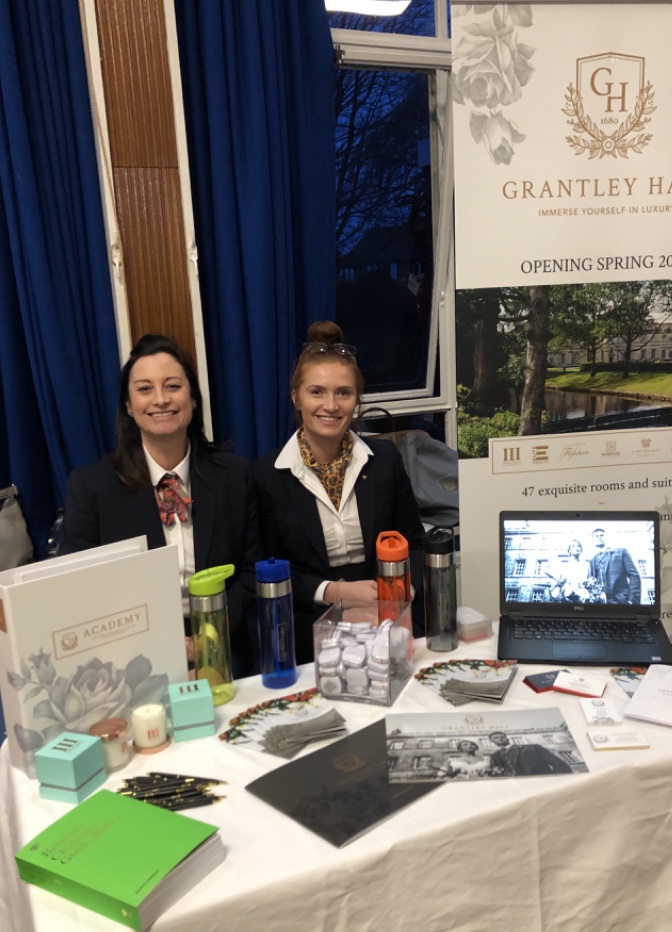 Grantley Hall