Students honoured for excelling in sport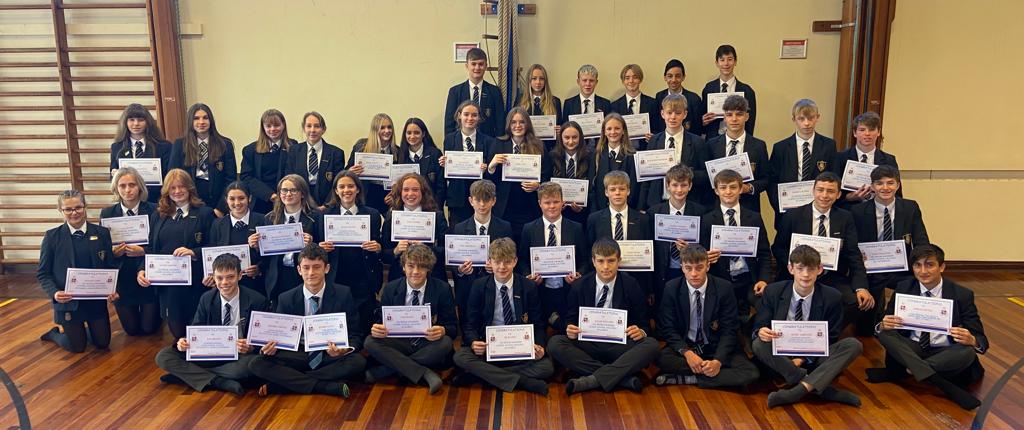 DEDICATED sporting students honoured at Ripon Grammar School's annual Colours awards ceremony have been praised for excelling in their various fields during a difficult period for sport.
Colours were awarded to more than 50 talented lower school students, in activities ranging from games to gymnastics, athletics, swimming and equestrianism.
Angel Cook and Kieran Mitra (pictured below) won particular praise as the students who have improved most in physical education over their three lower school years.
Kieran, 14, from outside Ripon, explained how he struggled in games to begin with but managed to overcome his problems as he learned to enjoy his sports more: "I have played quite a lot of sport since joining RGS and I have enjoyed tennis and football a lot. I have been playing a lot of football at both school lunch practice and out of school as well."
Pride of the school are Edith Scott and George Curtis (pictured below), the most outstanding performers over the same period.
Talented dancer Edith, whose ambition is to become a choreographer or run a dance studio, represents her school in netball, swimming, rounders and athletics, and also enjoys hockey and gymnastics.
"I love competitive sport at RGS, it's fun," says the 14-year-old, from Ripon, who juggles her studies with around 15 hours a week dance and gymnastics training.
George represents school in cross-country, swimming and rugby, has represented Yorkshire in triathlon at national championships and will also compete nationally in cross-country this year. The 14-year-old, from Ripon, who wants to become a sports physiotherapist, dedicates ten hours every week to his training
Director of sport Mr Milner congratulated all the prize-winners: "In current times, it's been great to celebrate and award lower school colours to Y9 students. The PE department is very proud of all these students and ask that they wear their new pin badges with pride."
The full list of award winners appears below:
CONGRATULATIONS TO THE FOLLOWING YEAR NINE STUDENTS ON BEING AWARDED THEIR LOWER SCHOOL COLOURS
MOST IMPROVED STUDENTS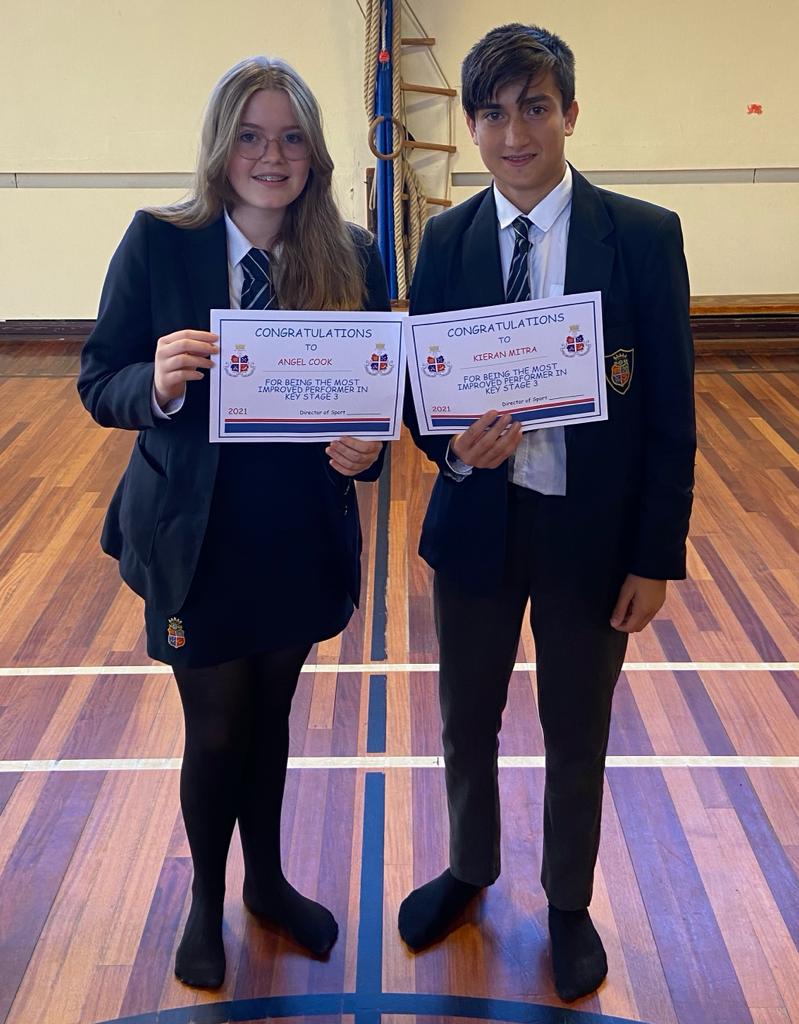 ANGEL COOK
KIERAN MITRA
OUTSTANDING PERFORMERS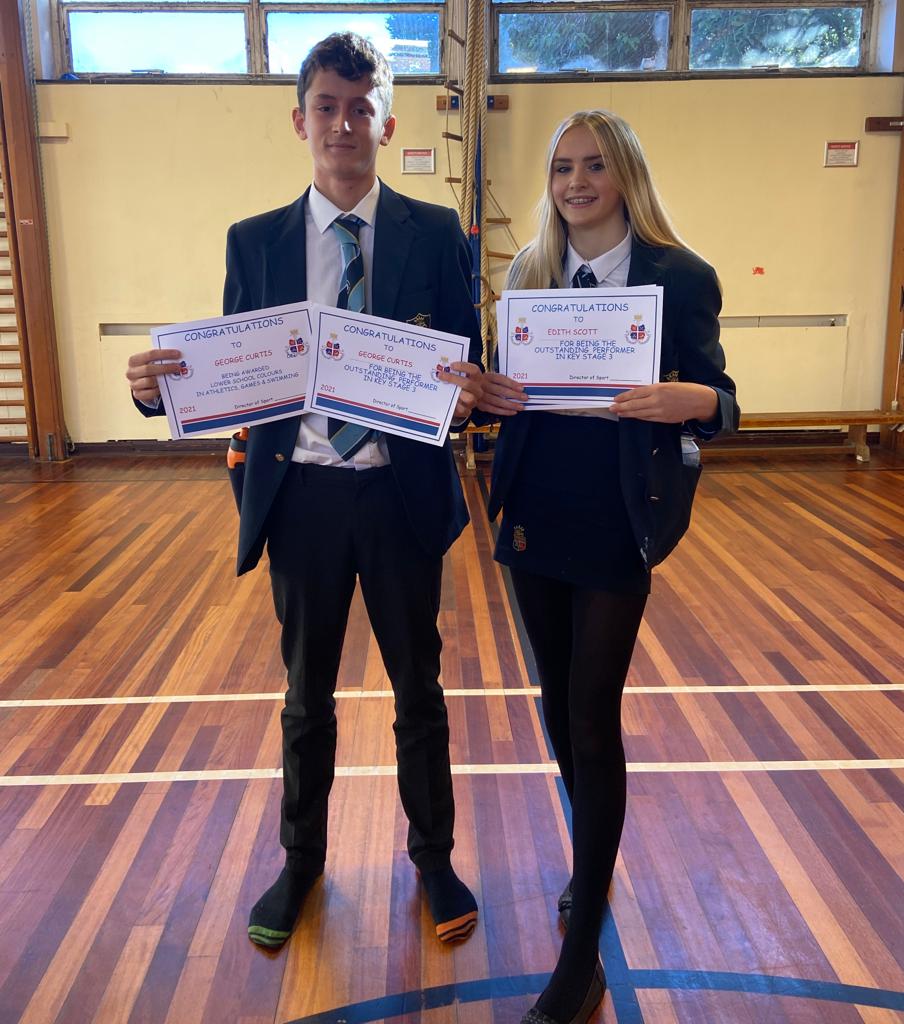 EDITH SCOTT
GEORGE CURTIS
GAMES
IZZY BAILEY~GOUGH
HOLLY BARTON
JOSH BELL~WALKER
JACK BLACK
TOBY BURNETT~GRAHAM
PHOEBE BURTON
TOBY CARLING
EDIE COOPER
TOBY CROSSLEY
TOM ELLERKER
ESME FLETCHER
ELLA~GRACE FOSTER `
OWEN FRANCIQUE
JACK HICKMAN
RUPERT HUGHES
BILLY KENNY
OLIVER KITSON
FELIX LEES
HANNAH MELHUISH
CHARLES PETERS
ALEXANDER PICKERING
OLLY POLLOCK
OWEN ROBINSON
CHARLES RYDER
DULCIE SAY
EASHAN TURNBULL
ISABELLE WHITEHEAD
OSCAR WOLLOMS
DANIK ZGUNS
VLADIK ZGUNS
ATHLETICS
ELIZABETH BORDEWICH
NIA PEEDELL
JAMES POLLINGTON
EQUESTRIANISM
CASSIE HOLLIDAY
GYMNASTICS
GRACE DARBYSHIRE
OLIVIA KEILLOH
ISABELLA PARK
BOBBIE PULMAN
LAYNA ROSS
SWIMMING
ISLA DAVIDSON
MEABH O'COFAIGH
CALUM THWAITES
JAKE THWAITES
ATHLETICS AND GAMES
HENRY SIMPSON
EQUESTRIANISM AND GAMES
IMOGEN WHITE
GAMES AND GYMNASTICS
MAISIE LAMB
GAMES AND SWIMMING
WILL LEAR
ATHLETICS, GAMES AND SWIMMING
DAN BROWN
GEORGE CURTIS
ELIZA POLITO
ATHLETICS, GAMES, GYMNASTICS AND SWIMMING
EDITH SCOTT
CONGRATULATIONS TO YOU ALL, FROM THE PE DEPARTMENT
Students attaining colours are expected to:
Have been regularly involved with a team over a two year period.
Represent the team and school with pride and distinction.
Prove to be committed.
Be enthusiastic and keen to learn.
Be reliable and dependable.
Display sportsmanship, not gamesmanship.
Participate regularly in Physical Education lessons.
Adhere to the ethic of fair play.
Be a role model for others.
Show ultimate respect for the umpire, referee and opponent.
Attend regular training sessions.