Students learn how to save a life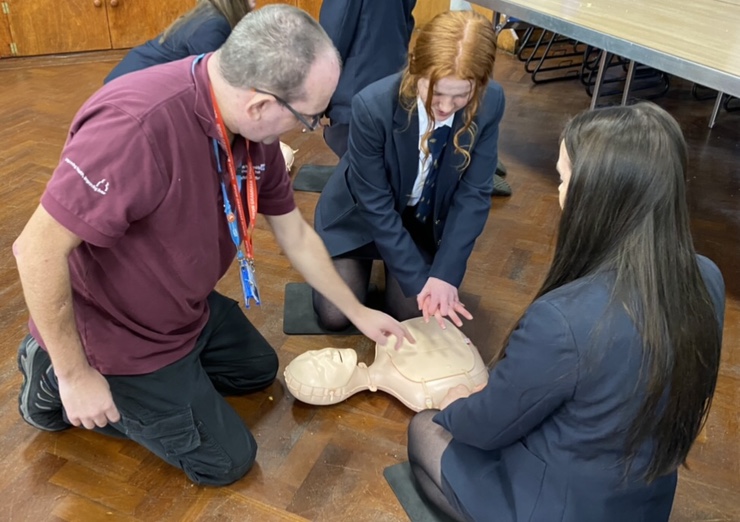 MORE than 150 Ripon Grammar School students have been taught vital skills which could help save lives.
The school's sixth formers joined around 30,000 students throughout Yorkshire receiving cardiopulmonary resuscitation (CPR) training as part of Restart a Heart Day.
Deputy head of sixth form Lee Lyons, who helped co-ordinate the event at RGS, thanked Yorkshire Ambulance Service staff and volunteers from the NHS and police services for running the training sessions, adding: "It's been a wonderful opportunity for students to learn a valuable life-saving skill. They have gained the knowledge and confidence they need to help them cope in an emergency."
RGS is one of 109 schools in the county to join in this year's Restart a Heart one-day event, now in its eighth year, which aims to improve the low numbers of people surviving out-of-hospital cardiac arrests.
Jason Carlyon, community engagement manager with YAS, said: "In the UK, only ten per cent of people who suffer a cardiac arrest outside hospital survive, partly because they don't receive early CPT and defibrillation."
In countries like Norway, where CPR is taught in schools, one in four people survive. To date, the Yorkshire Ambulance Service has taught the vital life-saving skills to 151,531 schoolchildren at more than 80 per cent of Yorkshire's secondary schools, with the aim of improving these figures.
A cardiac arrest patient's chance of survival dramatically increases if CPR can begin before the ambulance service arrives. Chances of survival drop ten per cent a minute if CPR is not started when someone has an arrest.
Mr Carlyon added: "With only one in three people in England saying they would be willing to perform CPR if they witnessed a cardiac arrest, it's important we give people the confidence and skills to save someone's life in this medical emergency. More patients will survive if more people know what do to before an ambulance arrives."
As the annual Restart a Heart initiative, piloted by the YAS, is now marked all over the world, one recent survey by the Resuscitation Council (UK) and St John Ambulance shows that people in Yorkshire are more likely to perform CPR on a stranger than anywhere else in the country.