Students learn vital life-saving skills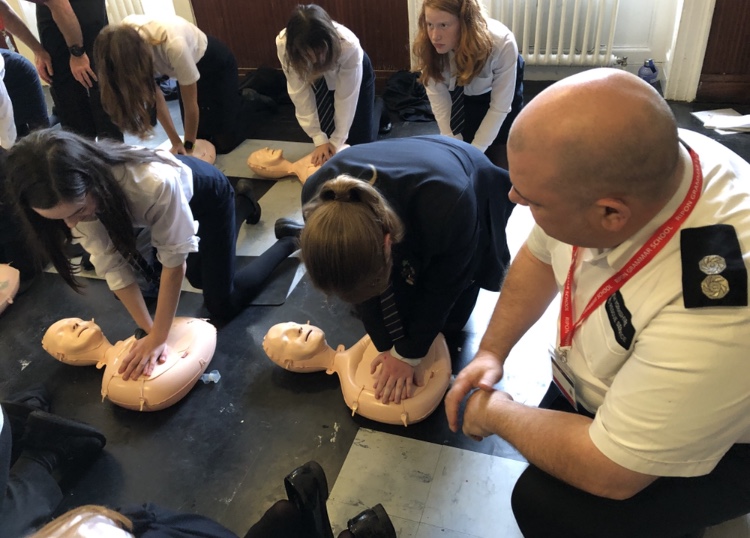 MORE than 250 Ripon Grammar School students have been taught valuable life-saving skills.
Pupils from Years 7 and 8 joined around 40,000 students throughout Yorkshire to receive cardiopulmonary resuscitation (CPR) training on Restart a Heart Day.
Design technology teacher Rebecca Stevenson, who co-ordinated the event at RGS, thanked the Yorkshire Ambulance and Fire and Rescue services for running the training sessions, adding: "It's been a fantastic opportunity for all our first and second year students to learn a valuable life-saving skill. They are now much more knowledgeable and confident in relation to emergency situations."
RGS is one of a record-breaking number of 165 schools in the county to join in the sixth annual Restart a Heart Day programme. Led by the Resuscitation Council (UK) in partnership with The British Heart Foundation, British Red Cross, St John Ambulance, and Yorkshire Ambulance Service, the one-day event aims to improve the low numbers of people surviving out-of-hospital cardiac arrests.
Currently in the UK, fewer than one in ten people survive a cardiac arrest. In countries like Norway, where CPR is taught in schools, one in four people survive. To date, the Yorkshire Ambulance Service has taught the vital life-saving skills to more than 105,000 schoolchildren with the aim of improving these figures.
Yorkshire Ambulance Service community resuscitation manager Jason Carlyon said: "We are overwhelmed with the response to this year's campaign which continues to go from strength to strength.
"What happens in the first few moments of a cardiac arrest is critical and we would encourage members of the public to perform CPR and retrieve the nearest defibrillator to give that patient the best possible chance of survival. The worst thing anyone can do is nothing."
As the annual Restart a Heart initiative, piloted by the YAS, is now marked all over the world, one recent survey by the Resuscitation Council (UK) and St John Ambulance shows that people in Yorkshire are more likely to perform CPR on a stranger than anywhere else in the country.
Andy Lockey, vice president of the Resuscitation Council (UK) and Restart a Heart Day lead said: "Training is the biggest factor in the likelihood of intervention - validating the need for as many people as possible to learn the simple skills needed to save a life. Cardiac arrest can happen to anyone, at any time. In an emergency, CPR can't wait."