Students urge us all to recycle old pens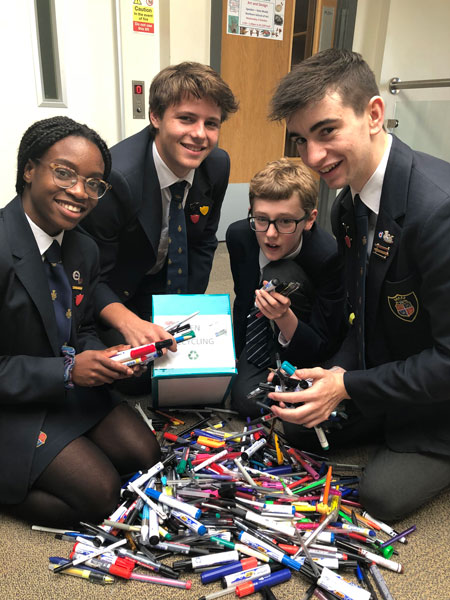 STUDENTS at Ripon Grammar School are on a mission to help reduce waste by collecting used pens which would otherwise end up in landfill.
Keen environmentalists on the school's student council have teamed up with a recycling company to ensure their old writing instruments, including markers and highlighters, will be turned into other useful products such as folders, pencil cases, shopping bags and notepads.
Head boy Thomas Mewes says he is concerned about the amount of plastic waste building up in our oceans: "There are about 1,000 people in school using pens, which are something we don't think about chucking in the bin, every day. If all of us just do a little it can add up to a lot."
Head girl Sola Sowole agrees: "We want to play our part in helping reduce the amount of waste that ends up in landfill all over the world."
Having inspired fellow pupils to sign up to the scheme, run by BIC pens and Terracycle, the students are now encouraging other schools and businesses to join them.
"As well as having recycling bins in school, we are keen to encourage others to put them on display throughout the city and wider area, so that everyone can join in," says Sola.
RGS science technician Dr Karen Piggott has already gathered 1.5 kilograms of pens from classrooms in her department this month: "It doesn't take a lot of effort to put them in a recycle box. If everybody did it, it would make a big difference."
As a BIC Community Champion, RGS will be the central collection point for the area and will earn one penny for every item handed in.
Money raised will be used for further eco-friendly projects at the school, which has already won an Eco Schools Silver Award for its commitment to improving the environment.
*Pens can also be donated to Stuff 4 Offices stationery store in Ripon. If you would like to join the Ripon Grammar School collection scheme, please contact 01765 602647.
For more information, visit: www.terracycle.co.uk
Picture caption: Members of the school council with some of the used pens they will be recycling. (L-R) Sola Sowole, Fin Procter, Milo Smith and Thomas Mewes.