Talented RGS students prove their star quality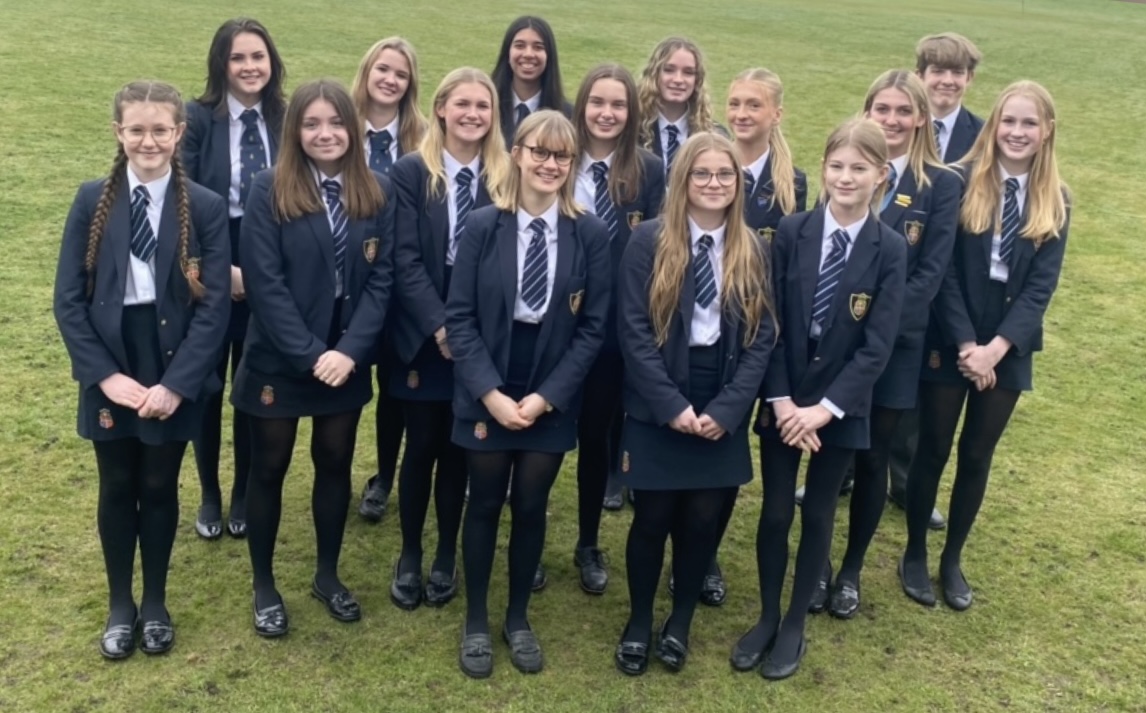 TALENTED Ripon Grammar School pupils proved their star quality when they swept the boards at a major drama festival as well as excelling in national exams.
The students, who all attend Upstage Academy school of performance, were among 45 Ripon students who won first place in 13 out of the 14 categories entered in Harrogate Competitive Festival of music, speech and drama.
To add to their success, all 15 RGS students who took their London Academy of Music and Dramatic Art exams achieved the highest possible 'distinction' grade.
And two students, Nia Peedell and Holly Maisey, received an exceptional 100 per cent: "This is unheard of," said Upstage principal Amelia Urukalo. "In 11 years of teaching, we have never had this."
She added: "I am beyond proud of every single student. They work endlessly outside school to achieve their goals in rehearsals, learning lines, classes, research, events and examinations. We have some tremendous talent from Ripon Grammar School and they're all a delight to teach."
The awards come following two years of lockdown restrictions, during which students had limited opportunities to perform.
Holly, 15, from North Stainley, who enjoys dancing, singing and musical theatre, takes four classes a week outside school and hopes to study performing arts after A-levels, with the aim of appearing in the West End one day.
Receiving 100 per cent in her LAMDA exams, which involved everything from writing and analysing dramatic texts to acting and singing, was 'absolutely amazing', she said: "It was the best feeling ever, I was so happy I did everyone proud. I can't stop smiling."
Year 7 pupil Heidi Chapman, who won first place in solo acting and first place in solo musical theatre at the Harrogate Festival, has been acting since she was six years old.
The 12-year-old, from Ripon, loves performing on stage, something she is considering going on to do when she is older: "I love going to competitions and performing, but it's also great to watch other people as I can learn from them.
"It meant so much to win the awards because I spent a lot of the time practising the acting scripts and had to learn a new song in a short period of time."
Sporty Heidi, who plays hockey, netball and football at school, is now working towards completing all her LAMDA exams
Nia, 15, from Kirklington, who, in addition to winning two first and second places in Harrogate, won a second place at Skipton Music Festival, is torn between studying medicine and performing arts after RGS.
The cross-country runner enjoys acting, dance and musical theatre, devoting eight hours a week outside school to her drama classes.
A keen songwriter and ukulele player, says explains how she enjoys working with others who share her passion for drama: "I love the buzz of standing on a stage and performing and look at it as a challenge for myself to do the piece justice. I also love portraying characters' stories because they're different to my own."
Her immediate ambition is to complete her LAMDA exams to grade 8 with distinctions: "But overall, I want to continue with performance and keep on doing shows and festivals."
Having achieved first place in musical theatre in addition to duo acting at the Harrogate festival, she says: "Winning the awards means a lot because it makes me happy to know that other people enjoyed the performance and I have achieved what I wanted too."
Miss Urukalo added that everyone at Upstage was determined to continue working in lockdown: "We didn't miss a single class, ensuring we kept students challenged with online workshops with West End stars, competitions and festivals adjudicated by leaders of the National Youth Theatre. They showed incredible resilience in continuing with their training."
*Upstage students will perform the multi-award-winning musical Hairspray at Harrogate Theatre in July
Ripon Grammar School Upstage student competition winners
Heidi Chapman Year 7– won 1st place in solo acting and 1st place solo musical theatre
Nia Peedell
1st place musical Theatre and 2nd place solo acting
2nd place group devised drama and 1st place duo acting and awarded a place in the final drama championships
2nd place Musical Theatre (Skipton Festival)
Isabella Kirby
3rd place solo acting
1st place duo acting and awarded a place in the final drama championships 1st place group devised drama awarded with honours
Carys Peedell (RGS past pupil)
1st place Solo Acting Shakespeare Age 16 & over and awarded a place in the final drama championships
Emily Hodgson, Hannah Preece , Alex Sanderson, Isabella Kirby, India Wilkinson, Tehya Sutton
1st place group devised drama awarded with honours
Nia Peedell, Holly Maisey, Molly Owen, Evy Reed, Milly Wilkinson, Amber Stevenson-Mian, Isabella Withy
2nd place group devised drama awarded a distinction
Maya Prince
Solo acting 11 and under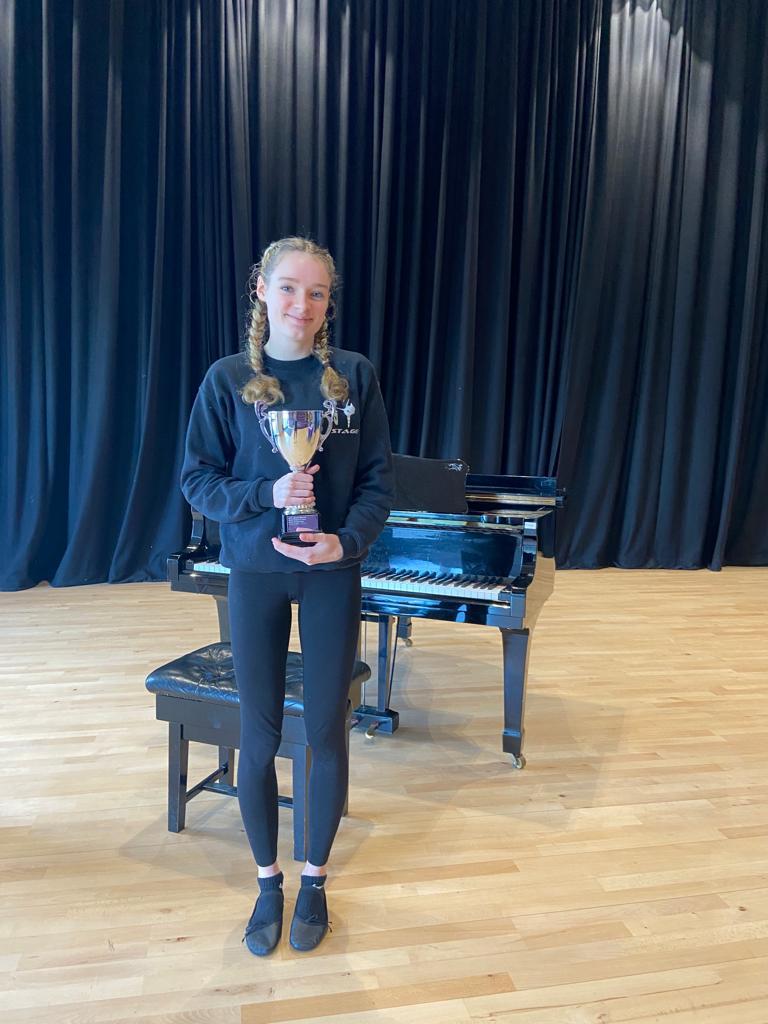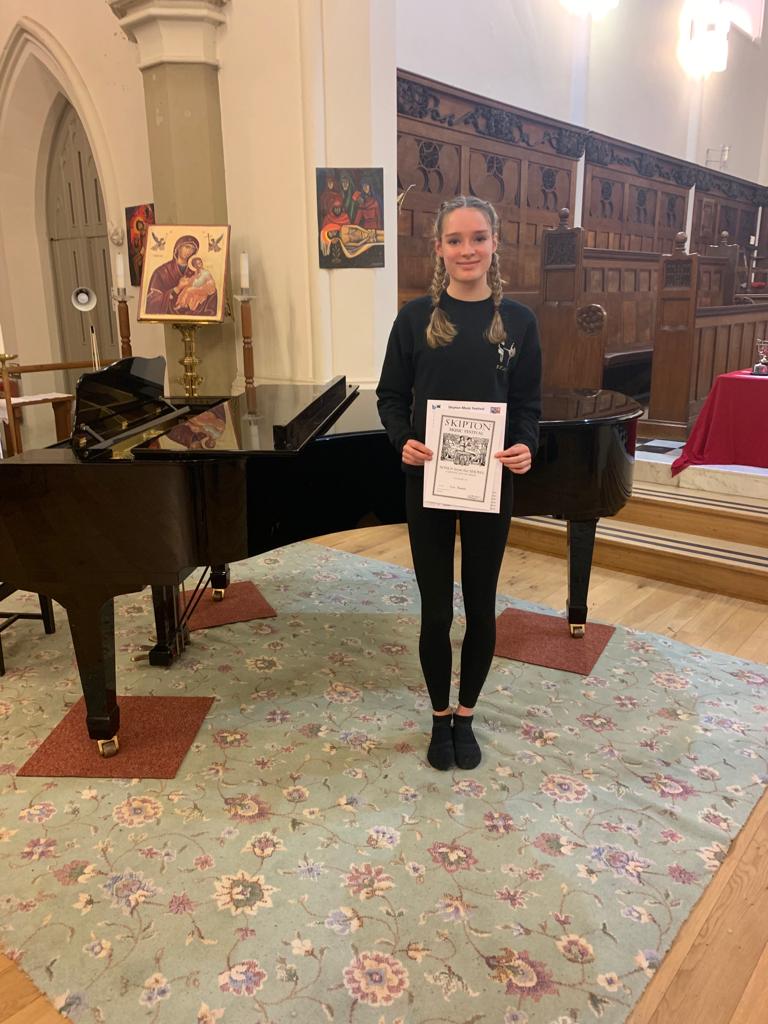 Nia Peedell with some of her awards, above
Pippa Kirby, right, picks up a trophy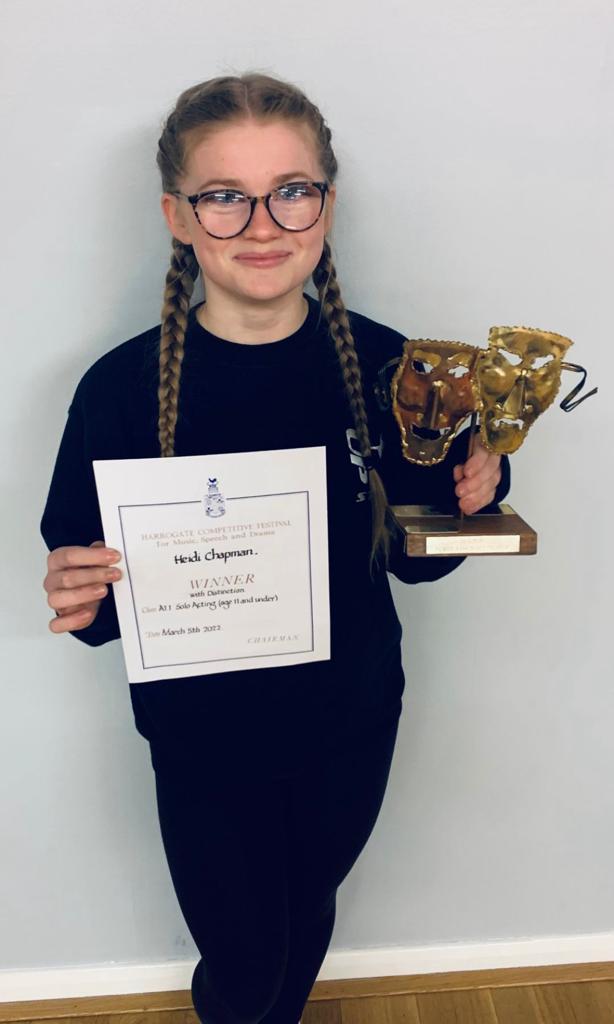 Heidi Chapman with her award