The future is electric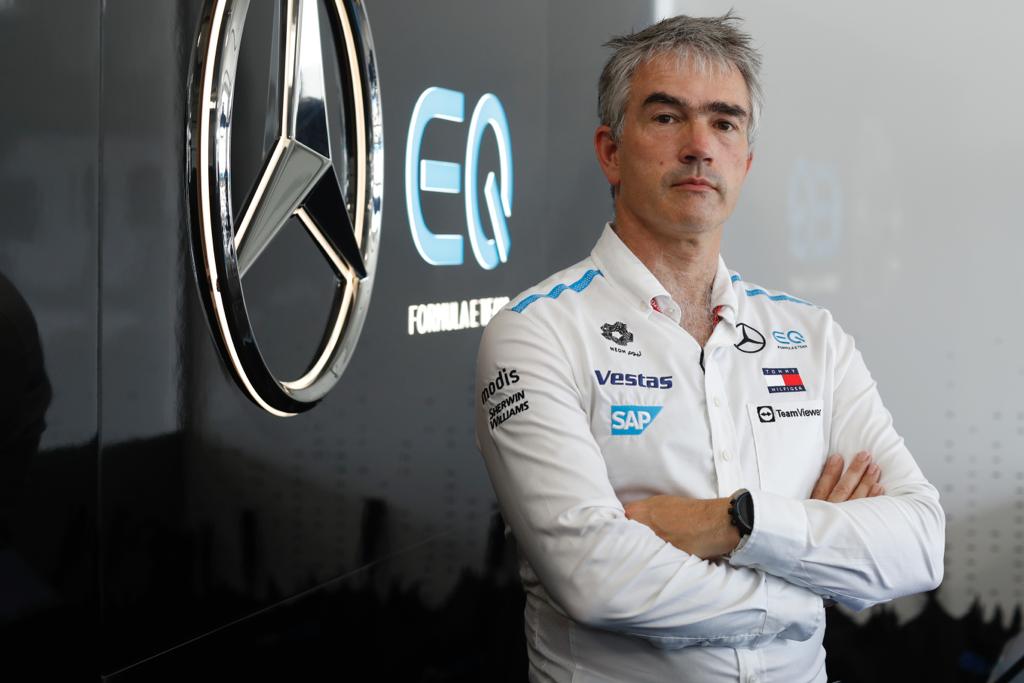 Top motorsport engineer and racing car designer Nick Chester explains why he has moved from Formula 1 to the increasingly popular Formula E electric car racing
WHEN Nick Chester was a schoolboy at Ripon Grammar School, the young motorsport enthusiast and son of a garage owner dreamed of designing racing cars.
"That bit worked out," he says, as he looks back on nearly 30 years working in Formula 1, where he ended up leading the design and development of prestigious Renault and Lotus racing cars.
But the 52-year-old from Sharow, who left RGS in 1987, isn't standing still. The new technical director for the Mercedes-EQ Formula E Team has seen the future – and it's electric.
His recent signing marks the German brand 's increasing commitment to raising their game in electric motorsport.
He explains how he has always kept an eye on the emergence of electric cars in motorsport, fascinated by the new engineering challenges involved: "It was obvious to me that the future of mobility would be electric vehicles and the opportunity to pursue it at Mercedes with the resources to develop the team was very attractive."
The pioneering work he and his Formula E team are involved in today could have an important role to play in the development of future road cars: "Electric motorsport helps drive the development of very efficient powertrains. In addition, the development of software and control systems that help the driver control the car can be applied to electric road cars. In the future, if regulations allow, development of batteries in motorsport could help drive new battery technology."
Looking back on his time at RGS, where he studied maths, further maths and physics at A-level, he says the most important lesson he learnt was: "If you want to do well, you need to work hard." He also treasures the many lasting friendships he made at school: "The friends you make at school can be your best friends throughout your life."
It was his father, who owned a garage in Dallamires Lane which later became Ripon Farm Services, who inspired his love of cars: "It was great for me as there was access to a workshop as I was growing up and my father enjoyed competing himself, so I got interested very early on."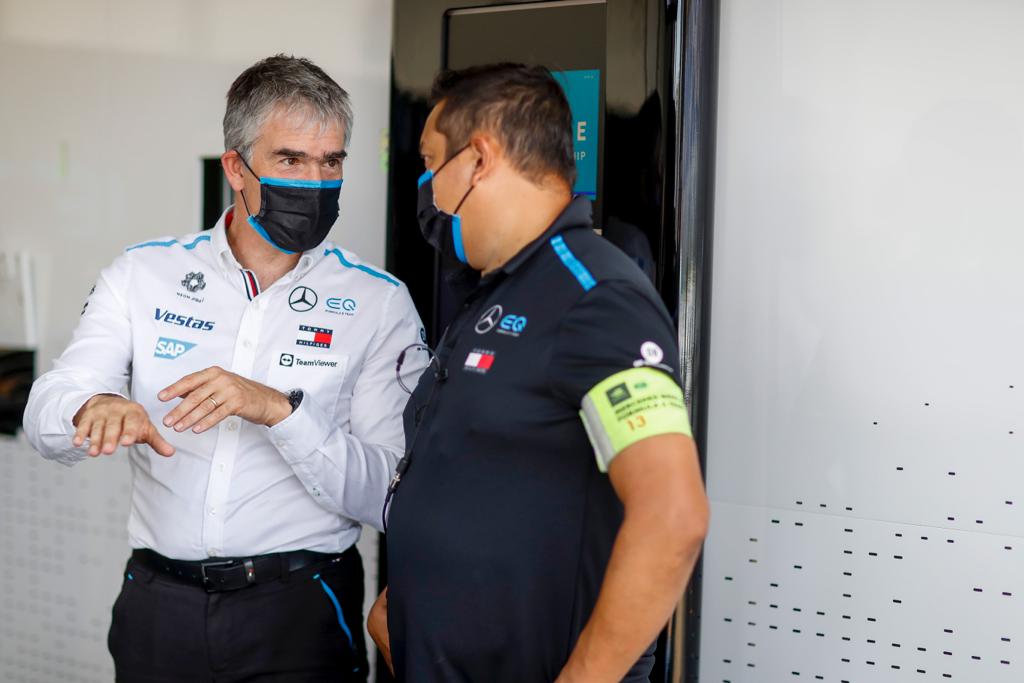 He got his first job in vehicle simulation with Simtek Research after graduating from Cambridge with a degree in engineering in 1991, and, after moving to work in F1 from 1994, arrived at Mercedes with huge experience – and an impressive track record.
Having joined Arrows Grand Prix in 1995, he become performance engineer for Damon Hill and Pedro Diniz, then race engineer for Mika Salo and Pedro de la Rosa.
After joining Benetton in 2000 which later became Renault F1 in 2002, Nick was part of the two-time championship-winning squad in 2005-2006 and one of the highlights of his career was winning the Monaco Grand Prix as performance engineer for Jarno Trulli at Renault F1.
"I've been really lucky to work with some great drivers. Both the Mercedes-EQ Formula E Team drivers Stoffel Vandoorne and Nyck de Vries are doing a great job for the team. Going further back I was test engineer for Fernando Alonso and Jenson Button and it was obvious they had championship potential."
Since moving to Mercedes in 2020, he has enjoyed more success on the track: "Winning both Drivers' and Constructors' World Championships in 2021 was great fun."
His advice to students interested in following a similar career path is: "Anything is possible if you are enthusiastic, dedicated and work hard. Perseverance is key as it's not easy to get into motorsport but if you keep pushing there will be an opening."
He explains how the increasingly popular Formula E where he now works differs from Formula 1: "The focus is completely different. The performance of a Formula 1 car is stunning with a combination of power and highly refined aerodynamics. In comparison the Formula E cars are slower but significantly more energy efficient.
"Just five litres of fuel – which an F1 car would consume in three laps – has the same energy as a full Formula E battery which allows a Formula E car to complete a 45-minute race.
Whereas the focus in Formula 1 is mainly around development of aerodynamics the development in Formula E is much more around control systems and software to improve energy efficiency."
His job centres around ensuring the team delivers as much performance as possible while also being 100 per cent reliable technically and operationally: "Essentially, it's about ensuring we can win championships. My main responsibilities are making sure the technical team has the support it needs and that we are prioritising the right projects."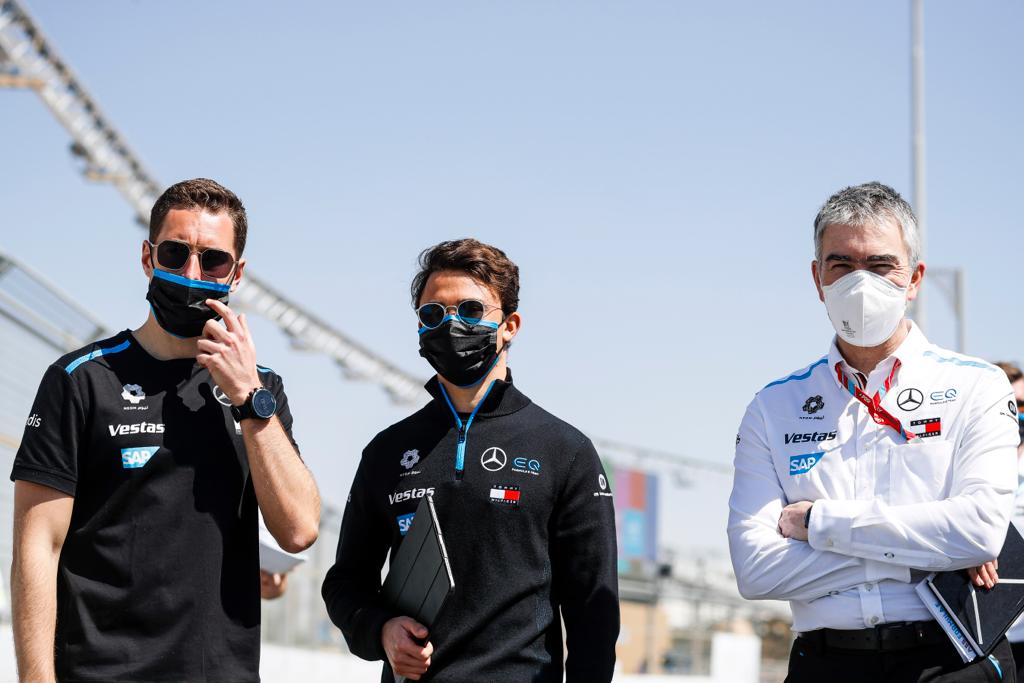 He looks forward to exciting developments ahead: "As mobility tends towards electric vehicles then Formula E becomes more and more relevant. The energy efficiency aspect to the competition is very relevant but Formula E does need to ensure that it remains at the cutting edge for manufacturers in terms of where the cars develop. Going forward this means Formula E may need to venture into battery development in addition to powertrains."
Conscious of energy use, he drives a Mercedes EQC400 electric car himself: "It's pretty impressive in terms of performance and great to not need to go to the fuel pumps.
"I try to reduce my energy use personally. I think generally people are becoming much more aware of their carbon footprint and are trying to reduce it, obviously there is additional pressure from rising energy costs.
"Electric cars do play a significant part in reducing emissions and cities will be much cleaner when the majority of vehicles are electric. It is still fundamental however that we can deliver clean energy for everyone to use, including nuclear, hydro, wind and tidal."
Since moving to Formula E in 2020, he and his team have had to navigate the restrictions imposed by the pandemic: "It has been tricky. We have had to be disciplined in our approach, so the travelling race team are as well protected as possible otherwise we would have missed races. Travel to races has been difficult and I won't miss filling in multiple forms as restrictions are relaxed."
His ambitions for this year are to retain both Formula E championships: "Beyond that we'll have to see but for sure something that challenges me from a technical point of view."
The best bit about his job, he says is driving development to add performance and going on to win races: "I really enjoy working with the engineering team to discuss new ideas and see those grow into developments for the car on track. You have direct feedback every race on your car's performance so it's great when you're winning. However the other teams are also developing quickly and there's no room for complacency, the pressure is always on."
*Nick pictured above with drivers Stoffel Vandoorne and Nyck de Vries