The Yorkshire lass at the heart of racing history
Zoe, left, with Rachael Blackmore on A Plus Tard and groom John Ferguson after winning the Gold Cup
A former Ripon Grammar School student was at the heart of the historic success of champion jockey Rachael Blackmore when she became the first woman rider to win the Cheltenham Festival Gold Cup this year.
It was an emotional moment as the victorious horse, A Plus Tard, and Blackmore were led into the hallowed winners' enclosure at Cheltenham by Zoe Smalley.
The travelling head lass for celebrated trainer Henry De Bromhead is known as a workaholic who endures 4.30am starts and often does around 40,000 steps a day overseeing the formidable logistics involved at major race days and festivals.
It's a full-blown military operation to make sure everything - from transporting horses to tack, colours, feed and hay - is in place for a festival like Cheltenham, where Zoe is in charge of more than 25 horses in addition to overseeing a 30-strong team of stable staff.
Now based in County Kilkenny, Zoe, who left RGS in 2005, tells us all about life on the road with some of racing's biggest superstars: "They're the sort of horses people dream of standing next to for a selfie," she says.
And she reflects on her time at Ripon Grammar School, where she treasures the lifelong friendships she made during her time as a boarding student.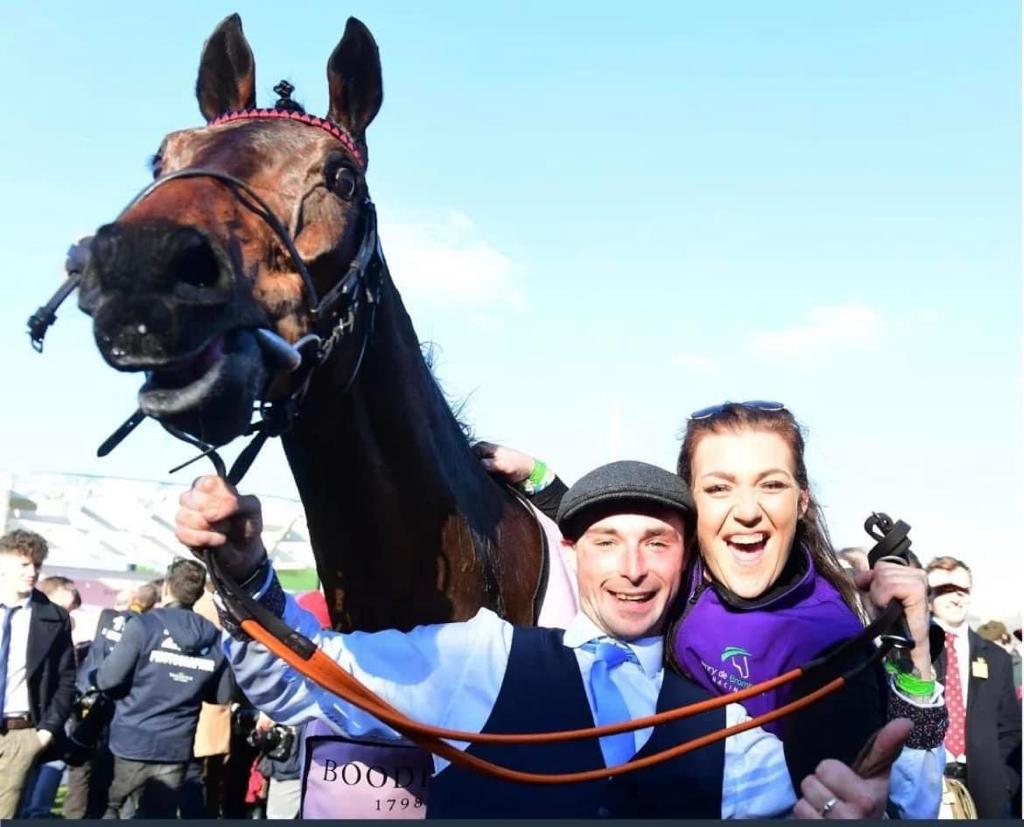 With Ferguson and A Plus Tard after the Gold Cup win
Q: What did it feel like to escort the victorious A Plus Tard into the hallowed winners' enclosure after the historic Gold Cup win?
A: It is so hard to explain what it feels like to be alongside any winner, never mind Cheltenham winners! It's a buzz like no other! This year was so special as well as there were crowds back, last year there were no crowds, it was very strange.
I think anything Rachael achieves is important in terms of history, she's breaking records every day and really clearing the path for females in the sport, she's incredible! (Last year, Zoe also escorted Blackmore when she achieved the most wins ever – six – at the Cheltenham Festival).
Q: What does your job of travelling head lass involve exactly?
A: I basically organise the race day proceedings. I drive the lorry and would oversee the operation at the races. From day to day, it's quite easy as we have a team of great staff who all know what they are doing. Going overseas is a lot more logistics but again, the staff are fabulous. There are ore than 100 horses in the yard and around 30 staff. Race days can be anything from one runner to 14 or 15 in a day.
Q: How did you get into the job?
A: I fell into it really. Henry asked me to do some driving for a month a few years ago to cover someone having an operation and from there I just ended up staying and taking on the role.
Q: What is a typical day like?
A: A typical day racing involves normally feeding the runners an hour before we begin to load (always an early start)! Then I would pack the gear that we need for the day, check the racecard for any head gear, pack the colour bag for the jockeys and then pull the lorry out and start to pack it up. Once the gear is in, before each horse is loaded we weigh them, record their weights and I would microchip scan every horse onto the lorry to make sure we have the right ones.
Q: What is life on the road like?
A: No two days are ever the same, which I love! There are a lot of miles to be done and sometimes you barely touch base with your own bed during the busy times! I was in England with runners for every single weekend of November and December – that is a lot of ferries and a lot of miles.
Q: Which are the biggest superstar horses you've worked with, and which are your favourites?
A: Honeysuckle is definitely the best known horse we have! Minella Indo, A Plus Tard, Minella Times, Put The kettle On would all be up there too.
Put The Kettle On is probably one of my favourites, although I love them all.
With Put The Kettle On
Q: What is it about horse-racing that you excites you? What was it that initially sparked your interest?
A:I have no idea to be honest! It's a love I can't explain, almost an addiction!
What have been the highlights of your career to date?
A: Both of the Cheltenham festivals that I have done for Henry! (Last year, Zoe escorted Blackmore when she achieved the most wins – six – at the festival).
Q: What would you say has been your greatest success?
A: I would say my greatest success at the moment is the fact that I'm actually studying for a degree (in agricultural science at South East Technological University in Waterford) and doing this job. The fact I have passed first and second year with no resits is a minor miracle.
Q: And biggest disaster?
A:The biggest disaster came just before Cheltenham this year! There was a weather warning out for the day we travelled and I had checked with the ferry company the day before, who had assured me it wouldn't affect the Irish Sea, so when the path of the storm changed overnight and I woke up on the day I was supposed to take the first 16 runners to Cheltenham and the boats were all cancelled, that was a very stressful day!
Q: How has Covid affected your job in recent years?
A: Luckily, we seem to be back to normal now. Last year I had to isolate every time I came back from English racing. I spent two weeks in isolation after Cheltenham, Sandown and Doncaster. It was really hard to spend two weeks indoors after every trip.
Q: Where around the world has your job taken you?
A:Horse racing has taken me all over the world. I have been lucky enough to work in Australia, Spain, France, England and Ireland.
Q: What has been your biggest challenge?
A: I think my biggest challenge every year is Cheltenham. We would have our biggest travelling team for the festival each year. Somewhere around 30 horses, give or take five. It's a full week, and a lot of horses and very important races. It's always nice to get to the end of the week and have made no major mess-ups.
Q: What's the best bit about your job?
A: Being lucky enough to work with such high-quality horses.
Q: And the worst?
A: Probably the pressure of having such high-quality horses!
Q: How regularly do you get to return to Yorkshire?
A:I'm a proud Yorkshire girl but I am based full time in Ireland now, in County Kilkenny. I don't get back as often as I would like, although I do get over with runners to York and try to get a visit in around Christmas every year. Covid hasn't made that easy though, hopefully this year will be easier!
Q: What do you miss most about Yorkshire?
A:Yorkshire Puddings! I love Ireland, but the Irish do not make Yorkshire puddings like Yorkshire people do.
Q: What are your hopes for the future?
A: I'd like to train a few horses myself in the future.
A boarding student at RGS, after leaving in 2005, Doncaster-born Zoe studied at the Royal Agricultural College in Cirencester. She went on to work in Australia before stints at several top North Yorkshire stables, in addition to running a pub, before teaming up with De Bromhead. She reflects on her time at school
Q: What was the most important thing you learnt at RGS?
A: My time in the boarding house was invaluable. We learnt how to be independent, and that stood me well.
Q: What do you wish you'd known back then?
A:I wish I had worked a bit harder at the schoolwork and not just the socialising. I didn't apply myself fully to exams and coursework and I really wish that I had.
Q: What is the one piece of advice you'd give students interested in following a similar career path?
A: Work hard. It's a lot of long days, and cold and wet days, but if you keep showing up and working hard, eventually it will pay off.
Q: Who was your favourite teacher and why?
A: Mrs Stewart and Mrs Smith were boarding house mistresses. They were both very patient and kind to us, basically like second mothers.
Q: What did you enjoy most about boarding?
A: I'm a very sociable person, I think the social side was the part I enjoyed the most.
Q: What extra-curricular activities were you involved in while at RGS, both in and out of school?
A: I played hockey and rounders in school and was in York and Ainsty North Pony Club outside school and the York and Ainsty North Hunt.
Q: What was your dream when you were at school?
A: I really wanted to be a lawyer. Logistically, that would never work for me. I don't think sitting at a desk is for me - I'm definitely a hands-on person.
Q: Are you still in touch with any old school friends?
A: Angus Johnston, who is younger than me, became one of my best friends from Ripon Grammar, Rachel Scaife (Hugill) was also a boarder in my year and is still to this day one of my best friends. I am Godmother to her daughter, Evie. The boarding house makes those friendships for you, it's one of the most special things about it! Paul Smith is also a year younger than me, but a great friend from RGS days too.
PICS: The first one is Rachael Blackmore on A Plus Tard after winning the gold cup! The one of me kissing the horse is put the kettle on, and the other one is myself and John Ferguson with A Plus Tard after the gold cup again!