Top-performing students shine on stage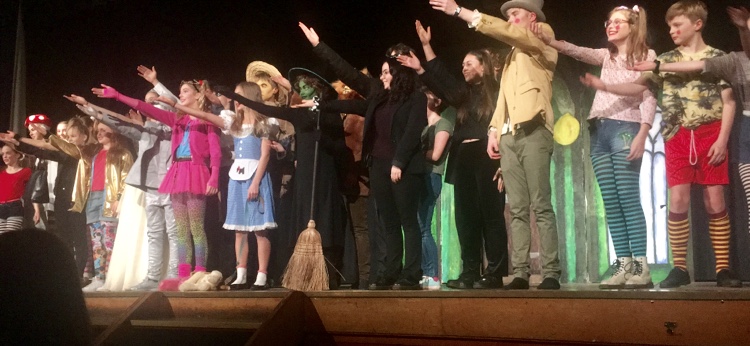 Top-performing students proved they are also stars outside the classroom during our entertaining annual house drama competition. Head of sixth form TERRY FELL reviews the four productions. Photographs by ANNABELLE PATERSON
TALENTED Ripon Grammar School pupils excelled on stage and off in a series of ambitious student-led theatrical productions that played to packed houses over two nights.
In the same week RGS was named 'Top state school in the North' in the Sunday Times Parent Power school league tables, students demonstrated just what an abundance of talent there is outside the classroom too during the school's popular annual drama competition.
Around 200 pupils, aged 11 to 18, from the school's four competing houses captivated audiences with their entertaining productions of Oz, Murder on the Orient Express, Fantastic Mr Fox and The Famous Five on Kirrin Island.
Performing to sell-out audiences of around three hundred appreciative parents, fellow students and other guests each evening, pupils from De Grey, School, Porteus and Hutton houses also faced a panel of judges made up of former RGS teachers Simon Naylor and Steve Rouse and past pupil Rachael Sharp, who were all involved in drama during their time at the school.
Behind-the-scenes, around 50 dedicated students were also commended for the impressive work they did out of the spotlight as directors, producers, set designers and technical and stage crew members.
School House was awarded the trophy for best production with Oz, their razor sharp, witty and subversive counter story which challenged all expectations, leaving many members of the audience deeply moved. This is the first time they have won since 2006.
Best actress was Izzy Kirby, 14, from Richmond, for her mesmerising performance role as the Guide in School House's Oz.
Best actor was Nick Cunningham, 16, from Ripon, for his outstanding talent and impressive command of the role of Poirot in Porteus House's Murder on the Orient Express.
Edward Murray, 13, from Ripon, won the judges' discretionary award for his excellent performance as the villainous Mr Johnson in Hutton House's The Famous Five on Kirrin Island.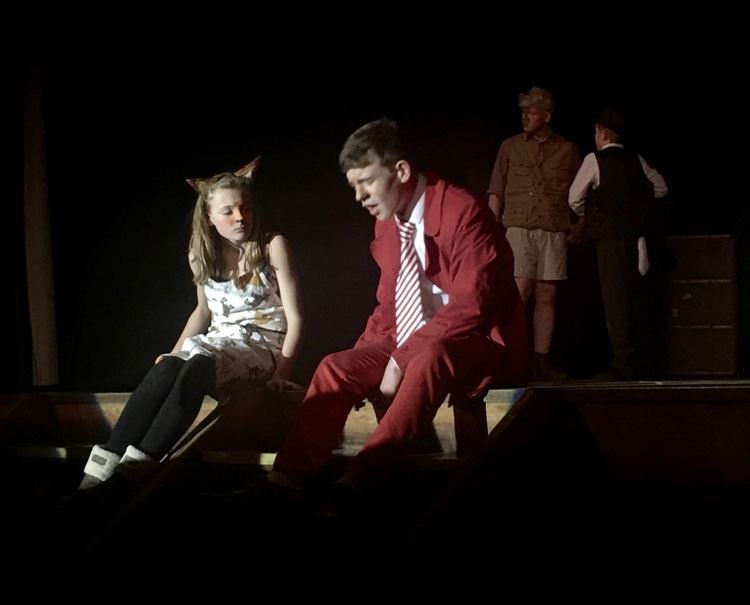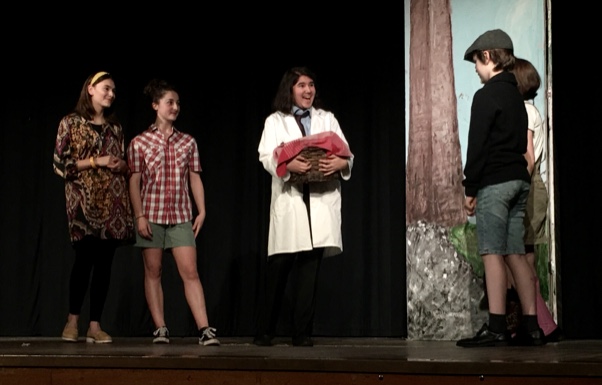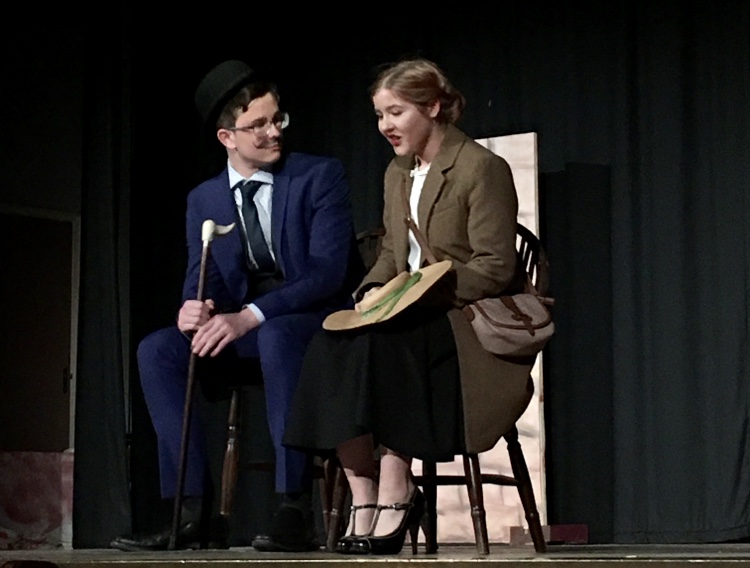 REVIEWS by head of sixth form TERRY FELL
'A tour de force, and a masterpiece of ambition and dramatic skill'
School House – 'Oz'
Occasionally a House Drama production comes along that utterly confounds the expectations of its audience, leaving them breathless and deeply moved. If we were expecting another saccharine version of the iconic Judy Garland classic, School House had other ideas entirely. What we were presented with was a razor sharp, witty and subversive counter story which continually and wickedly challenged our expectations, and which delivered huge range, from laugh aloud moments of pure sparkling joy, to deep and tender pathos. It was a tour de force, and a masterpiece of ambition and dramatic skill.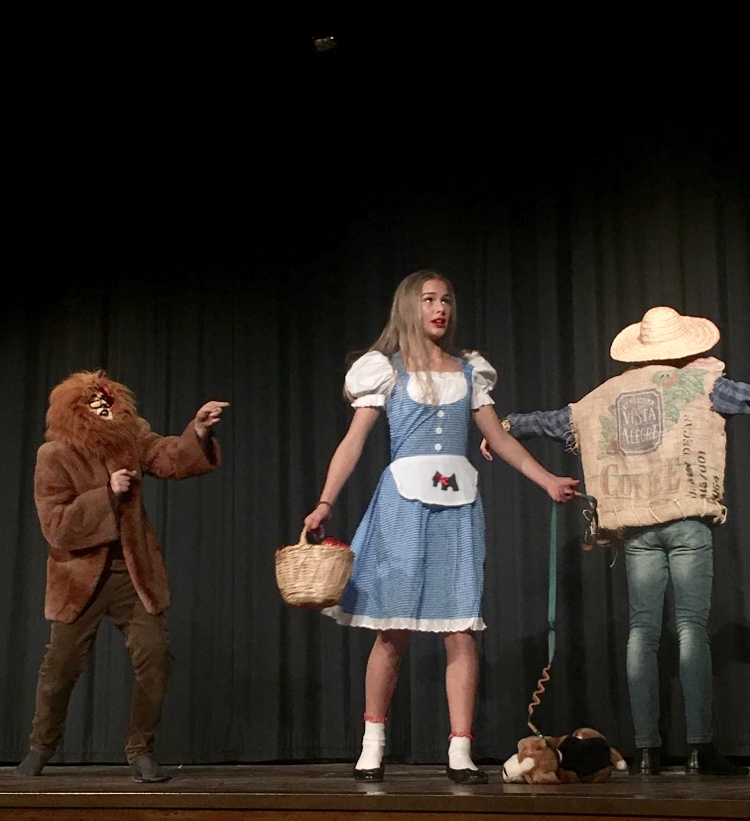 The cast was led by the deeply impressive Lucy Laycock as Beth, our anti-Dorothy, who brought a neatly cynical attitude to the role which made her a deeply engaging character off whom all the others could spin. Her command of lines and stage was faultless, and she is an actress with a very bright future ahead of her. Alongside her was Izzy Kirby as the mysterious 'Guide', whose performance was simply mesmerising, from the moment she emerged from a suitcase in a blaze of colour and surreal joy, to the final tear-jerking reveal. Together, these two young actresses took their production to a dizzying height from the start, and their innate stage presence and their performance skills were of the highest order. There were old hands in support too of course. Evie Hoskison's performance as Glinda, the (not so) good witch was gloriously villainous, and the steely relish with which she proposed 'annihilation' of those in her way was delicious. Elliot Mountain likewise took to the House stage for a final time, as the shifty Mayor of Munchkinland, presenting an almost manic positivity in the face of evident disaster that was wonderfully unsettling. The triplet of companions for the journey through Oz were all present and correct in Sam Wright's Scarecrow, Max Masey's Lion, and Ewan Saunder's Tinman, however these were vastly more intense versions, with the debilitating anxiety and paranoia of the Lion and the, at times, belligerent ignorance of the Scarecrow nicely complemented by the Tinman's heartless rudeness; three more young actors who look set to light up School House productions for years to come. Tess Holloway, a vision of green witchiness, was highly engaging as the 'wicked witch' with lovely manners and a tragic backstory that, like everything in this story, countered our assumptions and stereotypes. And behind these leads were a mass of beautifully depicted cameos, from the unexpectedly youthful Wizard (Ned Sladden) to the gossipy backbiting of the film production crew (Izzy Whitehead, Edie Cooper, Raf Shiers and Francesca Faulks); the brilliantly anarchic chorus ensemble of Munchkins, to the comical caricatures of northern bouncers (Tom Senior, Dom Sterritt, Tobias Hinde and Lachlan Moon.) This was an ensemble of well-cast actors sure in their roles, and loving every moment.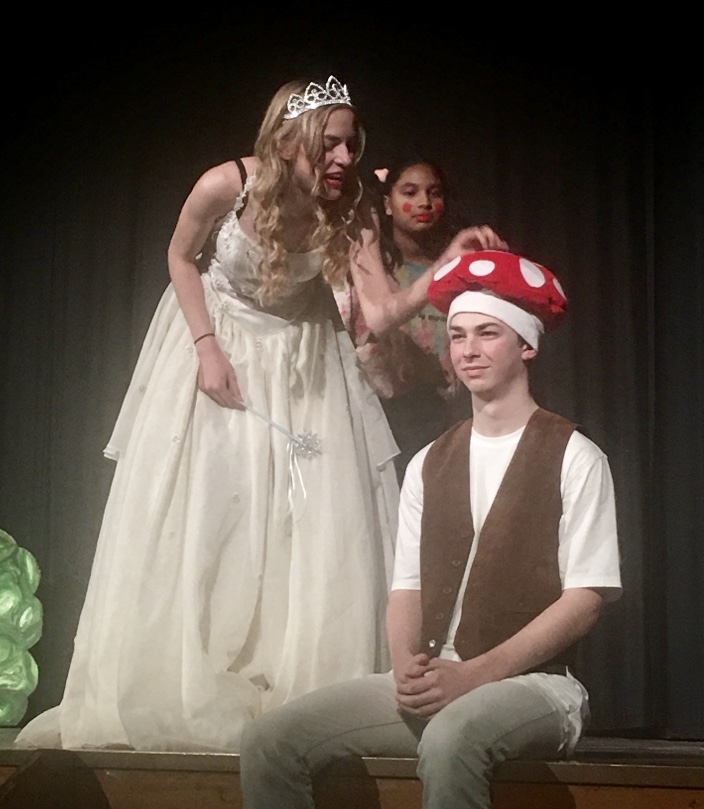 The set also needs mention, since it was so skillfully sewn into the performance, from the little pile of drab packing cases from which erupted the guide and her umbrella like a rainbow against the black backdrop, to the sudden appearance of the Munchkin villas like little pastel macaroons which then walked away at the scene change; the sudden breathtaking reveal of the Emerald City out of nowhere, like a verdant Fountains Abbey, to the Wizard's face – a giant green visage with moving mouth and beard (behind which lurked the ever-versatile Toby Antcliffe.) The set elements brought brilliance, colour and wit to the production, and the set designers deserve huge praise for their skill. Indeed this production was as stunning in its visual impact as it was in its performances, and the costuming was a particular triumph, with a superb eye for detail as in the oh-so-clever instantaneous transformation of Beth from street coat to 'Dorothy dress', and the Lion's uniquely tubular mane. Attention to detail was certainly the watchword in this show, with no opportunity missed for a little dig or in-joke; the identify of the 'foreign investor' having purchased the yellow brick road (the Fat Controller from Thomas the Tank Engine) was laugh-out-loud brilliance, whilst the live accompanying music by Amy Goodwin at the piano was effortlessly effective.
The direction team of Clara Dammann, Elliot Mountain, Abi Burke, Evie Hoskison, Toby Antcliffe and Gaby Symmonds have achieved something very special indeed in this production, harnessing the joyous, wholehearted enthusiasm and huge cast which characterises School House productions, with a deftness, finesse and sense of vision that was just spellbinding. And at the end of this super-paced, fizzingly colourful, achingly funny story, the audience were blindsided by the sudden agonisingly powerful understanding of Beth's grief, and then by the joy of her redemption. This emotional control, above all, marks out this as the most powerful and most complete performance by School House that this reviewer has seen. Bravo School!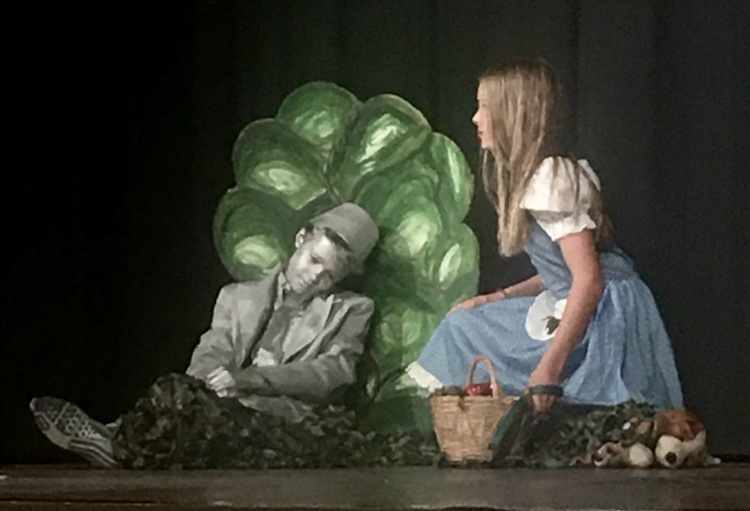 'A sassy, fast flowing delight of a production with all the swagger of a certain fox in a chicken-shed. Fantastic!'
De Grey House – 'Fantastic Mr Fox'
There are a few certainties in life, amongst which is the fact that you can't go wrong with Roald Dahl in House Drama, and this truth was again proved this year by De Grey House in their terrific retelling of 'Fantastic Mr Fox'. The stories are rich in memorable characters and resonant plotlines, whilst also offering a depth and nuance that make them irresistible, and this production drew on all of these elements, and on the inspiration of the Wes Anderson film version, to present an adrenaline-fuelled riot of a show that felt both warmly familiar, and yet, like it's protagonist somehow unpredictable too.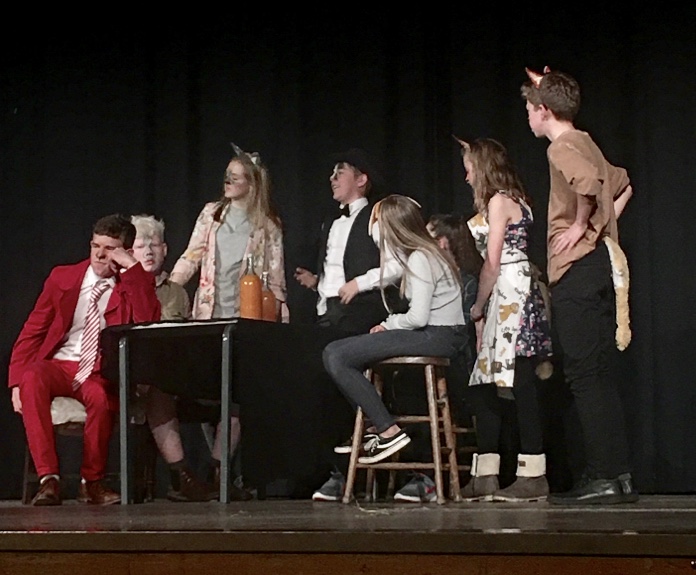 The crafty, mercurial Mr Fox was played with customary commitment and charisma by Bertie Wood, a seasoned actor who delivered both the swagger, and the sudden vulnerability and self-loathing of the character, with real flair and skill. The iconic red suit was a flag to follow in every scene, bright against the black-box backdrop, and the pace and energy of this performance hit just the right note. Alongside Bertie was another highly talented performer in Chessie Abrahams as Mrs Fox. The dauntless steel and force of personality as she invited her errant husband to confer with her 'behind these mineral deposits' was beautifully counterpointed by the blunt periodic announcements of pregnancy. These two actors are a powerful force in De Grey's dramatic future.
The three obnoxious farmers were played with relish by Ed Hutchinson (Bean), Felix Denby (Bunce) and Caitlin Brownlee (Boggis), and this triplet of characters were a satisfyingly unpleasant force against which Fox and friends had to battle. Alex Sanderson's Badger was a livewire performance, and the glee with which he proposed to specialise in demolitions and explosions was nicely manic. Less livewire was the beautifully dopy Kylie, played by Toby Pallatina in his final House production, and the odd-couple relationship with Fox was at once funny and touching.
De Grey choruses always know how to shine, and this varied selection of wild animals and men (Rachel Ogier, Imogen Wren, Millie Dean, Evy Reed, Hannah Salden, Jack Shillam and Owen MacNair) were no exception, acting and reacting with verve and clarity, and each managed to nicely convey nuances of their particular character that allowed them to stand out. Hugo Hynd's rabid beagle was another brilliant little cameo which delivered a neat and precise comic punch. A particularly interesting angle within the story came in the awkward relationship between Fox and his son Ash (nicely acted by Joe Hewitt) which highlighted the arrogance and complexity of the protagonist, whilst the arrival of talented niece Krissy (a very bright performance from Erika Phillips) added to the familial discord, and provided thought-provoking additional plot layers.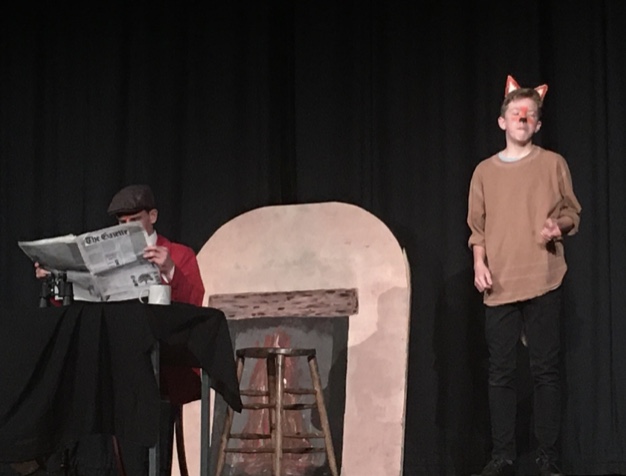 So, a nicely balanced cast and an engaging plot. However the hard work, and where the directors must really prove themselves, comes in how to bring this to life on stage without the assistance that either a storybook or a film version offer. This was a task that this De Grey team (Jasper Wood, Amy Edmonson, Euan Ellis and Toby Pallatina) took on with enthusiasm, and their secret weapon was pace. The plot galloped along like a hunt, from trap to burrow to tree to farmyard, with slick performances and clever little scene changes unhindered by clunky set. The magical appearance of an electric fence from the wings; the hilarious speed with which Spitz the beagle succumbed to the sleeping pill; the sudden horror of the water-surge which left table and chairs upturned and in disarray and the cast gasping for life, and above all, the use of the entire auditorium to escape the limitations of the stage itself in this tale of pursuit, escape and rescue, were both enjoyable and highly effective. Likewise, the imagination to use the different levels of stage and steps to take us above, and then below ground, and then back again, made a mockery of the challenge of defining locations, and allowed also the intense claustrophobia of wild animals trapped and terrified as they hear the scraping of spades overhead. However amidst the runaway storyline were little pools of calm reflection and stillness such as Mr Fox's soul searching, and the hammer-blow line delivered with such gentle sadness by Mrs Fox that: "I love you too – but I shouldn't have married you"; or the step up to manhood (foxhood?) by Ash as he rescues his cousin and finally earns his father's admiration. These were welcome moments of rest amidst the frantic pace and exhausting race to survive, and they demonstrated the skill, craft and vision of the directors in their realisation of this story; likewise the little moments of careful choreography, such as Mr Fox's almost balletic movement to avoid the knife thrust, or the tense pause before the realisation of the farmers' gun trap. This was a sassy, fast flowing delight of a production with all the swagger of a certain fox in a chicken-shed, and we loved it! Fantastic!
'Just gut-wrenchingly powerful, a superb production'
Porteus House – 'Murder on the Orient Express'
The broodingly oppressive programme design for this year's Porteus production set out their stall beautifully, for this is perhaps the darkest and most troubling of all Agatha Christie's whodunit stories, based as it is around the real life tragedy of the Lindburgh kidnapping case. Such a story choice must inevitably offer challenges and sensitivities that few previous productions have posed, and the Porteus director team (Alfie McEvoy, Emma Belward, Phoebe Hall, Layla Osman and Charlotte T-C) embraced this challenge to tremendous effect, delivering a production of immense tension and substance.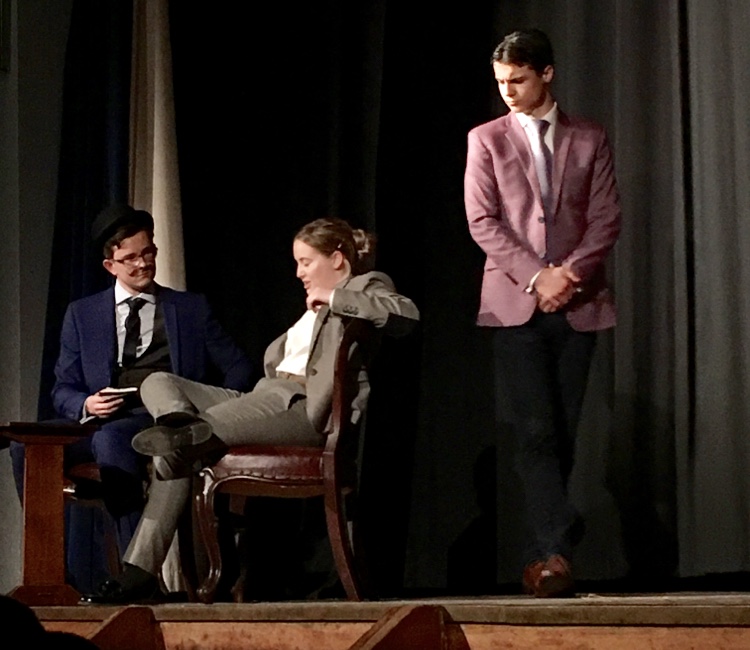 A key challenge, and one which must define the success of this production, was to find an actor capable of playing one of the most renowned and complex detectives in literary history: Hercule Poirot. Porteus, we see again, like challenges! Step forward Nick Cunningham in a smart blue suit, armed with a cane and bowler hat, and the challenge was not so much overcome as utterly blown away. This was a seriously impressive performance for any actor, and Nick made the part his own with an unshakeable accent and a deep sense of character that shone through his every word and movement. The requirement to dominate every single scene, and to orchestrate the entire arc and flow of performance is just huge, and yet that blue suit and that sense of deep sadness bordering on anguish ran like DNA throughout this production; this actor has shown a command and talent that is very exciting indeed.
However, Porteus is never a one-person show, and a string of superb characterisations played off the central performance. The Dunn brothers were on stage again together, with Freddie smooth and stylish in his role as Bouc, whilst Benedict's portrayal of the immoral and boorish Ratchett was very nicely judged. The generic gallery of suspects offered us the terrific Zoe Williams as Mrs Hubbard, who delivered both fire and agony in a performance of real emotional depth, balanced so well with Bea Calland-Brooke, whose character Mary just lit up the stage. Immie Dow's irreverent McQueen was very cleverly played, with her attention to detail evident even in the way she sat. Rebecca Kilker is a newcomer to House Drama, and she brought spark and feist to the Pinkerton's detective Hardman, whilst Matilda Lee (Masterman), Lucy Crum (Marquez) and Beth Pritchard (Michel) each conveyed complex character traits with flair and assurance. Molly Cushing's purist Greta was cleverly intimidating, whilst another newcomer, Jhapin Shahi in his first House role as Dr Arbuthnot, demonstrated innate presence and charisma that that were extremely impressive. This ensemble was very well cast, and equally well directed, for each actor in turn stepped into the limelight to drive on the plot and to sustain the power and mystery being spun before our eyes. Even more impressive was the chorus of smaller parts and younger actors behind them, equally well drilled and committed to their roles, and all clearly loving the experience of being part of this journey. Such a large and skilled cast across the age groups promises a very great deal for the future of Porteus drama, and it was terrific to see it nurtured by the directors this year.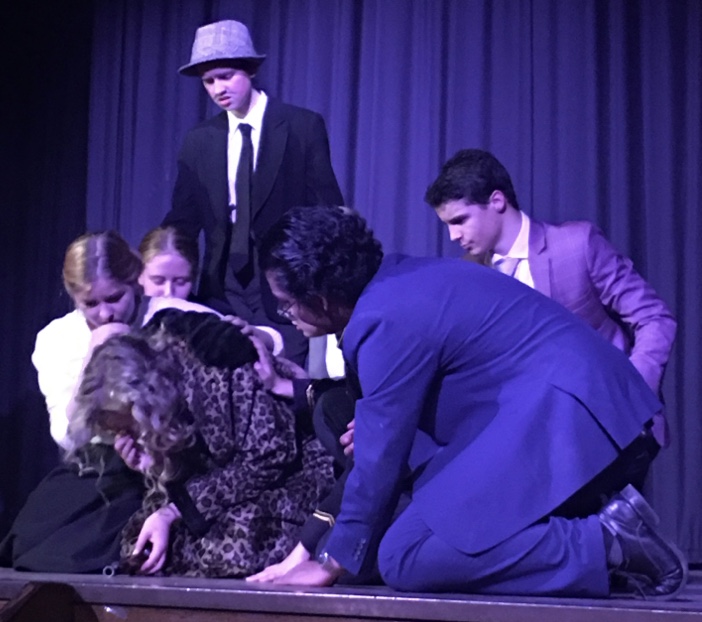 Alongside the acting, the design was also very nicely realised, with small turning flats to take us from the streets of Jerusalem onto the iconic express itself, and comfortable oaken furniture cleverly distributed so as to give a sense of warm luxury, whilst not interfering with the practicalities of movement. Likewise, the direction showed the resourcefulness to maximise use of the black tab curtains to reveal and conceal, sustaining the flow of the piece. The use of the spotlight freeze frames during Poirot's interrogation was masterful, and equally clever and effective the flashback scene in a cold white spotlight as Poirot and Masterman froze. However perhaps most memorable was the chilling horror of the train crashing into the avalanche, with strobed lighting and screams from backstage used to terrifying effect.
This play dealt with dark themes of criminality, racism, revenge and conscience, and there were decidedly adult elements within it, and yet these themes were managed with sensitivity and a clear sense of the writer's purpose, exploring the corrosive damage done to ordinary peoples' lives by one hideous act of greed. Amidst the angst there were even little moments of comic relief sewn into the fabric of the plot, but every component of this Porteus team, from directors, to actors, to designers worked with impressive and virtually flawless unity of purpose to build this almost tangible tension and foreboding. And the ending; that was just gut-wrenchingly powerful. In Poirot's agonised soul searching, we found our own challenge. "May you find your peace in this. May we all." This was a superb production, and Porteus must be very proud indeed.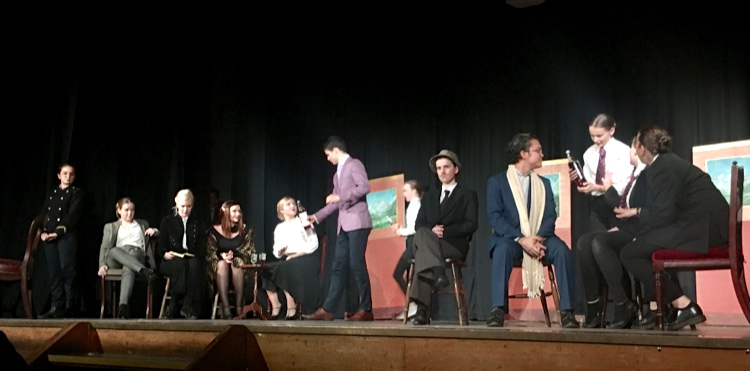 'An inspired choice with a plot that cracked along like a yacht on Kirrin Bay, and held together beautifully. Clever, funny and very enjoyable'
Hutton House – 'The Famous Five'
An inspired choice of play this year saw Hutton sweep us back in time to the Dorset coast, and generations of treasured childhood memories inspired by the literary royalty that is Enid Blyton, creator of The Famous Five.
This first of the iconic series sees siblings Julian (Imogen Hubbard), Anne (Anna Bradley) and Dick (Luca Hutchinson) visit their distinctly unwelcoming cousin George Kirrin (Molly Acton) for the summer holidays. Trouble duly follows them.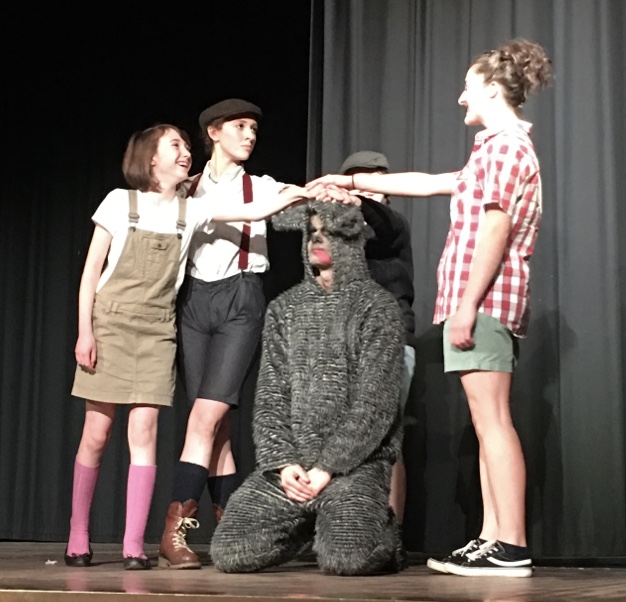 In the casting of these key roles, Hutton cleverly melded experienced talent in the form of Molly and Imogen, and emerging lights in Ann and Luca, to establish the heart of the play, and it worked a treat. The three siblings acted off one another slickly and with nicely authentic grumbling, whilst their cousin's initial horror at this invasion of her privacy provided a wonderful comedic note. Molly's use of expression, in particular, was beautifully done, and she just dripped attitude in her first encounters. Edward Murray continued his monopoly of Hutton's villain roles with a stellar performance as the sinister Mr Johnson, recently gone rogue, and his crystal clear delivery and firm stage presence made this a memorable performance worthy of the Bond franchise. His hapless assistant Curtin, played by Milo Smith with glorious sleaze and obsequiousness, was terrific, and this deplorable duo were admirable in setting the criminal challenge to our youthful sleuths.
The other grown up leads were very nicely delivered by Imogen McMurray as the unflappable Mrs Kirrin, Aisha Preece as the brilliant but dog-averse Professor Kirrin and Greta Taylor as his glamorous assistant, Christina Lace. Meanwhile a very enjoyable chorus of cameos from Alia Moon, Piers Davies, Hannah Preece, Bea Webster, Helena McMurray, Oscar Smith, Ewan May, Saskia Feingold and Isobella Watson-Emmanuel reflected the strength in depth that Hutton actors consistently deliver. These actors were very well used by their directors both to balance out the leads and also to deliver some wonderful little cameo moments, such as the ID-ing of decidedly underage drinkers in the local inn, and the fairly brisk and rough arrest and detention of the two villains at the end. And then there was Timmy! How do you solve the problem of a character from the original text who plays an active role in the plot, but who is distinctly non-human? This reviewer is so very, very happy with the solution from Hutton's book of stagecraft, which is that you cast a 6 foot something actor in a grey furry dogsuit, with a canine makeup pattern and an attitude of sheer utter boredom and disaffection. Genius! Acted in any other way this could have been a problematic and jarring element, but because of the knowing glances to audience, the slouching unhurried gait and the general sense of misery delivered by Matthew Kaye, this became an absolute show-stealing performance. Particularly wonderful was the look of loathing on Timmy's face as the children swore a bond of friendship with hands linked on his head! And this was a production that embraced that knowing humour alongside the simple sunny plotline and the cheery delivery. Whether in the clever casting, the melodramatic tone of the villains, the gunshot that only slightly wounded or the ludicrous threat to "blow the island sky high", there was always the same wonderful assurance that we could laugh, and that everything would be alright at the end. This, the Hutton directorial team (Dominic Livesey, Rose Cottrell, Alia Moon, Matthew Kaye, Saskia Feingold Ewan May and Oscar Smith), knew from the start is at the heart of these stories, and they worked around it superbly.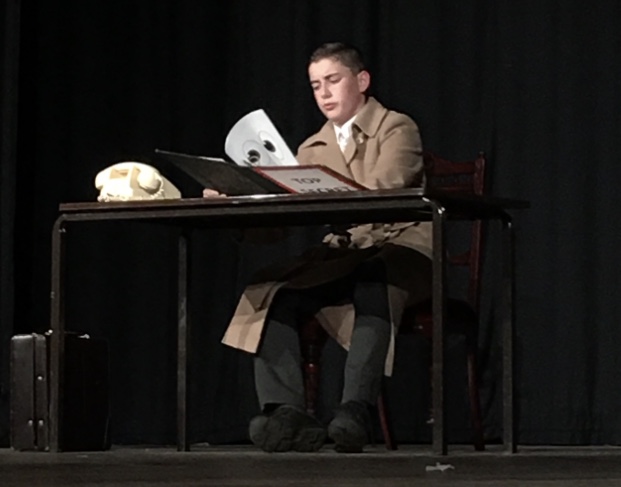 The use of set and stage was clever here, with a high triangular set providing a beautifully azure depiction of sea and island on one side; the solar tower on the next, and the internal control panel on the third, allowing very swift changes of setting without need to open and close tabs, and suggesting, rather than faithfully recreating, location. Meanwhile locating Curtin's study and (huge!) telescope down off the stage apron gave depth and also a nice sense of overproximity to the spy's operation, something swiftly sensed by the children. The clever use of tabs to create the tunnel was also well thought-through, whilst the fleeting appearance of a real boat on stage as they arrived on the island added a lovely authenticity.
Efficient and perceptive direction saw a plot that cracked along like a yacht on Kirrin Bay, and which held together beautifully. The developing trust between George and her cousins was well gauged and convincing, and like all good mystery adventures, the denouement and arrest of the criminals was deeply satisfying – a story that ended, just as it should, with "lashings of ginger beer!"
Clever, funny and very enjoyable indeed. Well done Hutton!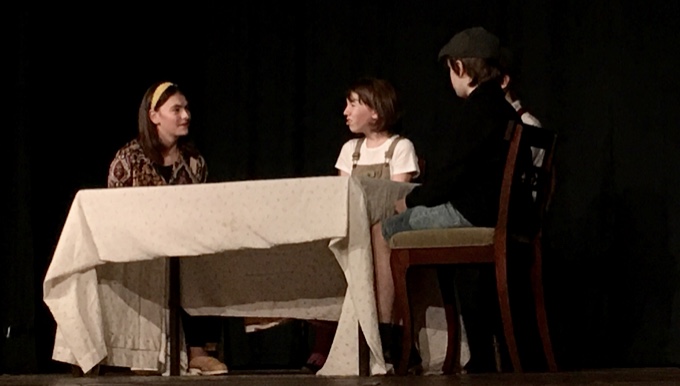 PHOTO GALLERY