RGS Chamber Choir
This year the school chamber choir was founded for our advanced singers. They made their first appearance at Christmas and their performance of Philip Stopford's Lully Lulla, Lullay proved very popular with the carol service congregation. Since then they have been rehearsing new repertoire which has included light hearted jazz standards, folksong arrangements and music for the service of Choral Evensong.
In April the chamber choir travelled to Durham to sing Evensong in the beautiful art deco chapel at the College of St Hild and St Bede. They were delighted to be joined by old riponian Jessica Bryden, now a music student at the university.For many of the singers it was the first time in singing such repertoire for such an occasion but they sounded magnificent. They tackled challenging repertoire both accompanied and unaccompanied from a time period stretching hundreds of years.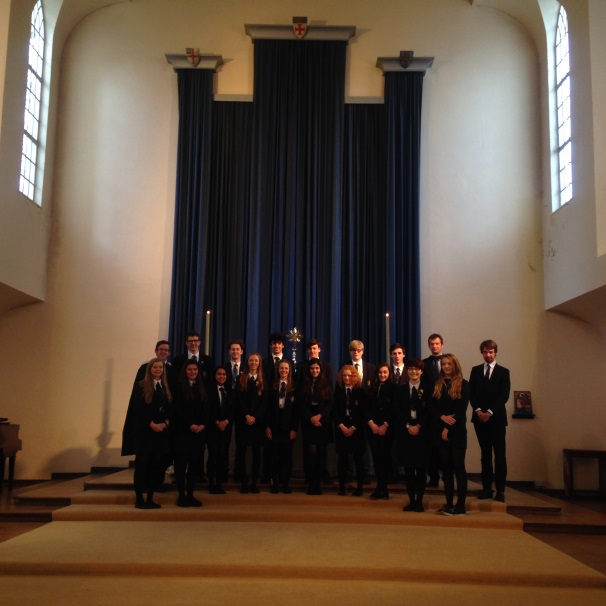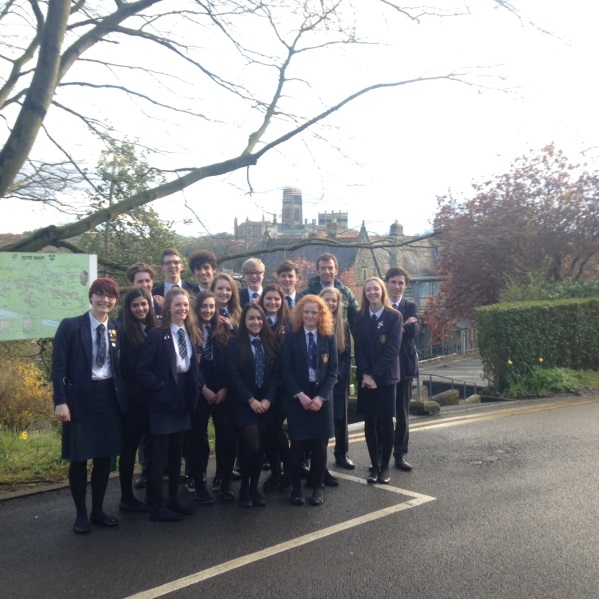 Left: RGS Chamber Choir inside Bede Chapel. Right: Outside the College with Durham Cathedral in the background
Following the service the students dined with college students and were given a tour of the extensive college campus. This was not only a fantastic music making opportunity but also a chance to see real university life in the middle of a busy term.
Two weeks later, the chamber choir sang choral evensong at Ripon Cathedral. Every day the tradition of singing evening prayer in English cathedrals has gone on almost unbroken for nearly 500 years and it was a privilege to be part of that musical and cultural heritage. The chamber choir have been invited back to both places to sing again and are looking forward to fulfilling these invitations.