Third Year Visit to Hull and York Medical School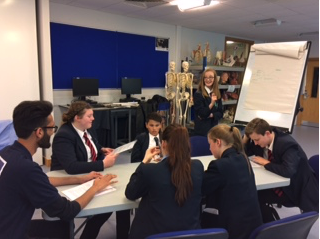 Fifteen third year students were invited to the Hull and York Medical School based at the University of York to develop their knowledge of working in the medical profession. Upon arrival at the University, we were greeted by a York University student ambassador who introduced us to the work that they had recently been doing. Once we had settled in the room, we received an introduction to the activities in which we would be participating over the course of the day, which looked extremely interesting.
We were given two sets of cards; one set with NHS job titles written on them and the others with the definitions of each job, and we had to match the different jobs up to the correct definition in our teams. This helped us to develop a better understanding of the many and very varied areas of work within the NHS. Each team was allocated to a University of York student ambassador who helped us with any queries we had on the task as well as giving us an insight into their university course. Getting these personal opinions and first-hand knowledge really helped us to understand the qualities we would need to be successful if we decide to go into clinical professions.
Dr Strauss then joined us; she is a specialist in human health and reproduction and had previously worked as a General Practitioner. Dr Strauss set us various activities that were involved with her area of work, with the student ambassadors still on hand to help us. We were also given demonstrations and examples of her work.
After lunch we were separated into different groups and participated in a problem-based learning (PBL) activity. This is the method that many medical schools use to teach their students.
It was a thoroughly enjoyable and eye-opening day. We feel that we have all benefited a lot from this experience and would strongly recommend a similar visit to anyone who is contemplating this as a profession.