ALUMNI: Behind the scenes at Westminster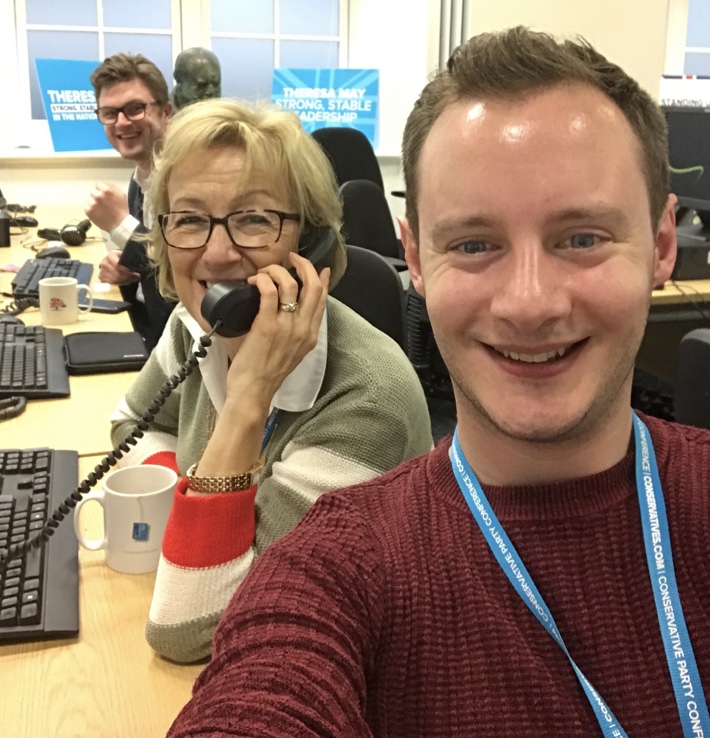 TOMMY GILCHRIST left RGS in 2006 to study geography at university after seven happy years as a boarding student. Now senior parliamentary assistant to Tory party leadership contender Andrea Leadsom, he gives us a glimpse of life behind the scenes at Westminster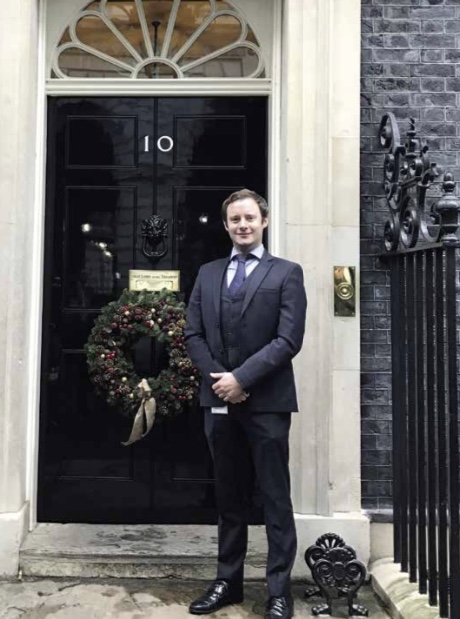 What was your first job, and what did that entail?
My first ever job was working in retail (Next and Jack Wills) whilst doing my A-levels and at university, but my first actual job was working on the new business development team for a tech start-up called Webroot. The company had developed one of the first cloud-based internet security software packages, and my role was to identify possible corporate clients and sell our solution to them, whilst gathering business critical information about renewal dates and their competitors. It was a fun company, but relatively tedious, and based in Bracknell which is the back-end of beyond. The job only lasted three months before the entire new business team was outsourced to Ireland for efficiency savings and tax purposes.
What is your job title now and what is your day-to-day role?
Senior parliamentary assistant. I've worked for four MPs in my time (one backbencher, and three cabinet ministers) and each office is varied. My current role is to support the (until recently) leader of the House of Commons, the Rt Hon. Andrea Leadsom MP, in her position as MP for South Northamptonshire. I manage all of her constituency priorities, from campaigning for bypasses to opposing unwanted planning applications. A lot of my work is meeting with stakeholders on Andrea's behalf, including senior management for organisations like HS2 and Highways England, and pushing these priorities forward on her behalf. I am also in frequent contact with her constituents across a variety of matters. I manage her social media presence, create content for her website, write speeches, and do a whole host of other ad hoc activities. I also have responsibility for parts of Andrea's early years/secure attachment agenda, which is focused on changing policy to ensure every baby has the best possible start in life.
Could you outline your career path and what led you to the post you are in today?
After being made redundant from Webroot (we were all told to pack up our desks and leave at the end of the day), I fell into recruitment for Page Group. Initially based in Guildford and Reading, I worked with corporate clients to fill part-qualified financial vacancies (for management accountants, financial accountants and finance managers) across a range of sectors. I was promoted and asked to take on Page's new non-London insurance recruitment market, based in Reading but covering the entirety of the South West of England – a lot of very early and very late train journeys were involved to get to and from clients in Cornwall and Devon! I was then moved into Page's head office in central London to work on their London insurance market; this was lots of fun and involved some great client meetings. Brokers tend to finish their working week at around 3pm on a Thursday, so we would discuss business over a pint or few in the pub. I left Page Group to take up a more senior position with a small bespoke recruitment agency – RedHAT Recruitment – in central London that focused on financial recruiting for the media industry, and I worked with some very cool clients including VICE, Tiger Endemol, Hearst Magazines, and Channel 4. However, recruitment is a very repetitive industry. I got itchy feet, and decided I needed a career change. I was already involved in politics in my spare time, and had lots of friends working in Westminster, so I pivoted in that direction in 2013/14. It took a lot of applications and an unpaid internship with Hove Conservative MP Mike Weatherley, but I managed to secure a paid role with former secretary of state for education and minister for women Nicky Morgan before moving to Liz Truss and finally into the role I have now with Andrea Leadsom.
What does a typical day involve?
They don't exist! But the day always starts with processing the varying amounts of inbound correspondence Andrea receives from constituents, government departments, local authorities and private companies - both via hard post and email – before cracking on with making progress on her constituency priorities. My role is mainly desk-based in the Palace of Westminster, but an average day can see me holding meetings on various local or national issues, sitting down with journalists to outline Andrea's position or views, representing Andrea at an event, or meeting with constituents. I tend to go to the constituency at least once a fortnight. Most evenings there is a reception to attend in Westminster in aid of one cause or another. The average day is around 12 hours long.
What do you enjoy most about the job?
I still get an absolute thrill walking around the Palace of Westminster, especially when it's late at night and you have the building to yourself - there's a real sense of majesty about the place. But the thing I love most is working for someone with a real passion for tackling social injustice, particularly through her early years portfolio. As a passionate believer myself that our future is so much brighter outside of the EU, it was amazing to be working alongside one of the leading lights of the Brexit campaign.
And what do you like least about the role?
When someone gets in touch with an issue, and there's literally nothing that you can do because they're not a constituent, or it's a legal matter. MPs (and their offices) are prohibited from dispensing legal advice, and often people will contact asking for help with something we can't get involved in. You always try and signpost them somewhere if you can.
What careers were you interested in when you were a student at RGS?
I wanted to be a palaeobotanist, marine biologist or volcanologist. I left RGS wanting to teach geography.
What was the most important thing you learnt at RGS?
Poetry by Martial, our Latin class's favourite, was one of the best things I learnt. One of the most important? To stand up for what you believe in, and not to accept authority without questioning it.
What do you miss most about your time at school?
Looking back, I really enjoyed boarding but didn't realise how character-building it would be at the time. I think the thing I miss most is the freedom RGS gave to explore your own interests, and the support given by many teachers to pursue extra-curricular work. I remember Mrs Wright encouraging me to contact Margaret Atwood when we were studying The Handmaid's Tale, and she ended up sending me facsimile copies of all the original research she undertook for the book. Or Ms Charlton helping me to research viral haemorrhagic fevers following my interest after reading Richard Preston's The Hot Zone. Or Miss Murray and I discussing alternative theories of glaciation, and whether 'Snowball Earth' or 'Slushball Earth' was more likely. The teachers at RGS were and are amazing.
What do you wish you'd known at 18 that you know now?
That you don't have to know at 18 precisely what you want to do when you're older or have a career plan mapped out by the time you leave school or university. That you will continually be discovering new things about the world and yourself as you grow older, and it is important to be open-minded about other people's views and experiences.
What is the one piece of advice you would give current RGS students?
Take advantage of every opportunity presented to you. Open every door. Be curious. Oh, and do your Duke of Edinburgh Award. This was, singlehandedly the most important non-academic thing I did at school and would always come up in conversation during job interviews.
What advice would you give those students who are interested in following a similar career to you?
If you want to work in politics, particularly in Westminster, then do as much work experience as you can. Decide which party you most closely affiliate with and join it. Go out campaigning at weekends with your local association. Ask your MP for a week's experience in the summer. Go to party conferences.
Who was your favourite teacher and why?
Too many to name them all. Miss Richardson (ancient history in first year, Latin in second and third years) for being so passionate about her subject area, and for taking the time to teach an otherwise unruly student. All of my geography teachers (Chris Wise, Sarah Maude and Marita Murray over seven years) for being brilliant and creative in their teaching methods, they all inspired me to go on to study for a BSc in physical geography at the University of Reading. Mrs Knowles (English in second year) for her ability to bring you into the story of the text we studied, and for her mad love of Harry Potter (she proudly wore the Quidditch top she'd bought from the Harry Potter store in New York). Terry Fell (GCSE English) for his riotous sense of humour, and determination to make sure everyone in the class achieved his or her potential. Ms Charlton (biology for seven years) for her wonderful way of explaining a complex subject-matter, and being so engaging with her classes. Mr Postlethwaite for just being 'The Poss'. Too many great stories about too many fantastic teachers.
Who or what inspired you when you were at school?
I was and am a huge supporter of Mrs Thatcher, and she was an inspiration for me wanting to get involved in Conservative Party politics.