Artist Susannah shines a light on social distancing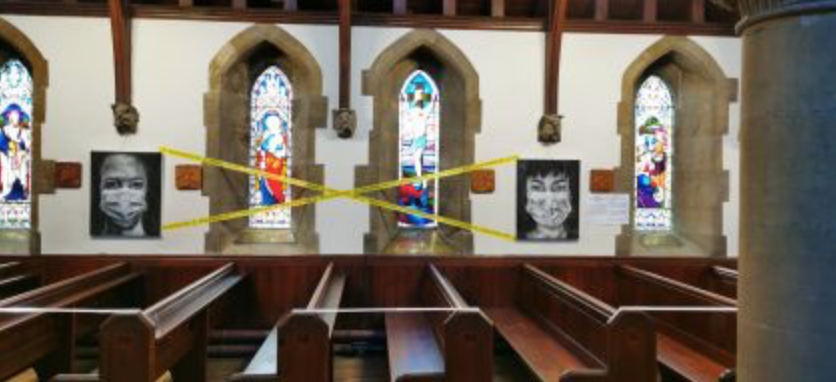 A FORMER Ripon Grammar School student has shone a light on social distancing in a bold and thought-provoking artwork which will be displayed in a Yorkshire church until the end of November.
Susannah Morgan's work features two large, monochrome oil paintings of young people in masks, separated by hazard warning tape, which cuts across two stained glass windows picturing the Virgin Mary and Jesus Christ.
The Leeds Arts University student, who left RGS this summer, explains how her 'Two Metres Apart – Diptych' is a reflection on social distancing and wearing masks.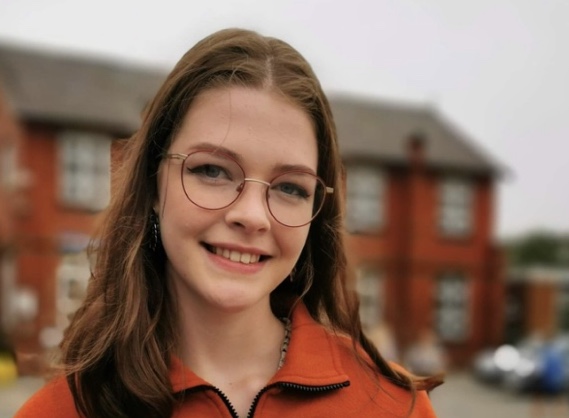 "I wanted to show how hard it is to have any real human connection in the strange world we now live in," she says.
"We can't physically touch and often we can't even read people's facial expressions due to the prevalence of face masks,
"Although all of these measures are put in place for our own health and public benefit, it creates additional barriers to try to make friendships and have meaningful conversations. The text on the tape not only shows our physical distance from one another, but also our emotional distance."
The piece is described by Rev Nick Morgan of St Mary's Church in Boston Spa as a helpful addition to the church environment.
"The way the work cuts across the intimate mother and son windows featuring Mary and Jesus really does highlight the theme of lack of intimacy and emotional distance," said Rev Morgan.
"Some people may find these impassive, monochrome, masked faces disturbing, but I think art has an important role to play in helping us grapple with our own feelings about the ongoing challenge of living with emotional and physical distance from other people.
""It's something which churches everywhere are doing their best to help people to navigate for themselves already, so art like this is very welcome, and is another way the church can support people. Alongside the piece, to help people in their reflections on the issues and challenges which the artwork raises, we have offered some Bible verses and a prayer."
The temporary exhibition will be open daily at the church from 9am-3pm until the end of November.
(Article date: November 2020)