Big-hearted young chef is raising dough for RGS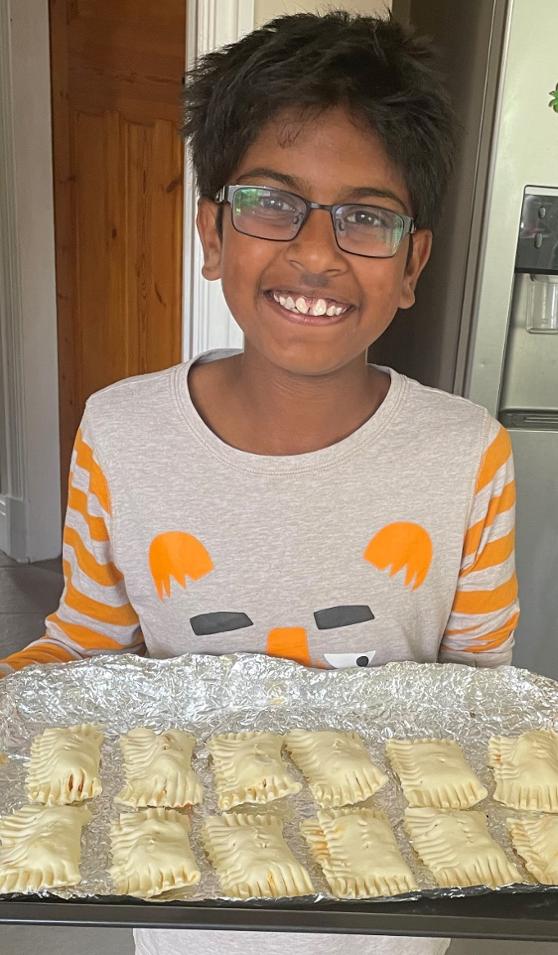 A BIG-HEARTED young RGS chef is launching a breaktime tuck shop selling his home-baked goods to raise money for school equipment.
Eshwar Sureshkumar decided to sell reasonably priced light finger food snacks such as samosa, scones and scotch eggs at school after discovering that some equipment in the food and nutrition department needed replacing.
The 12-year-old, who once earned £200 for his Highfields Primary School library through a sponsored reading challenge, plans to raise money for a different RGS department each year.
Eshwar's Tuck Shop will open on March 30, from 10.30am to 11am, with a further two events planned for later in the year.
The first task he has set himself is to buy new weighing scales and an air fryer: "I chose the food and nutrition department this year because I love the classes and really enjoy cooking."
His best friends, Ray and Kishkant, are helping plan the first event and Eshwar hopes others might get involved too. He appealed to all RGS students and staff: "Please support me on Thursday, March 30 and have a snack from my tuck shop!"
Eshwar, who recently moved to Ripon from Leeds, told how his mother used to help him in the kitchen when he baked during lockdown, for his primary schoolteachers and NHS staff as a thank-you.
"But now I enjoy making the dishes I learn at RGS at home on my own, even preparing a full dinner for my family all by myself. My mum loves it when I take over the kitchen because she gets some time off to rest.
"Recently I learnt how to make scones and taught my mum how to make them. Scotch eggs were a big hit and I even made some for the Friends of RGS bake sale. Now, I love helping my mum and we enjoy cooking together. We cook many favourite dishes from India and Asia such as Singapore and Malaysia."
His parents, he says, have inspired him: "They always try to do something to give back to the community. The movie, Pay It Forward, about a boy who does good deeds for others, also inspired me."
Eshwar, who enjoys Chess Club, badminton, Urban Saints and STEM Club, aspires to study medicine after RGS: "I want to help people, like my dad, who is a haematologist, so I hope to become a doctor. Otherwise, I would like to become a teacher because I want to help students learn as I love learning too."
One of his favourite recipes is for vegetable puffs (see below)