BREAKING BARD: Students get to grips with Macbeth
We take a peek behind-the-scenes at rehearsals for our lower school's ambitious forthcoming production of Macbeth - which opens on July 11 and runs for two nights - to discover it's oozing with treachery, intrigue and turmoil...
RIPON Grammar School's younger students are getting to grips with Shakespeare's most intense and terrifying tragedy as they prepare to bring their ambitious production of Macbeth to the stage.
More than 40 pupils, from first to third form, are performing in the challenging drama, which oozes with treachery and intrigue and includes a number of gruesome deaths.
Other students will be involved behind-the-scenes with everything from sound and lighting to scenery, with the art department tasked with producing a 'severed head' for one particularly grisly scene.
Third form student Will Curtis, from Ripon, who landed the title role, said he is enjoying portraying his character's powerful range of emotions: "Macbeth's personality changes so much. One minute he is happy, then sad, then angry."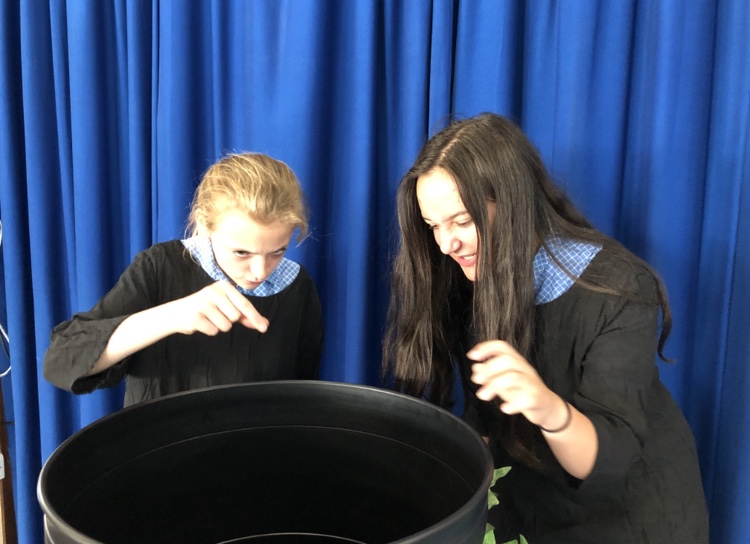 Second former Eva Joussemet, from Littlethorpe, said she was excited to have the chance to tackle the challenging role of Lady Macbeth: "She is a very complex character."
The 13-year-old, who attends drama and ballet classes outside school and also represents RGS in netball, hockey, rounders and tennis, went to see a National Theatre production of Macbeth in Hull recently in order to help her understand it more.
"Having the opportunity to play Lady Macbeth now has given me a real sense of just what an amazing writer he was."
Will, 14, who also represents his school in swimming and cross country and has ambitions to become an architect, agreed: "I didn't really know the play before, but this experience has given me so much
insight into the characters and themes.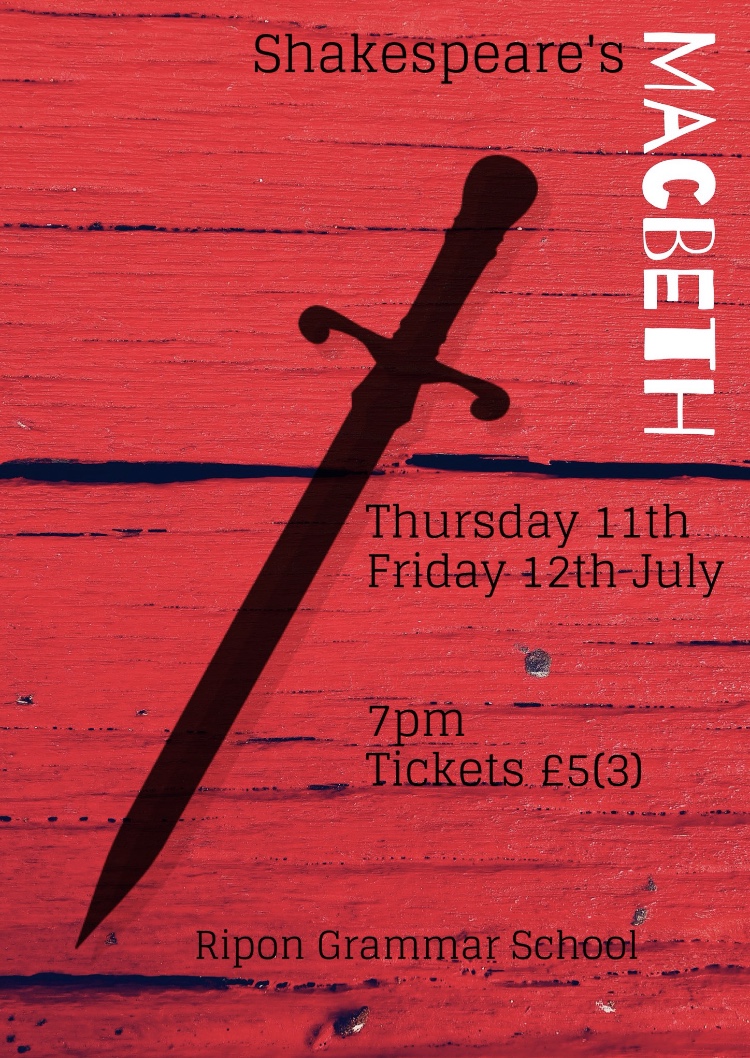 "The hardest bit is learning the lines as there are a number of long monologues, but I've been practising at home with my parents."
Director and English teacher Libby Seymour said she was delighted at how all the students involved were rising to the challenge: "I chose Macbeth because I believe our younger students have just as much ability to master it as the older students, and they are doing exceptionally well.
"I also think it's important students have the opportunity to study Shakespeare in the way they should – on stage."
The pupils all auditioned for t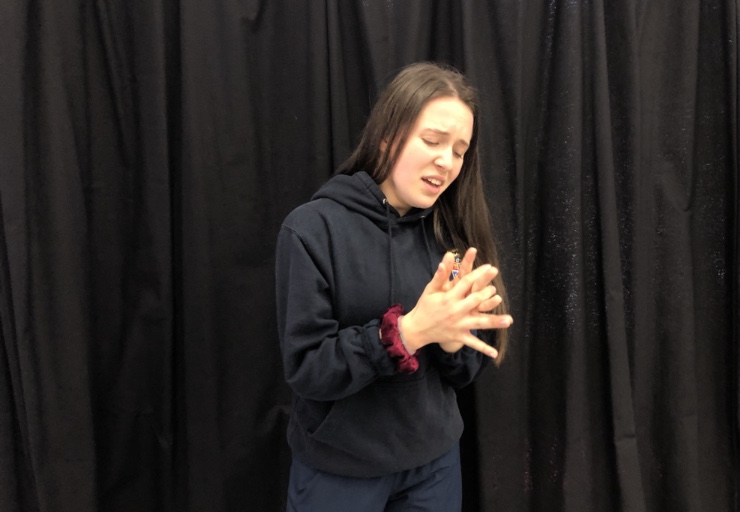 he coveted roles and have been rehearsing several times a week since January in preparation for the July production.
"The main challenge is getting to grips with the language," explained Mrs Seymour. "This is not a simplified version, so we have young students learning the same lines experienced RSC actors would have to learn, and we have the same expectations.
"Another challenge is presenting gruesome deaths on stage. We have a 'severed head' ready for Macbeth's beheading and there will certainly be some blood."
One of those who will be suffering a violent theatrical death is Elanor Jones, 14, from Kirkby Malzeard, who plays one of Macbeth's victims, Banquo, who later reappears as a ghost.
It's a particularly demanding role, she said: "I have to focus on body language and facial expressions, and make sure I express the meaning of every word properly in order to portray the complexity of the character, who is key to moving the plot forward."
Elanor studied the play in her second year and re-read it over the Christmas holidays to prepare: "Studying a play is one thing, but actually being part of one means you become immersed in the plot."
Isabella Kirby, 13, who is enjoying playing one of the three witches, added: "It is an amazing role. The most difficult part to master is the voice, as it has to be strong but creepy and weird."
The second form boarding student from Richmondshire, who has appeared in West End youth productions, hopes to pursue her dream of becoming an actress one day.
Chessie Abrahams, 13, who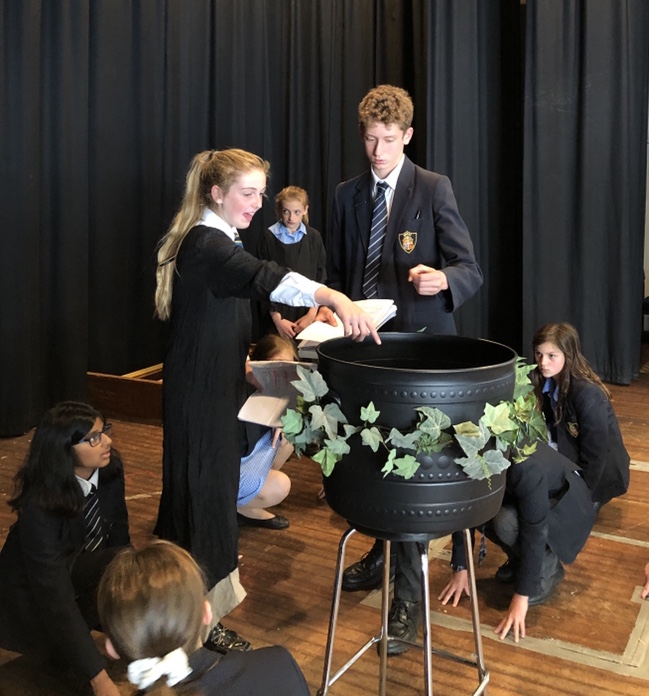 plays another of the witches, confesses she couldn't resist cackling when she discovered she had won her desired role, which demands she maintains a menacing and sinister demeanour throughout: "I'm getting to grips with the plots and twists and really enjoying being scary and shouting my lines."
The second former, from Laverton, who is also a keen horse rider and a chorister at Ripon Cathedral, emphasised how much fun junior drama is: "I would advise everyone to get involved."
Third former Elanor, who has taken part in every junior and House drama at RGS since she joined the school and hopes to study English and Drama at university, agreed.
"It's a great experience. Every year there's something new and refreshing about it, and a sense of community. It's a great way to make friends, build confidence and to have some fun. I've gained a lot of skills and confidence after three years of doing drama at this school, and I'd definitely recommend it to everyone."
*Macbeth, Ripon Grammar School, July 11 and 12, 7pm.